Best documentation ghost themes for ghost cms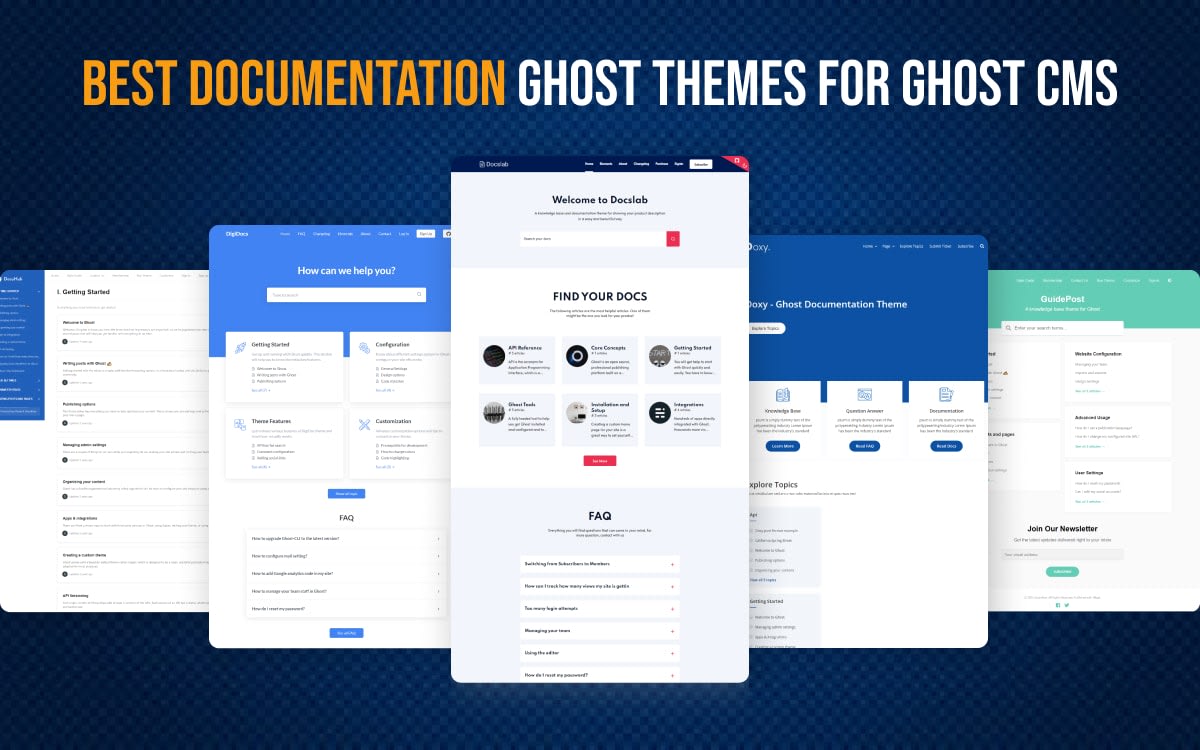 You might want to create a knowledgebase site for your digital product, SASS application, or another type of business. But you can't find any kind of ghost theme for your project?
In this article, we will be going to discuss some knowledge base ghost themes for creating your beautiful website. I hope you will be able to find the perfect theme for your project. Currently, there are not many ghost themes for creating documentation-type projects on Ghost CMS. among which we will discuss some themes for the best knowledgebase website.
Here is the list of professional documentation or knowledge base website themes to create a professional, authoritative and trustworthy documentation website. Let us now explore these gems.
1. Docslab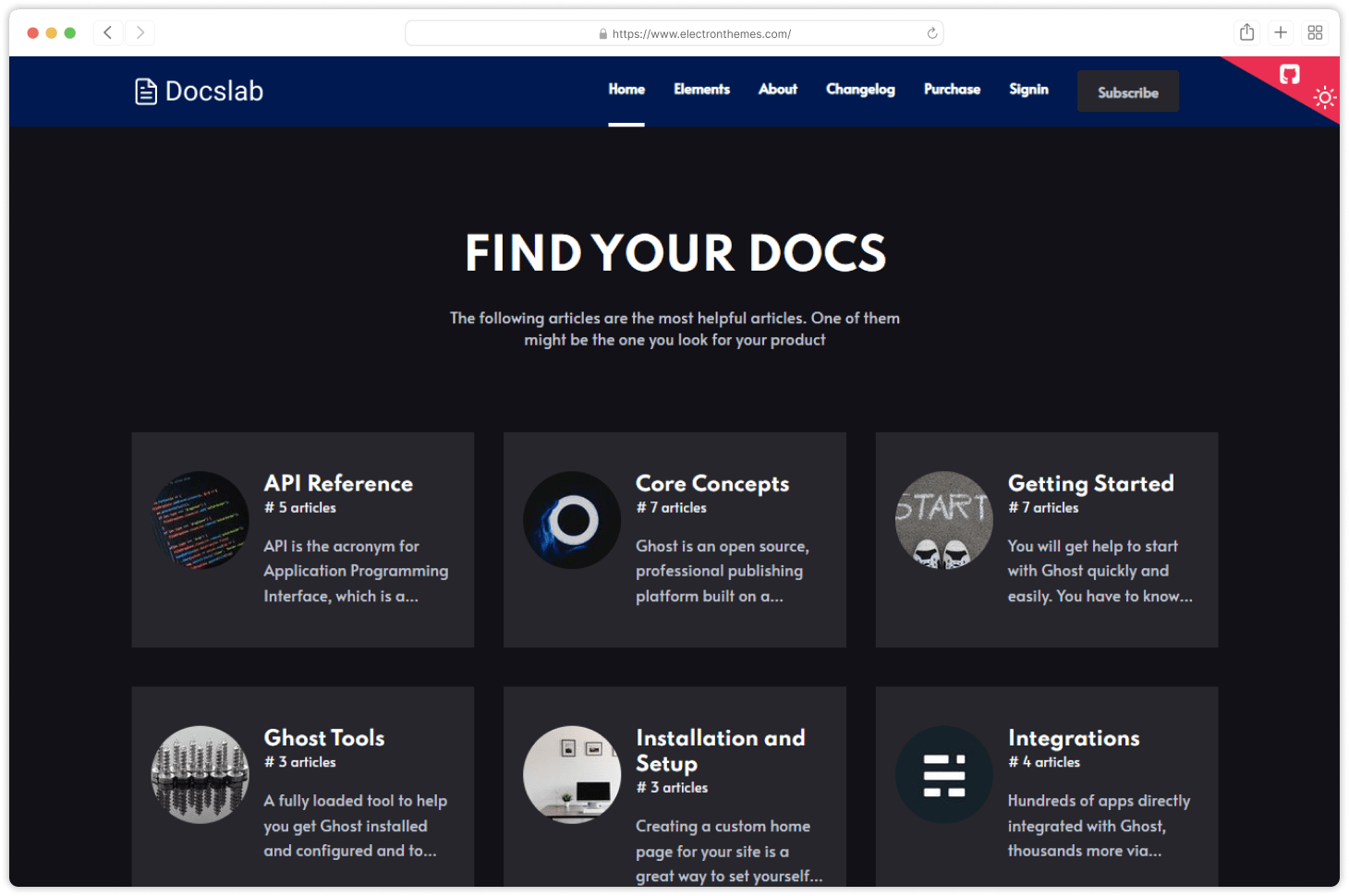 This clean and feature-rich document theme is perfect for the Ghost platform. Docslab is a modern and high-performance ghost theme. Docslab is the first choice and this is a perfect theme for creating online documentation & knowledge bases for any kind of online products, services, software, SASS application, and other business ghost website. It has important features and components that will come in handy while building your product documentation website on the ghost platform.
General Features
Dark and Light Mode
100% responsive design for all devices
Fast loading and Very light-weight theme
RTL Supported, google fonts, SVG icons
Easily customizable and SASS supported
Well written documentation
Supported with image and without images
2. DocuHub
DocuHub is clean and beautiful ghost theme. It has all the necessary feature-packed themes for the Ghost platform. It is fully responsive and loads blazing fast. DocuHub features a powerful custom search, and extensive customizations, and supports language translation and multi-authors so you can provide help docs, articles, and resources to your customers. Fully customizable to match your branding. Use any Google Font, change colors, and more.
General Features:
Dark and Light Modes
Custom Theme Options
Clean Design
Lightweight and Minimal
Super-fast Loading
3. Digidocs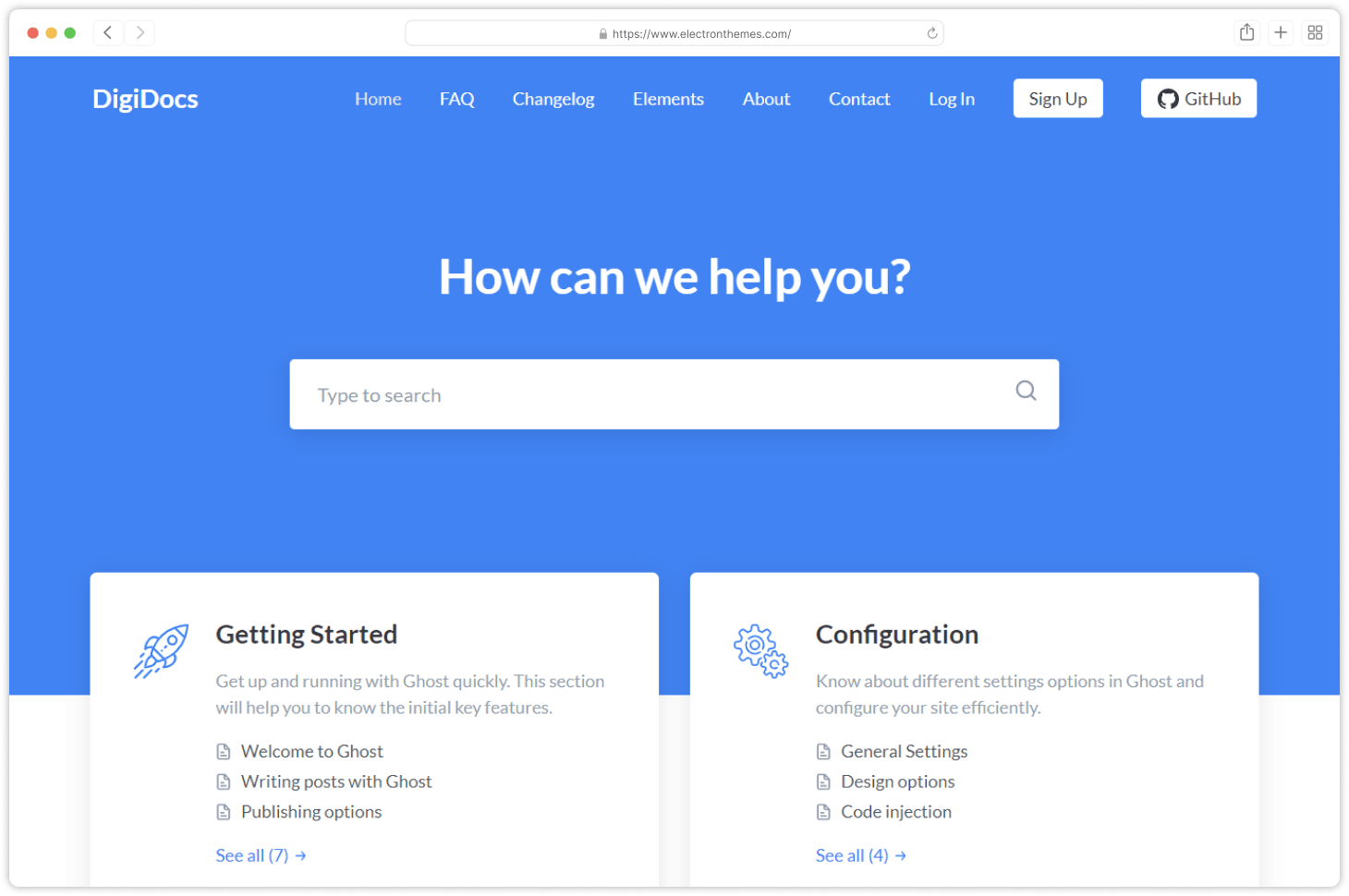 Would you like to have a functional, visually appealing Ghost theme that doesn't compromise your site's speed or performance? You are choosing the correct theme. DigiDocs is a Ghost theme for Documentation and knowledge base website. Turn your Ghost publication into a beautiful documentation site for your software or service using this theme. A beautiful user experience is provided by DigiDocs with its minimal design. It gives your users good readability and helps them focus on your docs without interrupting their concentration.
General Features:
100% responsive, and looks nice on any size of device.
Content-focused, modern, and minimal.
Very lightweight, with no unnecessary CSS or JavaScript.
Super fast performance.
SVG icons look fine in even high dpi screens.
Well-commented and well-structured coding.
Development files included. Easy to customize.
Developer friendly. Built with gulp and SASS.
4. Doxy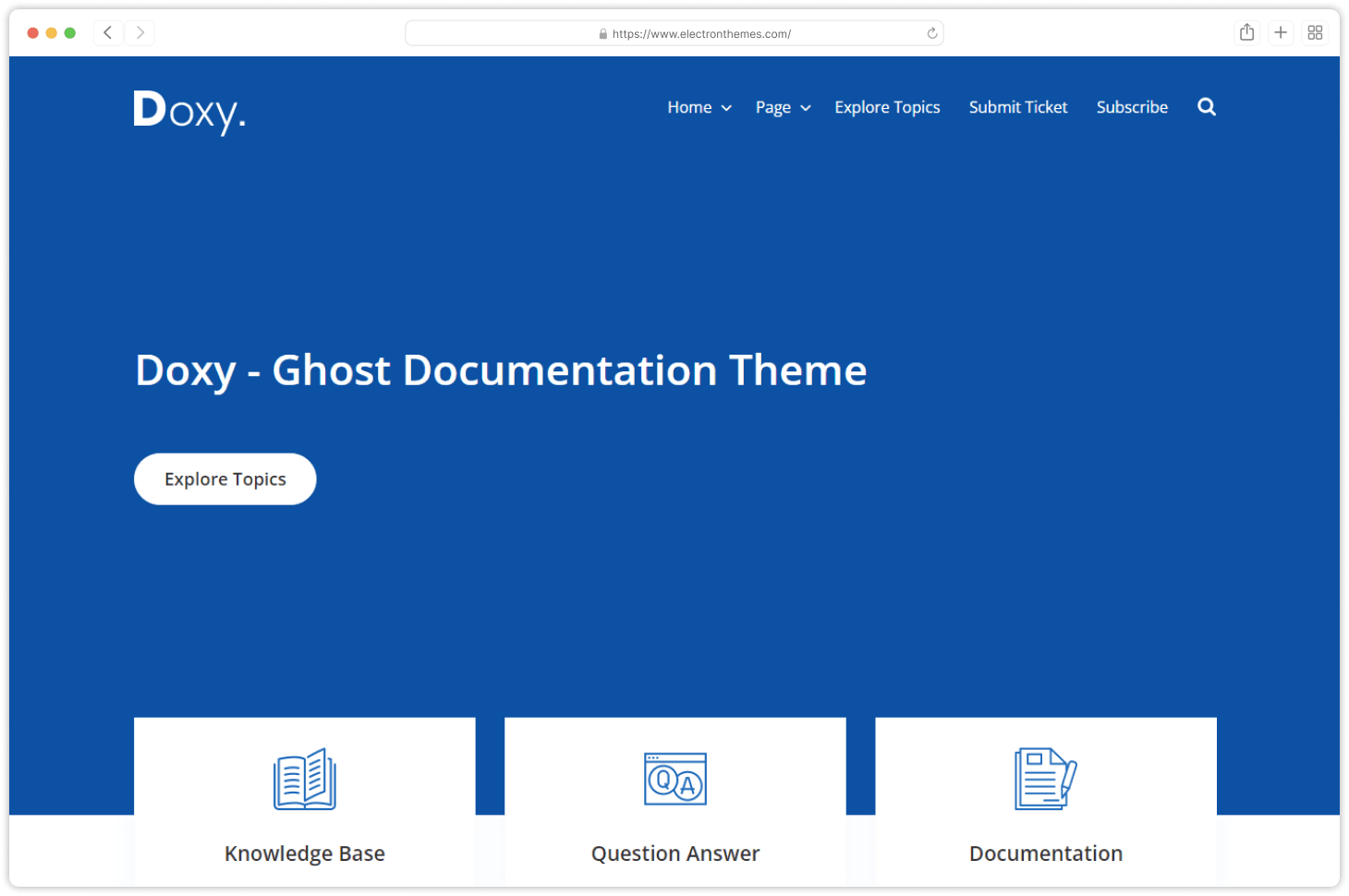 Get your awesome knowledge base or documentation website by using the doxy ghost theme. It will fully functional and responsive with a unique design. Doxy is the most powerful docs ghost theme in the ghost world. Doxy is well-structured, minimal, responsive, content-focused, and easy to set up in Ghost CMS. It is fully responsive for all major devices. Doxy has a powerful live search option and it supports all ghost core features.
General Features:
3 Homepage Variation
Suitable for Ghost's Latest Versions
Search Feature Added
Ghost Subscription Feature Support
Code Syntax Highlighter Support
Featured Post Slider
Online Documentation Available
5. Guidepost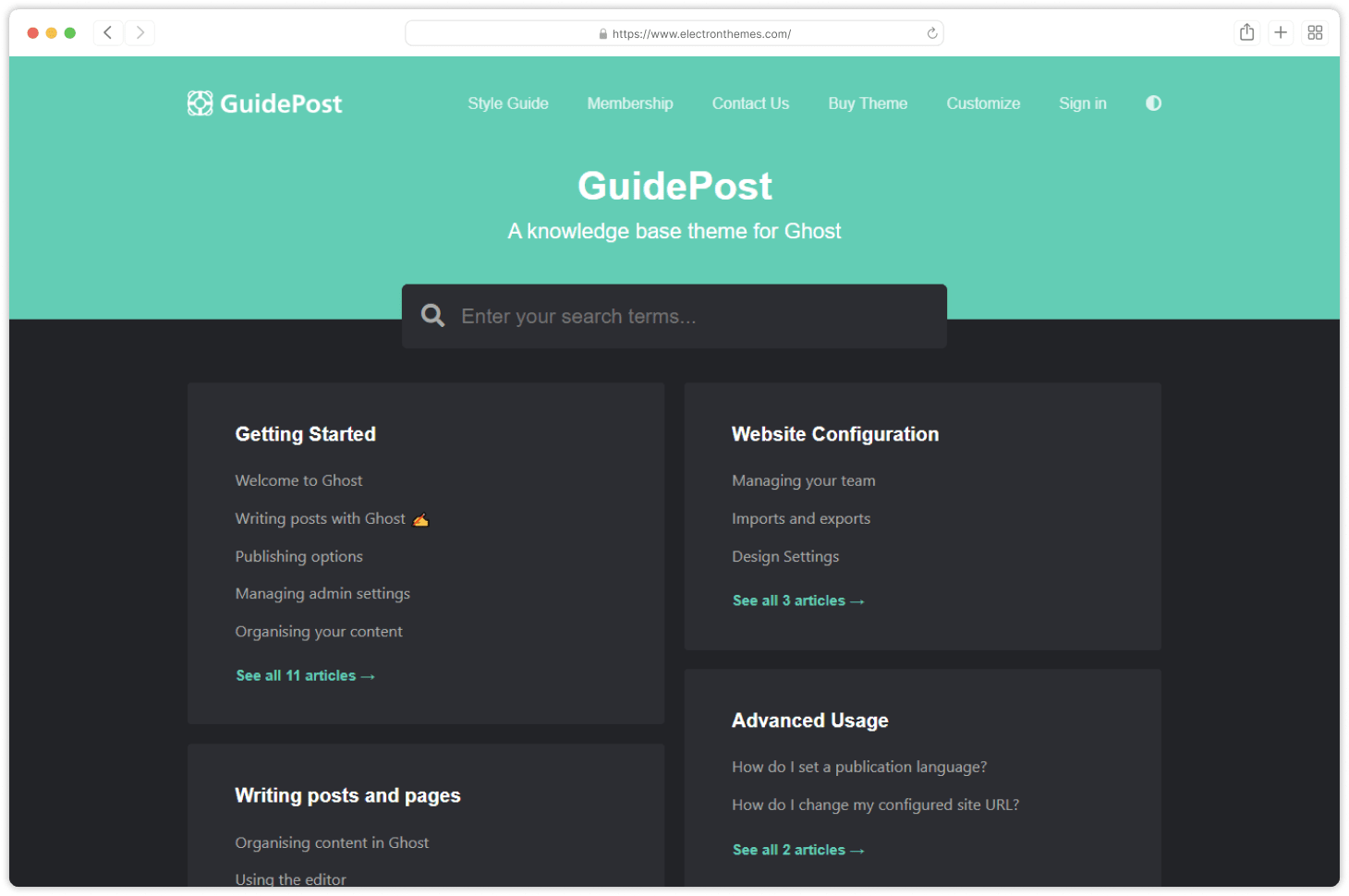 Are you looking for a Ghost theme that is both functional and visually appealing without sacrificing your site's performance and speed?
Guidepost has a simple design and a pleasant user experience. It improves readability for your users and keeps them focused on your documents without interfering with their concentration. This theme is very simple to install and customize. The documentation contains all of the necessary information.
General Features:
Dark and Light Modes
Custom Theme Options
Clean and Minimal Design
Lightweight and Super-fast Loading
6. Cambiare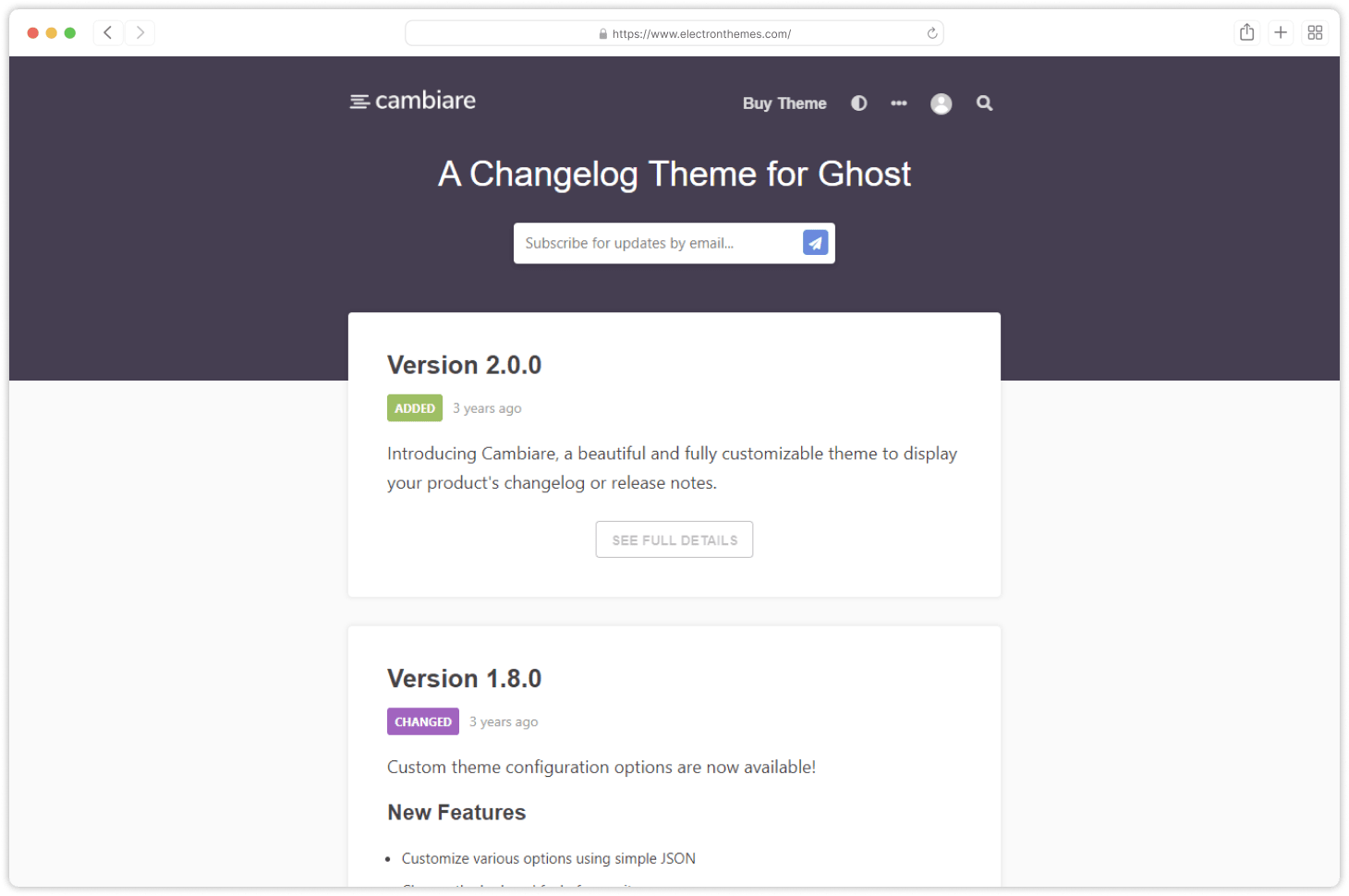 Cambiare is the first ever changelog ghost theme for the Ghost platform. Keep track of your software or project versions and display your release notes beautifully. Cambiare is fully responsive and loads blazing fast! Built-in support for language translation and multi-authors is also included.
General Features:
Full Membership Support
Dark, Light, and Auto Modes
Custom Theme Options
Native Ghost Search Support
Native Ghost Comments Support
Conclusion
Finally, You can choose among the ghost themes and use the theme that fits perfectly for your website. If you want some help picking the right theme for you, feel free to comment below.
if you feel that you need a custom design beyond the themes discussed so far, you can contact us.