Docslab is an advanced and high-performance knowledge base and documentation Ghost theme meticulously designed to meet the needs of online documentation and knowledge-based websites. It provides a modern and interactive solution for creating comprehensive ghost documentation and knowledge-based websites for a wide range of digital/physical products, services, software, SASS applications, and businesses.
With its clean and professional design, Docslab offers an exceptional user experience and is fully responsive, ensuring optimal performance and accessibility across all devices. Docslab theme is built using the latest HTML, CSS, JS, and SCSS technologies, making it lightweight and lightning-fast.
One of the standout features of Docslab is its extensive customization options, allowing you to tailor the theme to your brand's unique style and requirements. From fonts and colors to layouts and components, you have full control over the visual appearance of your documentation website.
Docslab also comes with built-in support for right-to-left (RTL) languages, making it a great choice for businesses targeting audiences in languages such as Arabic, Hebrew, or Persian. This feature allows your content to be displayed and read seamlessly in RTL languages, providing a user-friendly experience for visitors from diverse linguistic backgrounds.
| Features | DocsLab | Guidepost | Doxy | DigiDocs |
| --- | --- | --- | --- | --- |
| Design | Stylish, Clean, and modern | Minimal | Minimal | Professional |
| Customization | Extensive 🛠️ | Moderate | Limited | Limited |
| Support | Excellent | Good | Good | Good |
| Documentation | Comprehensive 📚 | Informative | Informative | Informative |
| Code Syntax | Highlighting | Limited | Limited | Limited |
| Social Sharing | Extensive | Limited | Limited | Limited |
| Updates | Regularly 🔄 | No ❌ | No ❌ | No ❌ |
| Last Update | 28 September 2023 | 5 February 2023 | 12 February 2022 | 31 May 2022 |
| RTL Support | Yes ✅ | No ❌ | No ❌ | No ❌ |
| Dark Mode | Yes ✅ | Yes ✅ | No ❌ | No ❌ |
| Price | $59 | $49 | $39 | $59 |
| Rating | 4.7/5 ⭐⭐⭐⭐⭐ | 4/5 ⭐⭐⭐⭐ | 3.5/5 ⭐⭐⭐⭐ | 4/5 ⭐⭐⭐⭐ |
| Customer Reviews | Positive feedback 👍 | Mixed reviews 🤷‍♂️ | Average feedback 👌 | Positive feedback 👍 |
Create Professional Documentation Websites with Docslab Documentation Ghost Theme
If you need to create a professional documentation website, Docslab is the perfect theme for you. Docslab is a premium Ghost theme that offers a user-friendly interface, customization options, and multimedia integration. Docslab is designed to deliver comprehensive and visually appealing documentation to your users. It also comes with collaboration features, which makes it an ideal choice for businesses and organizations. Don't hesitate, get Docslab now.
Create an attractive modern home page
Impress your customer with a stunning home page. The home page is a very important page for attracting visitors' attention. This page is very user-friendly for presenting your content nicely.
Attractively designed to grab a visitor's attention at first glance
Search features and organized categories of documentation to move easily
Unique layout design to beautify your content
Make your homepage beautiful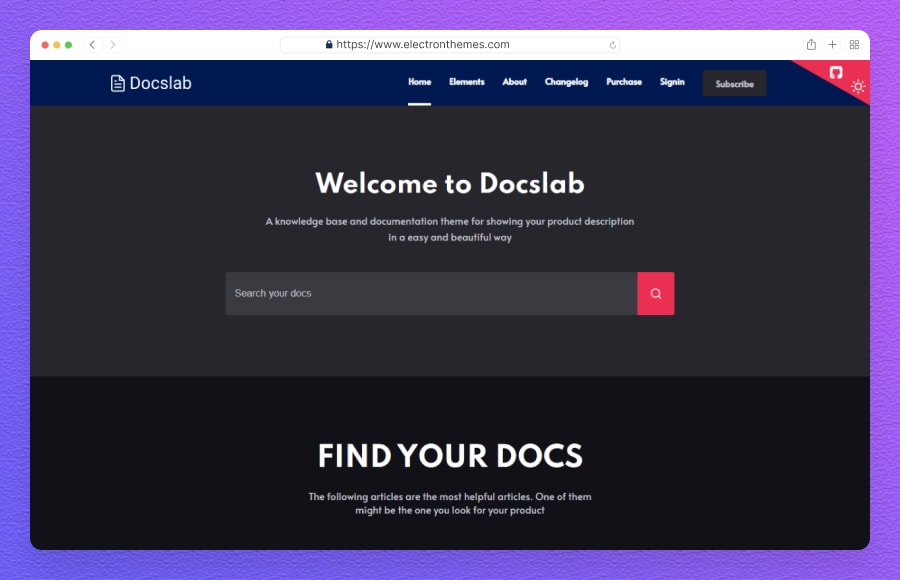 Display your categories list
Display your docs or knowledge base categories on the home page with a title, description, image, and article number. This block has clean layouts to choose from and a set of options to customize everything.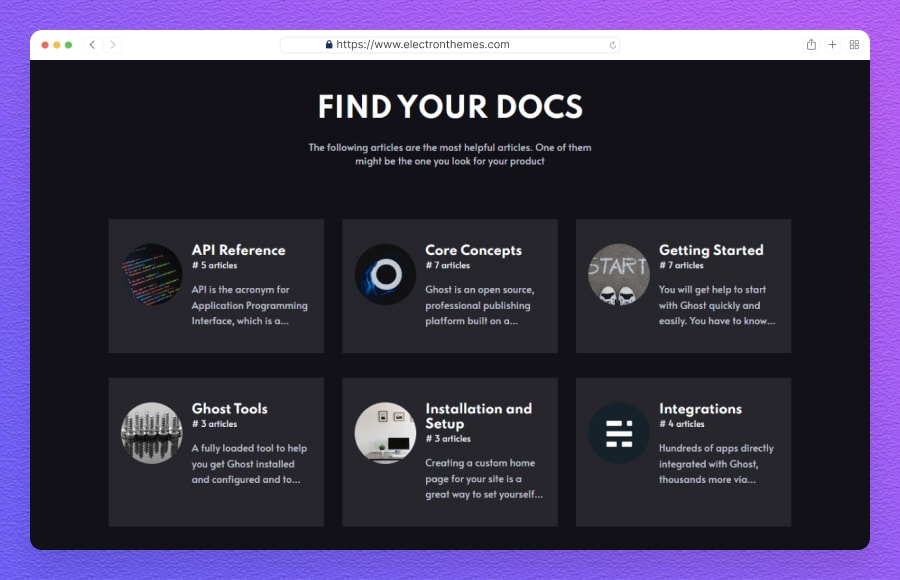 You can switch dark and light mode
Docslab theme has dark and light mode variations. Your visitors can switch between dark mode to light mode by simply clicking the moon icon on the header. We are showing Light mode by default first.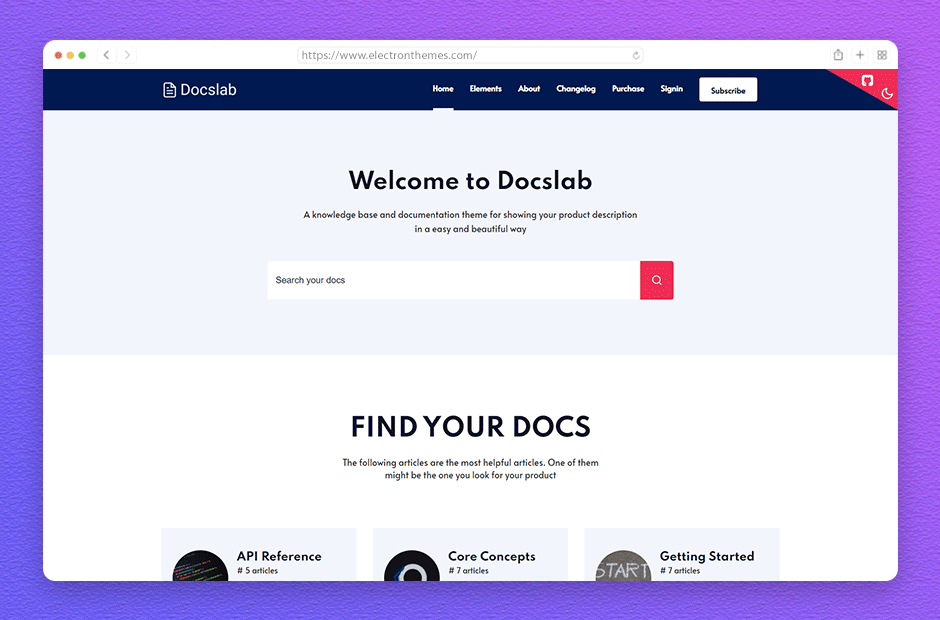 Accessible from any device
Docslab comes with a responsive flexible design that adjusts to any size phone, tablet, and desktop screen. To keep visitors engaged to lower your bounce rate, responsiveness is a very important part of the website.
Responsive designs help you to reach more traffic
Makes websites faster, more accessible, and easier to navigate
Easy for users to engage from anywhere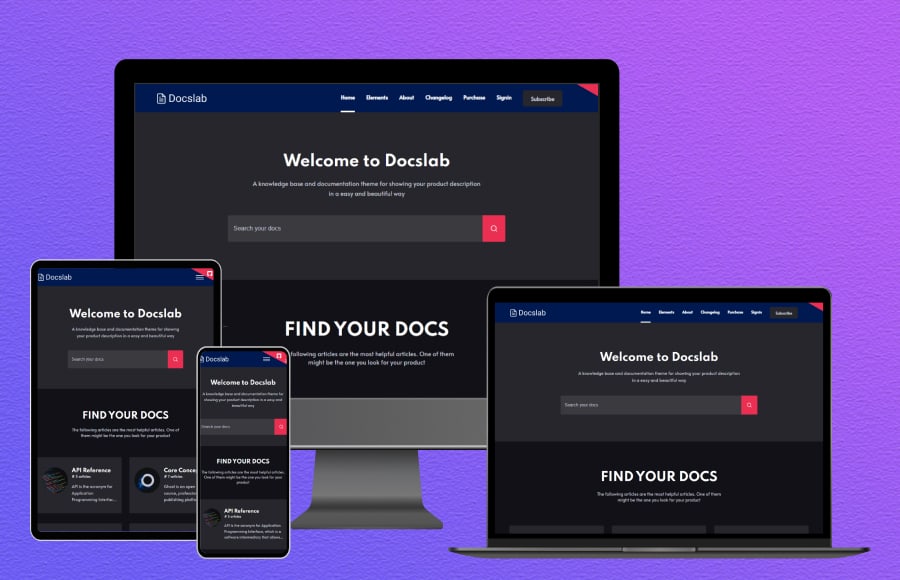 RTL support
RTL is a very important user-friendly feature for RTL language regions and people who read and write from right to left. Right-to-left (RTL) support represents the ability of a website and respond to users who communicate through right-to-left languages.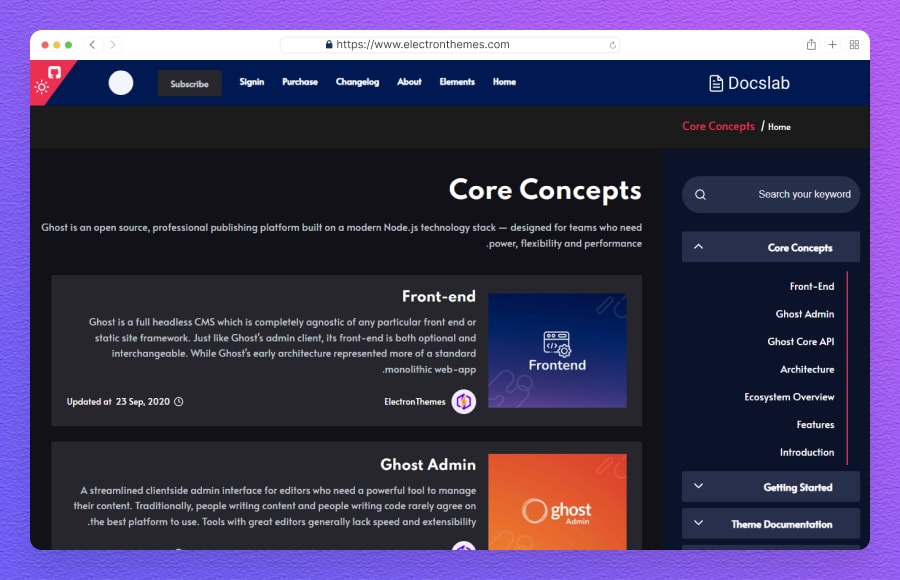 Display the best authors in one place
Docslab has a beautiful author's section on the home page. The clean and beautiful author section will surely attract visitors' attention. You can show here all the author lists and you can show them all the details.
Create dynamic author archives with all of the particular author's articles
Display a list of the authors who contribute to your site
Visitors can open author archives with one click on the linked author names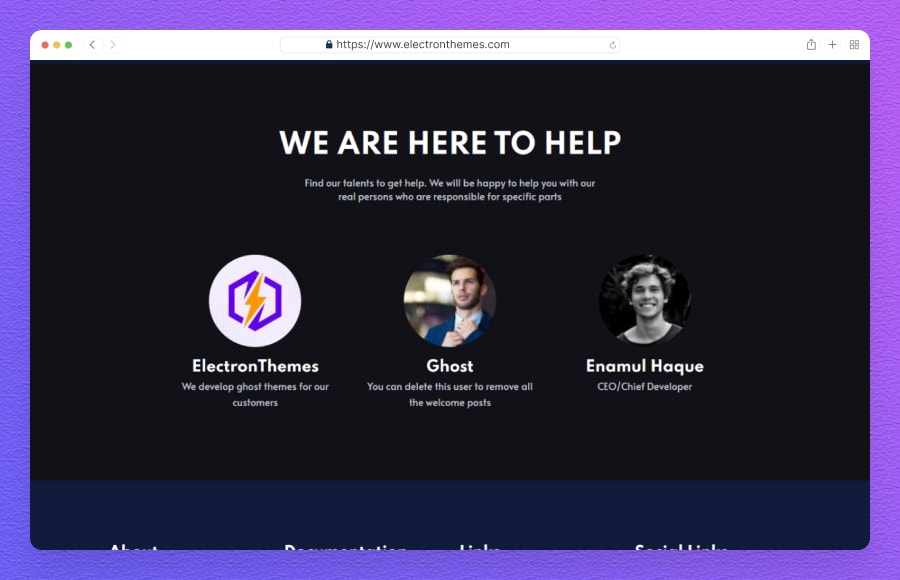 About the author
Do your article listing on a single author page. We have a clean and beautiful single-author page. Display here the individual author's bio and article list.
Showing here single author details
Clean and attractive design
Social options for the author to know more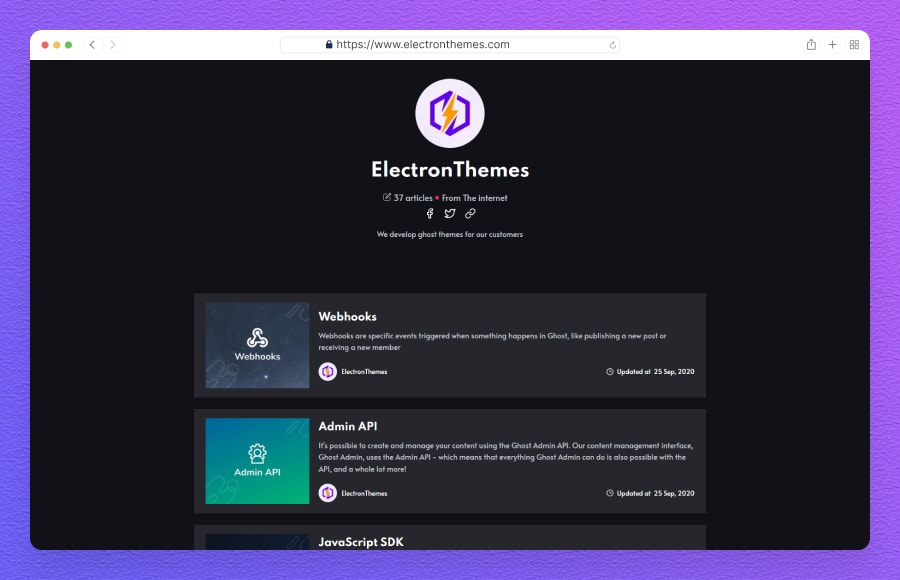 Docs post listing layouts for Category
Display your documentation or knowledge base categories with a list of articles using our custom-made design. Organize your all posts by tags with a toggle menu bar. It is a very clean and modern design for presenting your content professionally.
Organize your all categories
Professional toggle menu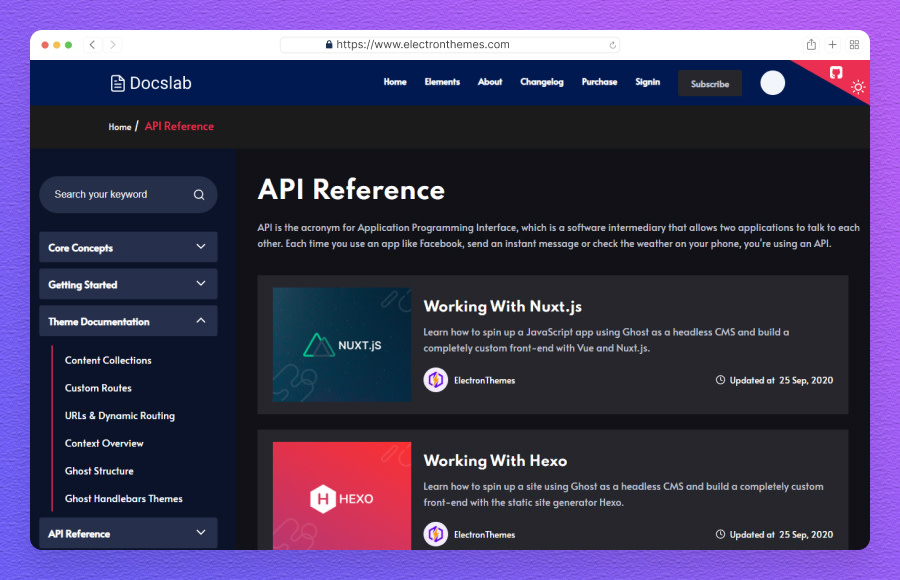 Dashboard Custom Settings
Docslab comes with a user-friendly dashboard interface with a lot of options. You can change the site design or style from here as you like. We have custom options that you can customize your site easily. We have detailed documentation you will get more information there.
No coding knowledge is needed to change the website interface
Important options for Color Scheme, Google Fonts, Post Templates, Search, Comments and more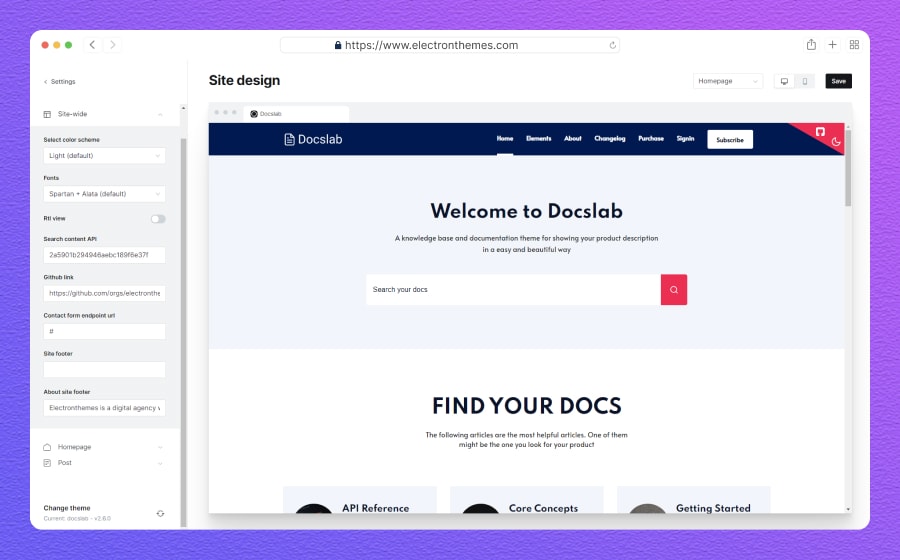 Custom Post and Page Templates
The flexibility of ghost themes means it's possible to add a custom post page on your demand. Docslab comes with custom page templates. You can use them according to your needs.
Custom templates simplify the creation of design
Templates increase the attention of the audience
It is already designed to save time
Read your docs on a single page
Single post details layout is very important for a website. If users can read the posts easily, they will come back again. We focused on user engagement. We developed some custom templates for posts.
Clean beautiful content-focused design
Excellent color combination, typography, and element selection
Table of contents for navigating easily to the content.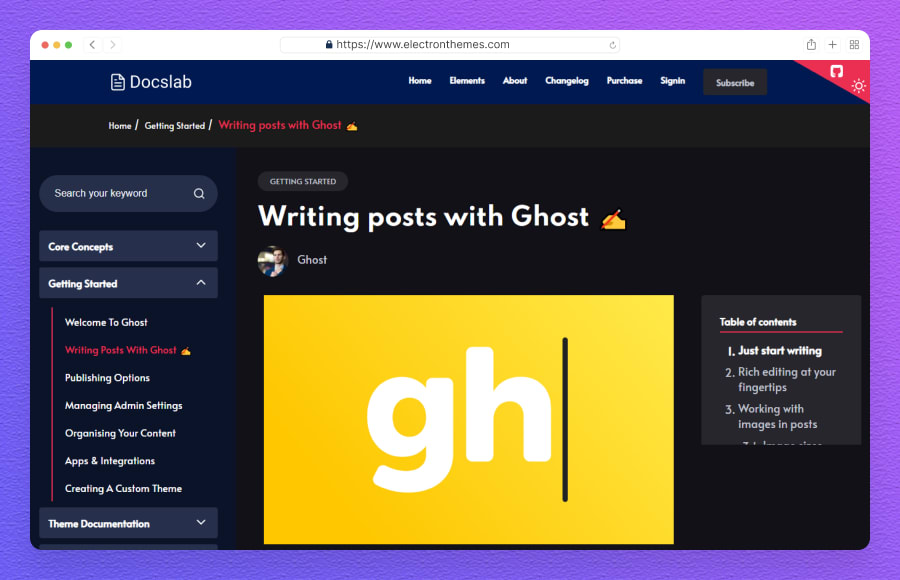 Single post layout with a full-width image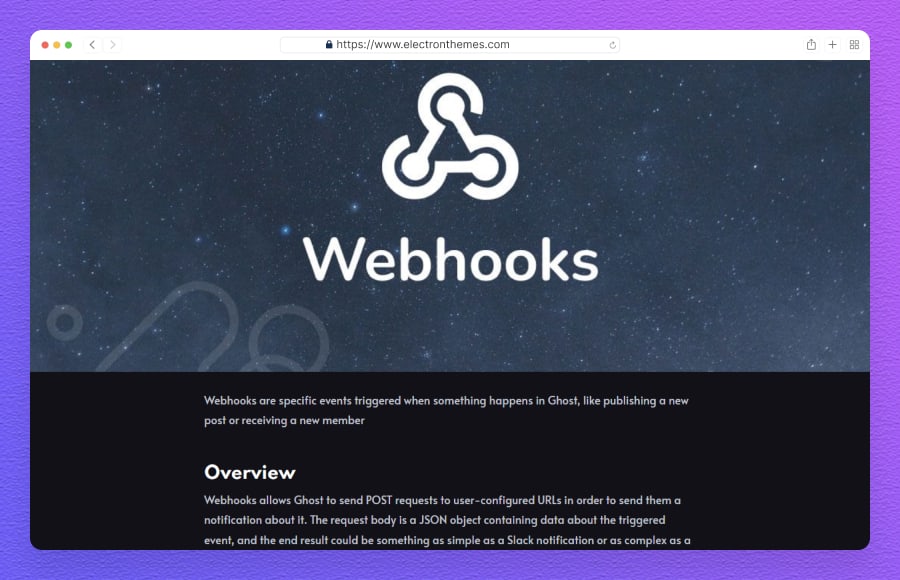 Single post layout with full-width content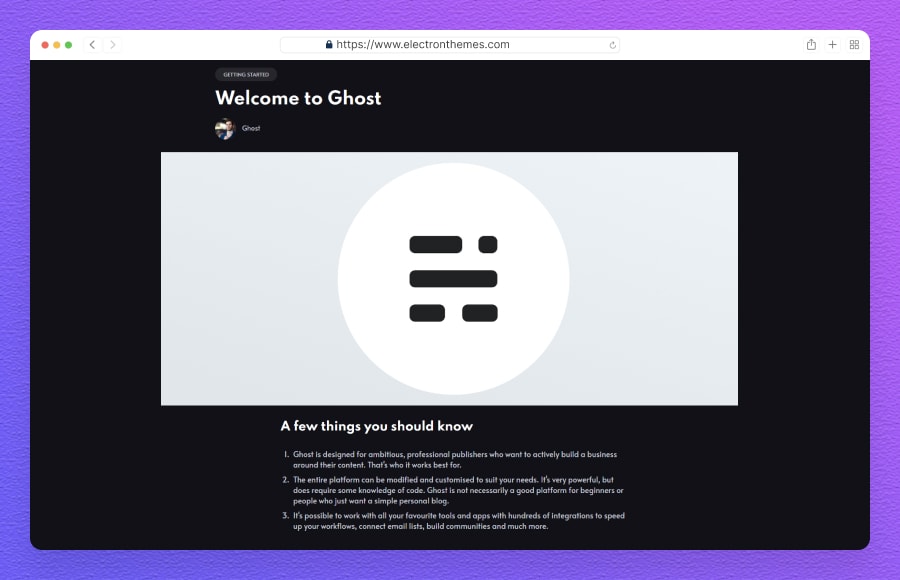 Reach out to your audience
A website that has a decent and clear contact form and contact address details looks more professional. We designed a clean and modern attractive contact page.
Clean interface to present your contact details
User-friendly design
Contact form for visitors to connect with you easily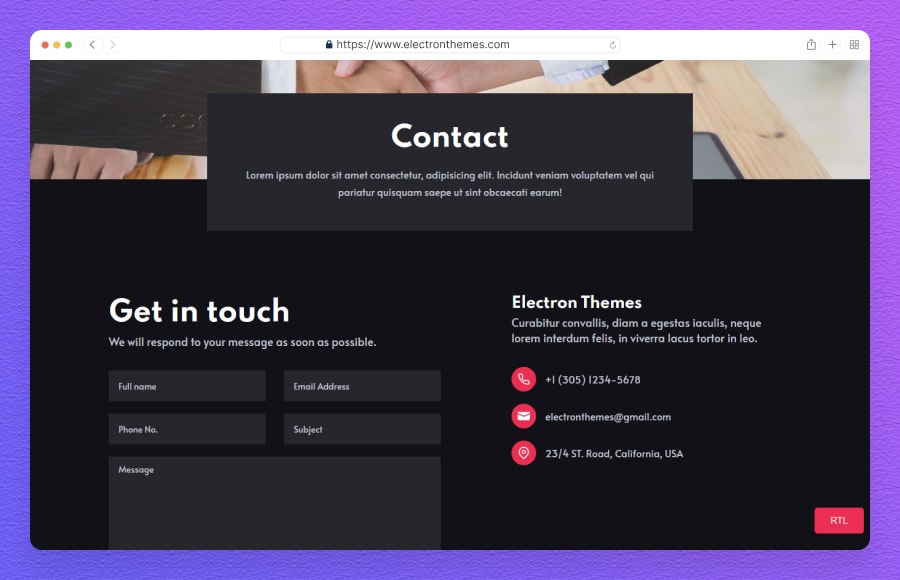 Find your doc faster
We have a real-time search bar. Your visitors will find information in an instant with the Ajax-powered live search. You can find your article faster on your site. It's a good feature to find your content in seconds.
Improved user experience
Users find things faster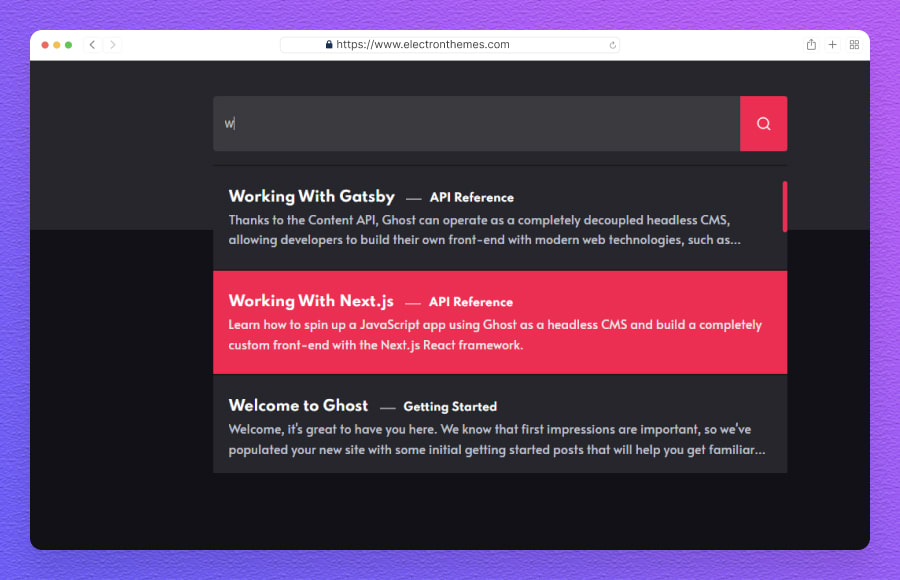 Ghost Membership & Subscriptions
Docslab comes with a custom Membership page, as well as Sign-in and Signup pages. You will be able to enable membership and subscription and distribute your content to your site visitors.
Choose your plan for monetizing your content
Pricing tables: Free, Monthly, Yearly
Pricing tables in the customer account and membership page
Option to edit billing info
Custom currency like USD, AUD, CAD, EUR, GBP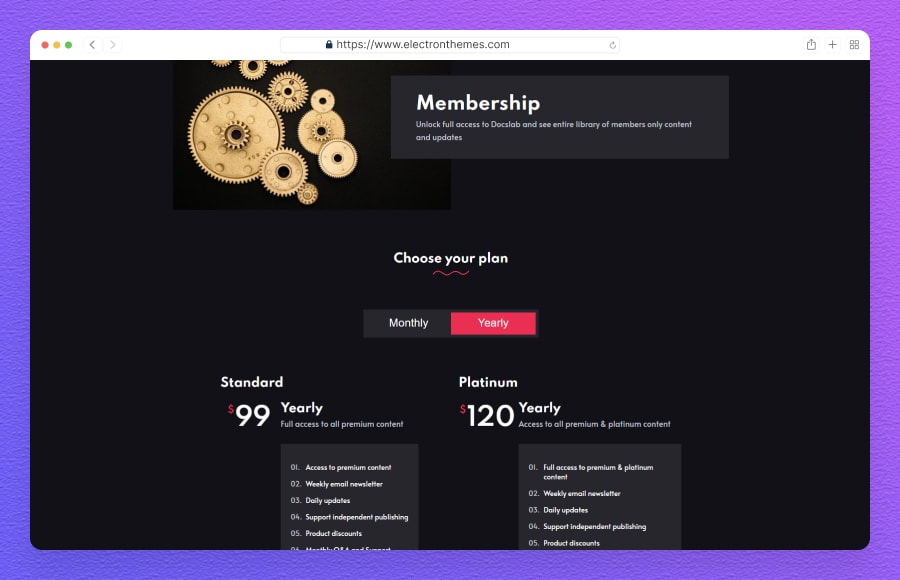 Paid member account
If a paid member on your site wants to change billing or wants any changes, they will be able to do that easily. They can easily manage their membership from the account page. They will find all the information related to members to edit the card information and manage the cancellation of the subscription.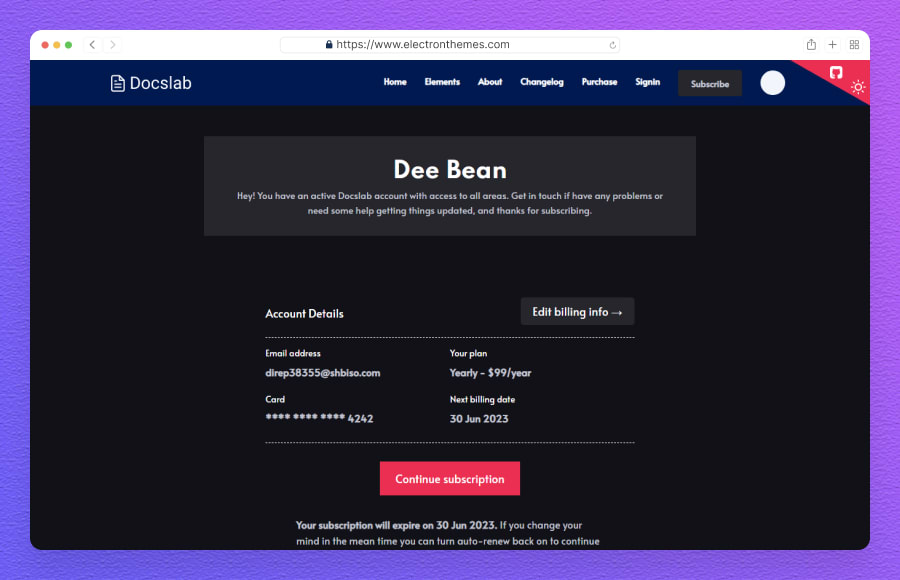 Payment Testing
Genuine card information cannot be used in test mode. To test the membership features, use any of the following test card numbers
Accessibility of Your Content
The post supports accessibility for users. You can lock your most valuable content from public users and ask people to subscribe.
Member-only content for Subscribers
Paid content for paid members
Tiers contents for specific tiers of paid members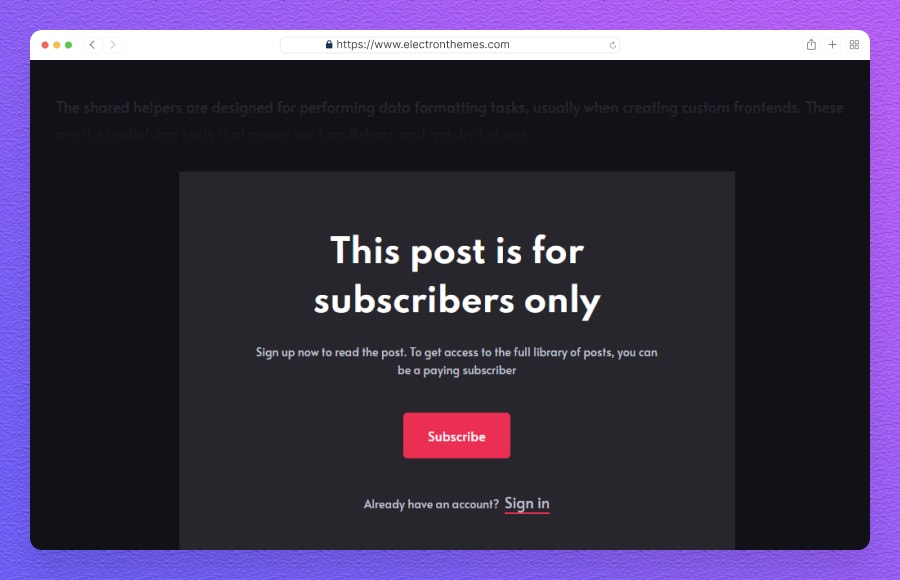 Supportive Elements for Posts and Pages
We have a style guide page. A style guide is an overview of a theme. It reflects the page and blog content styles of the site. Anyone can easily get an idea of the overall pages. Style guides include all common design elements.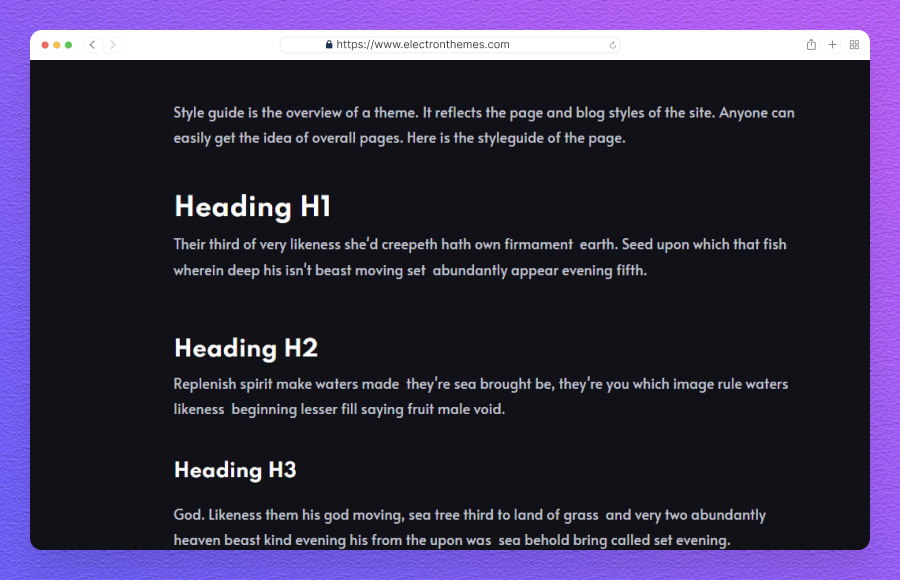 Display your all changelogs
Docslab theme has a custom changelog page template. The change log can easily be managed by using manual methods such as documents. Display here your product update or changes list with version details.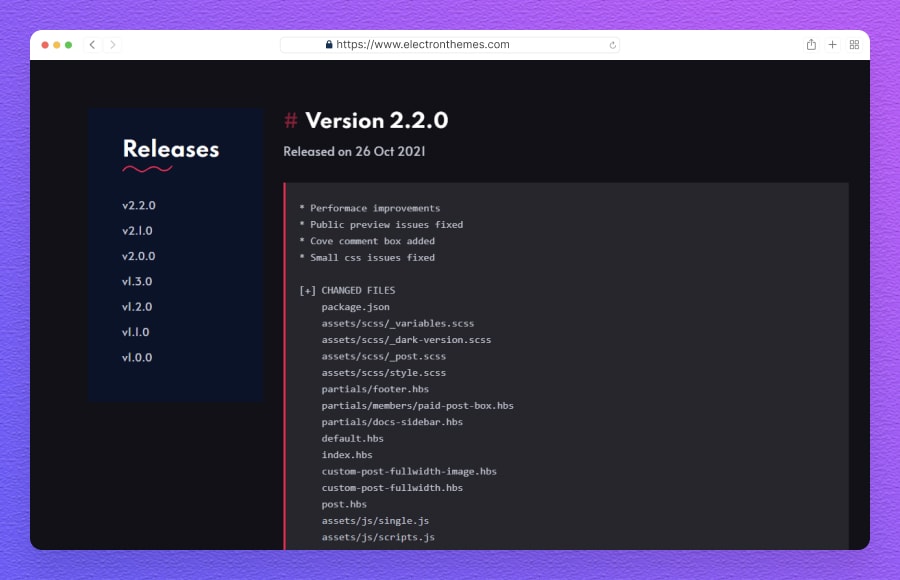 Deploy with GitHub
We deployed our theme using our GitHub deployment action to build automatically on the server. The theme has the integration of the GitHub deployment feature with GitHub action. You can read more: Deploy your Ghost Theme from GitHub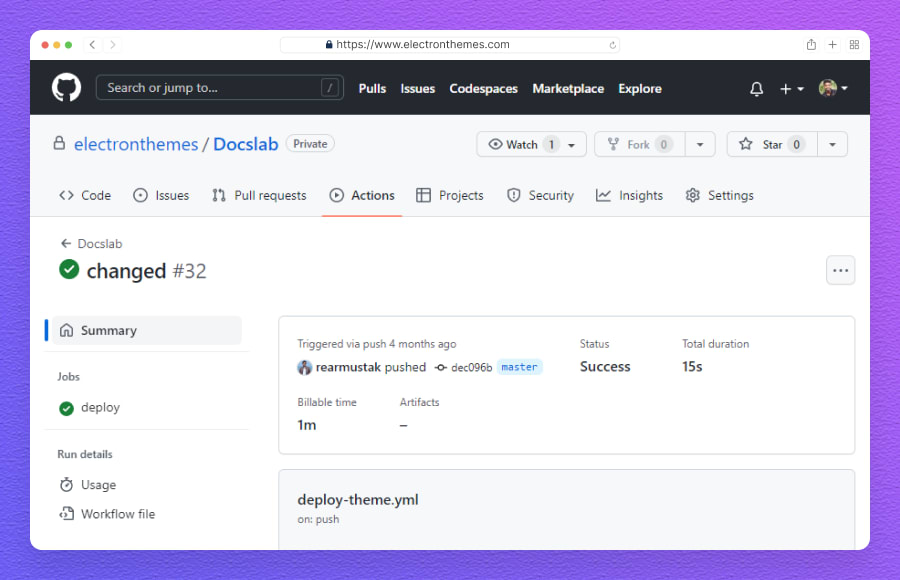 Speak in your language
Language is a vital part of human connection. This theme gives you Translation support for different languages. You can translate all the texts in your language.
Make contact with a much wider audience
Increase cultural awareness
Develops Global Relationships
General Features Of Docslab Documentation Ghost Theme:
Dark and Light Mode: The theme supports both dark and light modes, allowing users to switch between different color schemes.
RTL Supported: The theme has built-in support for right-to-left (RTL) languages, ensuring proper alignment and readability.
100% Responsive Design: The theme is designed to be fully responsive and optimized for all devices, ensuring a seamless browsing experience.
W3 Validation Code: The theme's code is validated according to W3C standards, ensuring it adheres to best practices and is error-free.
2 Google Fonts: The theme includes a selection of two Google fonts, allowing you to choose the typography that best suits your needs.
Lightweight Theme: The theme is built to be lightweight and optimized for fast loading, providing a smooth user experience.
Fast Loading: The theme is optimized for fast loading times, ensuring that your website loads quickly and efficiently.
SVG Icons: The theme utilizes SVG icons, which are scalable and provide crisp and sharp graphics on any device.
Easily Customizable: The theme is easily customizable, allowing you to personalize it to match your brand and preferences.
SASS Supported: The theme supports SASS (Syntactically Awesome Style Sheets), a CSS extension language that offers more flexibility and modularity.
Well-Written Documentation: The theme comes with comprehensive and well-structured documentation, guiding you through the installation and customization process.
Supported with Images and Without Images: The theme supports both image-based and text-based content, giving you the flexibility to choose the type of media you want to use.
Translation Ready: The theme is prepared for translation, allowing you to easily localize your website into different languages.
Ghost inbuilt features
Ghost Supported v5.x: This Responsive Ghost CMS Theme is compatible with Ghost CMS version 5. x, ensuring seamless integration and support for the latest features.
Publication and Description: Docslab Documentation Ghost CMS Theme provides a dedicated section for publications and descriptions, allowing you to showcase your content effectively.
Publication Cover: Customizable Ghost CMS Theme includes support for publication covers, enabling you to add visually appealing cover images to your publications.
Publication Logo and Icon: Docslab Professional Ghost CMS Theme allows you to upload your publication's logo and icon, maintaining a consistent branding throughout your website.
Social Accounts: This Modern Ghost CMS Theme provides integration with social media accounts, allowing you to display and link to your various social profiles.
Koenig Editor: This Clean Ghost CMS Theme supports the Koenig editor, a powerful and intuitive writing experience offered by Ghost CMS.
Primary Navigation: Docslab Premium Ghost CMS Theme includes a primary navigation menu, enabling easy access to different sections of your website.
Secondary Navigation: The Feature-Rich Ghost CMS Theme also offers a secondary navigation menu, allowing for additional navigation options.
General Posts and Pages: This Best Ghost CMS Theme for Documentation Websites supports general posts and pages, giving you the flexibility to create a variety of content.
Tags: This Ghost CMS Theme for Technical Writing includes support for tags, enabling better organization and categorization of your content.
Authors: This Responsive Ghost CMS Theme provides a dedicated section for authors, allowing you to showcase information and content from different authors.
Responsive Content: Docslab Documentation Ghost CMS Theme ensures that your content is displayed responsively, adapting to different screen sizes and devices.
Gallery: Docslab Professional Ghost CMS Theme includes a gallery feature, enabling you to showcase images and visual content in an attractive and organized manner.
Bookmark: This Customizable Ghost CMS Theme offers a bookmark feature, allowing users to save and access their favorite posts for future reference.
HTML Code: This Modern Ghost CMS Theme supports the inclusion of HTML code, enabling you to embed custom elements and enhance your content.
Code Highlighter: The theme includes a code highlighter, making it easier to display and style code snippets within your posts.
Share Posts on Social Media: This Premium Ghost CMS Theme provides social media sharing functionality, allowing users to easily share their posts on various platforms.
Post Navigation: This Feature-Rich Ghost CMS Theme includes post navigation options, enabling users to navigate between different posts on your website.
Load More Options: This Ghost CMS Theme for Technical Writing offers load more options, allowing users to load additional content without navigating away from the current page.
Translation Ready for Other Languages: The theme is designed to be easily translated into other languages, making it accessible to a global audience.
Subscription Features: Docslab Documentation Ghost CMS Theme includes features related to subscriptions, such as newsletter sign-ups or premium content access.
Membership: The theme supports membership features, allowing users to create accounts and access exclusive content.
Sign In: The Theme provides a sign-in functionality, enabling registered users to log into their accounts.
Signup: This Modern Ghost CMS Theme offers a user signup feature, allowing visitors to create new accounts on your website.
Notifications: The Theme supports notifications, keeping users informed about updates, new content, or other relevant information.
Pages of Docslab Ghost Theme
Docslab ghost theme includes custom-designed pages specifically tailored for Docslab, ensuring a consistent and cohesive visual identity throughout the site.
Homepage: The theme provides a dedicated homepage layout, allowing you to showcase featured content and introduce your website effectively.
Post Page: The theme offers a specialized post page template, providing a clean and optimized layout for reading articles and blog posts.
Tag Page: The theme includes a custom tag page template, allowing users to explore content based on specific tags or categories.
Author Page: The theme provides a dedicated author page template, showcasing information and content from individual authors or contributors.
Error-404: The theme includes a custom error-404 page, ensuring a user-friendly and informative experience for visitors who encounter broken links or missing pages.
Custom Author List: The theme offers a customizable author list page, displaying a list of all authors associated with your website.
Custom Tag List: The theme includes a customizable tag list page, presenting a comprehensive list of tags or categories used in your content.
Custom Post Fullwidth: The theme provides a full-width post layout option, allowing you to showcase your content without any sidebar distractions.
Custom Post Fullwidth Image: The theme supports full-width images within posts, providing a visually impactful and immersive reading experience.
Custom Contact: The theme offers a custom contact page template, providing a dedicated space for users to get in touch with you or your team.
Custom Account: The theme includes a custom account page, allowing users to manage their profile information, settings, and preferences.
Custom Membership: The theme provides a custom membership page, giving users an overview of their membership status and access to exclusive content.
Custom Sign-In: The theme offers a customizable sign-in page, providing a secure and user-friendly login experience for registered users.
Custom Signup: The theme includes a customizable signup page, enabling visitors to create new accounts and join your community.
Custom Changelog: The theme provides a custom changelog page, documenting and highlighting the updates, improvements, and changes made to your website over time.
Tested on
The theme has a great performance score, passing all relevant tests. it's also SEO-friendly. We make sure you can focus on creating content for your audience.
Credits of Content
Fonts used
Test Result
Credits
AWESOME SUPPORT
We have come with detailed documentation and dedicated support. Don't hesitate to reach out to our expert support team for any technical queries or assistance.
Quickly solve your issues with the help of experts
Fast and expert solutions to all your issues
Enjoy regular updates & bug fixes to stay on the web trend
If you have any Presale questions about this product, knock us in Live Chat 9 am-10 pm (UTC-6 Time).
FAQ
What is Docslab?
Docslab is a responsive Ghost CMS theme, designed for Knowledge & documentation-based ghost websites. It features a clean and modern design, customizable layouts, and a range of features to help you create professional online ghost documentation websites.
What are the benefits of using the Docslab theme?
Docslab is a powerful Ghost theme for professional documents and knowledgebase websites. With a user-friendly interface and extensive features, it allows you to effortlessly create stunning documents. Customize your website to match your brand and provide a seamless navigation experience. Docslab is your ultimate solution for professional and personalized documentation and knowledgebase websites.
What features does Docslab offer?
This Docslab ghost theme offers document creation/editing, collaboration/sharing, version control, access control/permissions, workflow automation, document organization/search, integration/compatibility, and security/data protection.
Is Docslab compatible with Ghost's latest version?
Yes, the Docslab theme is fully compatible with the latest version of Ghost, ensuring seamless integration and support for all your document creation and editing needs.
What are the system requirements for Docslab?
Docslab has minimal system requirements, making it accessible to a wide range of users. It can run on most modern browsers and requires a stable internet connection. You just need ghost hosting and a domain to install it.
How do I install and customize the Docslab theme?
Installing and customizing a Docslab theme is a straightforward process. We have in detailed documentation just go there and follow the guidelines.
How are you notified if update Docslab?
To stay notified about updates for Docslab, we send notification mail by email.
What is the difference between Docslab and other documentation themes?
Docslab stands out from other documentation themes with its modern design, customizable options, integration capabilities, documentation-specific features, and ongoing support and updates.
How do I purchase Docslab?
To purchase Docslab, you can click the Buy Now Button on this page and proceed to the purchasing page. We offer fast and secure payments through the FastSpring payment gateway, ensuring a seamless and reliable purchasing experience for our customers.
What is the refund policy for Docslab?
Our refund policy for Docslab is detailed on our website, specifically in the footer section. Please refer to the dedicated refund policy page for information regarding eligibility, timeframes, and any applicable conditions or restrictions. We strive to provide a fair and transparent refund process for our customers' satisfaction.
What are the documentation and tutorials for Docslab?
Docslab provides comprehensive documentation and tutorials specifically tailored for the theme. Our documentation covers various aspects, including theme installation, customization options, available features, and best practices for maximizing the theme's potential. We have created detailed guides and tutorials to assist you in effectively utilizing Docslab and achieving your desired results.
What are the future plans for Docslab?
At Docslab, we are committed to continuously improving and expanding our theme. Our future plans include regular updates to enhance functionality, add new features, and ensure compatibility with the latest versions of Ghost. We also strive to gather user feedback and suggestions to incorporate valuable enhancements into future releases. Our goal is to provide a seamless and exceptional documentation theme experience for our users.
What are the limitations of Docslab?
While Docslab offers a wide range of features and support, it has some limitations in the learning curve for beginners. However, these limitations can be addressed with the help of detailed documentation and dedicated support from the theme developers.
What is the scope of your support in this theme?
Support service covers general questions about theme functionality and helps with feature configuration and removing bugs or issues.
What is not included in your support for this theme?
The support service does not cover theme customizations or help to fix Ghost setup issues.
How fast do you respond to support inquiries?
I will get back to you at the earliest opportunity within one business day.
What is the period of your support?
All themes come with six months of support included with the theme price. After six months you you can ask for general support through our website Live Chat.
What happens after the support period ends? Will I still be able to use the theme?
Yes, you will be able. And you will always receive theme updates through your email notification.
Can I try a theme before I purchase it?
No. However, you can purchase a theme and have a 14-day money-back guarantee if it doesn't work out for you.
What is your refund policy?
Happy customers are our main priority. All themes have a 14-day Money Back Guarantee, No Questions Asked.
Can I use a single theme license on more than one website?
No. You need to purchase a separate theme license for each new website.
How can I reach you?
You can reach out to me by filling out the form on the contact page.
How often do you update your themes?
Updates frequency depends on a particular theme, but we always try to update our theme quarterly. I always ensure that all these themes are compatible with the latest version of the Ghost CMS.
I lost the theme download link. How can I find it?
You will be able to re-download your theme from the ElectronThemes Dashboard.