With the rapid rise in digitization comes a surge in the popularity of digital services and solutions, the most important software to help firms improve their websites, which is increasing their primary storefront. When it comes to web developments, headless CMS solutions are grabbing the market by storm. In comparison to traditional CMS, this proposed architecture lacks a front end, which may appear to be a disadvantage on paper. we've compiled a list of the top ten best headless CMS in 2023.
For better customer satisfaction, the demand for compelling, large content is growing. To acquire and hold consumer attention, businesses rely on a headless content management system (CMS). Creating and releasing elevated concentrations is a surefire way for businesses to expand, gain new customers, and deliver a better digital experience. To assist your company in selecting the finest headless content management solution.
WHAT IS HEADLESS CMS?
The phrase "headless" refers to the lack of a front-end component. As a result, the headless CMS comes with a back-end, a store, and an API for content distribution.
You can provide information to any device, website, or application by publishing via API. The key benefit is that you don't have to construct the backend with the front for only one supplier.
These global market intelligence firms offer insights into marketing research, data analytics, and customer analytics to engineering and business executives around the world. Let's take a look at the list of headless CMS software options.
CMS
Flexibility
Security
Performance
Customization
Pricing
GHOST

Highly Flexible with Custom Post Templates.
Ghost CMS's flexibility stems from its user-friendly interface.
Customizable themes.
Content management options.
API access.
It's support for various integrations.

Ghost takes security seriously and implements various measures to ensure the safety of its users and their data.
Ghost CMS ensures that websites built on the platform load quickly and deliver an optimal user experience.
Ghost CMS allows various customizations, empowering users to tailor their websites to specific needs and preferences.
Basic plan costs around $29 per month
Strapi

Strapi is known for its flexibility as headless CMS.
Its customizable content models, API-driven architecture, plugin system.
Ability to adapt to different development workflows.

Strapi takes security seriously and implements various measures to ensure the safety and protection of user data and content
It offers flexibility, security, and performance for creating customizable and scalable digital experiences.

Strapi offers extensive customization options
Allowing users to tailor content types, API endpoints, roles, admin interface, and more to fit specific project needs.

Start $99 per month for pro project
Storyblok
Storyblok is a flexible tool that encourages collaboration amongst developers, designers, and marketers, not only to manage content but to streamline and optimize the way you work internally for the better.
Storyblok headless CMS gives you the flexibility to integrate with anything and publish everywhere with best-in-class security.
Storyblok is known for providing good performance for content management and content delivery.
Storyblok offers a visual editor, enabling non-technical users to create and edit content directly in the context of the website or application, making content management more intuitive.
Start with $90 per month
Directus
Extensive Customization Options
Secure Authentication and Data Validation
Directus is known for its excellent performance due to its lightweight and minimalistic core. It efficiently handles content management operations and API requests.
Plugins and Admin Interface
Start with $99 per month
Sanity
Custom Schema and Content Structures
Regular Updates and Secure API Access
Real-time Data Sync and Image Optimization
Portable Text and Real-time Collaboration
Free and Paid plans with $99 per month
ButterCMS
Butter is a seamless CMS with a blazing-fast API and marketing dashboard.
Regular Updates and Secure API Access
Fast Content Delivery with Caching
Custom Fields and Content Modeling
Start with $83 per month
Netlify
Customizable with Markdown and YAML
Regular Updates and Secure Authentication
Serverless Architecture and Git-based Workflow
Custom Widgets and Themes
Free and pro with $19 per month
DatoCMS
Custom Data Structures and Relational UI
Regular Updates and Data Validation
Fast Content Delivery with Caching
Custom Plugins and Localization (i18n)
Freemium and pro start at $199 per month
Prismic
Custom Content Types and Fields
Regular Updates and Role-Based Access Control
CDN Support and Automatic Image Optimization
Custom Slices and Scheduling
Start at $100 per month
Mangolia
Custom Content Models and Fields
Regular Updates and Secure API Access
Fast Content Delivery with Caching
Rich Text Editor and Webhooks
$3000 per month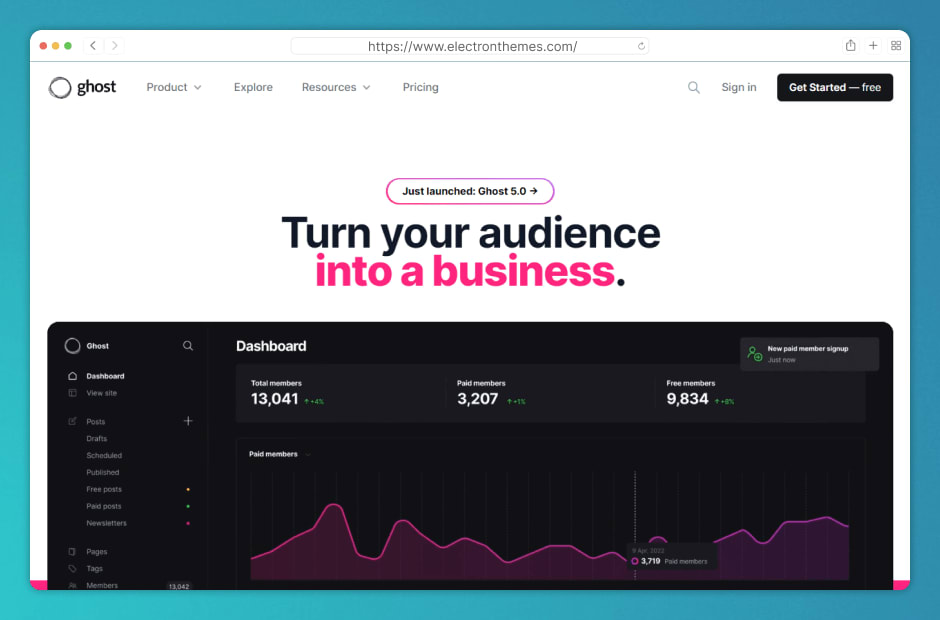 Ghost is an open-source software, commercial authoring tool based on the Node.js software platform, developed for teams who want strength, adaptability, and speed. Every day, Ghost serves hundreds of queries across tens of thousands of sites, powering some of the most popular stories on the web.
Ghost has the rich designer and ghost themes that every writer desires, but it also has far more power under the hood than you may think. All material is saved in MobileDoc, a JSON-based document management system that supports expandable rich media objects known as Cards.
HIGHLIGHTS INCLUDE
Archives, routes, and templates can all be tagged.
Writer archives, routes, and themes are all available.
For SEO purposes, I created a sitemap.xml file.
For SEO metadata, intelligent output and fallbacks are available.
Open Graph structured data is generated automatically.
PROS
You can create your own online platform.
Convert your clicks into contacts.
With native signup forms, Ghost makes it simple.
Distribute on the web and on a mailing list.
Audience engagement metrics in great detail.
Free ghost themes library
CONS
Technical knowledge is required for self-hosting
G2 Rating: 4.1/5
Explore G2 reviews for Ghost.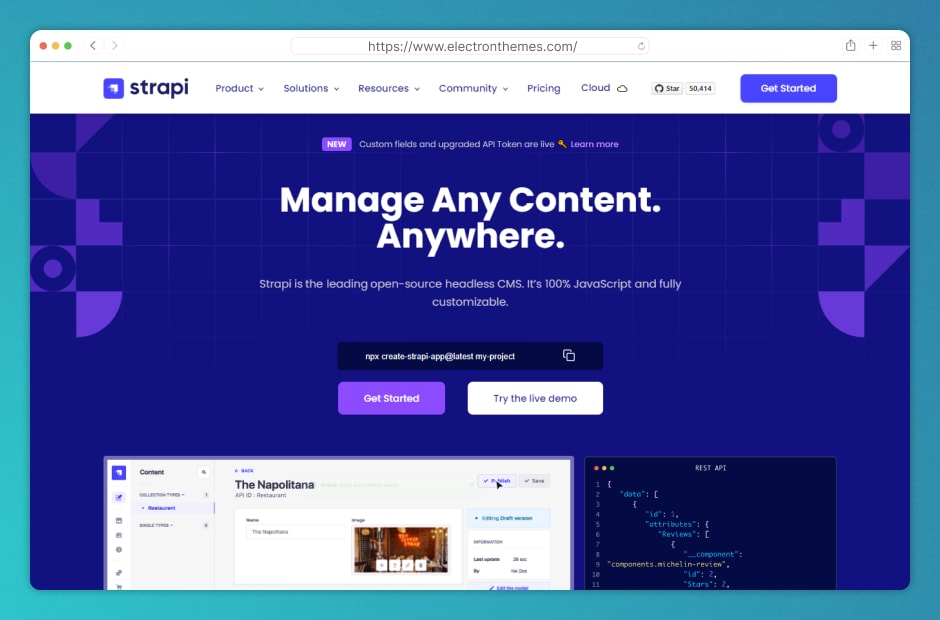 Strapi is the best headless CMS open-source Node.js, which means the complete code-base is hosted on GitHub and relies on contributions. Strapi is a self-hosted CMS, not a cloud-based service.
With the ability to establish categories such as Word, Time, Multimedia, Password, Relation, and Number, Strapi allows you to create the data structure you want. You can also customize the API code by editing it.
Although Strapi has the ability to make managing user sessions and apps easier, users have reported issues with the drag-and-drop interface and array data formats.
KEY POINTS INCLUDE
Admin Panel with a Modern Look.
By default, everything is safe.
Plugins are the focus.
Exceptionally quick.
Agnostic on the front end.
CLI with a lot of punch.
Databases in SQL.
PROS
Maintain control over the data. With Strapi, you always know where your information is stored and have complete control.
It's a self-hosted website. Strapi projects can be hosted and scaled in any way you wish.
It's adaptable. You may quickly create logic by completely changing APIs, routes, or plugins to meet your specific requirements.
Database independent. Strapi is a tool that works with SQL databases. You have the option of using PostgreSQL, MySQL, MariaDB, or SQLite as your database.
Installing a new business with Strapi is simple and quick, and creating APIs is quick and flexible.
CONS
Strapi's most significant flaw is its price model. Only a restricted number of users and roles are supported in the free edition.
G2 Rating: 4.6/5
Explore G2 reviews for Strapi.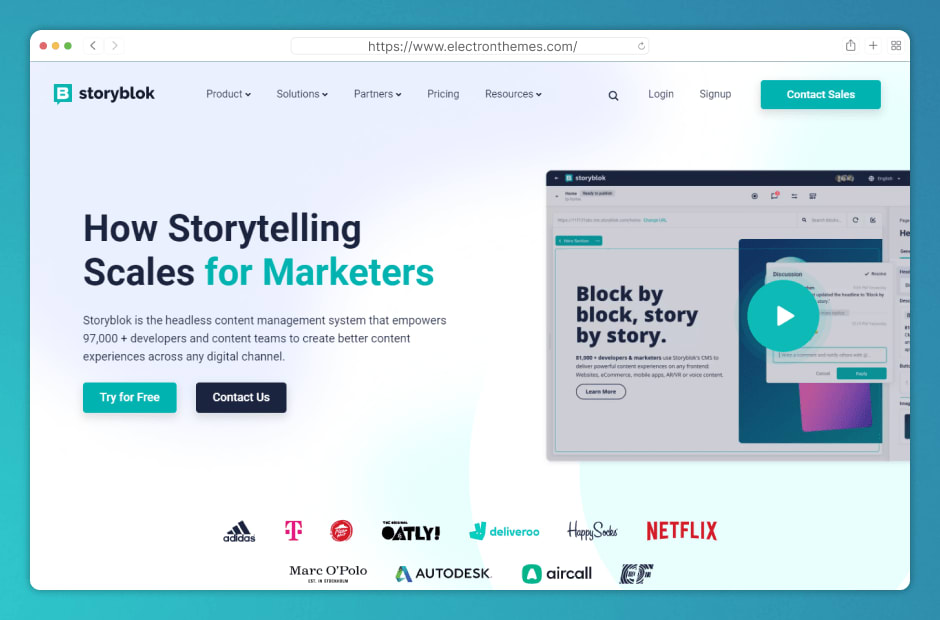 Content repurposing for different platforms is tough with standard CMS. Other headless systems may be more versatile for developers, but their editor capabilities are still severely constrained.
Storyblok is a publishing team's visual editor. Storyblok is a headless SaaS content management system. This, like previous website builders, makes it easier for editors to make changes themselves.
On top of a current headless architecture that enables developers the ability to construct fast and reliable digital platforms, Storyblok delivers a unique combination of visual editing tools and highly customizable content blocks for marketers.
HIGHLIGHTS INCLUDE
By default, multilingual support is available.
Providing excellent experiences assists you in converting your visitors into clients.
Organize, manage, and distribute your material over the web.
Workflows for distributing content
Plugins can be used to improve the capabilities.
PROS
Visual editing.
Data sources.
Component-based architecture.
CONS
If you wish to use the CMS as a database, this is not the CMS for you.
G2 Rating: 4.6/5
Read G2 reviews for Storyblok.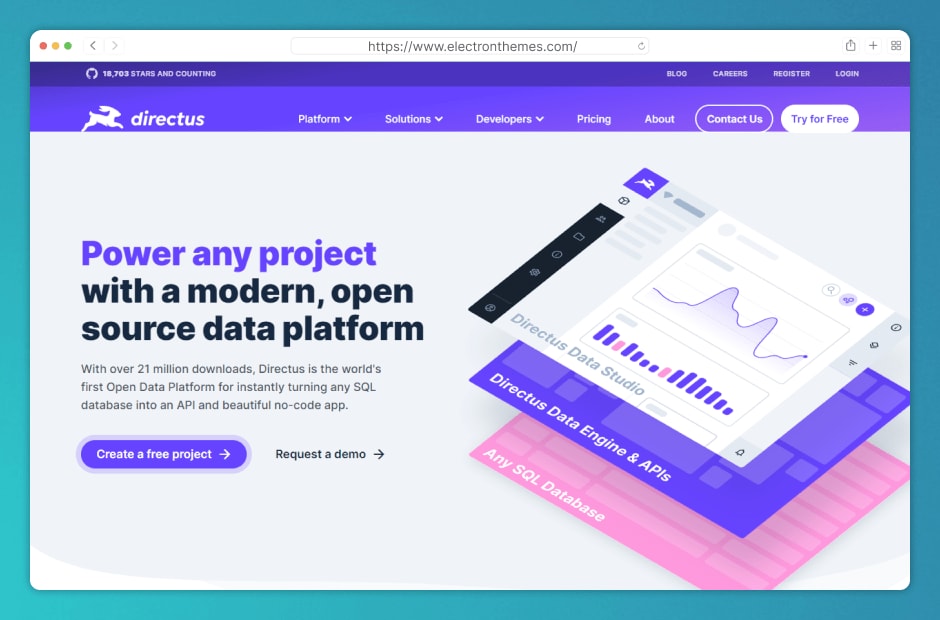 If you have a modern SQL database, Directus is the best headless CMS for blog writing. It's written in vue.js, the public API is RESTful, and it's driven by Node.js. Because Directus is open source, you can use it without any restrictions. The product package includes a free self-hosted admin app for editors and a content API for developers.
We escape the economic trap that frequently comes with taking on financing too soon and focusing entirely on sales and explosive growth by being small and agile and remaining totally focused on the product itself. Every decision we make is based on factual usage and research, and we believe in steady, educated growth.
HIGHLIGHTS INCLUDE
Good personalization.
Out of the box, 30+ languages are supported.
Verification built-in.
App with no coding.
It's completely decomposable and expandable.
PROS
Simple to install and set up.
GraphQL is a fantastic addition to today's technology.
It's fully white label, which makes it even more appealing to your staff.
It's completely adaptable.
CONS
The lack of explanation for the interface is a disadvantage.
G2 Rating: 5/5
Explore G2 reviews for Directus.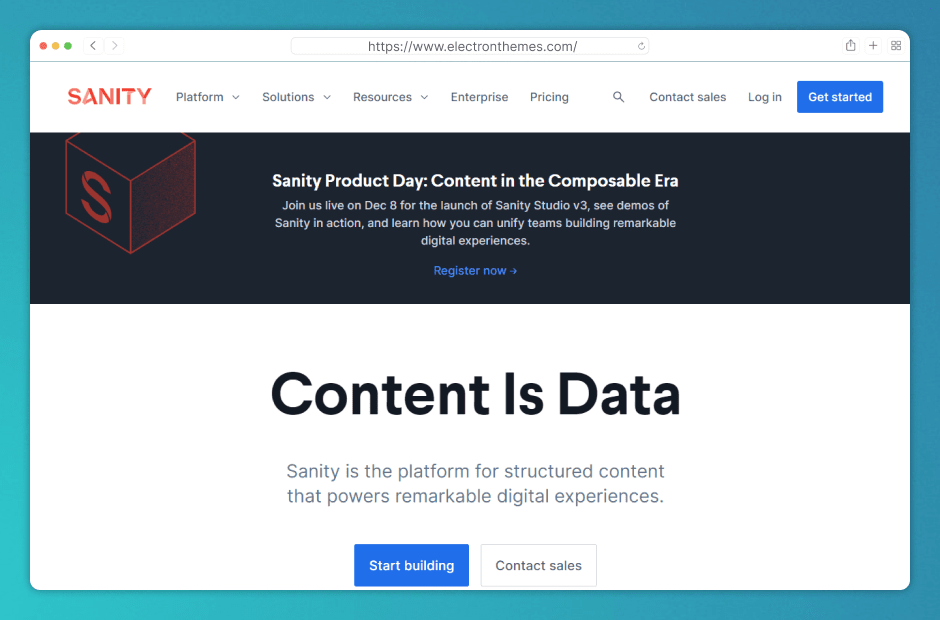 Sanity.io is the best headless CMS for React and is a system for organizing and managing your content. It can, however, be used for much more than just document management. Apart from "standard" capabilities like picture management and API interaction, Sanity gives you control over your processes, workflows, and even the appearance of your dashboards.
It is built on a foundation of customization, delivers best-in-class collaboration, and gives a route for ongoing scalability on a secure and legal cloud platform.
HIGHLIGHTS INCLUDE
Authoring is the process of creating content.
Editor for Rich Text.
Updating.
Asset Management
Archive of content.
PROS
There is a great deal of versatility here.
There is a lot of room for customization.
The free version is fantastic.
It has a lot of features.
The user interface is stunning.
CONS
It's inconvenient.
There is no method to contact their customer service.
The learning curve is steep.
The customer experience is abysmal.
G2 Rating: 4.8/5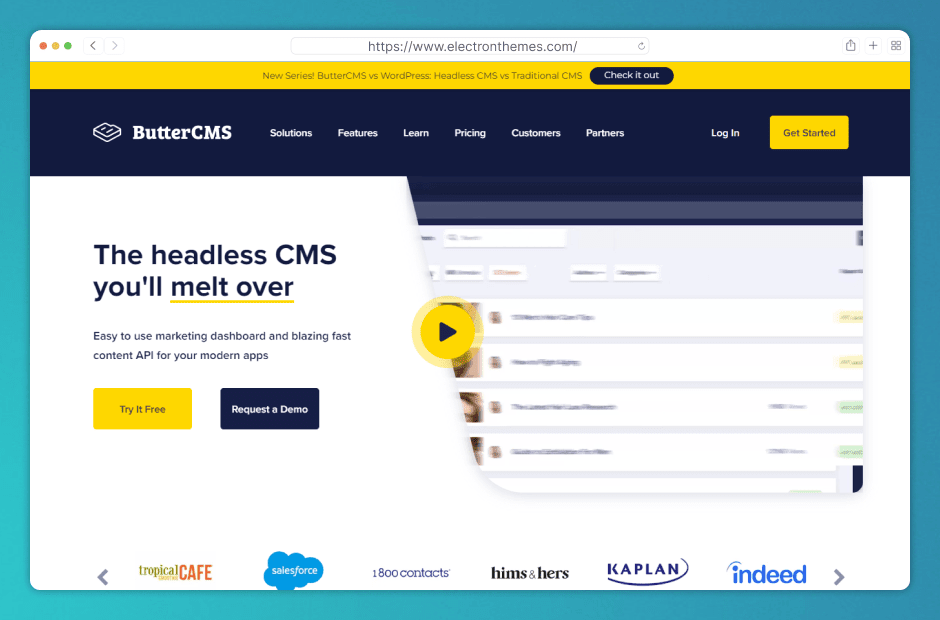 Butter CMS is one of the best headless CMSs for Next.js that allows for seamless data migration from older CMS systems. Custom content types, a media library, a CDN for assets, a testing environment, webhooks, and more are all included in ButterCMS. It enables multi-sites and settings, as well as extensive revision history, scheduling, and much more.
HIGHLIGHTS INCLUDE
Assistance with SEO
It only takes a few minutes to set up and integrate.
WYSIWYG editor is already installed.
Service for migrating from a typical content management system (CMS).
Support for the CDN
Admin panel with many options.
PROS
Create and share content from any location.
Reduce your expenses.
Reduce the time it takes to get something to market.
With ease, modify and distribute.
CONS
Unable to preview content before publication
Complex setup for non-technical teams
No ready-made themes
G2 Rating: 4.8/5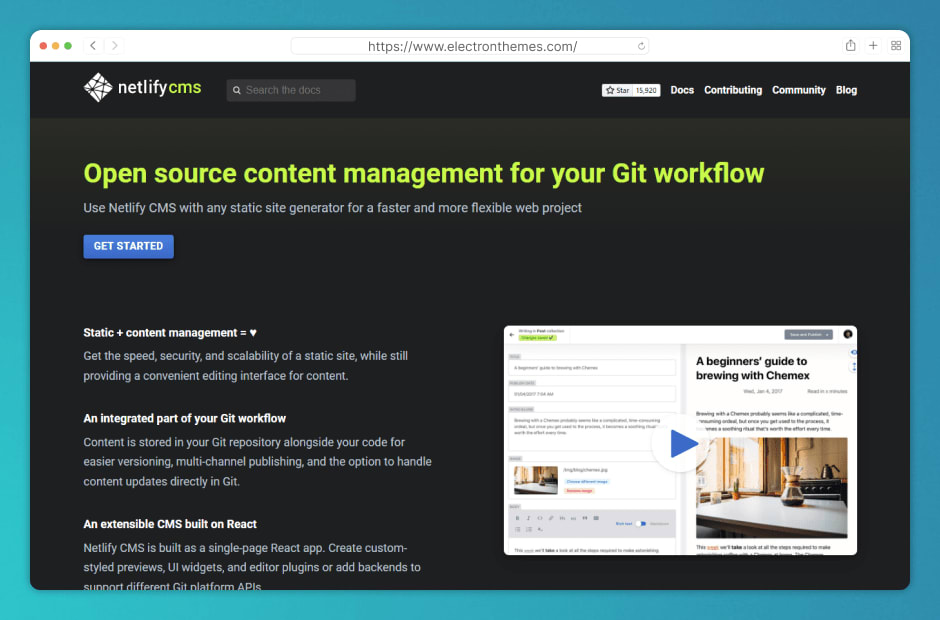 Netlify CMS, another accessible headless system, can be combined with any static generation to create a more comfortable and faster online project. The tool is a single-page React application. Netlify stores your material alongside your code in your Git repository for easy versioning, multi-channel publishing, and the ability to handle content instant updates in Git. It also allows for real-time previews, which ensures that material is working properly before it is published.
HIGHLIGHTS INCLUDE
Gateway to Git.
Workflow for content teams that is intuitive.
Good user interface for content creators.
There are web-based as well as control services accessible.
Rich text editor built-in.
Can continuously get all updates from GitHub and Gitlab.
PROS
Installation is simple.
Frictional pressure media uploads, real-time viewing, and rich-text editing
When it comes to building custom previews, you have a lot of flexibility and extensibility.
The level of protection goes beyond that of a server-side CMS like WordPress.
Custom field management.
CONS
Incongruence with page builders.
G2 Rating: 4.6/5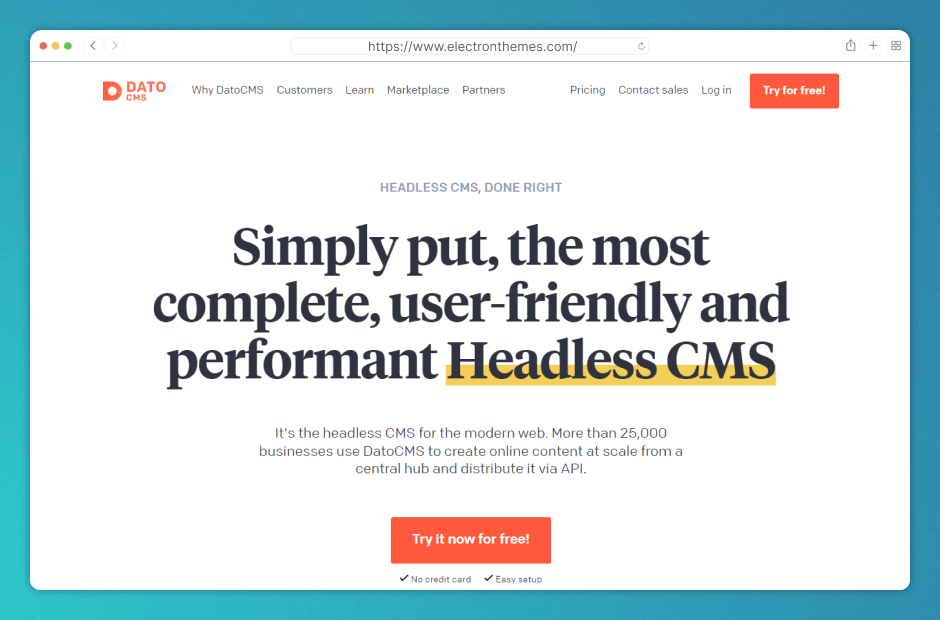 The fact that DatoCMS is developed in GraphQL and is API-based is noteworthy. GraphQL describes the API's operations, including input and answer choices, and provides an unbreakable agreement that specifies an API's capabilities.
An image and video schema builder, appearances, easy photo retouching, international content, and more capabilities are included in DatoCMS.
HIGHLIGHTS INCLUDE
API for real-time updates.
API for Content Delivery.
API for real-time updates.
API for Content Management.
PROS
Fieldsets are used to group fields that are related.
For enhanced management procedures, many responsibilities are required.
A user-friendly online app with a plethora of customization choices.
Multi-language is simple to set up and configure.
Models that don't contribute toward your model limit are blocked.
CONS
For ongoing work, the free plan is insufficient.
G2 Rating: 4/5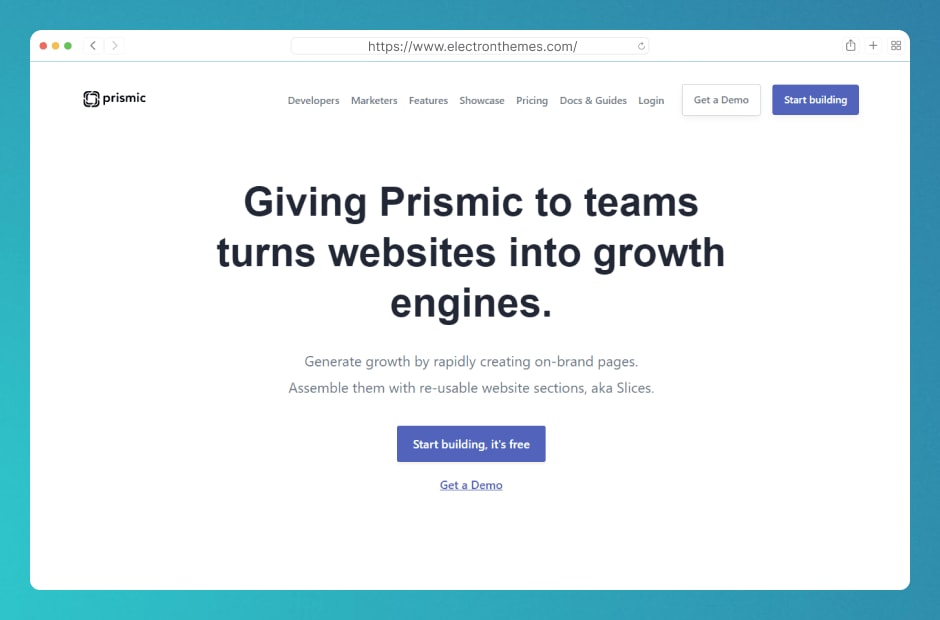 Many large firms, like Google, Netflix, and others, rely on Prismic, a SaaS headless CMS. The product enables you to pick the technology, framework, and language you want to use, and then implement and manage the material with ease. It allows native eCommerce platform connections.
It's not a completely free open-source content management system. The basic version for free, but you must pay to unlock the full potential of this tool.
HIGHLIGHTS INCLUDE
Out-of-the-box globalization.
It's feasible to plan ahead and get a sneak peek.
Many different tech stacks are supported.
PROS
The user interface is simple and intuitive, with three primary components.
Versioning and scheduling are simple to manage.
There are very few feature constraints across all accessible tiers.
CONS
The admin panel was a little sluggish to respond.
On tiers lower than Medium, SLA, and backup with restoration are not available.
G2 Rating: 3.7/5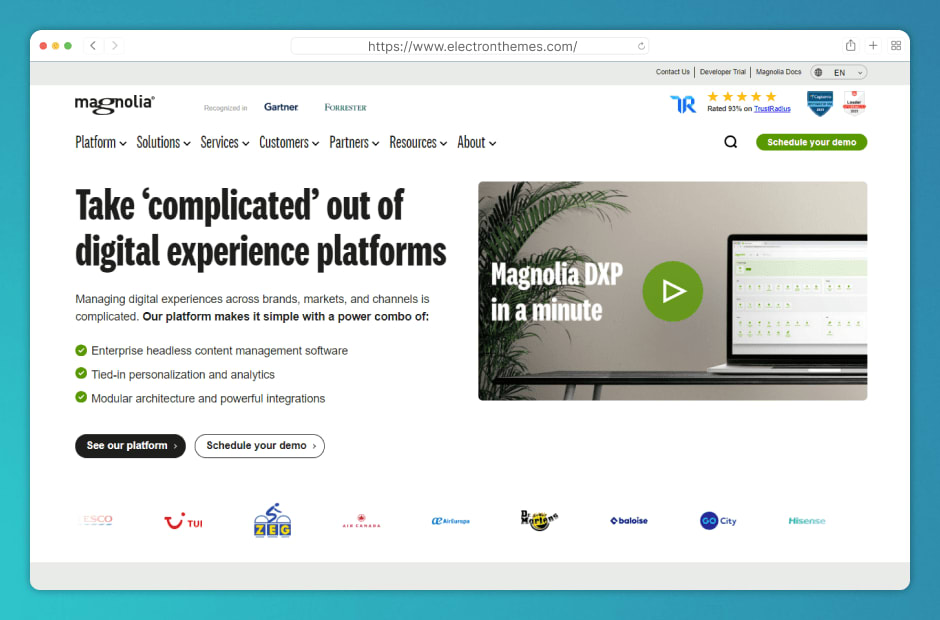 Magnolia CMS is a content management system that provides users with the functionality and resources they need to manage complex multi-channel, multi-site, and multi-language digital experiences. It is an accessible Java CMS system that enables enterprises to create digital content as well as organize and conduct sales and digital marketing efforts.
HIGHLIGHTS INCLUDE
Search engine optimization (SEO).
Editor of content.
Mail.
Pulse.
Feeds.
Management of digital assets.
Cache.
Workflow.
PROS
A platform that is centralized.
Content organization is important.
Support for integration is extensive.
Web-based apps that are easy to use.
CONS
For developers, there isn't enough detailed headless version information.
G2 Rating: 4.2/5
Choosing the Right Modern CMS for Your Business Needs
A content management system, a CMS, is specific software that allows users to create, manage, and modify content on websites without the need for technical knowledge or skills. if you starting a publisher business then you need to choose the Modern CMS. Here are some tips to consider when choosing the right modern CMS for your business needs:
Clearly define your business requirements and objectives, considering scalability, customization options, and content management features.
Evaluate flexibility and customization capabilities, ensuring the CMS supports your desired design and functionality.
Assess content management features, including user-friendly interfaces, content creation/editing, versioning, and scheduling.
Consider scalability, integration capabilities, security measures, and ongoing support and updates provided by the CMS vendor.
Evaluate the total cost of ownership, including licensing, maintenance, hosting, and potential customization or development expenses.
Look for a CMS that prioritizes user experience, offers training resources, and can adapt to future technological advancements.
Headless Architecture: Why It Matters for Your CMS
Headless architecture is a design approach where the frontend presentation layer of a content management system (CMS) is decoupled from the backend content management functionality. Instead of relying on a monolithic CMS that tightly integrates content creation and presentation, a headless CMS allows for greater flexibility and adaptability. Here's why headless architecture matters for your CMS:
Freedom of Frontend Technology
Seamless Multi-Channel Content Delivery
Faster Time-to-Market
Scalability and Performance
Future-Proofing and Flexibility
RESTful CMS: What It Is and How It Works
A RESTful CMS (Representational State Transfer) is a content management system that follows the principles of REST architecture. It uses standard HTTP methods (GET, POST, PUT, DELETE) to create, read, update, and delete content. RESTful CMS platforms provide a stateless and scalable approach to content management, allowing for easy integration with other systems and enabling developers to build flexible and interoperable applications.
A RESTful CMS works by exposing content and functionality as resources accessible through unique URLs. It uses HTTP methods for performing CRUD operations on these resources, such as retrieving content with GET requests, creating content with POST requests, updating content with PUT requests, and deleting content with DELETE requests. This approach allows for easy integration, scalability, and interoperability with other systems and applications.
Contemporary CMS: The Future of Content Management
Contemporary CMS represents the future of content management, embracing innovative technologies and addressing the evolving needs of businesses and users. It incorporates advanced features such as artificial intelligence, machine learning, personalization, and automation to deliver highly tailored and engaging content experiences. Contemporary CMS platforms prioritize scalability, flexibility, and seamless integration with emerging technologies, enabling businesses to stay ahead in the digital landscape.
With enhanced analytics and data-driven insights, contemporary CMS empowers organizations to make informed decisions, optimize content strategies, and provide personalized experiences, driving success and customer satisfaction in the rapidly evolving digital world.
Jamstack-Ready CMS: The Next Step in Web Development
Jamstack Ready CMS represents the next step in web development, offering a modern and efficient approach to building websites and applications. Combining the power of a headless CMS with the Jamstack architecture (JavaScript, APIs, and Markup), separates the front end from the back end, enabling faster performance, improved security, and seamless scalability.
Jamstack Ready CMS platforms provide developers with the flexibility to choose their preferred frontend frameworks and tools, while still benefiting from a robust content management system. With its decoupled nature, Jamstack Ready CMS empowers developers to create dynamic, interactive, and personalized web experiences that can adapt to evolving user demands.
FAQs
Do you have more questions about Headless CMS? We have answers to some frequently asked questions on the topic.
How does an API-driven CMS work and what are its benefits?
An API-driven architecture allows components and services connected to an API to remain modular. This means that components are independent and use the API to communicate and share information. An API-driven CMS, also known as a Headless CMS, works by separating the content management backend from the frontend presentation layer.
It provides content creators with a user-friendly interface to manage and organize content, while the content itself is delivered through APIs (Application Programming Interfaces) to various frontend applications, such as websites, mobile apps, or IoT devices.
The benefits of an API-driven CMS include:
Flexibility
Omnichannel Content Delivery
Scalability
Content Reusability
Future-Proofing
What is Content as a Service (CaaS) and how does it work?
Content as a Service (CaaS) is an approach to content management where content is stored and managed separately from its presentation or delivery. It involves utilizing a headless CMS or API-driven CMS to provide content via APIs to various front-end applications, such as websites, mobile apps, or IoT devices.
Content as a Service (CaaS) operates by separating content management from its presentation. Content is stored and managed in a central repository using a headless CMS. Frontend applications retrieve content through APIs, allowing developers to present it in various formats. This decoupled approach enables content reusability, flexibility in presentation, and seamless delivery across different platforms.
How do Microservices-based CMS differ from traditional CMS platforms?
Microservices-based CMS platforms differ from traditional CMS platforms in their architectural approach and the flexibility they offer. While traditional CMS platforms have a monolithic architecture where all functionalities are tightly coupled, microservices-based CMS platforms follow a modular approach.
They break down the system into smaller, independent services or microservices that handle specific functionalities. This architectural difference allows for scalability, technology stack diversity, independent development and deployment of services, and seamless integration with external systems.
What is Omnichannel Content Management and why is it important for businesses?
Omnichannel content management enables organizations to deliver consistent and personalized content experiences across multiple channels and devices, such as websites, mobile apps, social media, email, voice assistants, and IoT devices.
Omnichannel content management is important for businesses for several reasons:
Seamless Customer Experience
Increased Reach and Engagement
Personalization and Targeting
Data-Driven Insights
Competitive Advantage
Improved Business Performance
How does RESTful CMS differ from a traditional CMS?
RESTful CMS platforms differ from traditional CMS in their architectural approach and integration capabilities. RESTful CMS follows a resource-oriented, stateless architecture, allowing for scalability and easy integration with other systems through APIs.
Traditional CMS platforms, on the other hand, typically have a monolithic architecture and may have limited or proprietary integration options. RESTful CMS provides a more flexible and interoperable solution for content management in today's interconnected digital landscape.
How do Microservice-oriented CMS work and what are their benefits?
Microservice-oriented CMS provides organizations with increased scalability, flexibility, integration capabilities, agility, and resilience. It enables them to adapt to changing business needs, leverage diverse technologies, and deliver a more efficient and robust content management solution.
How does a Jamstack-ready CMS differ from a traditional CMS?
Jamstack-ready CMS provides more architectural flexibility, better performance, improved scalability, enhanced security, and modern development workflows compared to traditional CMS platforms. Jamstack-ready CMS differs from traditional CMS in the following ways:
Architecture
Frontend Flexibility
Performance and Scalability
Security
Development Workflow
Conclusion
Finally, we can confidently assert that selecting the correct headless CMS has a direct impact on your organization. All of this suggests that the headless method has a bright future ahead of it, and we can look forward to a lot of exciting developments.
You May Like!