Blogging has become an integral part of modern-day communication, allowing individuals and businesses to share their thoughts, ideas, and stories with the world. If you're using Ghost as your preferred blogging platform, you already know its simplicity, elegance, and power. But let's face it – having a stunning and responsive blog theme can make a world of difference in captivating your readers and enhancing their overall experience.
In this blog post, we'll take a look at 15 of the best free open-source Ghost blog themes for 2023. These themes are all well-designed, easy to use, and highly customizable. So whether you're just starting out with Ghost or you're looking for a new theme to freshen up your blog, you're sure to find something you like in this list.
Overview of the content, In this blog you will known:
The best 15 Free Ghost themes Name.
The Themes Features.
The Themes Prices.
You can get demo Link to see theme preview.
Your can get download link.
The Conclusion
FAQs
Top 15 Free Ghost Themes
Ghost provides various themes in its marketplace. You can pick whichever suits your needs. Here are the top 15 free Ghost themes you can try out now:
1) Massively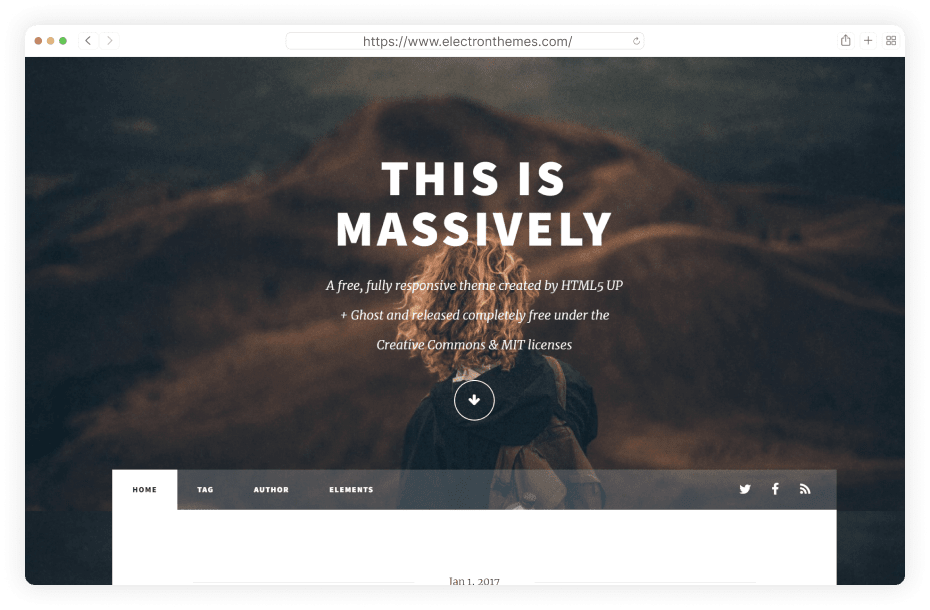 Massively is a heavy-text-focused ghost theme. It has article oriented design it also uses huge background images and scroll effects. Massively is a modern designed and responsive theme.
Features of Massively:
Big background image
Scroll Effect
Modern Design
Awesome Header
2) Ruby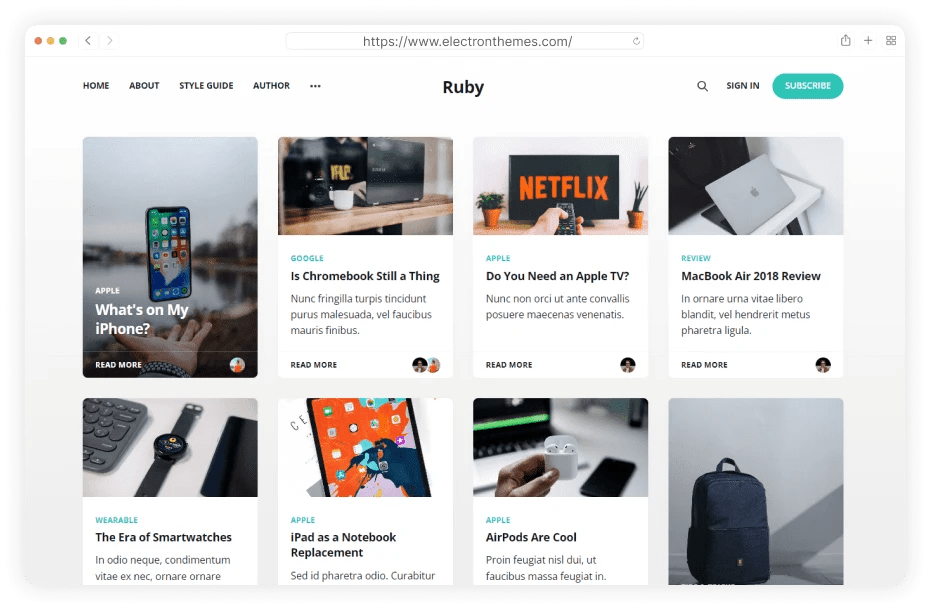 Ruby is a clean and beautiful multi-column ghost theme with a unique card layout. This theme comes with a lot of features that you need to create a blogging website. Ruby is a fully responsive layout design that you can make look beautiful on any device. Make your publication more organized with cards and widgets.
Features Of Ruby:
Unique card layout
Custom widgets
Sticky sidebar
Modern grid-based layout homepage
Professional and creative design
Clean and content-focused
Accessible from any device
3) Attila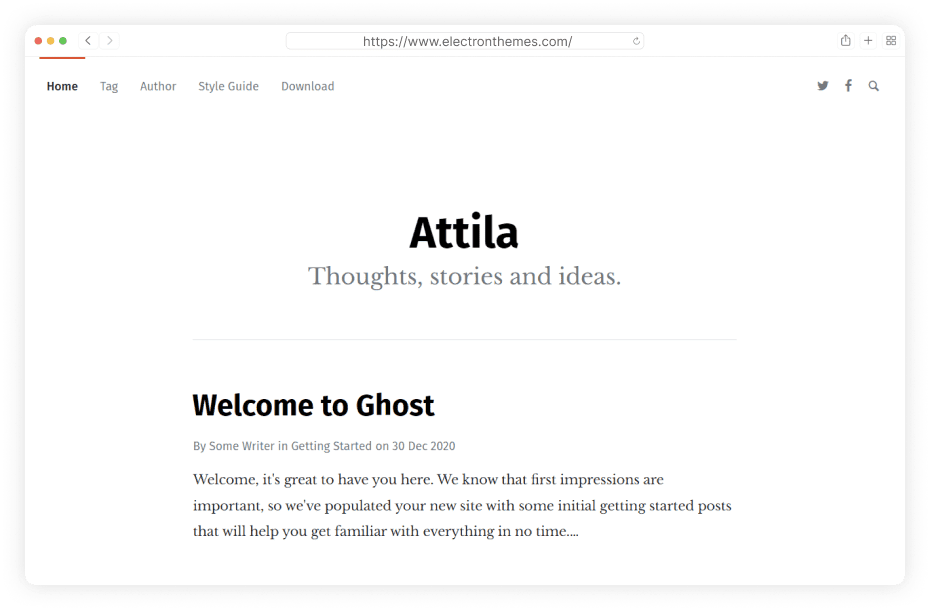 Attila is a minimal, content-focused blogging theme. It has several features to make your blog very easy. Attila's has a featured post section that is placed at the very beginning of the home page. It also has a reading progress section for the readers. Attila has a responsive layout that looks beautiful on any device. This theme includes dark and light versions.
Features Of Attila
Light and Dark modes
Responsive layout
Search support
Post-reading progress
Code highlights, including line numbers
4) Headline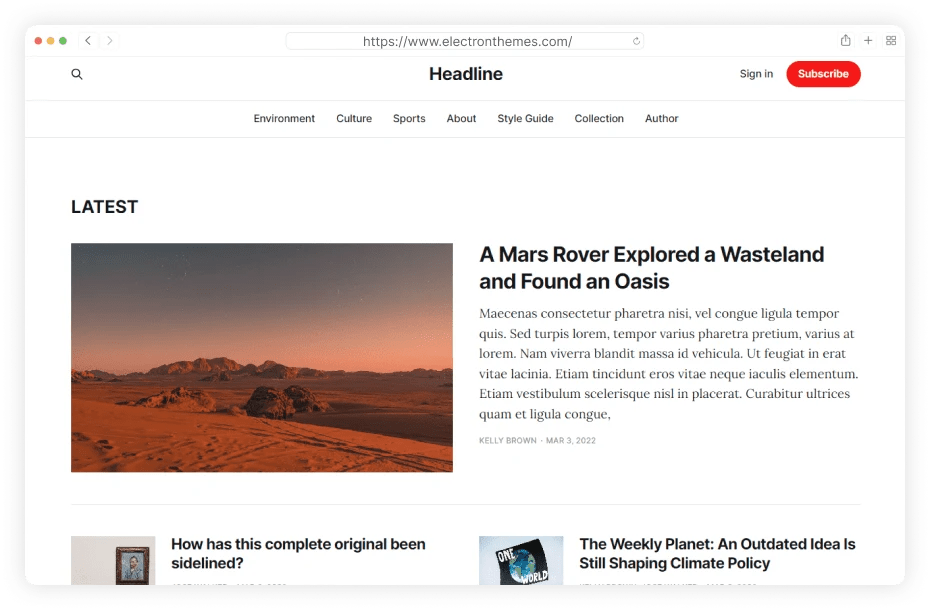 A headline is a simple and free magazine theme. It's used for magazine blog websites. It has a unique minimalist blog design that makes your blog look better. The headline is a fully responsive design for all screens. It's fully customizable; you can change color, logo, text, and design layout.
Features Of the headline:
Simple and Easy Design
Fully Responsive
Content-focused design
Easy Customization
Latest post Section
Minimalist Header
5) Dawn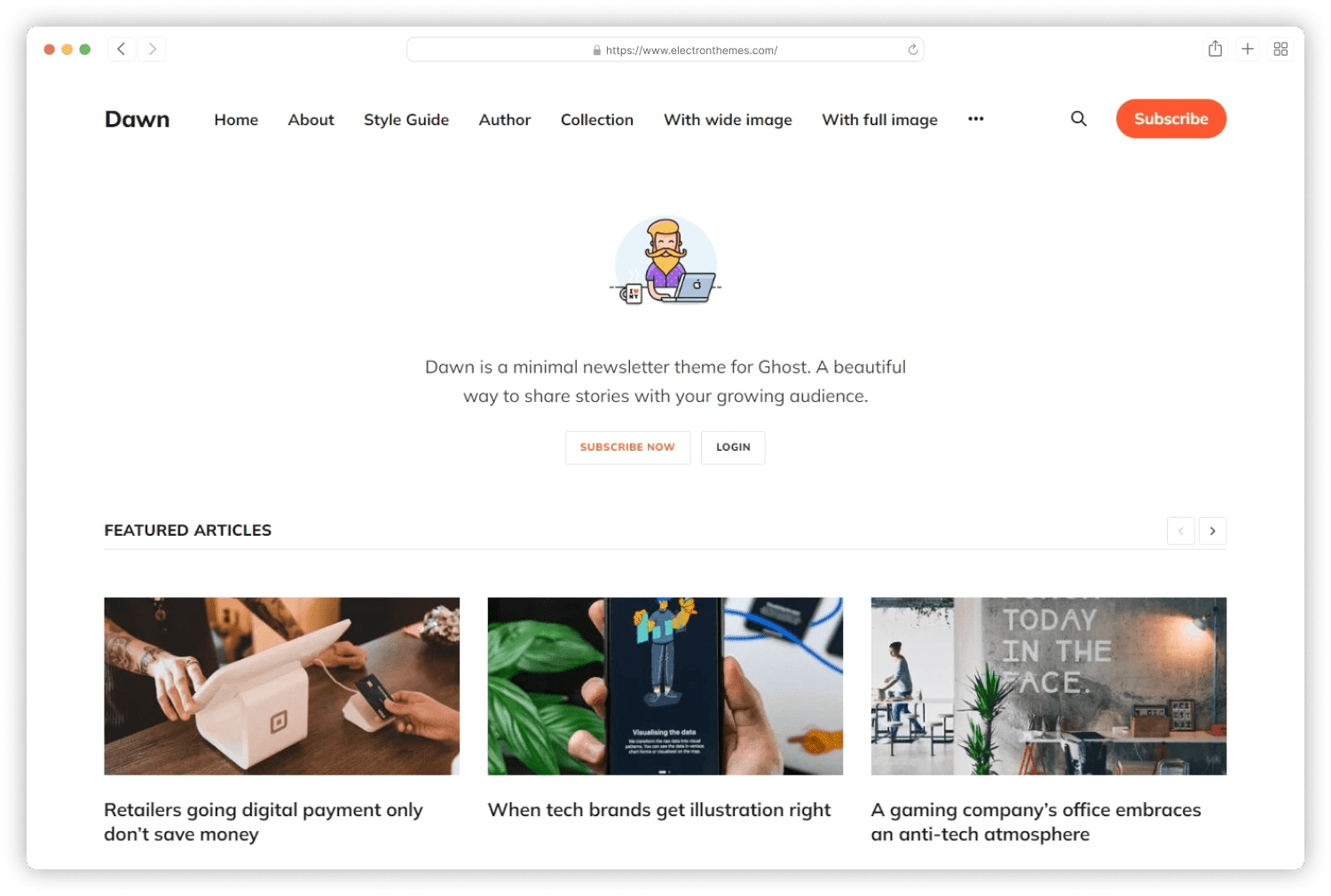 Down is an official ghost theme it is free to use. This theme focuses on simplicity and is suitable for blogging, magazines, and writers. It is a highly functional ghost theme that adapts to the reader's performance. Dawn is a minimal and lightweight free ghost theme you can use to create your beautiful blog or magazine website.
Features of Dawn:
Clean and unique homepage design
Unique feature article carousel
Multiple single post page design
Super-fast and Responsiveness
6) Journal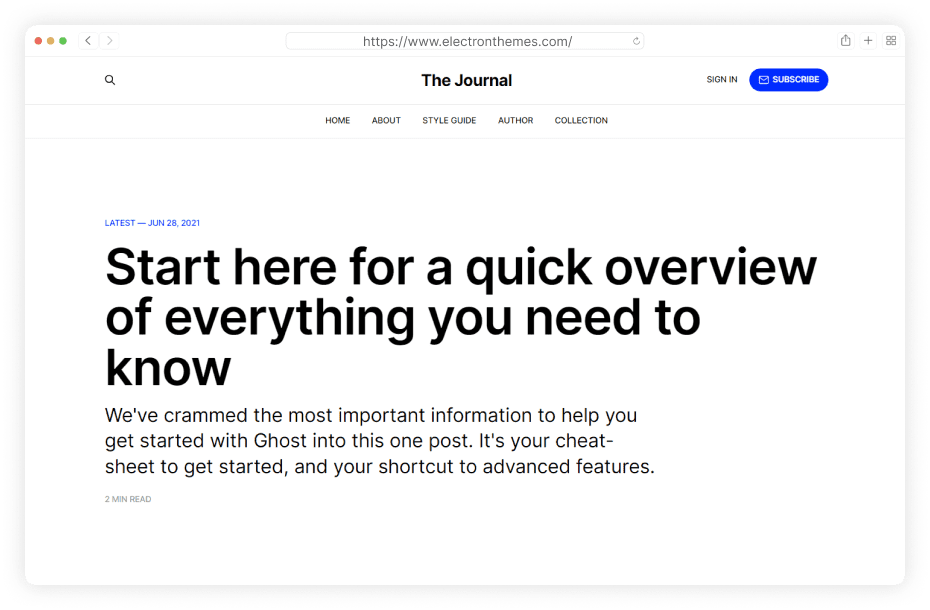 Journal is a free journaling and magazine theme. It is a minimal, typography-heavy newsletter with a content-focused theme. It has a user-friendly design with a good-looking sidebar. The journal has a fully responsive design.
Features of the Journal:
Clean and Content-Focused Design
Minimal Blog
Responsive design
Newsletter option
Sidebar
7) Liebling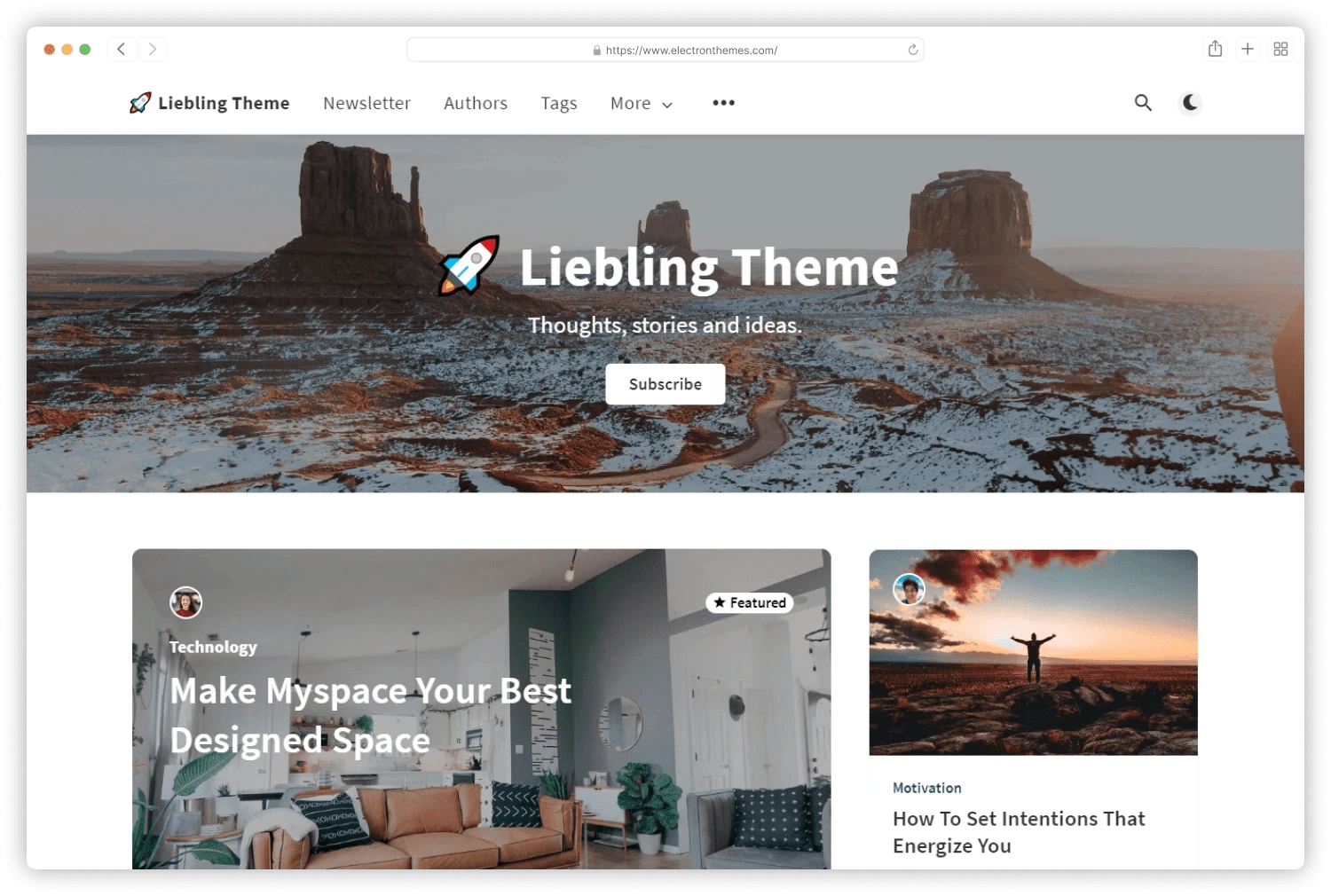 Liebling is a modern ghost theme it is very easy and comfortable to use. This is a free theme, and you can use it for any type of modern blog or magazine website. It is a mobile-friendly, fancy-looking magazine theme. Liebling is the perfect theme for personal blogs and membership sites. It has a light and dark color variation feature.
Features of Liebling:
Awesome homepage
Clean and modern design
Newsletter subscription
Responsive Layout
Awesome Post grid
8) Alto
Alto is a clean and minimalist ghost theme. It is ideal for creating blogs and magazine websites. It has modern features and a professional design, so you can make a membership platform that looks like a professional website. It has all the right features of a great theme design. You should choose this theme for your next blogging website.
Features of Alto:
Hero section options
Beautiful Homepage design
Includes tags and author archives
Clean and bold design
9) Digest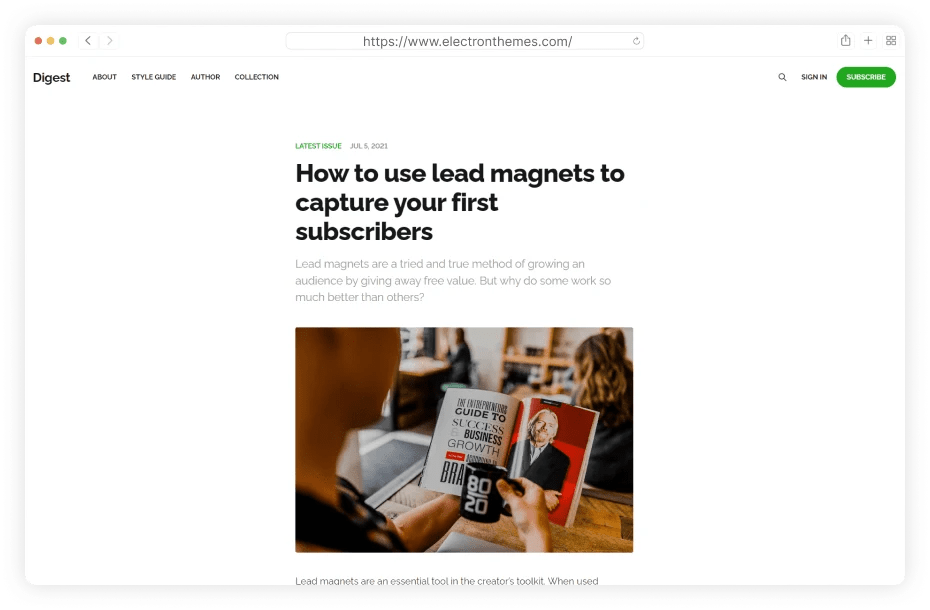 Digest is a minimal newsletter theme. Digest has a dynamic homepage. It is a responsive, minimal blog theme. Digest is an official free theme.
Features of the Digest:
Minimal Design
Newsletter blog
Beautiful Header
Responsive Design
10) Bulletin
Bulletin is a minimal newsletter theme. This theme's homepage is divided into two sections. The left-hand section is optimized for capturing new email subscribers with a bold background color. The right-hand section shows an excerpt from the latest issue you've published. It is responsive on all devices.
Features of the Bulletin:
Minimal Design
Newsletter blog
Beautiful Header
Responsive Design
11) Solo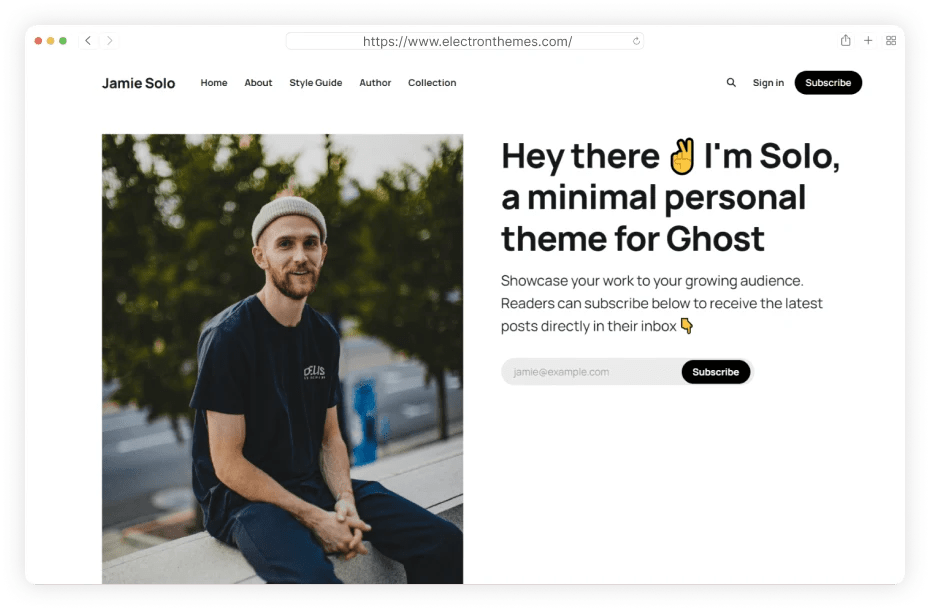 Solo is a minimal and clean ghost theme. It should be well-built, snappy, and really good for you if you are starting a personal blog. Solo is a content-focused theme where you can showcase your content for your growing audience. Solo comes with a newsletter subscription feature that readers can subscribe to receive the latest posts and news. The Solo theme is fully responsive and has a clean and beautiful design.
Features Of Solo:
Clean and content-focused design
Responsive design
User Subscribe option
Real-time search
Fast loading
12) Casper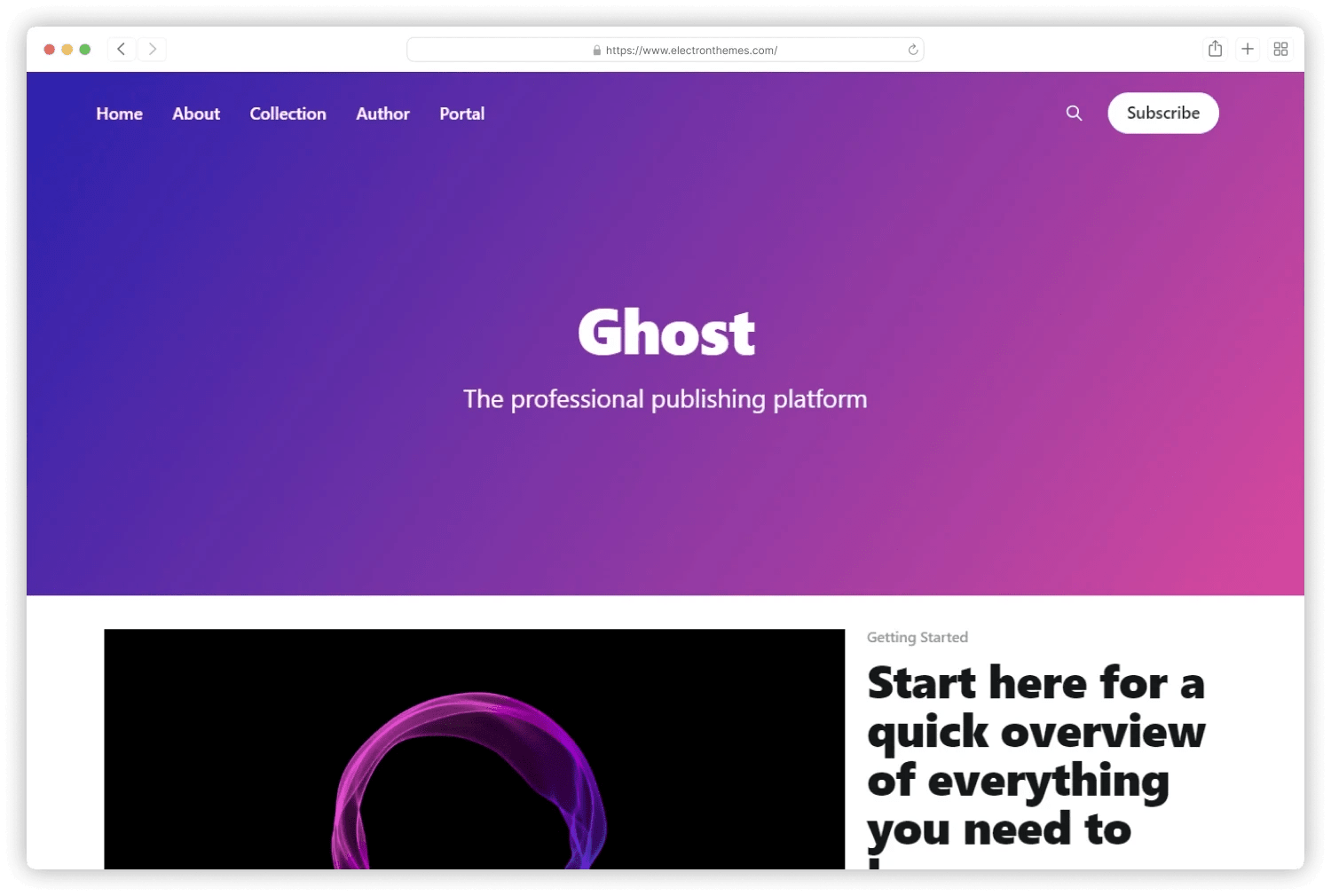 Casper is an official minimal blog and magazine theme. It is completely free to use. It has a grid-based blog design with the main featured article at the top. Casper is a reader-friendly and productive ghost theme. If you want to create a modern blog-based website, then Casper is suitable for you. Casper is the best choice for a ghost CMS theme for minimalist websites.
Features of Casper:
Awesome hero section with a feature blog
Clean and unique homepage design
Awesome blog layout design
Super-fast and Responsiveness
13) Taste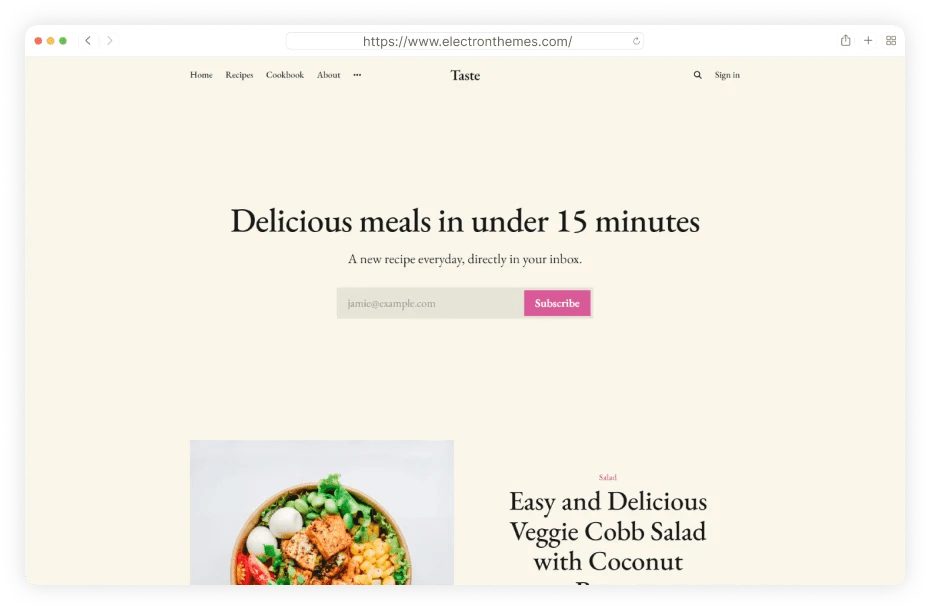 Taste is an elegant, minimalist Ghost theme for food and recipe blogs, with responsive design and customizable features. It is integrated with memberships, newsletters, comments, search, and everything else you need to share recipes on a food blog. Taste comes with a unique style and is a fully responsive ghost theme. You can easily adjust it to suit your brand in the design settings in admin.
Features of Taste:
Minimal post grid
Newsletter sending option
Membership and comment option
Fast search option
Multiple Browser Compatibility
14) Ease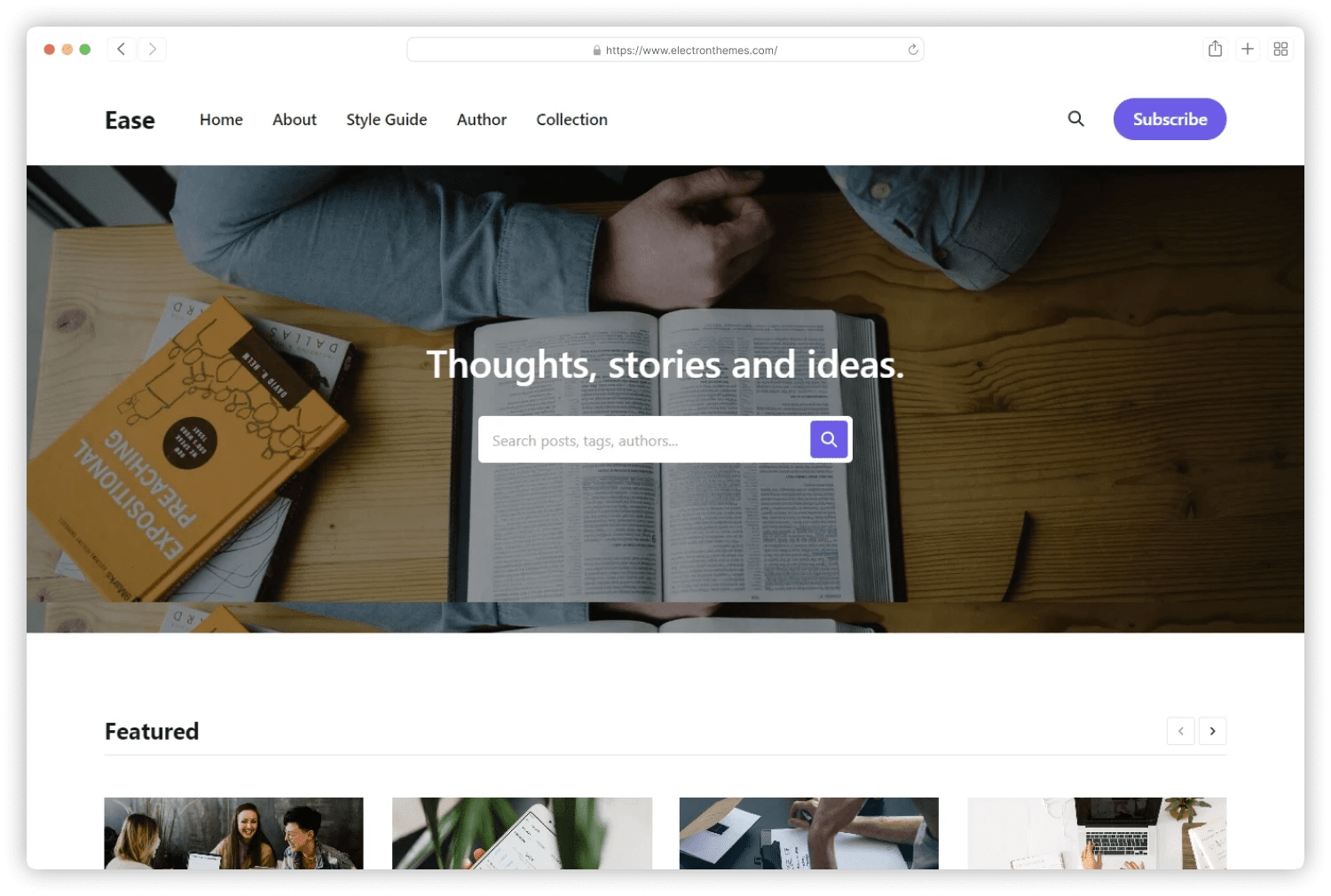 Ease is a versatile ghost theme. It is suitable for making documentation, blog posts, or business information websites. The homepage presents a hero section with a search bar, a feature post carousel, and a mixed post layout. If a free ghost theme if you want to make documentation. business information or personal blog post website then you can use this theme.
Features of Ease:
Beautiful Homepage with bold intro
Have a featured post option
Mixed post-list layout
Fast loading and fully responsive
15) London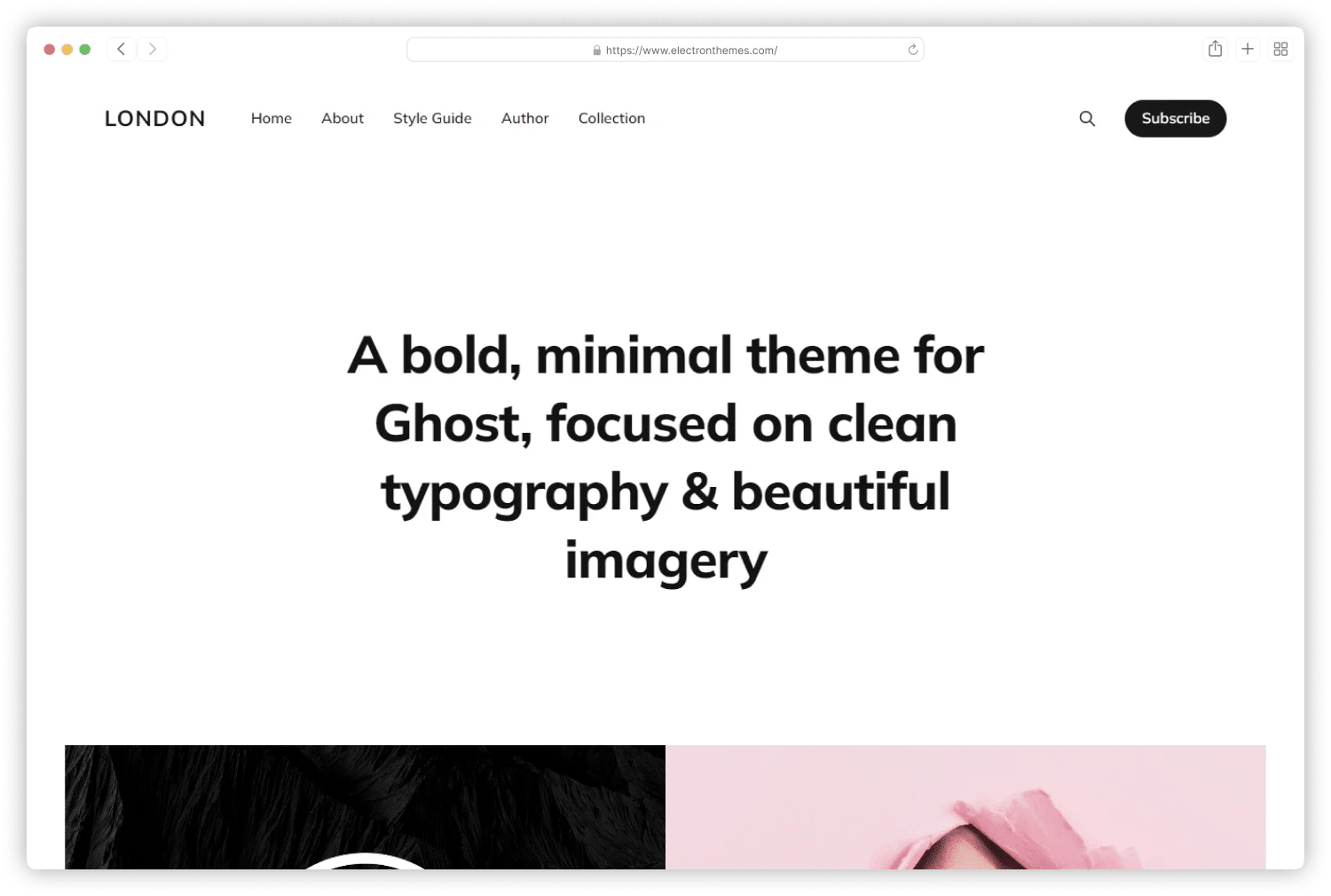 London is an eye-catching modern free ghost theme that is focused on text and image content. It is used for creating a blog or a news website. It has a traditional look that you can choose very quickly. London is a responsive design with a creative layout. London is the perfect choice for a designer's portfolio.
Features of London:
Modern Homepage with a nice design
Content-focused design
Clean typography & beautiful imagery
Deeply customizable
Fast-loading and Responsiveness
Conclusion
We hope this blog post has helped you find the perfect free, open-source Ghost blog theme for your needs. Remember, the best theme for you will depend on your individual requirements and preferences. So take some time to browse through the themes we've mentioned and find one that you love.
FAQs
Do you have any questions about the best open-source free Ghost blog themes? We have answers to some frequently asked questions on the topic.
Can I customize these themes to match my brand's identity?
Absolutely! One of the significant advantages of open-source themes is the freedom to customize them according to your preferences. You can change colors, fonts, layouts, and more to ensure your blog aligns perfectly with your brand's identity.
What are the benefits of using a free, open-source Ghost blog theme?
There are many benefits to using a free, open-source Ghost blog theme, including:
Free
Customizable
Active community
Up-to-date
What are the drawbacks of using a free, open-source Ghost blog theme?
There are a few drawbacks to using a free, open-source Ghost blog theme, including:
Limited features: Free themes typically have fewer features than premium themes.
Less support: Free themes typically have less support from the theme developer.
Security risks: There is a small risk that a free theme may contain security vulnerabilities.
Are there any premium Ghost themes available as well?
Yes, besides open-source free themes, there are premium Ghost themes available in the market. Premium themes may offer additional features, professional support, and unique designs. However, our focus in this blog is on the best free open-source themes.
Post You May Like!