When you first begin developing a blog, you should select a hosting solution that addresses all facets of effective blogging. Ghost is a blogging platform that is free and open source.
Its primary responsibility is to oversee and manage behind-the-scenes activities, as well as other content and posts. From writing to editing to publishing, it improves the overall blogging experience.
Managed Ghost Web Hosting is the quickest and most cost-effective option to have a manufacturing Ghost instance up and running.
Three significant considerations should be made before selecting an acceptable hosting provider:
Features - You'll need to figure out which ones are necessary for your business and find the right solution.
Reliability - It will assist you in determining whether your future partner is a dependable organization that will deliver superior services.
Pricing - Regardless of your company's size, you have some money set aside for advertising and publishing. This budget should be met, and the Ghost hosting service should be inexpensive for your business.
We'll look at some of the greatest options for hosting your Ghost blog in this post:
Ghost Pro
DigitalOcean
VPSDime
DigitalPress
InterServer
HostWinds
Bluehost
HostGator
A2 Hosting
Fast Comet
Ghost Hosting Providers Comparison
This table compares various Ghost hosting providers based on their price, performance, features, support, and user ratings. Each hosting provider offers different plans with varying prices and features. The performance, support, and user ratings provide insight into the quality of service offered by each provider. Choose the one that best fits your needs and requirements for Ghost Hosting.
💡
Note: Please note that the information provided in this table is subject to change, and it is always recommended to visit the official websites of the hosting providers for the most up-to-date information.
Ghost Hosting Provider
Features
Price
Bandwidth
Uptime
Customer Support
Ghost Pro

✅Simplicity easy to use
✅ Best security
✅ Highly Customizable
✅ Fast load

Starting at $11/month
Unmetered
99.9%

☎️ 24/7 support
📚 knowledge base
💬 live chat

Digital Ocean

✅ Virtual Private Servers (VPS)
✅ Easy to Use
✅ Automated Deployment

Starting at $4/month
Unmetered
99.9%

☎️ 24/7 support
📚 knowledge base
👥 community forums

VPSDime

✅ Easy to use and manage
✅ Very Fast
✅ Best Security

Starting at $15/month
4 TB
99.9%

☎️ 24/7 support
📚 knowledge base
💬 live chat

Digital Press

✅ Automated installation
✅ DDOS protection
✅ Regular updates

Starting at $6/month for starter
Unmetered
99.9%

☎️ 24/7 support
📚 knowledge base
👥 community forums

InterServer

✅ Multiple Operating Systems
✅ Instant Activation
✅ cPanel or Direct Admin

Starting at $8/month
Unmetered
99.9%

☎️ 24/7 support
📚 knowledge base
💬 live chat

HostWinds

✅ Solid State Drives
✅ Free SSL Certificates
✅ Latest cPanel
✅ Unlimited Subdomains

Starting at $5.24/month
Unmetered
99.9%

☎️ 24/7 support
📚 knowledge base
💬 live chat

Bluehost

✅ SSD Web Storage
✅ Extreme speed
✅ Dedicated Support

Starting at $2.75/month
Unmetered
99.9%

☎️ 24/7 support
📚 knowledge base
💬 live chat

Host Gator

✅ Free SSL
✅ One year free domain
✅ One-click WordPress install
✅ Unlimited email accounts
✅ cPanel control panel

Starting at $3.75/month
Unmetered
99.9%

☎️ 24/7 support
📚 knowledge base
💬 live chat

A2 Hosting

✅ Unbelievable Hosting Speed
✅ Industry-Leading Security
✅ Quick and Easy Setup

Starting at $2.99/month
Unmetered
99.9%

☎️ 24/7 support
📚 knowledge base
💬 live chat

FastComet

✅ Optimized Hosting
✅ cPanel Hosting
✅ Best Security

Starting at $2.19/month
Unmetered
99.9%

☎️ 24/7 support
📚 knowledge base
💬 live chat
Ghost Pro
Ghost (Pro) is Ghost's official corporate hosting. It is a reputable hosting service designed specifically for websites and blogs powered by the Ghost platform. Ghost Pro takes the hassle out of hosting and managing a Ghost website, offering a range of features and benefits that make it an excellent choice for both individuals and organizations looking to establish a robust online presence.
Benefits and features –
A fully managed hosting solution
Weekly updates are performed automatically.
Has backups and server management.
Easy email configuration is possible.
Management of threats and uptime.
Secure Socket Layer (SSL) Certificate.
A global CDN is included.
It provides enterprise-level security.
Optimized for speed and performance.
You can use your custom domain
Ghost Pro Pricing:

Digital Ocean
Digital Ocean is one of the most user-friendly ghost website hosting options for developers. It is not only quick and simple to use, but it is also inexpensive.
They make it extremely simple for anyone to host a website. As a result, it is at the top of the list. It allows you to install Ghost in only a few seconds. When you make a Ghost droplet, it will also install all of the other software that is suggested by Ghost.
As a result, it will make your job easier. You may upgrade it straight from the droplet whenever there is an update.
Benefits and features –
Ghost may be installed with a single click.
Pricing that is both predictable and low-cost.
Data centers located all over the world are extremely secure.
The cloud is simple and straightforward to use for both regular developers and users.
The speed is incredible.
Digital Ocean Pricing: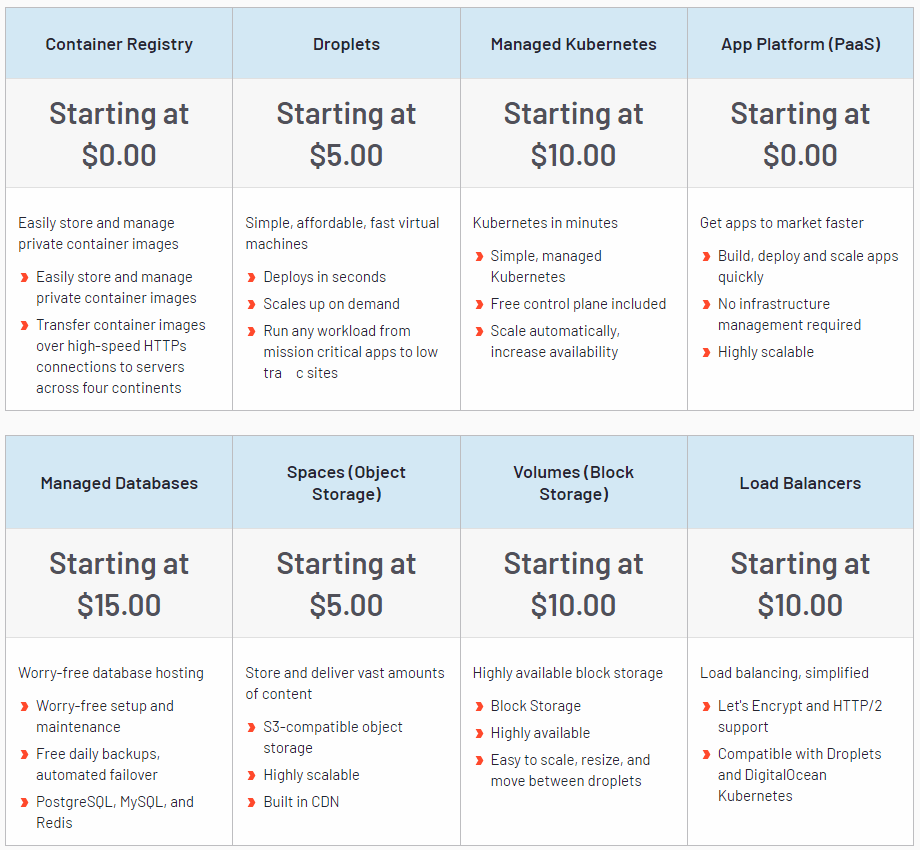 VPSDime
VPSDime aims to give the best affordable VPS service possible without losing functionality. We are living proof that high-quality service can be had at a reasonable cost.
You gain full root access and can log in to your hosting account through SSH, allowing you to maintain complete control over your account.
Your subscription includes a SolusVM control panel, which allows you to easily manage all aspects of your VPS from the client area. Their infrastructure is extremely current, with complete SSD storage that will aid in the smooth operation of data-intensive apps and high-traffic websites.
Benefits and features –
Packages at a low cost
There is a lot of memory and storage access.
Storage is entirely on SSDs.
There are multiple points of presence around the world.
Supports a wide range of Linux distributions.
Gives you complete control over your hosting account.
VPSDime Pricing: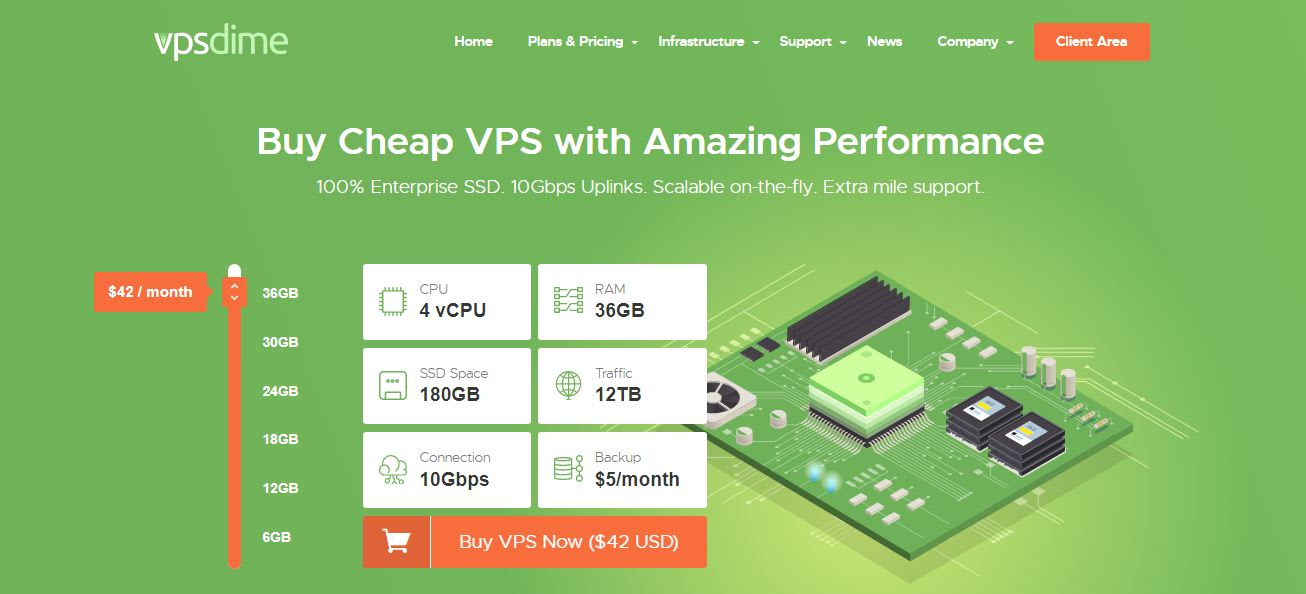 DigitalPress
DigitalPress is a Ghost website hosting specialist where you can do ghost blog hosting. It takes care of the underlying infrastructure, so you can focus on generating the finest content for your readers instead of worrying about servers.
In addition, it's completely free to get started.
Ads are the lifeblood of a free blog. By subscribing to a paid subscription, you can get rid of the ads. DigitalPress is hosted in many data centers around the world on cutting-edge equipment.
It's an excellent web hosting option for anyone who wants to build their own Ghost blog without having to worry about servers.
Benefits and features –
You can create your own domains.
Make your own design.
CDN on a global scale
Backups and upgrades are done automatically.
It allows you to have an infinite number of page views per month.
It has an infinite number of staff customers and members.
Provides friendly 24/7 support.
DigitalPress Pricing:

InterServer
The platform, InterServer, was founded by Ghost's Co-Founders as a non-profit company so that Ghost would always be accountable to its users rather than shareholders or investors.
InterServer provides an easy-to-use management panel, a price lock guarantee, free migration services, assured email delivery, and only 50% of the server's capacity to accommodate customer growth.
This is a dependable web hosting, space, servers, and cloud VPS provider – all of this is $5 per month only.
It is probably one of the cheapest Ghost hosting out of all the mentioned above.
Benefits and features –
Storage space, file transfer, and emails are all unlimited.
Weekly backup is provided.
30 Day guarantee.
There will be no price rises in the future.
There's a 99.9% uptime warranty and a money-back guarantee.
InterServer Pricing:

HostWinds
We admire technology's openness, just as Hostwinds allows VPS users to modify their servers using custom ISO images.
Cloud hosting with hourly or monthly pricing, automatic weekly backup, and free round-the-clock monitoring is available with this tool.
The innovative approach to publishing that Hostwinds takes complements Ghost's radical approach to hosting.
The company is offering 99.9999 percent availability, in addition to customized ISOs at only $5.17 per month.
Benefits and features –
Can be used in Windows or Linux, managed or unmanaged.
The hourly or monthly payment for cloud hosting.
Upgrades happen instantly, with no downtime.
Surveillance is available 24/7.
Nightly backups are accessible automatically.
Hostwinds Pricing: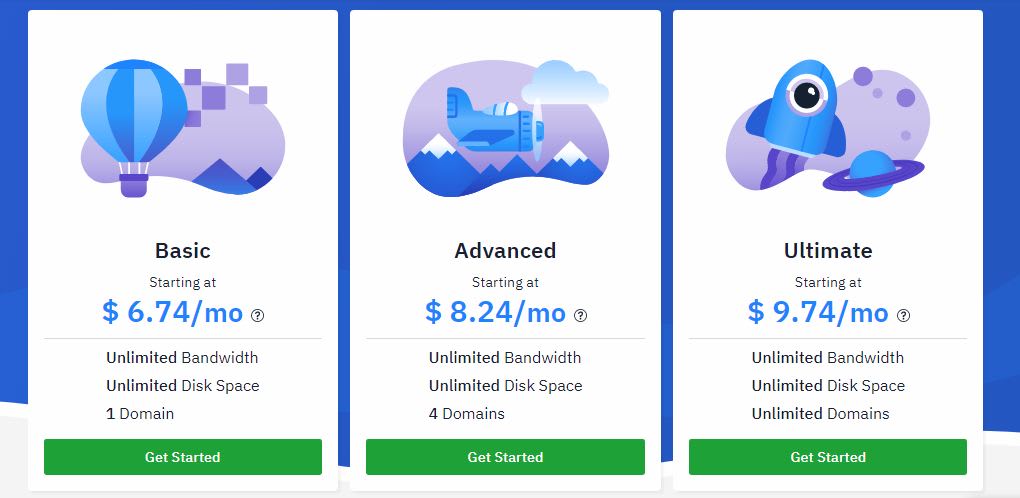 Bluehost
Bluehost was a trailblazer for experimenting with new technology and developing user-friendly solutions to enable users to take advantage of them.
Bluehost's virtualization is based on OpenStack and KVM.
You can rest assured that your computing resources will be available immediately, always reachable, and instantly expandable through an upgraded control panel.
In addition, you can leverage SiteLock security, CodeGuard backups, and seamless migration. BlueHost offers a one-year free domain name, 24/7 assistance, and a 30-day money-back guarantee, and you'll get all this for just $18.99 per month.
Benefits and features –
The WordPress team has given it their seal of approval.
SiteLock security and CodeGuard backups are optional.
Switching from Bluehost shared plans went without a hitch.
provides you with more power, flexibility, and control over your surroundings.
It is supervised 24/7.
Bluehost Pricing: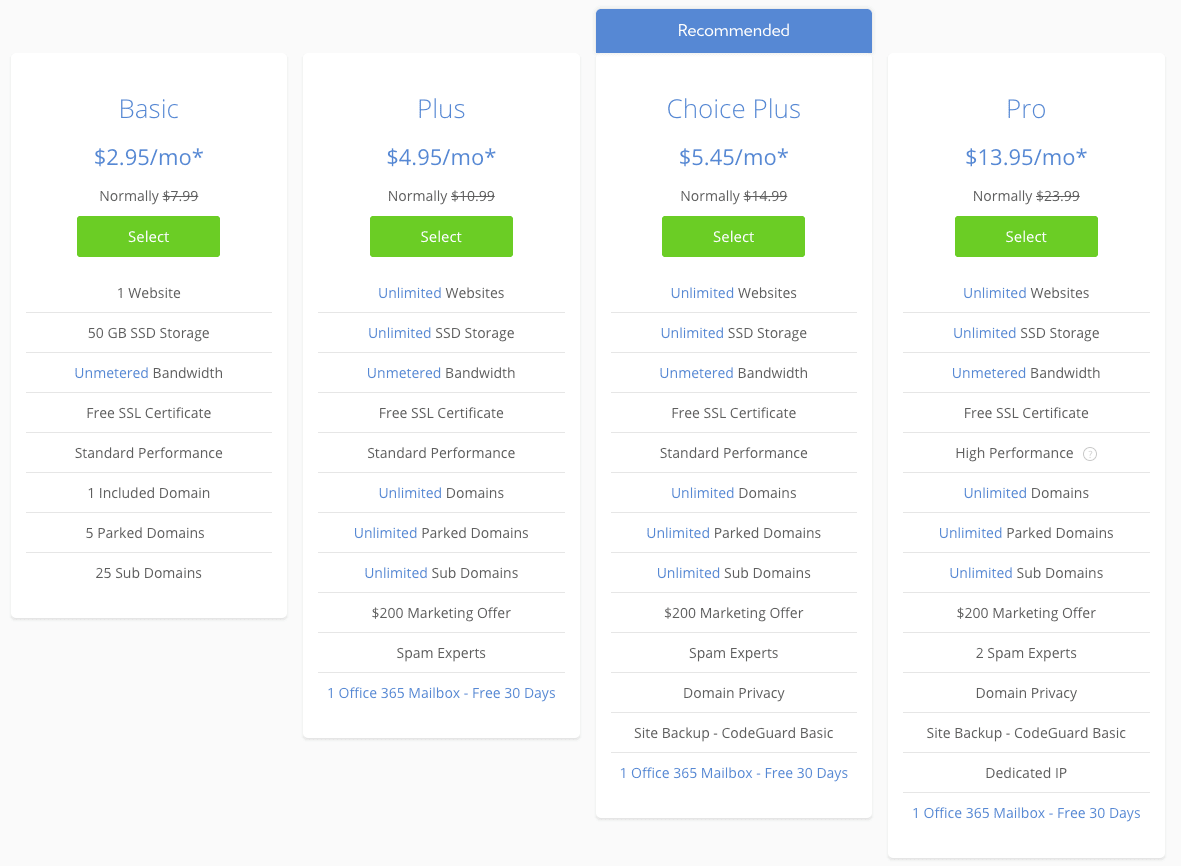 HostGator
HostGator has been in business since 2002 and has a solid strong reputation.
With the launch of the renowned Gator website builder in early 2019, HostGator is no newbie to fresh and stylish layouts. Web hosting, a website builder, and domains are all included.
You can get many sorts of web hosting here. VPS shared, or dedicated hosting, for example.
Customers can select between controlled and uncontrolled server settings, all of which come with full root privileges and unique configurations, making them ideal for Node.js and Ghost.
The service guarantees 99.9% uptime and includes tools for both beginners and pros, including extensibility. And the starting price is just $19.95 per month.
Benefits and features –
Full access control with completely or semi-managed options is available from HostGator.
This software provides a redundant connection with numerous layers of protection, as well as a free website, domain, MySQL, and script transfers.
For data security, there is RAID-10 memory.
When you sign up, you can save up to 75%.
Hostgator Pricing: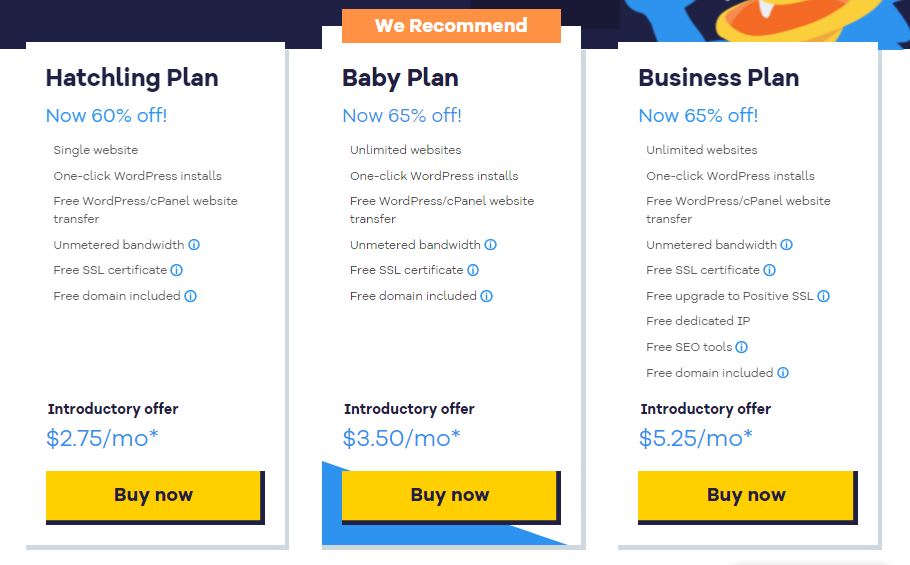 A2 HOSTING
Use A2 Hosting's superior efficiency and dependability to produce, share, and control your content the way you want.
A2 Hosting is a good option for folks who wish to utilize Ghost for writing and building a full-fledged site. A2 Hosting's SSD-only infrastructure can increase performance by up to 20 times.
SwiftServer, the company's native efficient platform, provides controlled and uncontrolled hosting solutions. A2 Hosting is a forward-thinking provider willing to embrace cutting-edge technologies and applications for its clients.
$2.99 is the beginning price for A2 Hosting. After that, you can upgrade to drive for $4.99, turbo boost for $9.99, and turbo max for $14.99.
Benefits and features –
Cloudflare CDN and SSD speed enhancement are both free.
HackScan is available for free, as well as sophisticated security.
It has a CPU that is 40% speedier.
You have access to an unlimited number of emails and databases.
They help 24/7 via email, tickets, and phone.
A2Hosting Pricing: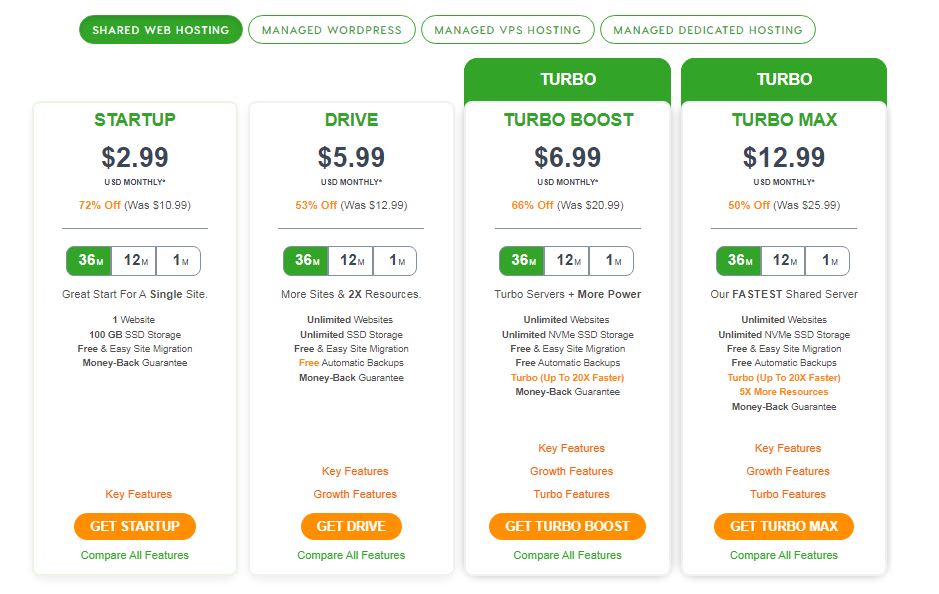 FastComet
Another popular hosting provider is Fastcomet. It is a managed cloud hosting company that offers a variety of services.
The managed cloud for Ghost is one of their offerings. Yes, Ghost has its dedicated server. You can quickly begin using dedicated hosting because it includes all of the features.
It is compatible with solid-state drives. Ghost comes with premium support. Rocket Booster is a tool that boosts the speed of Ghost websites created with ghost themes. You can use their transfer option. They will assist you in transferring the website for no charge.
Benefits and features –
FastGuard provides ghost protection. The website will be safe as a result of this.
For speed, use a rocket booster.
Monitoring of ghost resources.
Backups are made on a daily and weekly basis.
There is no restriction on migration.
The team provides exceptional help.
FastComet Pricing:

The ultimate guide to finding the best hosting service for your Ghost blog
Are you searching for the ultimate guide to finding the best hosting service for your Ghost blog? Look no further! In this comprehensive content, we will provide you with all the essential information and tips you need to make an informed decision and find the Top managed hosting services for Ghost blogging websites by performance.
Understand Your Blog's Requirements: Before diving into the world of hosting services, it's crucial to assess your blog's requirements.
Evaluate Hosting Types: Hosting services come in various types, including shared hosting, virtual private servers (VPS), managed hosting, and dedicated servers.
Performance and Uptime: A reliable hosting service should offer excellent performance and uptime. Slow-loading websites can deter visitors and affect your blog's success.
Scalability and Growth Potential: As your Ghost blog grows, you may need more resources and scalability from your hosting provider.
Security Measures: Blog security is of utmost importance. Look for a hosting service that takes security seriously and provides measures like SSL certificates, regular backups, firewalls, and malware scanning.
User-Friendly Interface and Tools: A user-friendly hosting interface can make managing your Ghost blog a breeze.
By considering these factors and following our ultimate guide, you'll be well-equipped to find the best hosting service for your Ghost blog.
Factors to consider when selecting a hosting provider for your Ghost blog
When selecting a hosting provider for your Ghost blog, several essential factors should be taken into consideration. Making an informed decision based on these factors will ensure that you choose affordable and reliable Ghost hosting services with high performance that cater to your blog's specific needs and set the stage for its success. Here are the key factors to consider:
Performance and Uptime
Scalability and Resources
Security Measures
Pricing and Value for Money
Customer Support
User-Friendly Interface
Reputation and Reviews
By considering these factors when selecting a hosting provider for your Ghost blog, you'll be able to choose a service that aligns with your requirements, provides reliable performance, ensures security, and offers excellent support.
How Do I Ensure Maximum Performance and Uptime for My Ghost Blog through Hosting Solutions?
Running a successful Ghost blog requires more than just compelling content and an engaging design. It also necessitates a reliable hosting solution that ensures maximum performance and uptime. Choosing the best hosting for a ghost blog website.
Selecting a Reliable Hosting Provider
Performance and Scalability
High Uptime Guarantee
Fast Load Time
Security Measures
Consider Managed Hosting
Content Delivery Network (CDN) Integration
Regularly Update Your Ghost Blog
Optimize Images and Assets
Utilize Caching
Boost Your Blog's Performance with These Top Performance-Based Ghost Hosting Services
To maximize the performance of your Ghost blog and deliver an exceptional user experience, choosing a top performance-based ghost hosting service is crucial. These specialized hosting providers offer optimized infrastructure and features specifically tailored to enhance your blog's performance and speed.
Research and Choose Performance-Optimized Hosting Providers
Utilize a Content Delivery Network (CDN)
Optimize Ghost Themes and Plugins
Enable GZIP Compression
Implement Caching Mechanisms
Regularly Monitor Performance Metrics
Optimize Images and Media Files
Affordable Ghost Hosting: Cost-Effective Solutions for Your Blogging Needs
Affordable Ghost hosting solutions are available to cater to the blogging needs of individuals and businesses on a budget. From shared hosting plans and managed-to-host to cloud hosting and VPS options, there are numerous cost-effective choices to host your Ghost blog without compromising performance and quality. Assess your requirements, compare pricing and features, and choose a reliable Ghost hosting provider with the best value for your blogging journey.
Shared Hosting Plans
Managed Ghost Hosting
Cloud Hosting
VPS (Virtual Private Server) Hosting
Look for Budget-Friendly Hosting Plans
Compare the Best Hosting Options for Ghost Blogging Sites: Which is Right for You?
When comparing the finest hosting solutions for Ghost blogging sites, performance, scalability, affordability, ease of use, and support must all be carefully taken into account. Every choice offers advantages and things to keep in mind, whether you choose shared hosting, managed hosting, cloud hosting, VPS hosting, or self-hosted solutions. Consider your unique needs and preferences.
Maximizing Your Blog's Potential with Performance-Based Hosting Solutions for Ghost Blogs
A systematic strategy is necessary to realize the full potential of your site with performance-based hosting options for ghost blogs.
You can build a high-performing blog that offers an exceptional user experience by selecting a hosting provider that specializes in performance optimization, optimizing your blog's themes and plugins, enabling caching mechanisms, regularly updating your Ghost installation, optimizing images and media files, monitoring performance metrics, and making sure security precautions are in place. Use these tactics to maximize the potential of your Ghost blog.
FAQs
Do you have more questions about the best hosting service for a ghost blogging website? We have answers to some frequently asked questions on the topic.
What is Managed Ghost Hosting, and Why Should I Consider it for My Blog?
In managed Ghost hosting, all technical facets of running a Ghost blog, such as server setup, upkeep, security, backups, and upgrades, are handled by the hosting company. By selecting managed hosting, you can concentrate on producing content and expanding your blog while the hosting company guarantees dependable performance, improved security, and knowledgeable assistance.
Here are some key reasons why you should consider managed Ghost hosting for your blog:
Hassle-Free Experience
Performance Optimization
Enhanced Security
Reliable Backups and Disaster Recovery
Expert Support
Scalability and Flexibility
Focus on Content Creation
How Does Performance-Based Ghost Hosting Improve My Blog's Speed and Functionality?
Performance-based By leveraging caching techniques, content delivery networks (CDNs) for worldwide accessibility, quick servers with SSD storage, and optimal server setups, ghost hosting increases the performance and usefulness of your blog. These upgrades lead to quicker website loads, better user experiences, and higher search engine results.
What Are the Key Differences Between Ghost Hosting Providers, and How Do I Compare Them?
Pricing, performance and speed, scalability choices, security precautions, the caliber of customer service, user-friendly interfaces, and additional features/integrations are the main distinctions between Ghost hosting companies. Take these variables into account when comparing providers based on your budget, blog requirements, and potential for development.
Here some important several key factors in ghost hosting comparison:
Performance and Speed
Scalability and Resources
Pricing and Plans
Customer Support
Security Measures
Final Thought
If you're still undecided, you can weigh the pros and cons of each service individually. It's difficult because they appear to be the same at first glance.
If you're still having trouble deciding, you can go with A2 Hosting. It's not only the greatest hosting on our ranking, but it's also Ghost's top recommendation.
I hope this ghost web hosting review article is helpful to you!
You May Like!