Ghost is a powerful blogging platform that's perfect for creating a beautiful and professional blog. But with so many great free Ghost themes to choose from, it can be hard to know where to start. That's why we've put together this list of the top 15 free Ghost themes for your blog. These themes are all well-designed, easy to use, and perfect for a variety of blogging needs.
Whether you're looking for a minimalist theme, a magazine theme, or something in between, you're sure to find a theme on this list that you love. So take a look at our top picks and find the perfect theme for your Ghost blog today!
Overview of the content, In this blog you will known:
The best 15 Free Blog Ghost themes Name.
The Themes Features.
The Themes Prices.
You can get demo Link to see theme preview.
Your can get download link.
The Conclusion
FAQs
What is Ghost CMS?
Ghost is a free and open-source content management system (CMS) that is designed for bloggers, publishers, and content creators. It is an open-source platform that allows users to create and manage their content in a user-friendly and intuitive way.
Ghost is built on Node.js and uses a RESTful API, which makes it easy to integrate with other applications and services. It is also highly scalable, making it a good choice for blogs with a lot of traffic.
Here are some of the key features of Ghost:
User-friendly interface
RESTful API
Scalable
Open-source
Community
Top 15 Free Ghost Themes for Blogs
1) Alto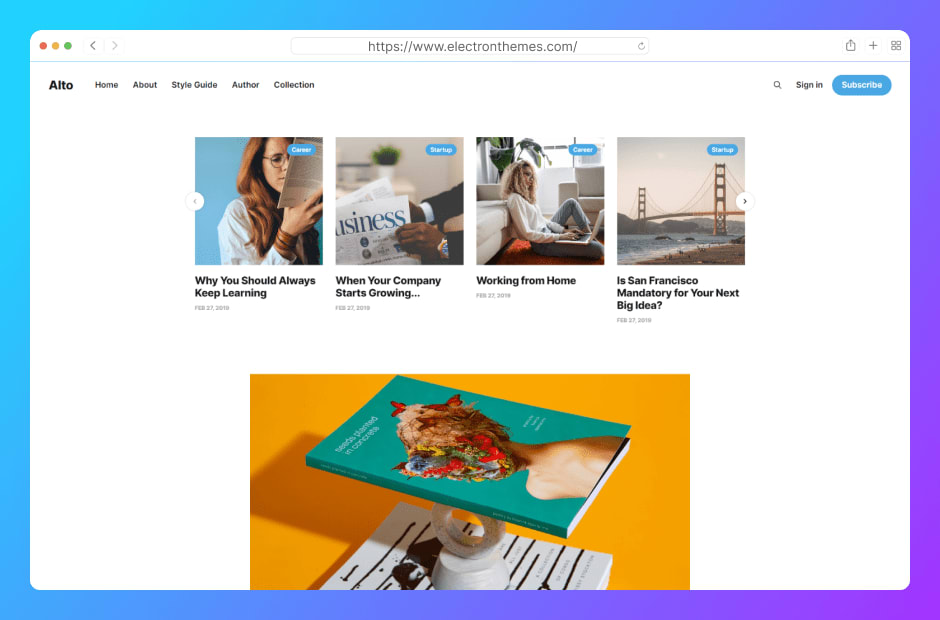 Alto is a clean and minimalist ghost theme. It is ideal for creating blogs and magazine websites. It has modern features and a professional design, so you can make a membership platform that looks like a professional website. It has all the right features of a great theme design. You should choose this theme for your next blogging website.
Features of Alto:
Hero section options
Beautiful Homepage design
Includes tags and author archives
Clean and bold design
2) London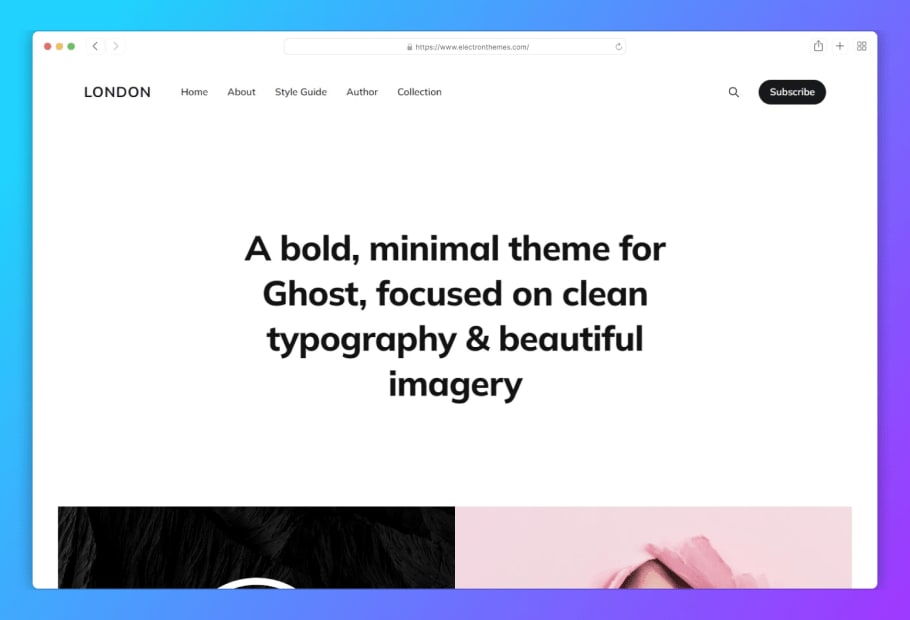 London is an eye-catching modern free ghost theme that is focused on text and image content. It is used for creating a blog or a news website. It has a traditional look that you can choose very quickly. London is a responsive design with a creative layout. London is the perfect choice for a designer's portfolio.
Features of London:
Modern Homepage with a nice design
Content-focused design
Clean typography & beautiful imagery
Deeply customizable
Fast-loading and Responsiveness
3) Dawn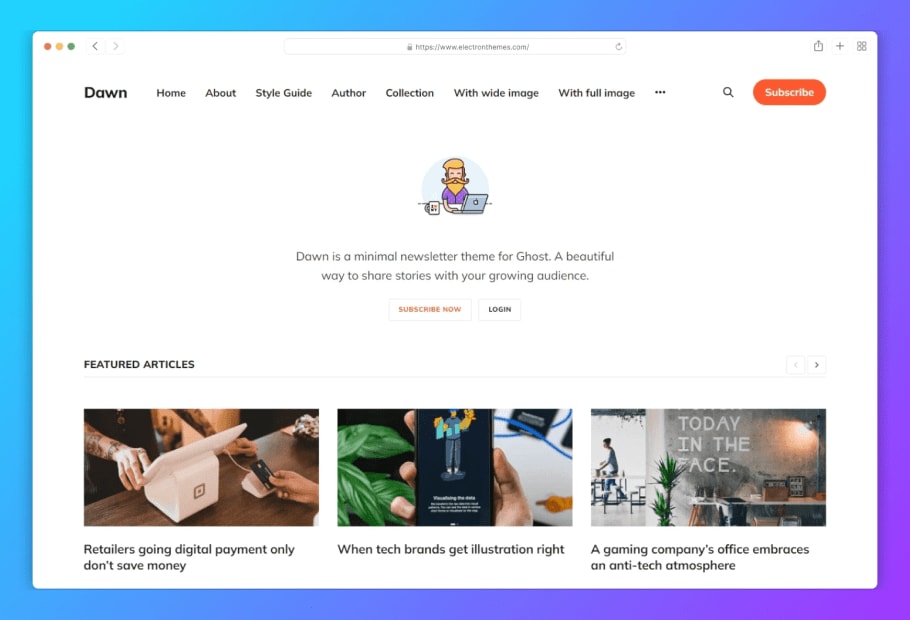 Down is an official ghost theme it is free to use. This theme focuses on simplicity and is suitable for blogging, magazines, and writers. It is a highly functional ghost theme that adapts to the reader's performance. Dawn is a minimal and lightweight free ghost theme you can use to create your beautiful blog or magazine website.
Features of Dawn:
Clean and unique homepage design
Unique feature article carousel
Multiple single post page design
Super-fast and Responsiveness
4) Journal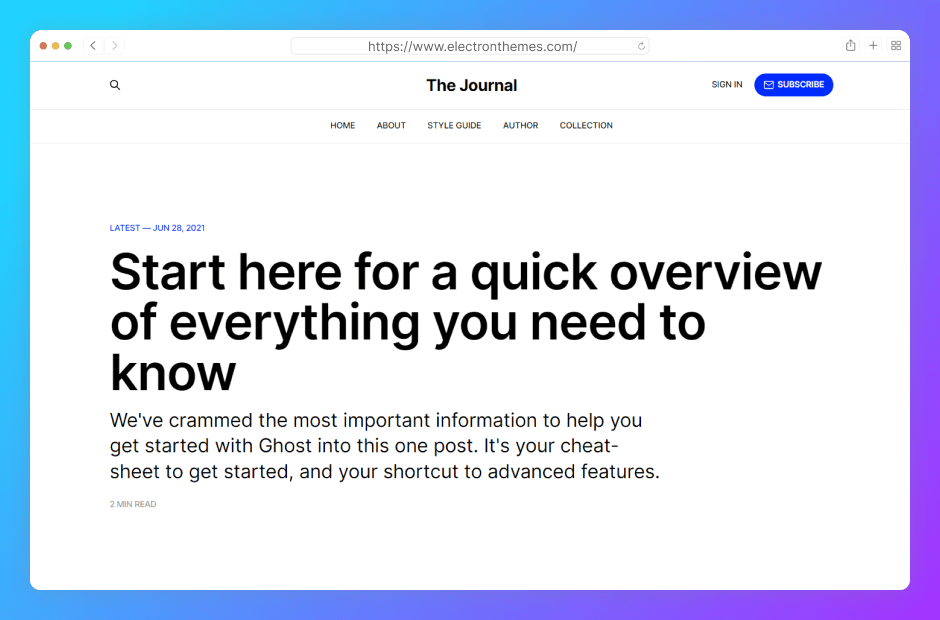 Journal is a free journaling and magazine theme. It is a minimal, typography-heavy newsletter with a content-focused theme. It has a user-friendly design with a good-looking sidebar. The journal is a fully responsive design.
Features of the Journal:
Clean and Content-Focused Design
Minimal Blog
Responsive design
Newsletter option
Sidebar
5 Digest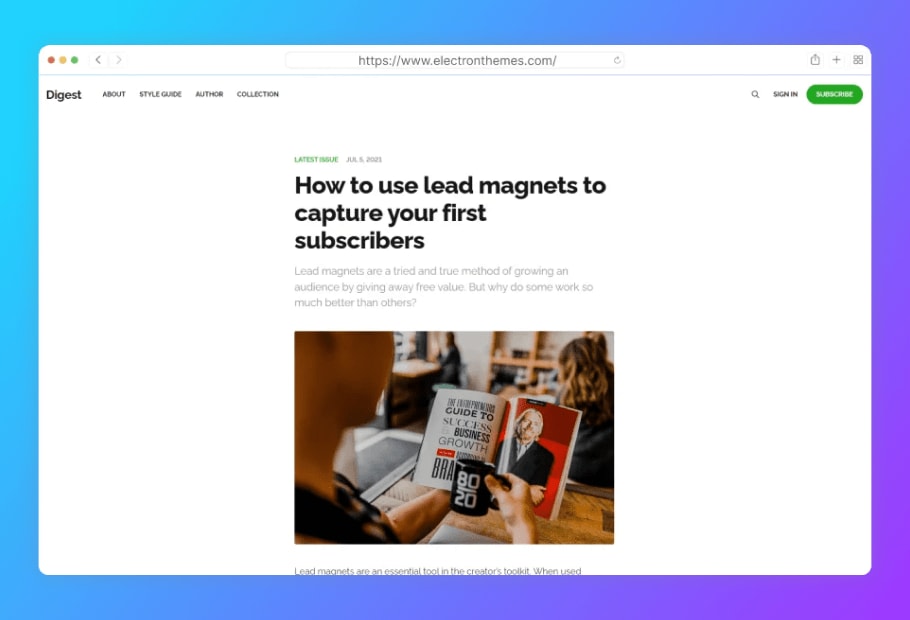 Digest is a minimal newsletter theme. Digest has a dynamic homepage. It is a responsive, minimal blog theme. Digest is an official free theme.
Features of the Digest:
Minimal Design
Newsletter blog
Beautiful Header
Responsive Design
6) Ruby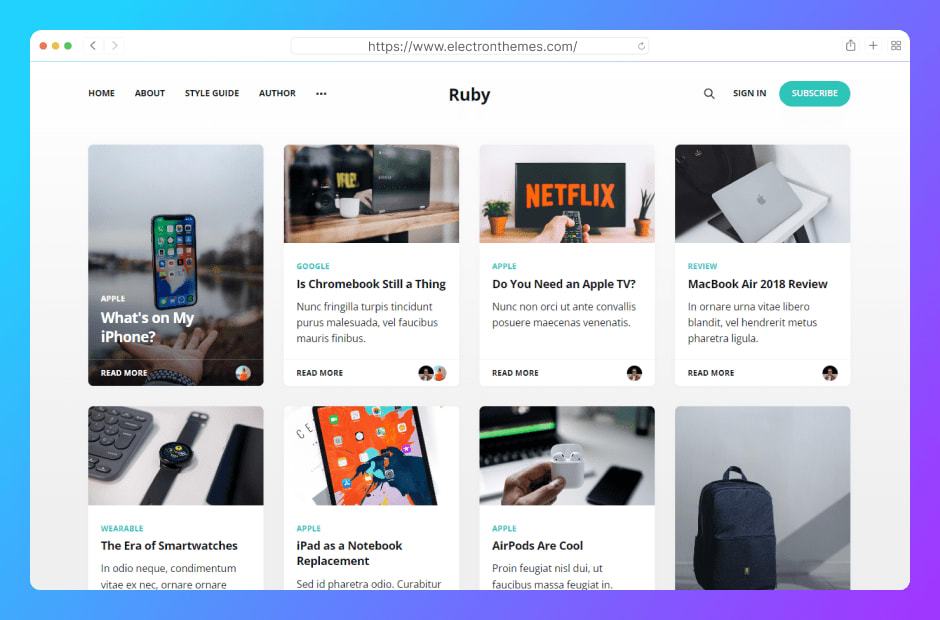 Ruby is a clean and beautiful multi-column ghost theme with a unique card layout. This theme comes with a lot of features that you need to create a blogging website. Ruby is a fully responsive layout design that you can make look beautiful on any device. Make your publication more organized with cards and widgets.
Features Of Ruby:
Unique card layout
Custom widgets
Sticky sidebar
Modern grid-based layout homepage
Professional and creative design
Clean and content-focused
Accessible from any device
7) Liebling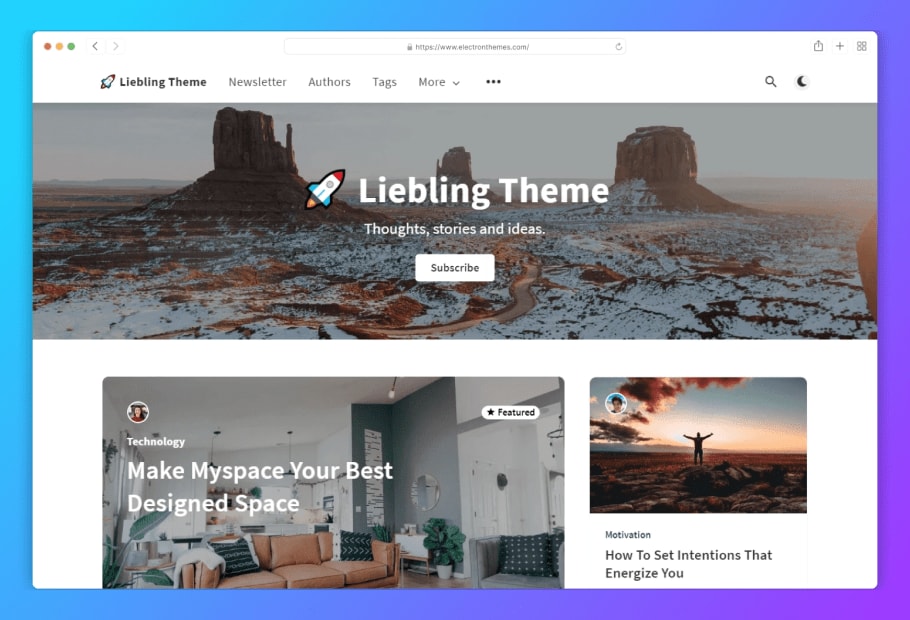 Liebling is a modern ghost theme it is very easy and comfortable to use. This is a free theme, and you can use it for any type of modern blog or magazine website. It is a mobile-friendly, fancy-looking magazine theme. Liebling is the perfect theme for personal blogs and membership sites. It has a light and dark color variation feature.
Features of Liebling:
Awesome homepage
Clean and modern design
Newsletter subscription
Responsive Layout
Awesome Post grid
8) Attila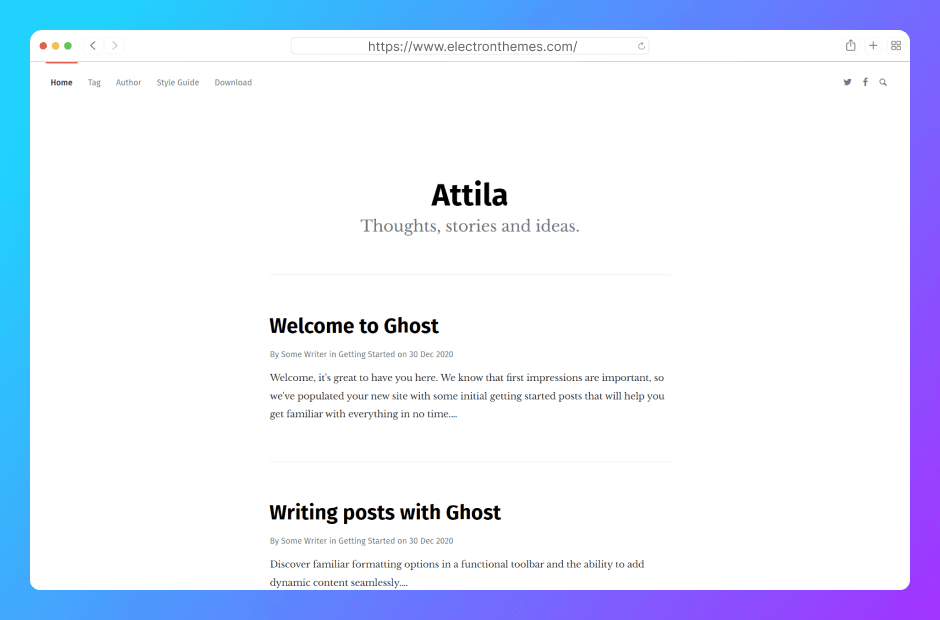 Attila is a minimal, content-focused blogging theme. It has several features to make your blog very easy. Attila's has a featured post section that is placed at the very beginning of the home page. It also has a reading progress section for the readers. Attila has a responsive layout for looks beautiful on any device. This theme includes dark and light versions.
Features Of Attila
Light and Dark modes
Responsive layout
Search support
Post-reading progress
Code highlights, including line numbers
9) Taste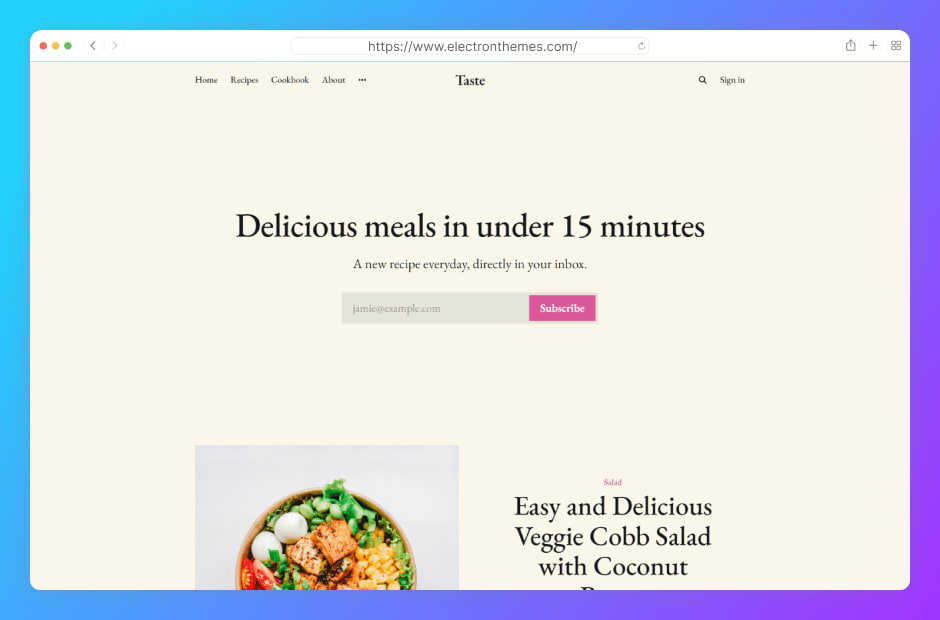 Taste is an elegant, minimalist Ghost theme for food and recipe blogs, with responsive design and customizable features. It is integrated with memberships, newsletters, comments, searches, and everything else you need to share recipes on a food blog. Taste comes with a unique style and is a fully responsive ghost theme. You can easily adjust it to suit your brand in the design settings in admin.
Features of Taste:
Minimal post grid
Newsletter sending option
Membership and comment option
Fast search option
Multiple Browser Compatibility
10) Solo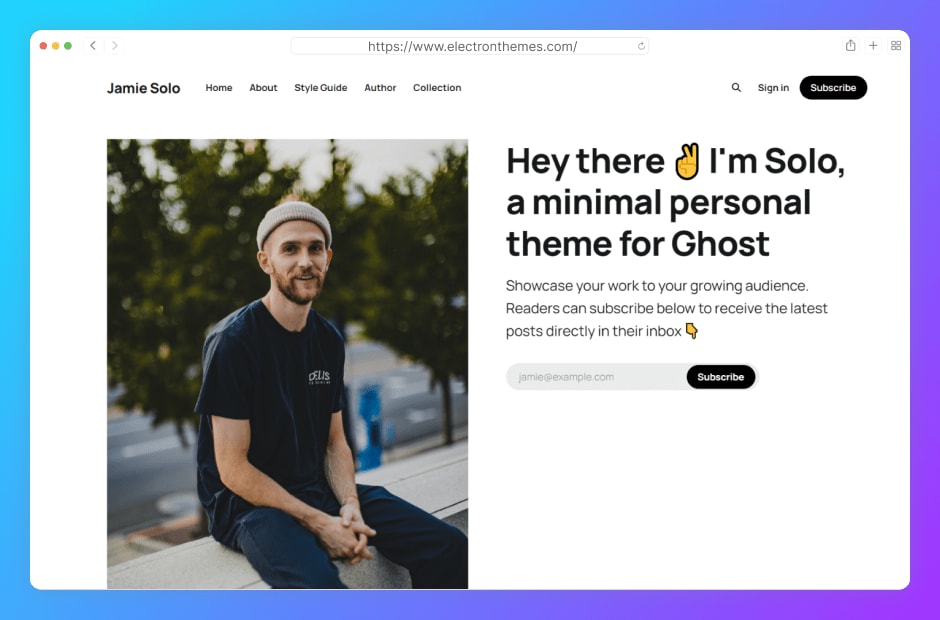 Solo is a minimal and clean ghost theme. It should be well-built, snappy, and really good for you if you are starting a personal blog. Solo is a content-focused theme where you can showcase your content for your growing audience. Solo comes with a newsletter subscription feature that readers can subscribe to receive the latest posts and news. The Solo theme is fully responsive and has a clean and beautiful design.
Features Of Solo:
Clean and content-focused design
Responsive design
User Subscribe option
Real-time search
Fast loading
11) Headline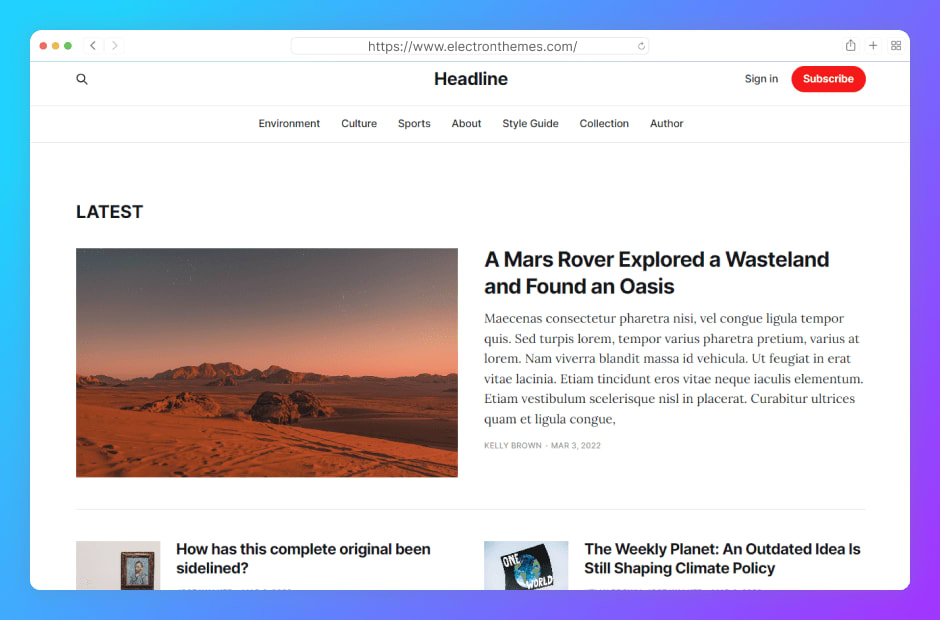 A headline is a simple and free magazine ghost theme. It's used for magazine blog websites. It has a unique minimalist blog design that makes your blog look better. The headline is a fully responsive design for all screens. It's fully customizable; you can change color, logo, text, and design layout.
Features Of the headline:
Simple and Easy Design
Fully Responsive
Content-focused design
Easy Customization
Latest post Section
Minimalist Header
12) Edition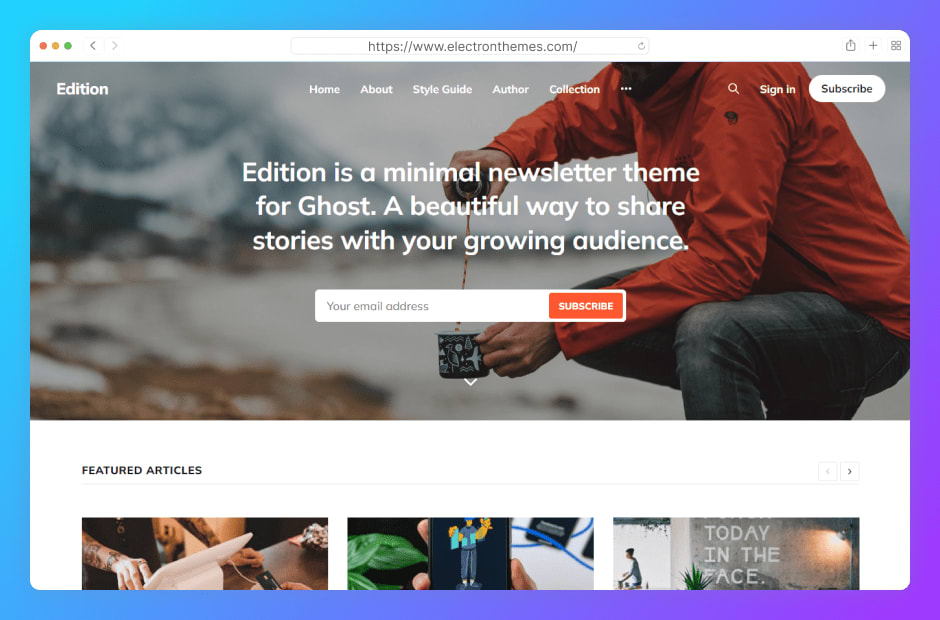 The edition has a beautiful ghost theme to share your stories with your audience. The edition has the perfect, minimal newsletter ghost theme. It is fully responsive, with a sleek and modern design. The new edition comes with more user-friendly features that you need to attract visitors to your website.
Features Of Editon:
Beautiful and Easy Design
Fully Responsive
Content-focused design
Features article courosel
Minimalist Header
Fast Loading
13) Casper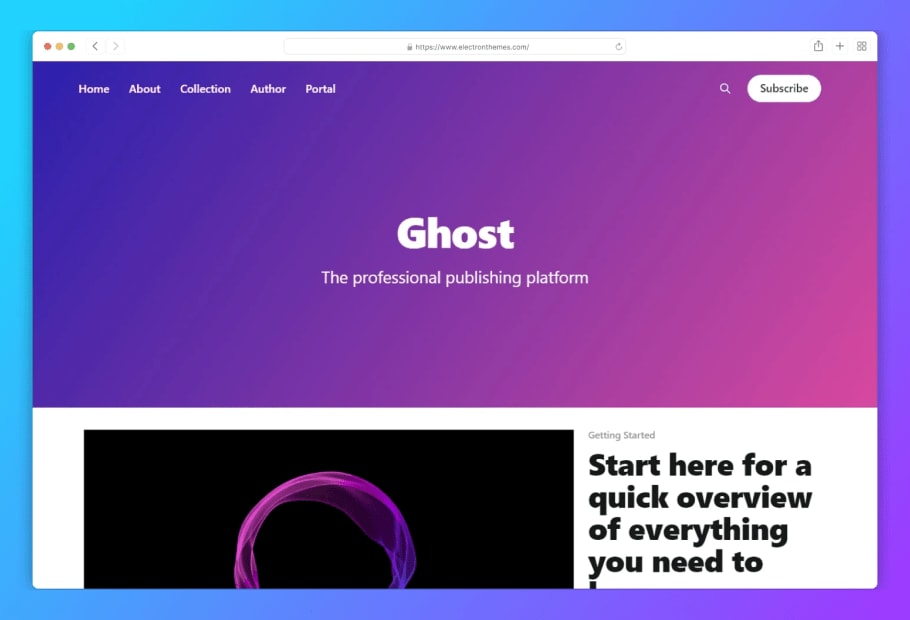 Casper is an official minimal blog and magazine theme. It is completely free to use. It has a grid-based blog design with the main featured article at the top. Casper is a reader-friendly and productive ghost theme. If you want to create a modern blog-based website, then Casper is suitable for you. Casper is the best choice for a ghost CMS theme for minimalist websites.
Features of Casper:
Awesome hero section with a feature blog
Clean and unique homepage design
Awesome blog layout design
Super-fast and Responsiveness
14) Bulletin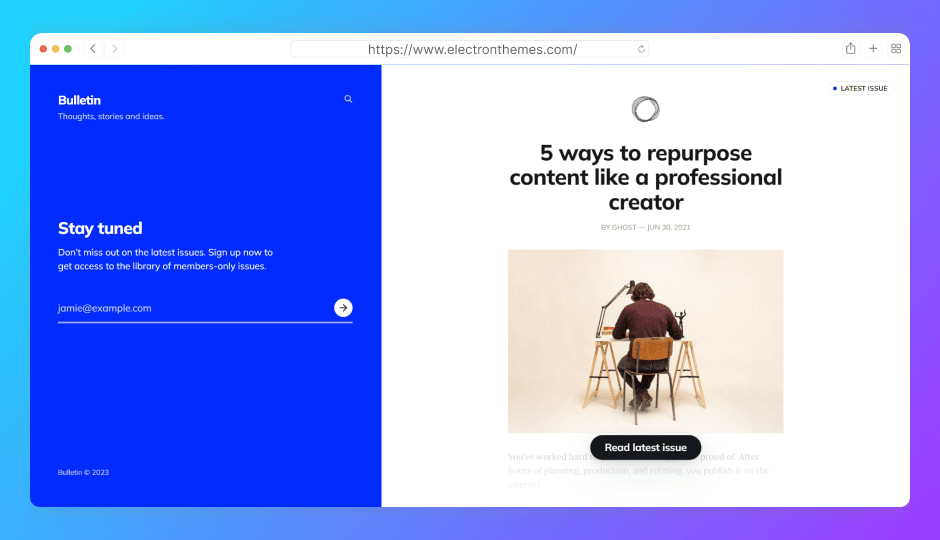 Bulletin is a minimal newsletter theme for Ghost CMS. This theme's homepage is divided into two sections. The left-hand section is optimized for capturing new email subscribers with a bold background color. The right-hand section shows an excerpt from the latest issue you've published. It is responsive on all devices.
Features of the Bulletin:
Minimal Design
Newsletter blog
Beautiful Header
Responsive Design
15) Dope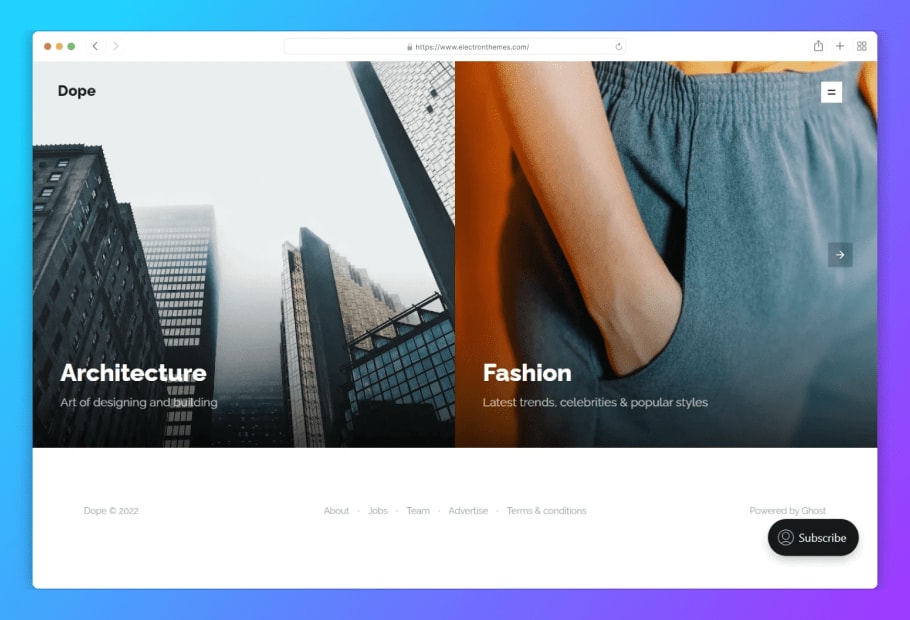 Dope is a uniquely designed ghost theme. It is used to arrange your publications into collections. It has featured category options on the home page and also has a slide menu. Dope is a very fast-loading theme. It's completely free and fully responsive.
General Features of Dope:
Awesome home page layout
Unique slider with a 2-column design
Right side Slide Menu
Clean and content-focused design
Conclusion
In this blog post, we have reviewed the top 15 free Ghost themes for your blog. We have covered a wide range of themes, from multipurpose themes to niche themes, so you are sure to find the perfect theme for your blog. No matter what your blogging needs are, there is a Ghost theme out there that is perfect for you. So take some time to browse through the themes we have mentioned and find the one that is right for you. We hope this blog post has been helpful in your search for a free Ghost theme.
FAQs
Why should I choose a free Ghost theme?
Free Ghost themes offer a cost-effective solution for bloggers and website owners who want a clean and beautifully designed platform without investing in premium themes. These themes can still provide a professional look and a seamless user experience
Can I switch between different Ghost themes?
Yes, you can switch between Ghost themes easily without losing your content. However, keep in mind that the appearance and layout of your website will change according to the new theme's design.
Do free Ghost themes affect website performance?
Generally, well-designed free Ghost themes should not significantly impact website performance. However, it's essential to choose themes that are optimized for speed and responsiveness to ensure a smooth user experience.
Post You May Like!