When building a website with Ghost CMS, one of the key decisions is choosing a theme that suits your needs and captures the essence of your content. While premium themes offer a range of advanced features, free Ghost themes have their own set of advantages and disadvantages. One of the great things about Ghost is that there are several free themes available. Free themes can be a great way to save money and get started with Ghost quickly. However, there are also some potential drawbacks to using a free theme. In this blog post, we will explore the pros and cons of using a free Ghost theme, helping you make an informed decision for your website.
What is a free ghost theme?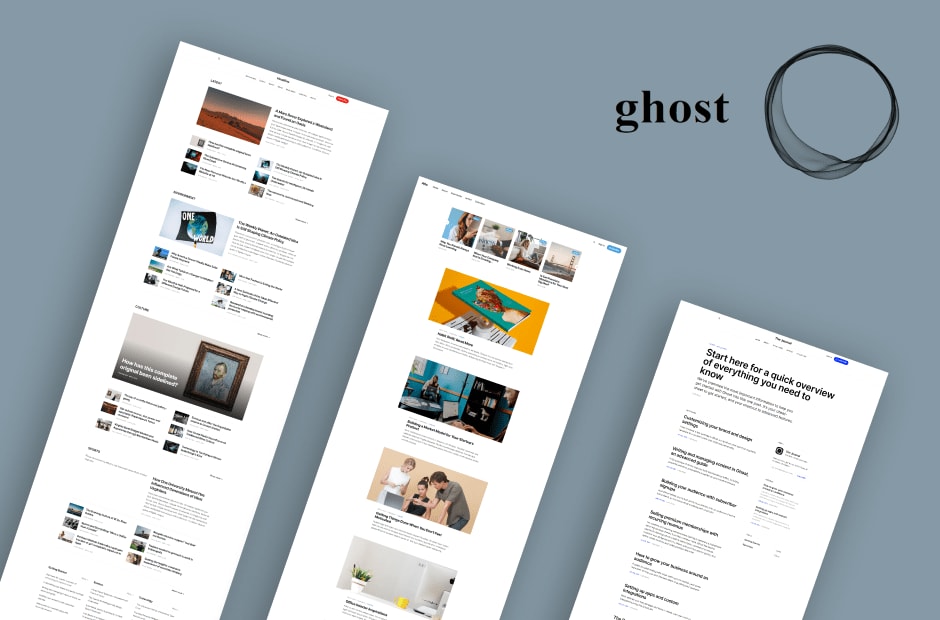 A pre-made website template that is accessible without charging any money is referred to as a free Ghost theme. Ghost themes were created especially for Ghost CMS, an open-source content management system geared toward bloggers and content producers. These themes give a Ghost website's visual style and structure a foundation, enabling users to quickly and easily implement a predefined design. If you need to get a free ghost theme then you can visit the ghosts marketplace.
Pros of Using a Free Ghost Theme:
Easy to find
There are several free Ghost themes available, so you're sure to find one that suits your needs.
Cost Savings
The cost reductions are arguably the biggest benefit of adopting a free Ghost theme. Free themes take the place of the requirement to purchase a premium theme, making them the perfect option for people or businesses on a tight budget.
Quick Setup
Free Ghost themes are frequently created with simplicity in mind, making installation quick and simple. They are pre-designed and have simple layouts and designs, so you may build your website right away without doing a lot of customizing.
Easy Customizable
Even though they're free, many free Ghost themes are still customizable. This means you can change the colors, fonts, and other aspects of the theme to match your brand.
Wide Variety
Free themes in a wide range of designs, markets, and features are available from the Ghost community. Because of the variety, you can be sure to discover a theme that complements your content and encapsulates the spirit of your website.
Learning and Experimentation
It's possible to learn about and experiment with various design ideas, layouts, and features by using a free Ghost theme. Before choosing a premium solution or spending money on custom development, it enables you to investigate several themes and their functionalities.
Support
Many free Ghost themes have active communities and support forums where you can get help if you need it.
Cons of Using a Free Ghost Theme:
Limited Customization Options
Free Ghost themes generally offer limited customization options compared to premium ones. You may have restricted control over aspects such as colors, fonts, and layouts, hindering the ability to create a unique and branded website.
Design Similarities
Since free themes are widely available, there is a higher chance that multiple websites may end up using the same theme. This can result in a lack of visual distinctiveness and diminish the overall branding and uniqueness of your website.
Lack of Support and Updates
Free Ghost themes often have limited or no dedicated support from the theme developers. Additionally, updates and bug fixes might not be as frequent or timely as with premium themes. This could potentially lead to compatibility issues or security vulnerabilities.
Limited Advanced Features
Free themes may lack advanced features that are commonly found in premium alternatives. These features could include built-in SEO optimization, e-commerce integration, or advanced customization options. If your website requires specific functionalities, a free theme may not fulfill all your requirements.
Conclusion
Using a free Ghost theme comes with its own set of pros and cons. While they offer cost savings, quick setup, a wide variety of options, and a platform for learning and experimentation, they may also have limitations in customization, design similarities, lack of support and updates, and limited advanced features. It's essential to weigh these factors against your specific website needs and priorities before making a decision. Remember to consider the long-term goals of your website and explore both free and premium themes to find the best fit for your Ghost CMS journey.
FAQs
Do you have any questions about the advantages and disadvantages of free ghost themes? We have answers to some frequently asked questions on the topic.
What is Ghost CMS?
An open-source content management system (CMS) called Ghost CMS was made specifically for bloggers and content producers. Simple and user-friendly, the design is focused on producing and publishing content.
Are free Ghost themes safe to use?
Although they can be secure to use, free Ghost themes should only be downloaded from reliable sources. To be sure the themes are screened and devoid of malicious code, go with reliable third-party theme producers or trusted marketplaces like the official Ghost Marketplace.
Can I customize a free Ghost theme?
A free Ghost theme can be somewhat modified, yes. In contrast to premium themes, however, free themes frequently offer fewer customization choices. Basic design aspects like colors, fonts, and logos may be under your control, but more intricate customizations may call for coding knowledge or a paid theme.
Are free Ghost themes search engine optimized (SEO)?
The SEO capabilities of free Ghost themes differ. While some free themes are search engine optimized, others could require tweaking or additional plugins. For information on the theme's SEO friendliness, it is advised to examine the documentation or consult reviews.
Can I use a free Ghost theme for a commercial website?
Yes, you are allowed to use a free Ghost theme for a business website. To make sure that commercial use is allowed, it's crucial to check the theme's license. Some free themes might have constraints on commercial use, while others might not.
Can I switch from a free Ghost theme to a premium one?
Yes, you can change your Ghost theme at any time from a free theme to a paid theme. The majority of premium themes provide alternatives for smooth migration, enabling you to keep using your current content while taking advantage of the extra functionality and customization possibilities of a premium theme.
You May Like!