In this digital age, If you're searching for a dependable, user-friendly content management system (CMS) for your website, the Ghost platform is a great option. If you have a question why Ghost is the best choice for the blog? Then let me explain.
Ghost CMS is a popular open-source content management system (CMS) that is known for its speed, simplicity, and security, and it offers users a simple and straightforward way to create and manage websites. It is a favorite choice for bloggers, content creators, and publishers alike. It has more than 3 million installations and its dedicated hosting (Ghost Pro) runs more than 10,000+ websites. Apart from this, there are more than 100,000+ active websites that use ghost CMS on their servers.
In this blog, we will take a look at the 30 most amazing websites examples that are powered by Ghost CMS that are used by big companies. We will explore the different ways that these websites are using Ghost, and we will discuss the benefits that Ghost has provided them.
You will learn from this blog:
About Top 30 Successful Ghost Websites
Benefits of Using Ghost CMS
Summary of the post
FAQs
Top 30 Successful Ghost Websites Examples
We are present here with 30 big companies' websites that are using Ghost for their Business blog.
💡
Source
: We found the list of all websites, From the Ghost Officials websites (
Creators
,
Publishers
, and
Business
). If you have a doubt about this Ghost customer list, then you can visit Ghost's official website.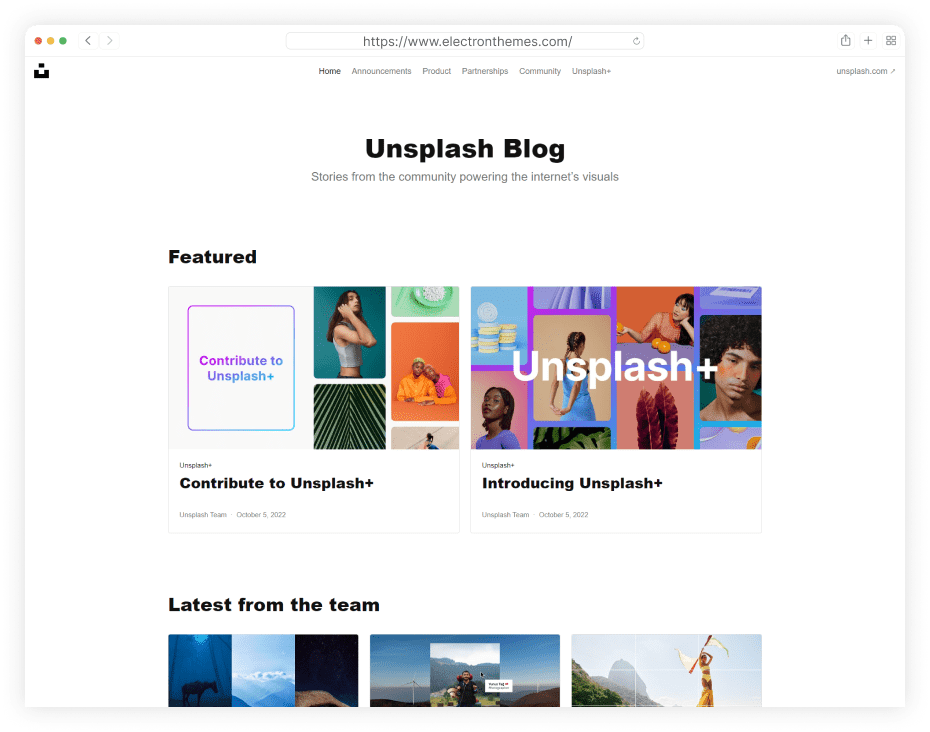 Unsplash is a popular online platform and community where photographers and artists share high-quality, high-resolution images for free use by others. It was founded in 2013 and it has since become one of the go-to resources for finding stunning, royalty-free images for various creative projects.
Unsplash uses the Ghost platform to build their Unsplash Blog. Because Ghost is lightweight, Speedy, Strong security, and easy to use. Ghost CMS is the best for blogging websites that's why this company uses Ghost.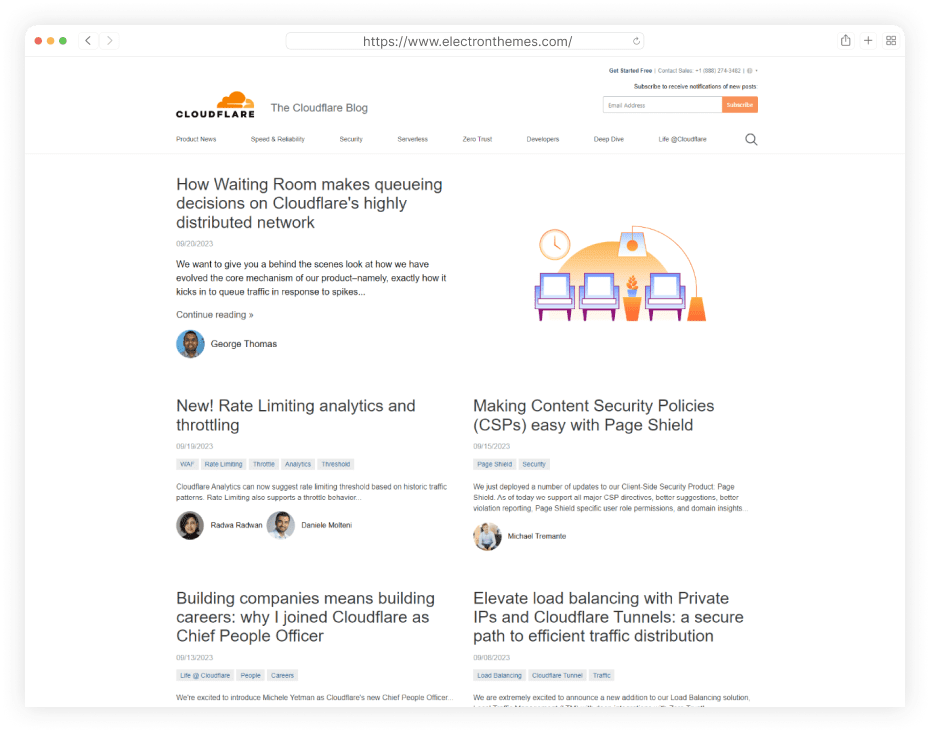 Cloudflare is a global content delivery network (CDN) and security company. It provides a variety of services to help improve the performance, security, and reliability of websites and applications. Cloudflare has a lot of blogs for its users, customers, and those people who are interested in Cloudflare and like this type of service.
Cloudflare uses Ghost CMS for its blog website (blog.cloudflare.com). Ghost is easy to manage and publish a blog.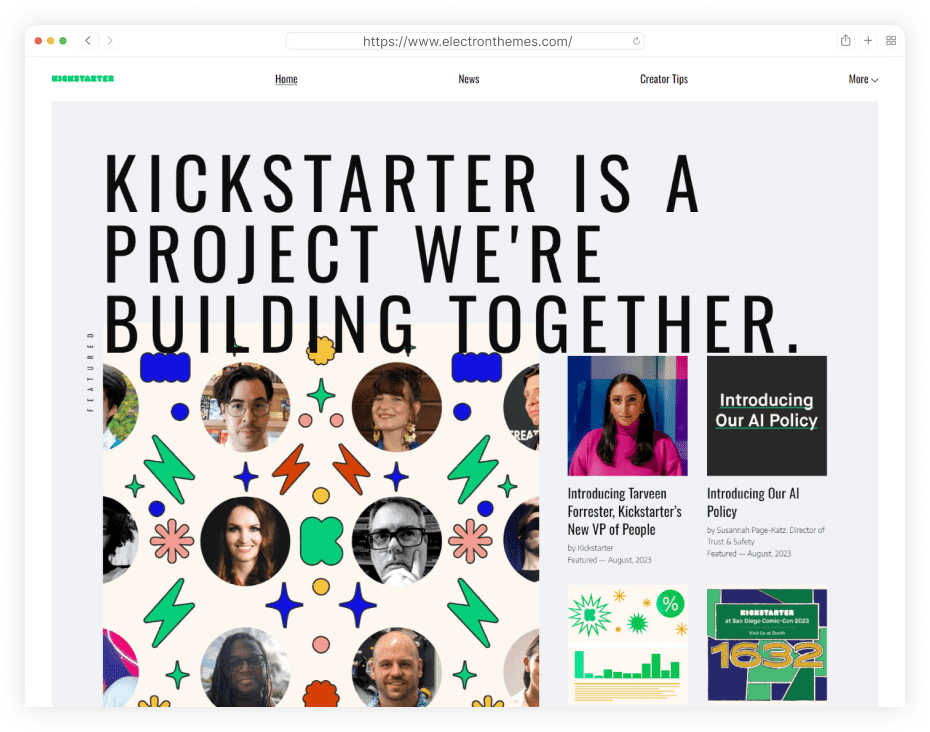 Kickstarter.com is a crowdfunding platform that allows people to raise money for creative projects. Projects can include films, music, art, design, technology, and more. Kickstarter is a great way for creators to raise money for projects that they might not be able to fund otherwise. Kickstarter uses Ghost for publishing their updates and news blog.
4. Mozilla - Mixed Reality Blog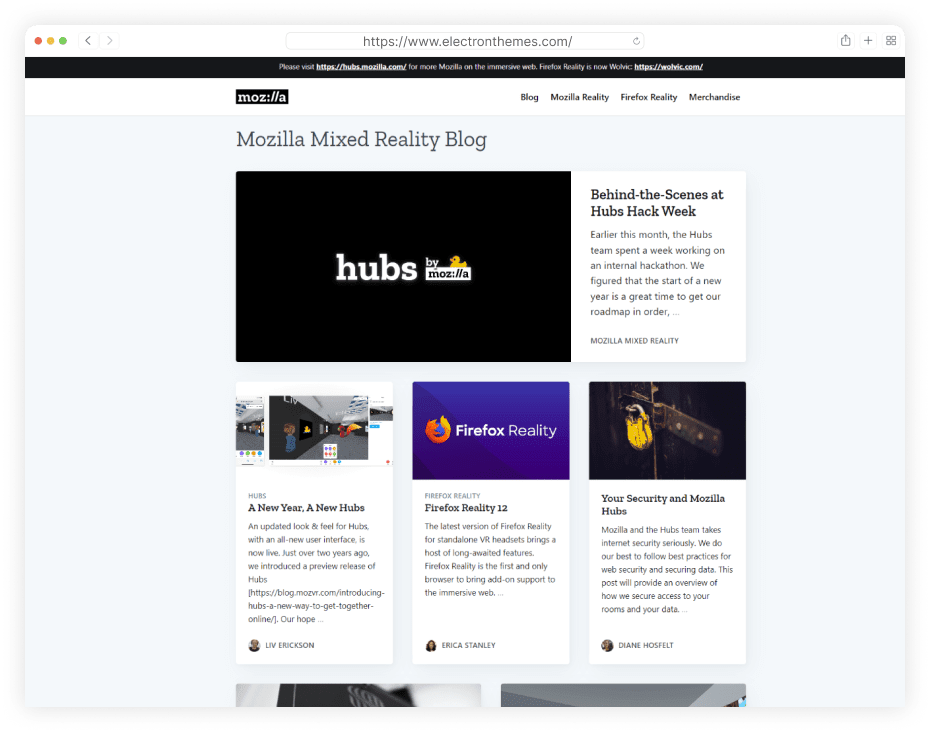 Mozilla is a non-profit organization dedicated to keeping the Internet open and accessible to all. It is best known for its web browser, Firefox, but it also develops other products and services, such as the Thunderbird email client, the Bugzilla bug tracking system, and the Pocket read-it-later app. Mozilla uses Ghost in their blog website (https://blog.mozvr.com/).
5. Spread Privacy - The Official DuckDuckGo Blog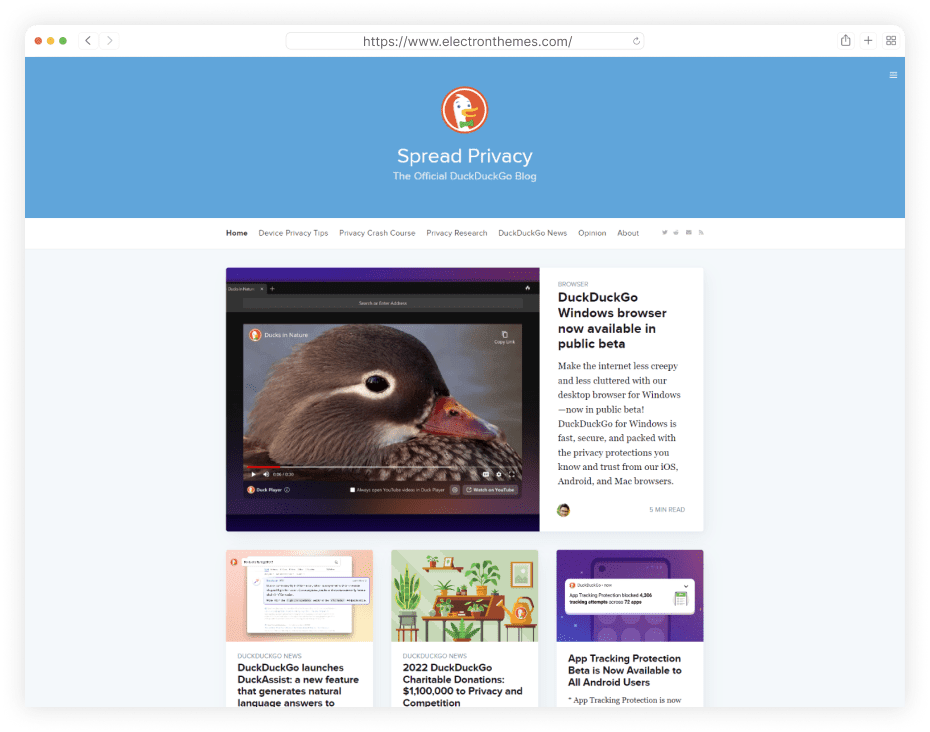 Spread Privacy is powered by Ghost CMS. Spread Privacy is the official blog of DuckDuckGo, a search engine that focuses on privacy. The blog covers a wide range of topics related to online privacy. The blog is written by DuckDuckGo employees, as well as guest writers from other organizations that are working to promote online privacy. The blog is well-written and informative, and it is a great resource for anyone who wants to learn more about how to protect their privacy online.
Free Code Camp is a non-profit organization that teaches people to code for free. It offers a variety of interactive coding lessons, videos, and articles on a variety of programming languages and technologies. Free code camp uses Ghost CMS for (https://www.freecodecamp.org/news) website.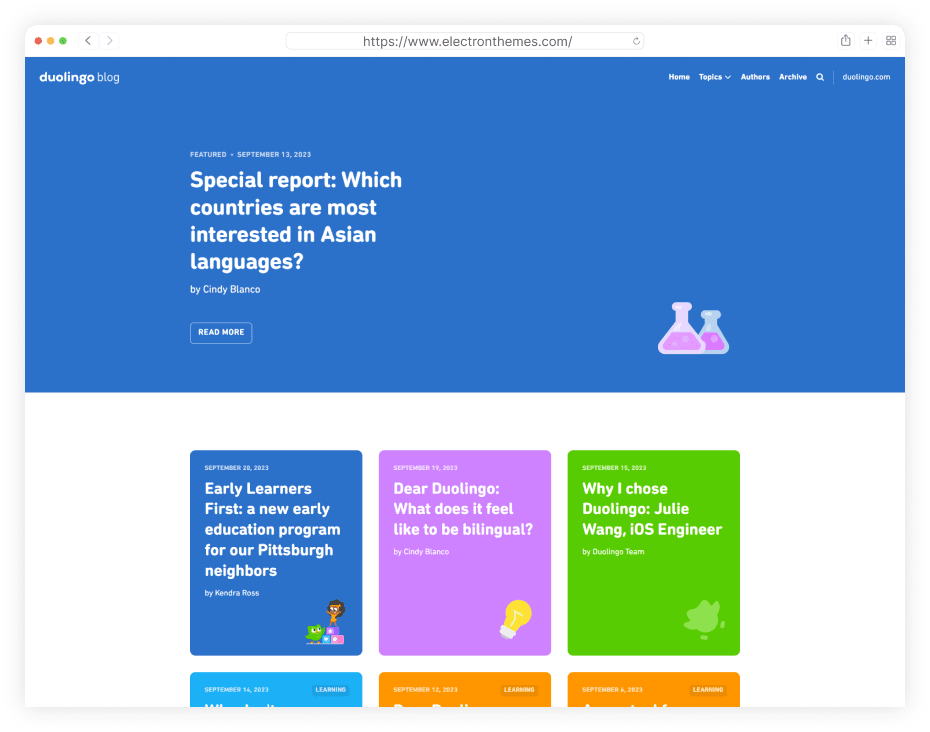 Duolingo is a free language learning platform that offers courses in over 100 languages. It uses a gamified approach to learning, with lessons that incorporate translating, interactive exercises, quizzes, and stories. Duolingo has a blogging part to publish their blog and Duolingo Blog uses Ghost for its simplicity and security.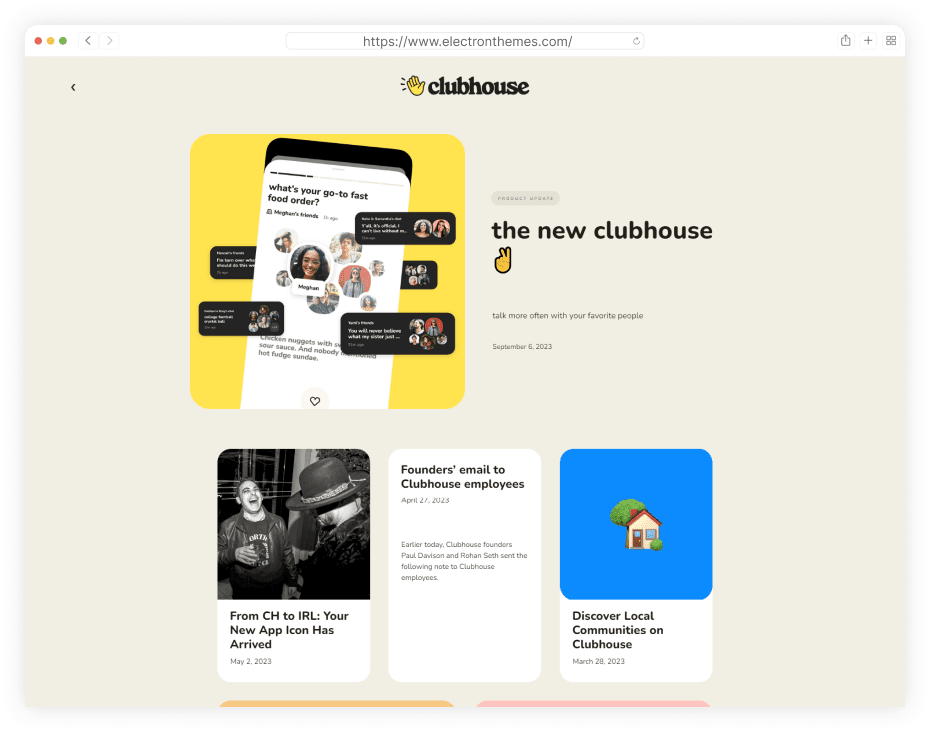 Clubhouse is a social audio app where users can communicate in audio chat rooms that accommodate groups of thousands of people. It is similar to a live podcast or conference call, but anyone can join in and participate. Clubhouse uses Ghost for their Clubhouse blog website.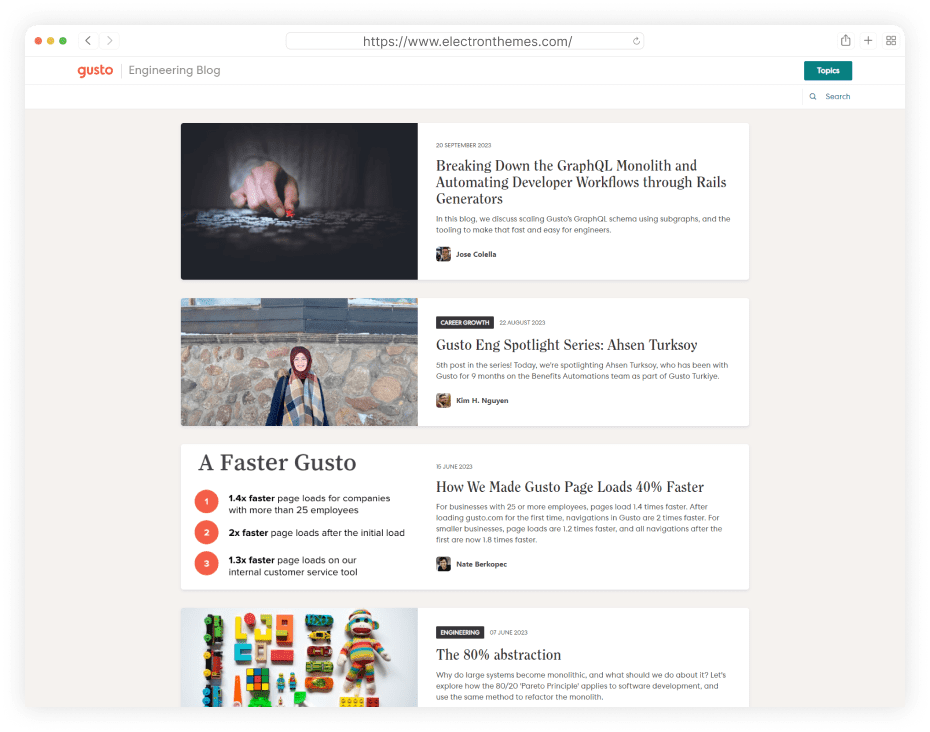 Gusto.com is a cloud-based payroll, benefits, and human resources (HR) software platform for small businesses. It offers a variety of features to help businesses manage their payroll, benefits, and HR needs including Payroll processing, Benefits administration, and HR management. Gusto has an engineering blog website. Gusto uses Ghost CMS on its site(https://engineering.gusto.com).
Revolut is a global financial technology company that offers a range of financial services, including Currency exchange, International money transfers, Debit cards, Peer-to-peer payments, and Investing.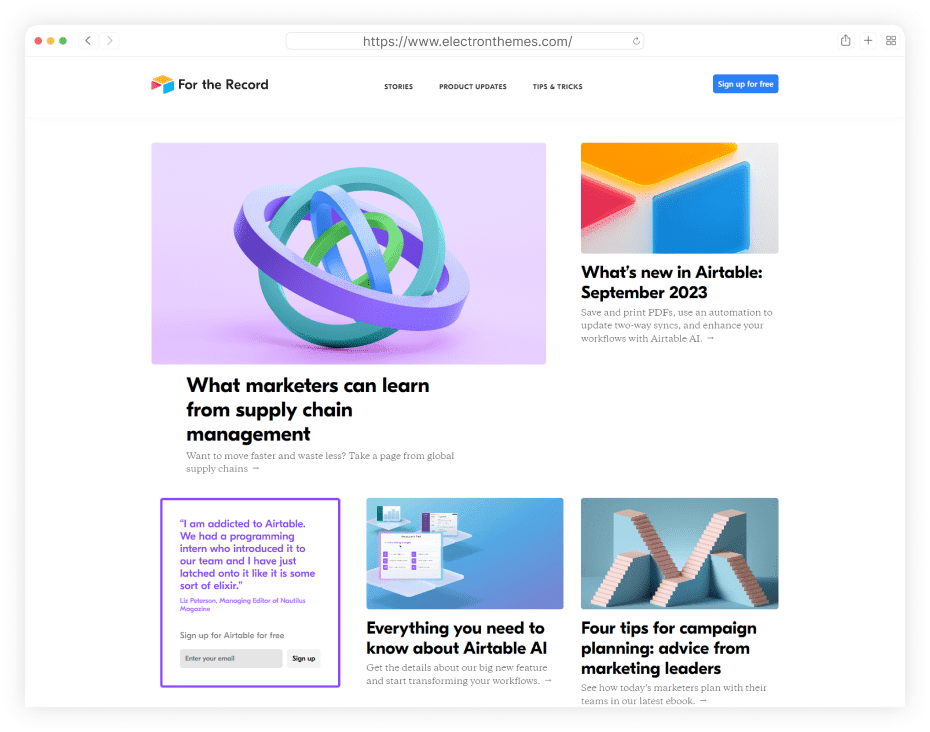 Airtable.com is a cloud-based relational database platform that combines the power of a database with the flexibility of a spreadsheet. It allows users to create and manage tables of data, and then link them together to create relationships between different types of data.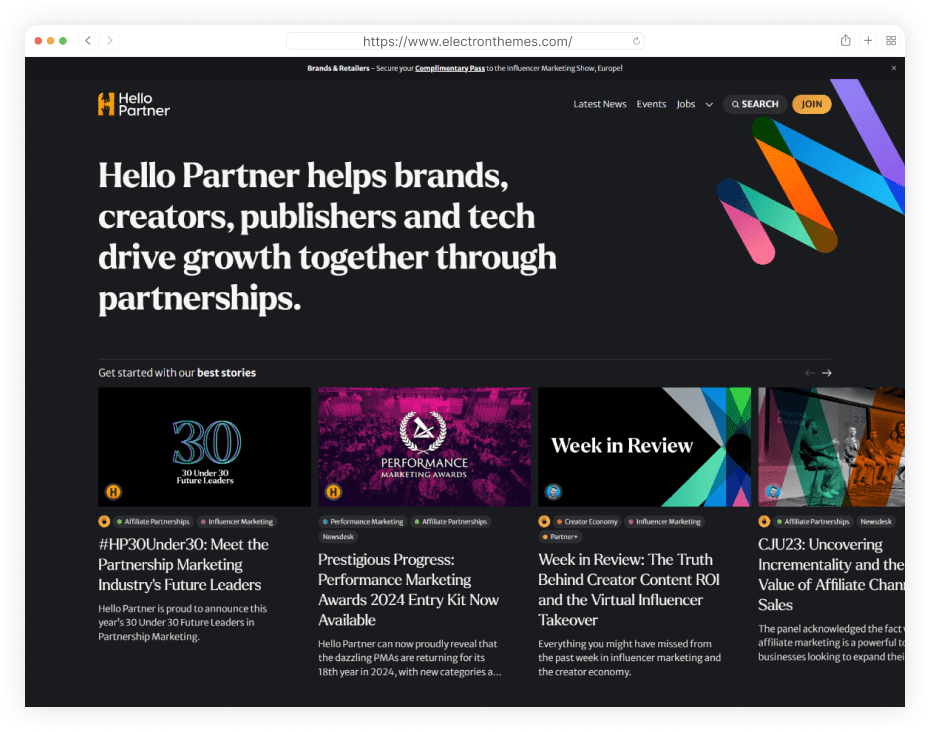 Hello Partner helps build business partnerships. It discusses brands, creators, publishers, and tech drive growth together through partnerships. Some of the important points from this website are that it helps businesses of all sizes, that it offers a variety of services, and that it has a proven track record of success.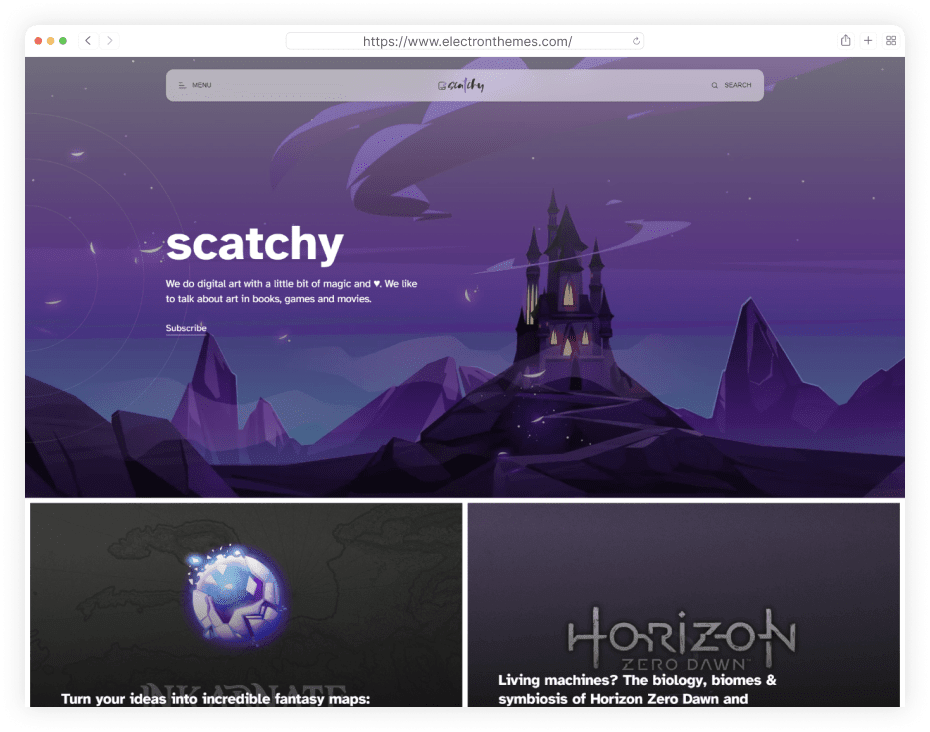 Scatchy is a blogging website. They are talking about digital art in books, games, and movies. They have premium members. Scatchy runs Ghost CMS on their server.
HNGRY is a food tech newsletter and research firm that provides insights into the future of food. It was founded in 2021 by Matt Newberg, a former venture capitalist and food industry analyst.
The Whippet is built with Ghost CMS. The Whippet is a newsletter for the "terminally curious". It covers a wide range of topics, including high-quality esoterica, quirky inner musings, and advice.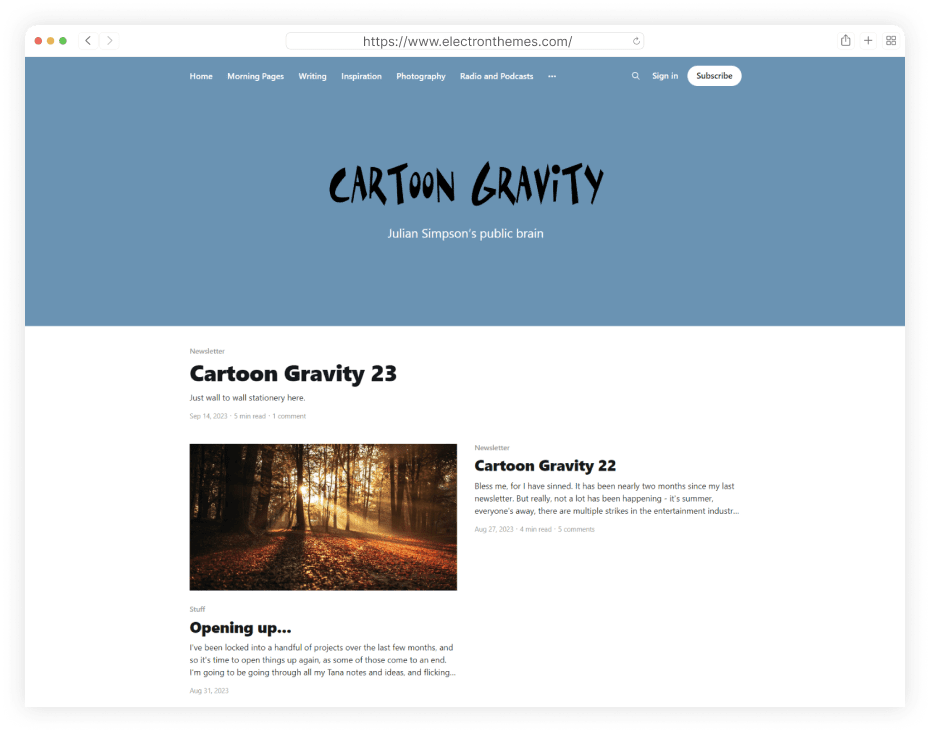 The Cartoon Gravity is powered by Ghost. Cartoon Gravity is a newsletter and blog by Julian Simpson, a screenwriter and creative director. He writes about a wide range of topics, including screenwriting, creativity, and the future of work.
Van Schneider Blog is built with Ghost CMS. Van Schneider is a highly respected designer and creative leader. He has worked with some of the world's leading brands, including Spotify, Red Bull, NASA, BMW, Google, Wacom, Sony, Toyota, Ralph Lauren, and Bwin.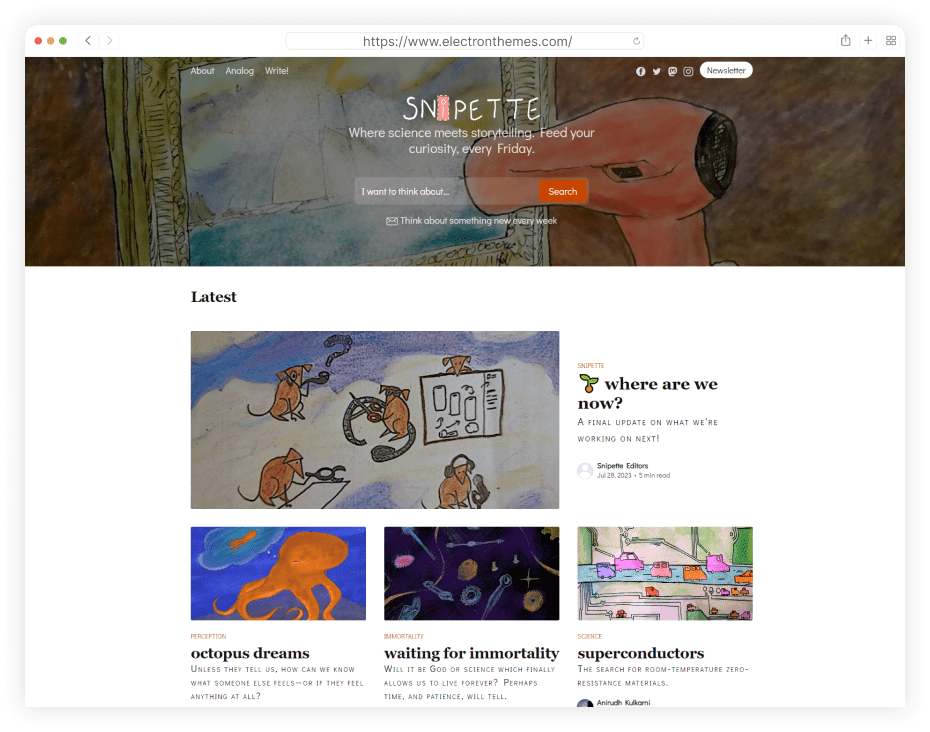 Snipette is Powered by Ghost CMS. Snipette is a literary science magazine. Edited by a team of fiction readers, their articles apply literary techniques to topics like science, culture, and philosophy.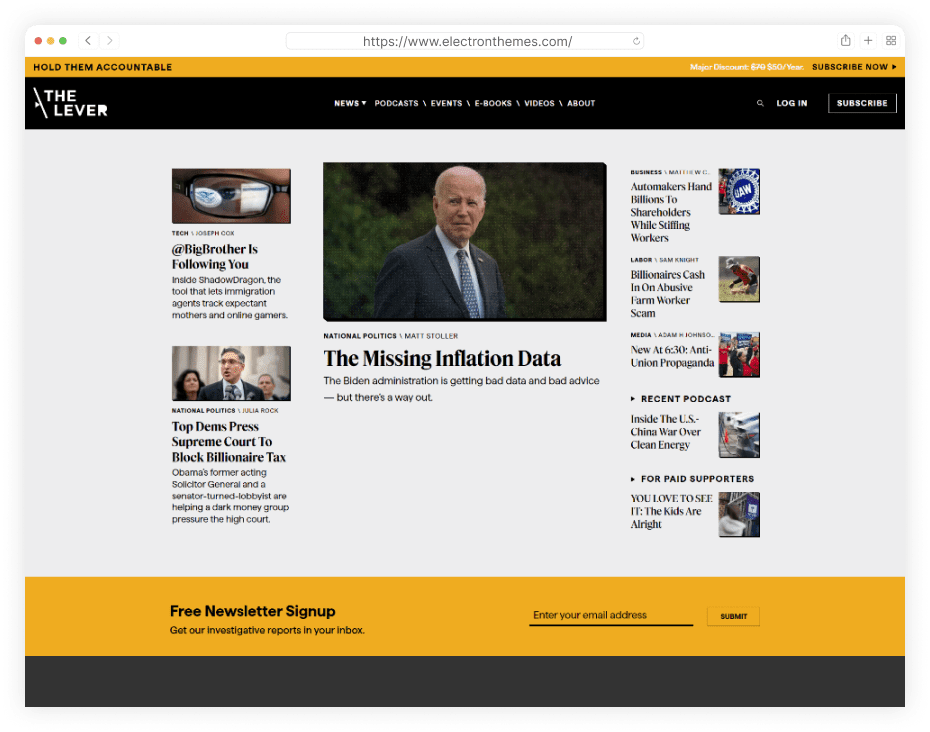 The Lever is a nonpartisan, reader-supported investigative news website. The Lever uses Ghost CMS to easily manage their contents. Ghost has a lot of features for blogging websites.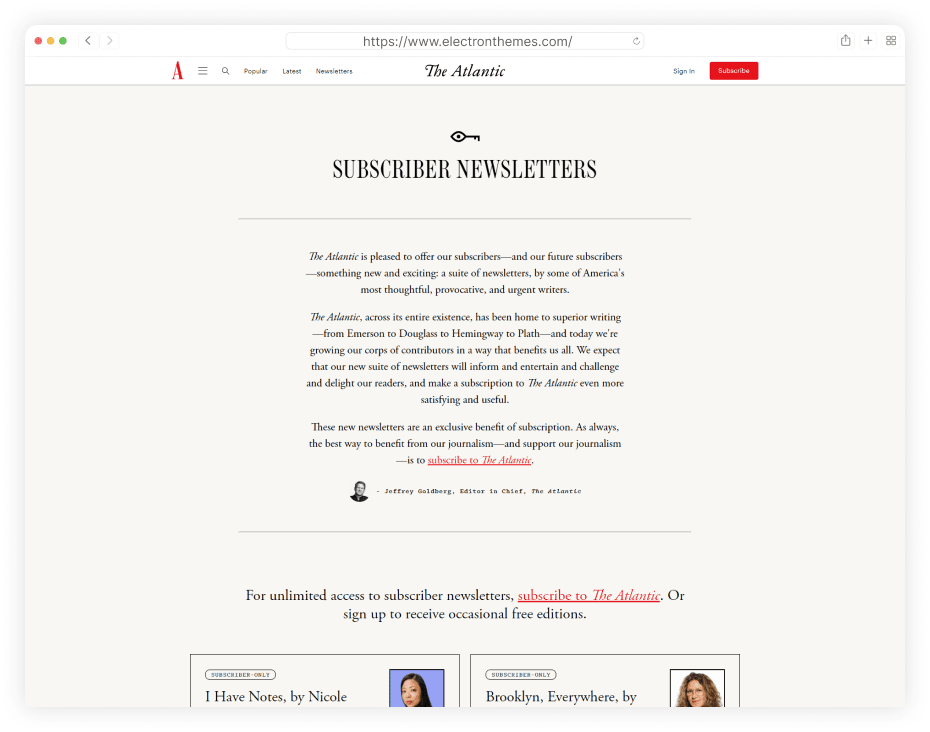 The Atlantic is an American magazine and multi-platform publisher. It features a lot of articles on politics, foreign, affairs, business, and the economy, culture, arts, technology, and science. The Atlantic uses Ghost CMS to manage its Subscriber and Newsletter site. Ghost is the best for a Newsletter Subscription blogging website because of its security and simplicity.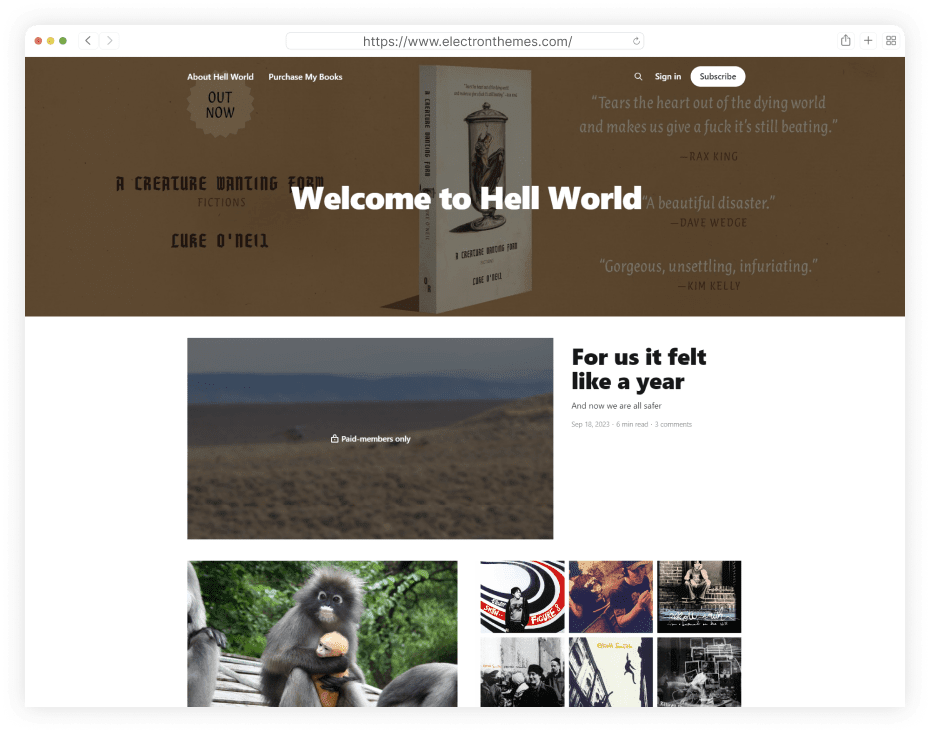 The Hell World website is powered by Ghost CMS. Hell World is a blog website that sends weekly newsletters to its users. This website is built with Ghost. It is a simple designed very fast-loading website.
Bklyner is powered by Ghost CMS. Bklyner is a news-based website. It covers all types of news in Brooklyn. This website uses Ghost. Ghost has a lot of features and it is free to use.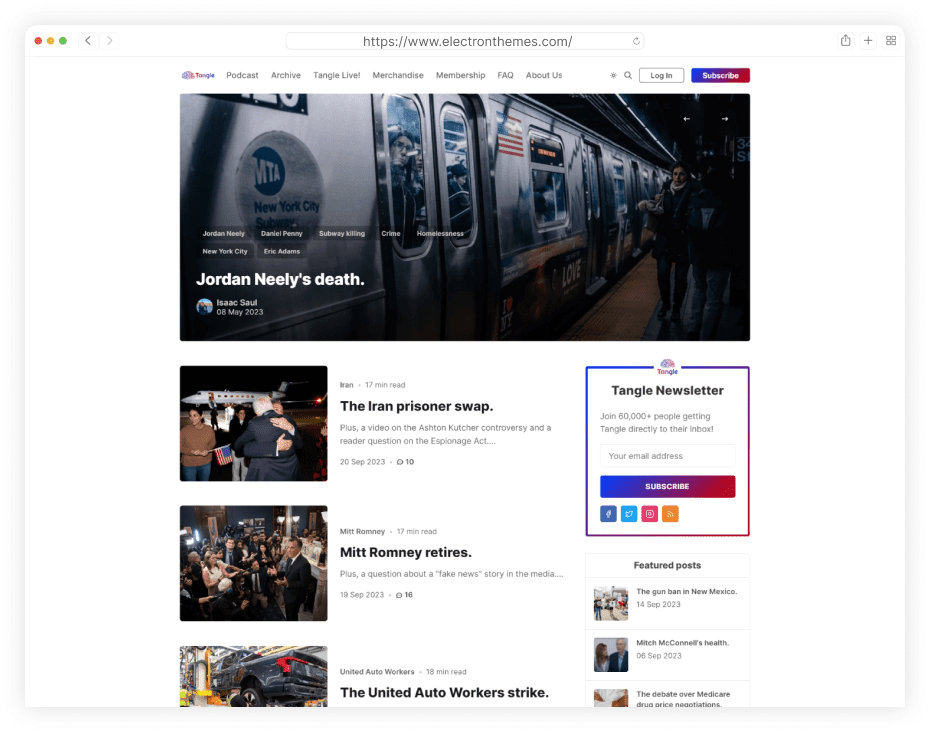 Tangle is an independent, non-partisan, subscriber-supported newsletter website, that is read by over 65,000 people in 55+ countries across the world. It is the largest subscriber-supported website. Tangle is powered by Ghost CMS. Ghost has built-in membership features to manage free and premium subscribers.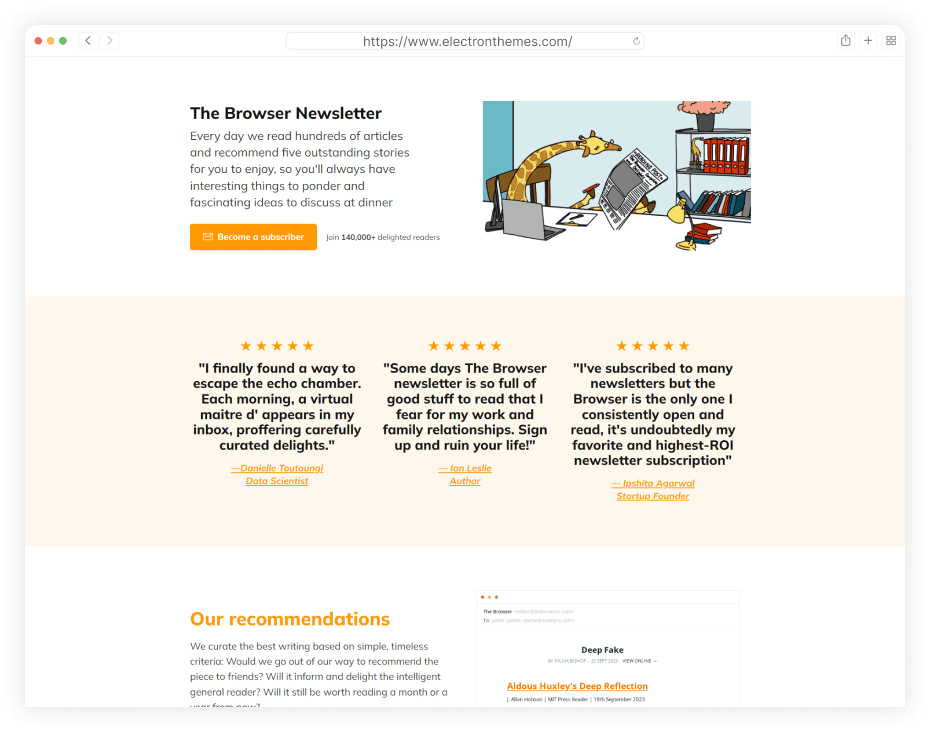 The Browser is an esteemed newsletter-based website, that captivates readers with its distinctive blend of erudition and curation. This digital sanctuary curates an intellectual oasis, delivering a handpicked selection of thought-provoking articles, essays, and multimedia gems directly to subscribers' inboxes. The browser website is published with Ghost CMS because Ghost is very simple and easy to use.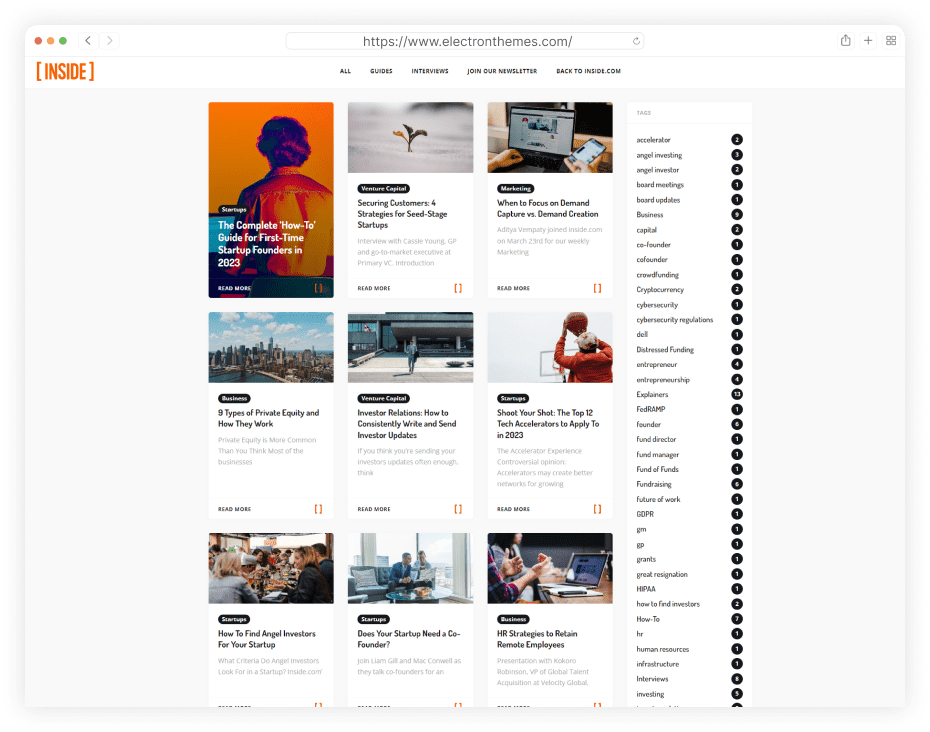 Welcome to Inside Blog your exclusive gateway to a world of insightful and captivating content, all powered by the remarkable Ghost CMS. In this virtual realm, we invite you to embark on a journey beyond the surface, diving deep into the heart of our carefully curated stories, ideas, and experiences.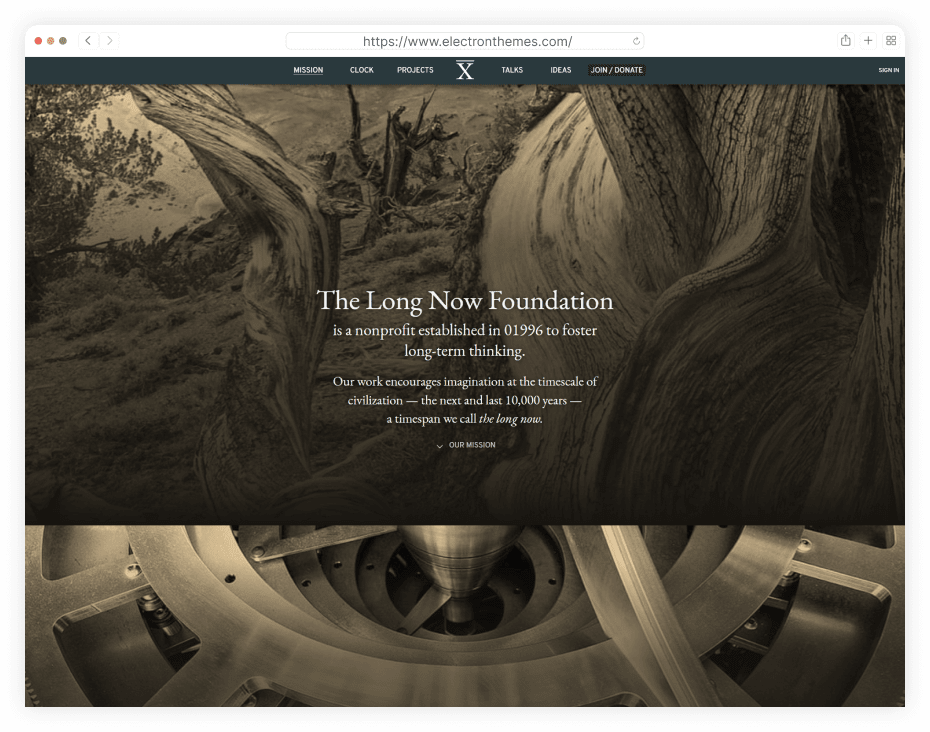 The Long Now Foundation is a nonprofit encouraging imagination at the timescale of civilization in the next and last 10,000 years— that is why it is called the Long Now. This is a very lightweight and simple designed website. This website is powered by the remarkable Ghost CMS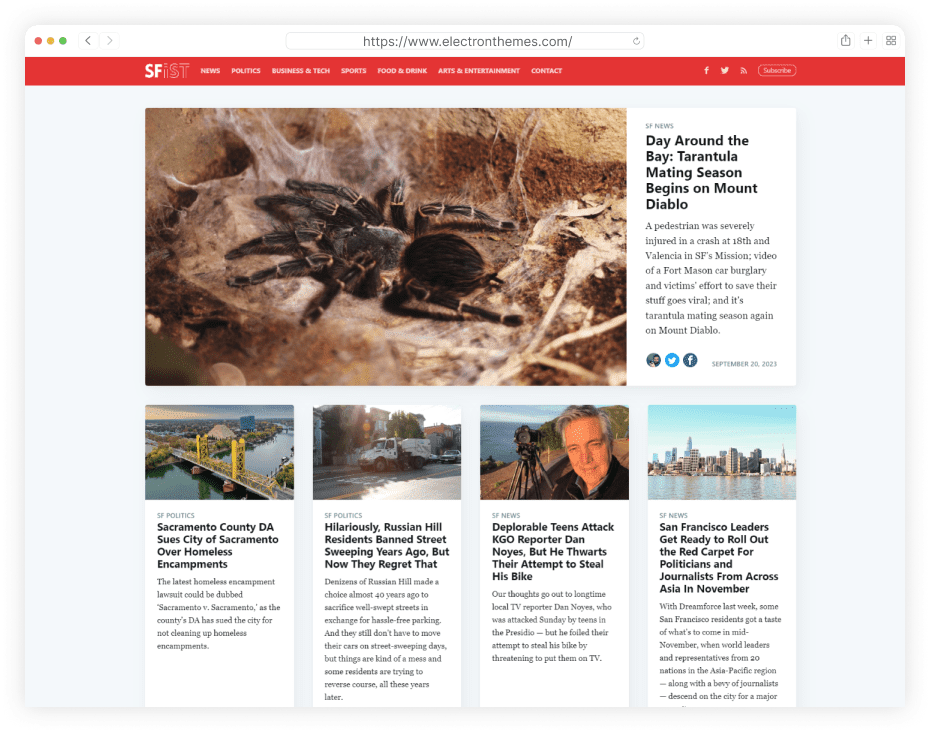 SFist is San Francisco's fun, & serious news and blog website. It's a dynamic digital platform designed to provide up-to-the-minute updates, in-depth stories, and thought-provoking blogs., SFist has millions of users in California. This big website is powered by Ghost CMS. Ghost is free to use it is very fast, and it has strong security. Ghost is easy to manage and publish blogs, news, and articles.
City Cast Madison is a daily local news podcast website. It is covered daily in local news. This website is powered by ghost CMS. There are uses Ghost for easy to set up and manage and publish their content.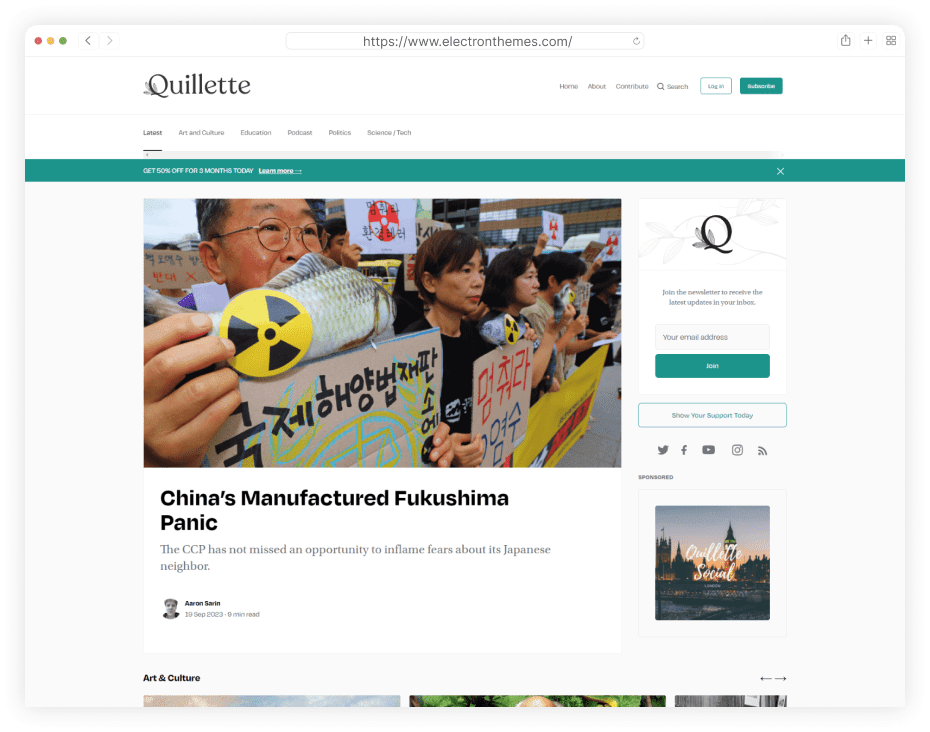 Quillette is an online magazine website founded by Australian journalist Claire Lehmann. The magazine primarily focuses on science, technology, culture, and politics. This website uses Ghost CMS. Ghost is focused on content creation and its minimalistic approach makes it a compelling choice for those who want to emphasize the quality of their writing and the reader experience.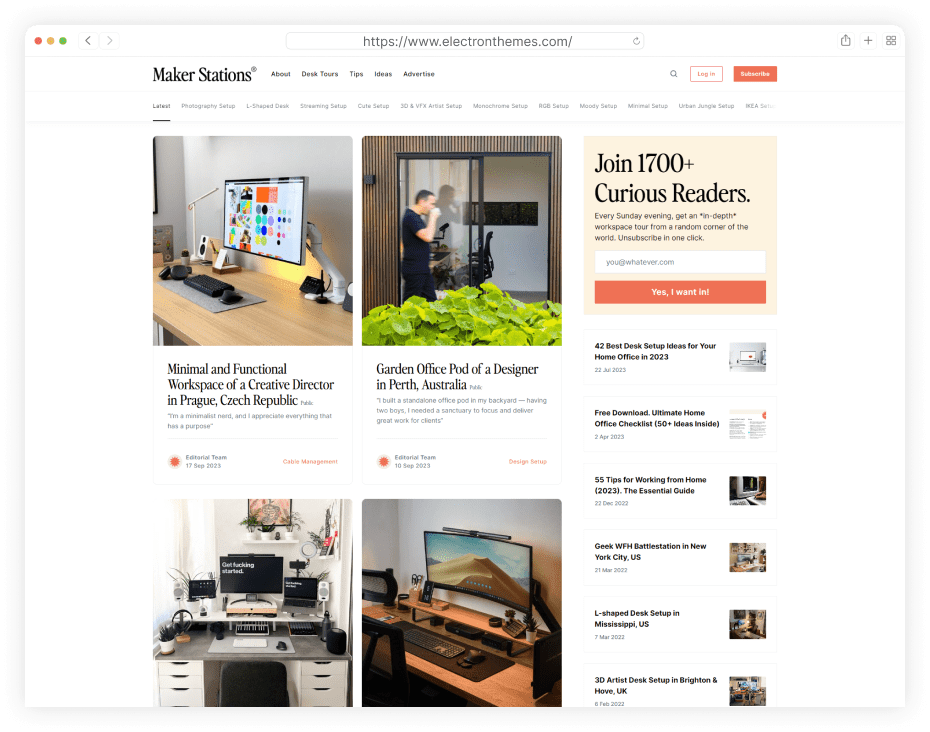 Maker Stations is an online magazine website (and a free weekly curated newsletter, as a matter of fact!). They feature high-quality, in-depth interviews with creators and makers about their workspaces, as well as tips and ideas. Maker Station uses Ghost CMS to run the website. They are using Ghost for its flexibility, simplicity, and best security features.
Let's Explore the Benefits of Using Ghost CMS
There are many benefits to using Ghost CMS, including:
Speed: Ghost CMS is one of the fastest CMS platforms available. This is because it is built on a modern Node.js backend and it uses a minimalist design.
Simplicity: Ghost CMS is very easy to use, even for beginners. It has a simple and intuitive interface, and it does not require any coding knowledge to use.
Security: Ghost CMS is very secure. It is regularly updated with security patches, and it has a number of built-in security features.
Flexibility: Ghost CMS is a very flexible CMS platform. It can be used to create a wide range of websites, including blogs, magazines, news websites, and e-commerce websites.
Affordability: Ghost CMS is a free and open-source CMS platform. This means that there are no licensing fees to pay.
Conclusion
In the end, We can say Really Ghost is the best choice for bloggers, publishers, and businesses of all sizes. It is a powerful and versatile CMS platform that is used by some of the most successful websites in the world. Now we hope you can make a decision very easily to start your website with Ghost CMS. Best of luck for your new journey with Ghost.
FAQs
Do you have any questions about Ghost CMS? We have answers to some frequently asked questions on the topic.
Which is the best hosting service for Ghost?
Ghost (Pro) is the best hosting service for Ghost. Ghost Pro is the official hosting service for the Ghost CMS, offering managed hosting optimized for Ghost-powered websites. It includes scalability, global content delivery, automatic updates, and built-in SSL for security.
Can I use Ghost CMS for my own website?
Absolutely! Ghost CMS is an open-source platform, and you can use it to power your own website. The case study provides examples to inspire your own Ghost-powered project.
Where can I find more information about using Ghost CMS?
You can find more information about Ghost CMS on their official website (ghost.org) or explore our blog for additional resources and insights.
Post You May Like!