Top 15 Free Ghost Themes for Ghost CMS in 2022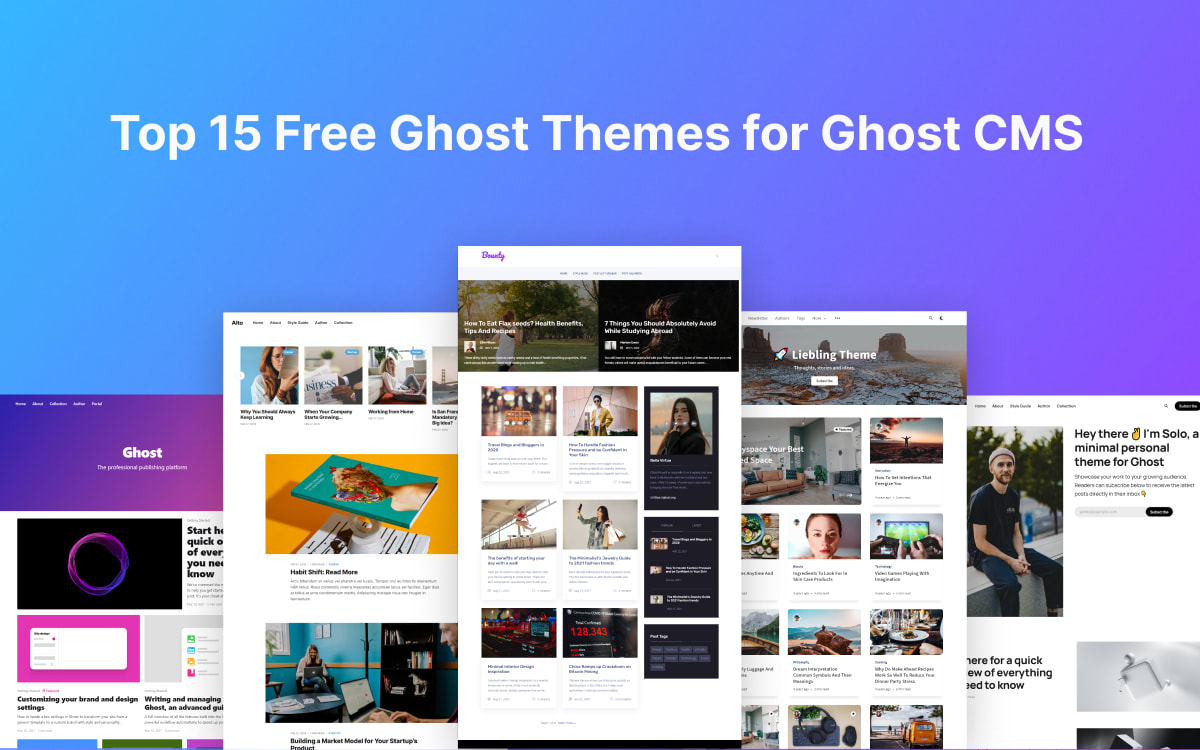 Suppose you're new to the Ghost Platform and are looking to create a new blog website using Ghost CMS. Not sure which ghost theme is best for your content? If you are worried about choosing a theme then you are in the right place, this article is for you. In this article, we will discuss the best 15 free ghost themes. The ghost theme is very lightweight and super fast which helps you focus on your content. Hope you can choose the desired theme and create a beautiful website with a free ghost theme.
1. Bounty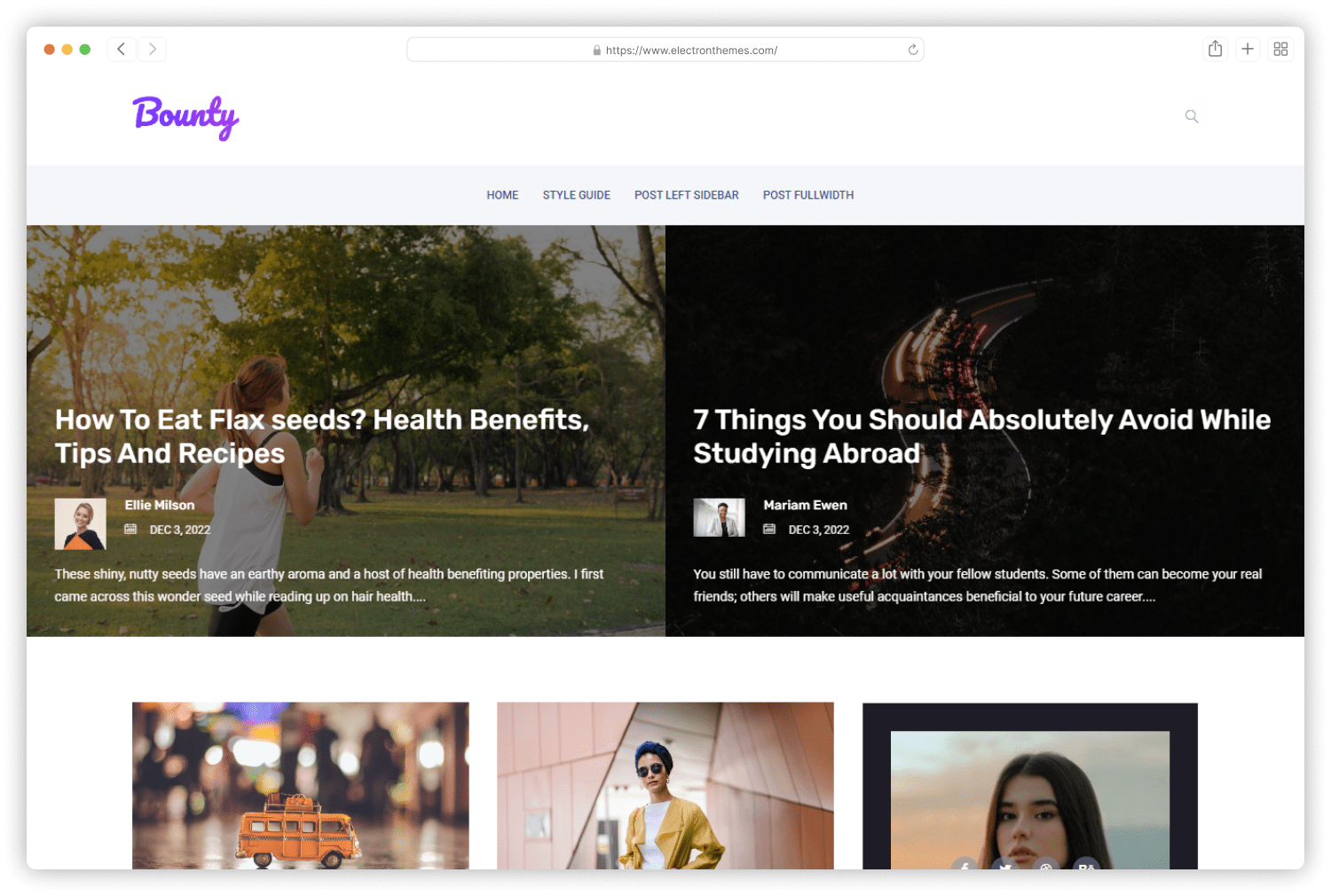 Bounty is the latest blog and magazine free ghost theme. It is created for Bloggers, Authors, Publishers, and Writers. It is easy to set up and customize. It aims to provide your content with a tidy, stylish design that is responsive and well-organized. We appreciate the site's prominent sidebar encouraging feature slider and its support for premium memberships.
General Features:
Awesome homepage with postcard and sidebar
Feature post carousel with 2-column layout
Clean and content focus design
Fast load and accessible from any device
2. Abstract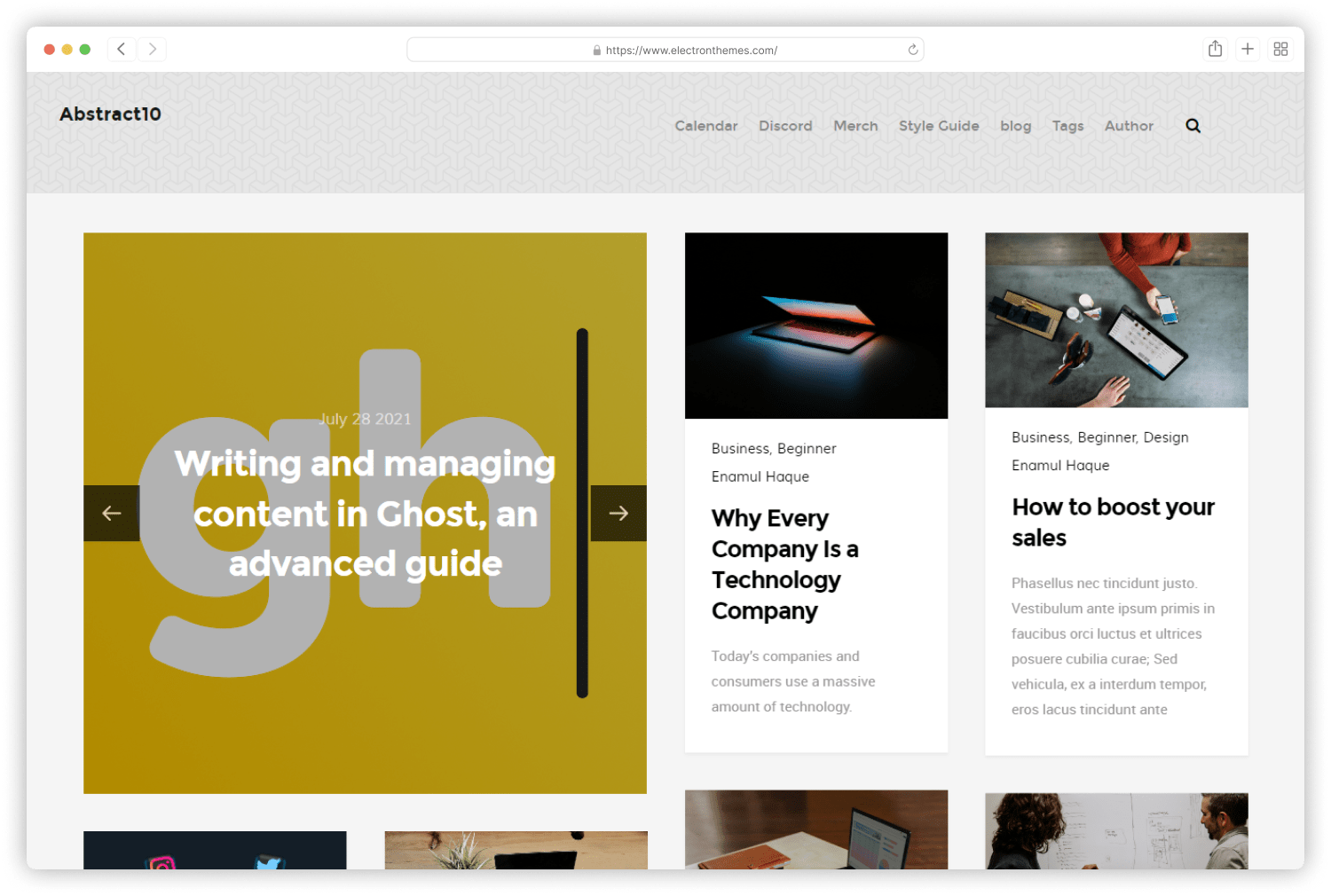 The Abstract is a minimal simple free ghost theme. It is created to design a blog website. It comes with many modern features that you would love to have on your website. The abstract is a developer-friendly theme that any developer can customize core for his requirements.
General Features:
Modern post-gird design with the feature post slider
Content focused single page design
Newsletter Email signup option
Fast loading and responsiveness
3. Dope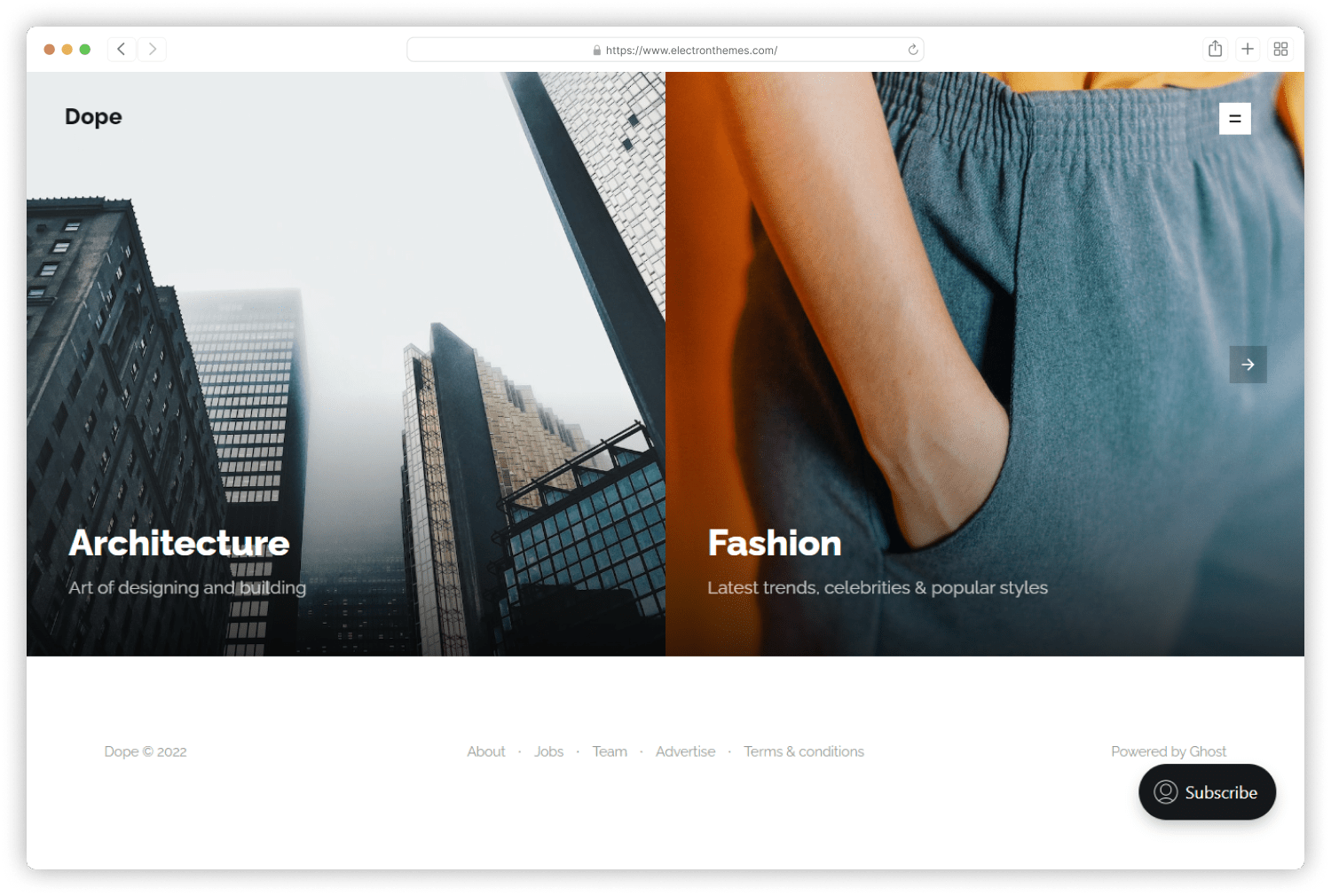 Dope is a unique tag-based ghost theme. It is used to arrange your publications into collections. Keep organized and allow your visitors to easily explore your publications. It's completely free and fully responsive.
General Features:
Awesome home page layout
Unique slider with 2column design
Right side Slide Menu
Clean and content-focused design
4. Dawn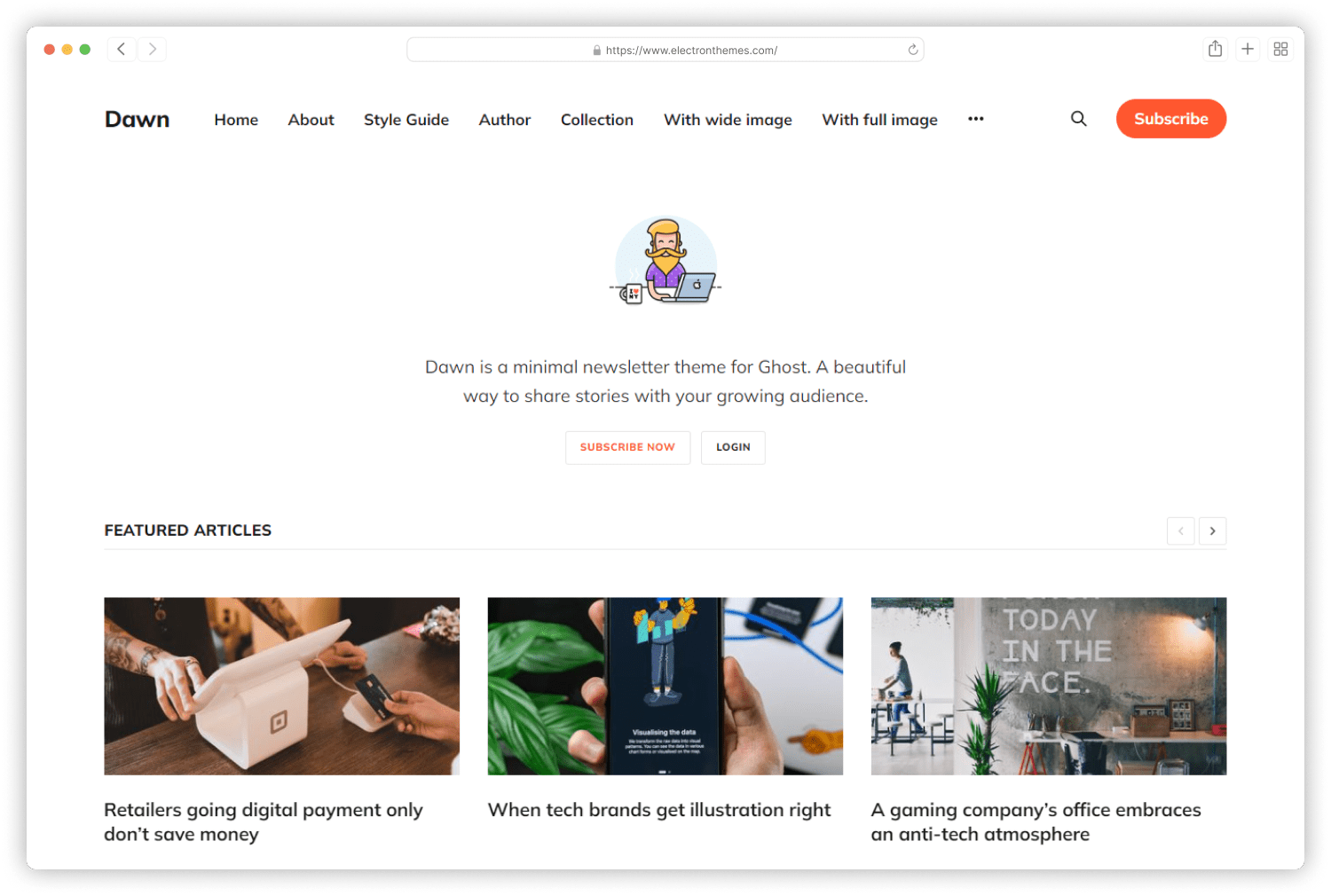 Down is an official ghost theme it is free to use. This theme focuses on simplicity and is suitable for blogging, magazines, and writers. It is a highly functional ghost theme that adapts to the reader's performance. Dawn is a minimal and lightweight free ghost theme you can use to create your beautiful blog or magazine website.
General Features:
Clean and unique homepage design
Unique feature article carousel
Multiple single post page design
Super-fast and Responsiveness
5. Alto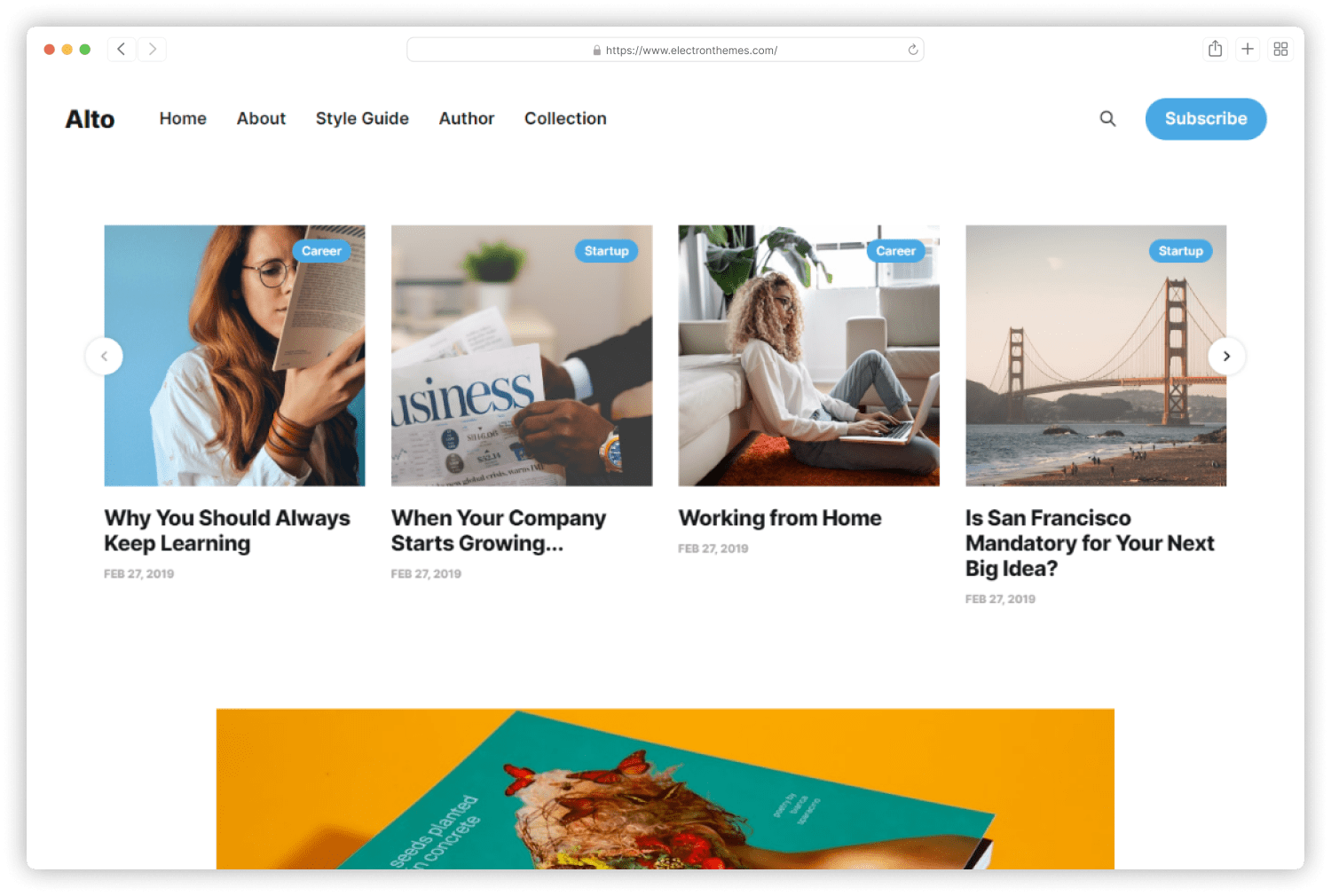 Alto is a clean and minimalist ghost theme. It is ideal for creating blogs and magazine websites. It has modern features and a professional design you can make a membership platform that looks like a professional website. It has all the right features of a great theme design you choose this theme for your next blogging website.
General Features:
Hero section options
Beautiful Homepage design
Includes tag and author archive
Clean & bold design
6. Solo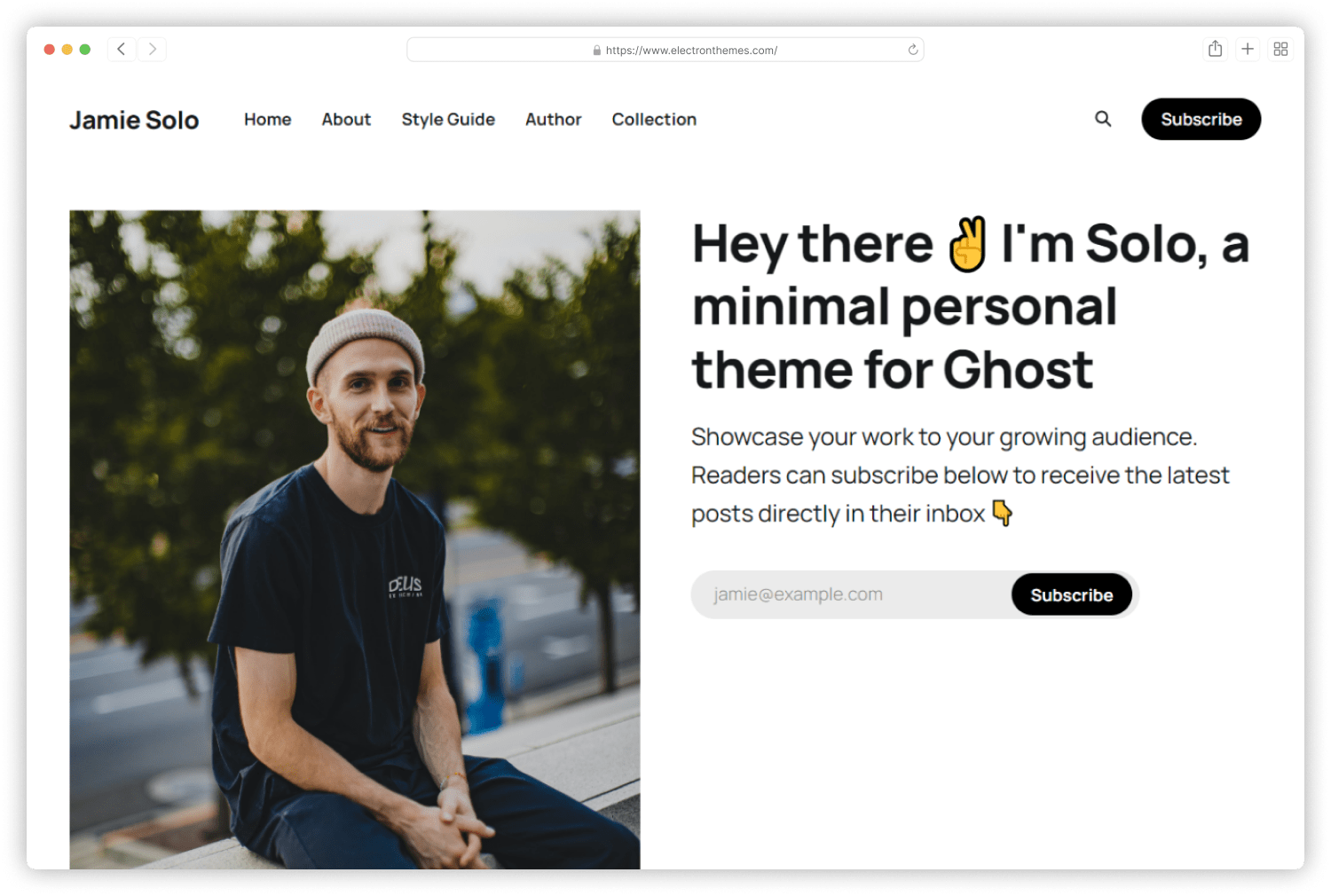 If you want to create your portfolio or blog and showcase your best work? Then Solo is the best choice for you. Solo is a minimal and single blog with an elegant design. This is a content focus ghost theme. Solo is compatible with the ghost membership system. This is a fast-loading and lightweight design.
General Features:
Beautiful intro section with a newsletter option
Clean and unique homepage design
Awesome blog layout design
Easy setup and customize
7. Headline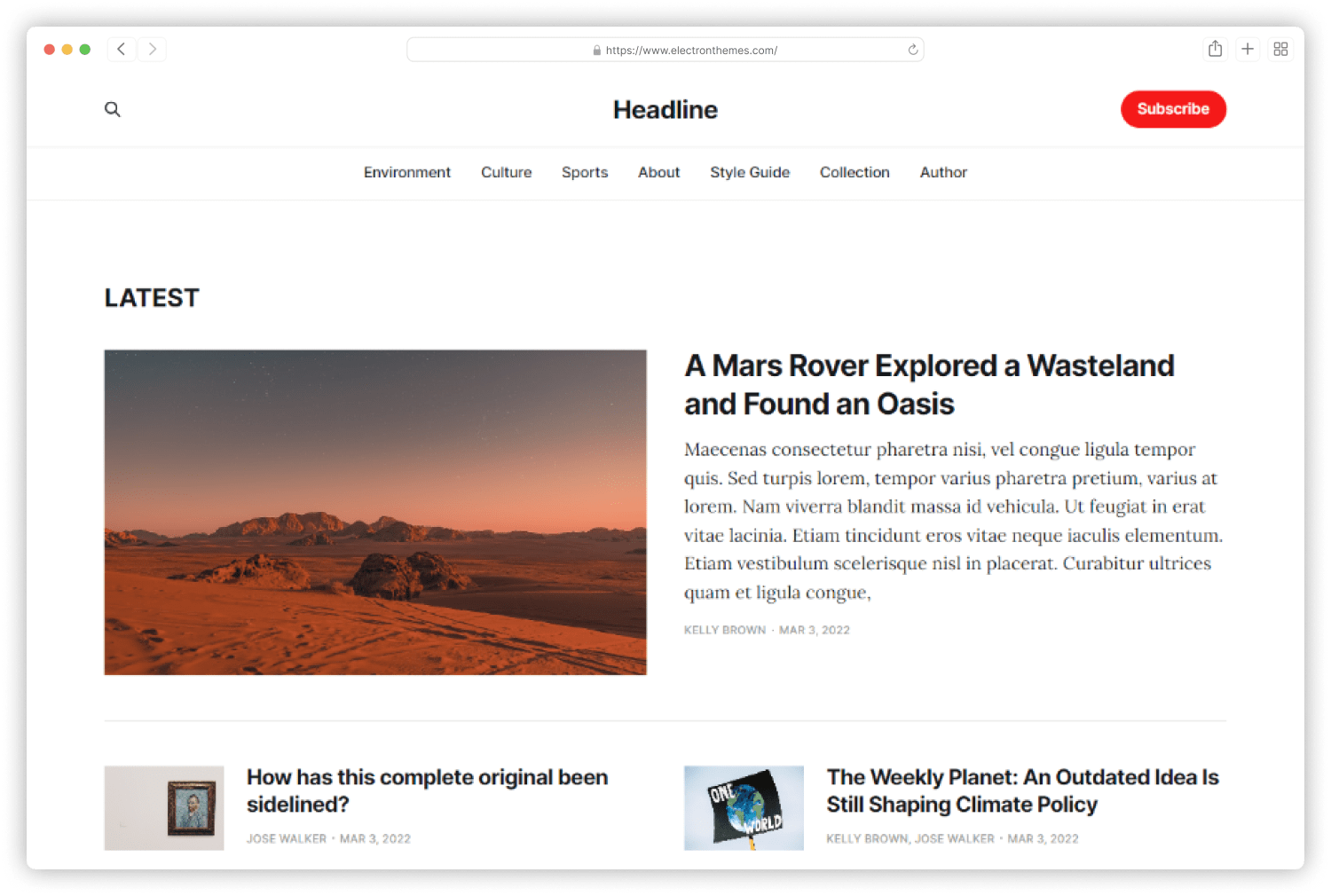 The headline is a mixed layout design magazine ghost theme. It is compatible with ghost 4 and works with Ghost 5. It has an awesome header section that can customize to attract the audience's attention. The headline comes with a clean and modern responsive design, nice fonts, native search, and a homepage newsletter subscription button.
General Features:
Magazine based design
Lightweight, and fast loading
Includes tag and author archive
Membership & subscription tiers
8. Casper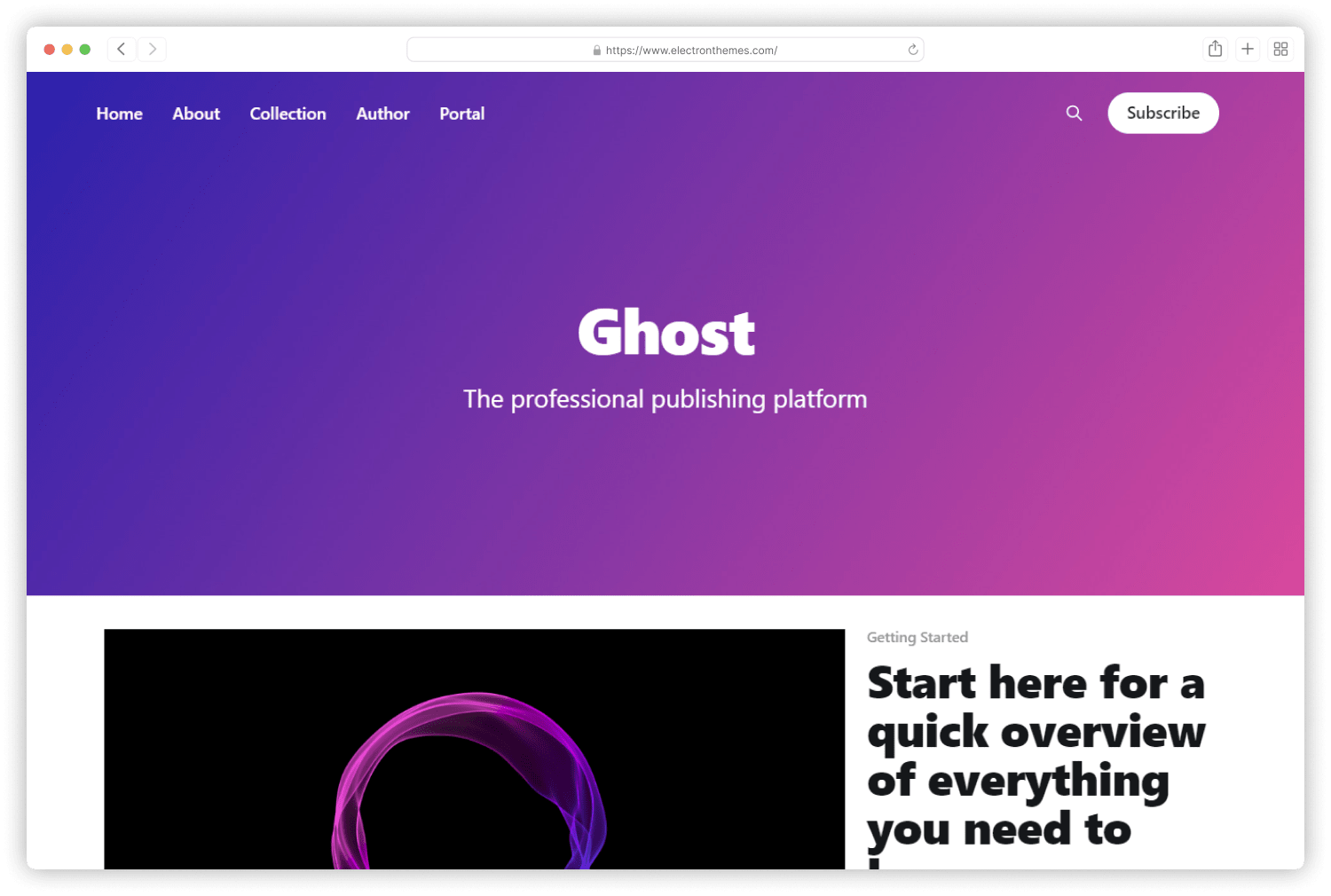 Casper is an official minimal blog and magazine ghost theme. It is completely free to use. It has a grid-based blog design with the main featured article at the top. Casper is a reader-friendly and productive ghost themes. If you want to create a modern blog-based website then Casper is suitable for you.
General Features:
Awesome hero section with a feature blog
Clean and unique homepage design
Awesome blog layout design
Super-fast and Responsiveness
9. Wave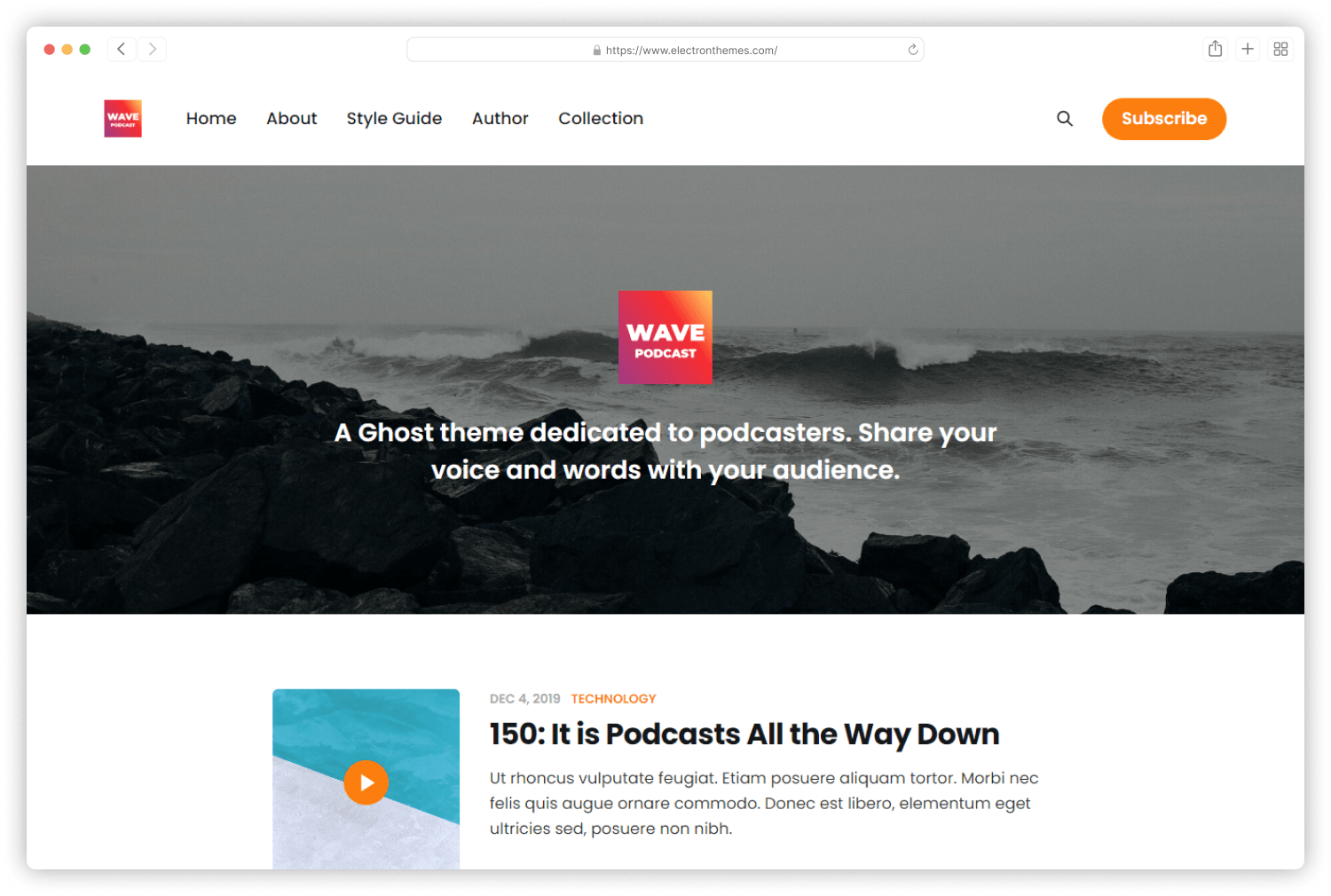 You can create podcast and blog-based websites with a wave ghost theme. It's a completely free-to-use ghost platform with and fully responsive design. Show off your creativity with a wave theme. You can use it to make a beautiful personal podcast or blog to share your ideas and thoughts.
General Features:
Cleanly designed homepage with hero section
awesome header and footer
Content focused design
Audio post format supported
10. London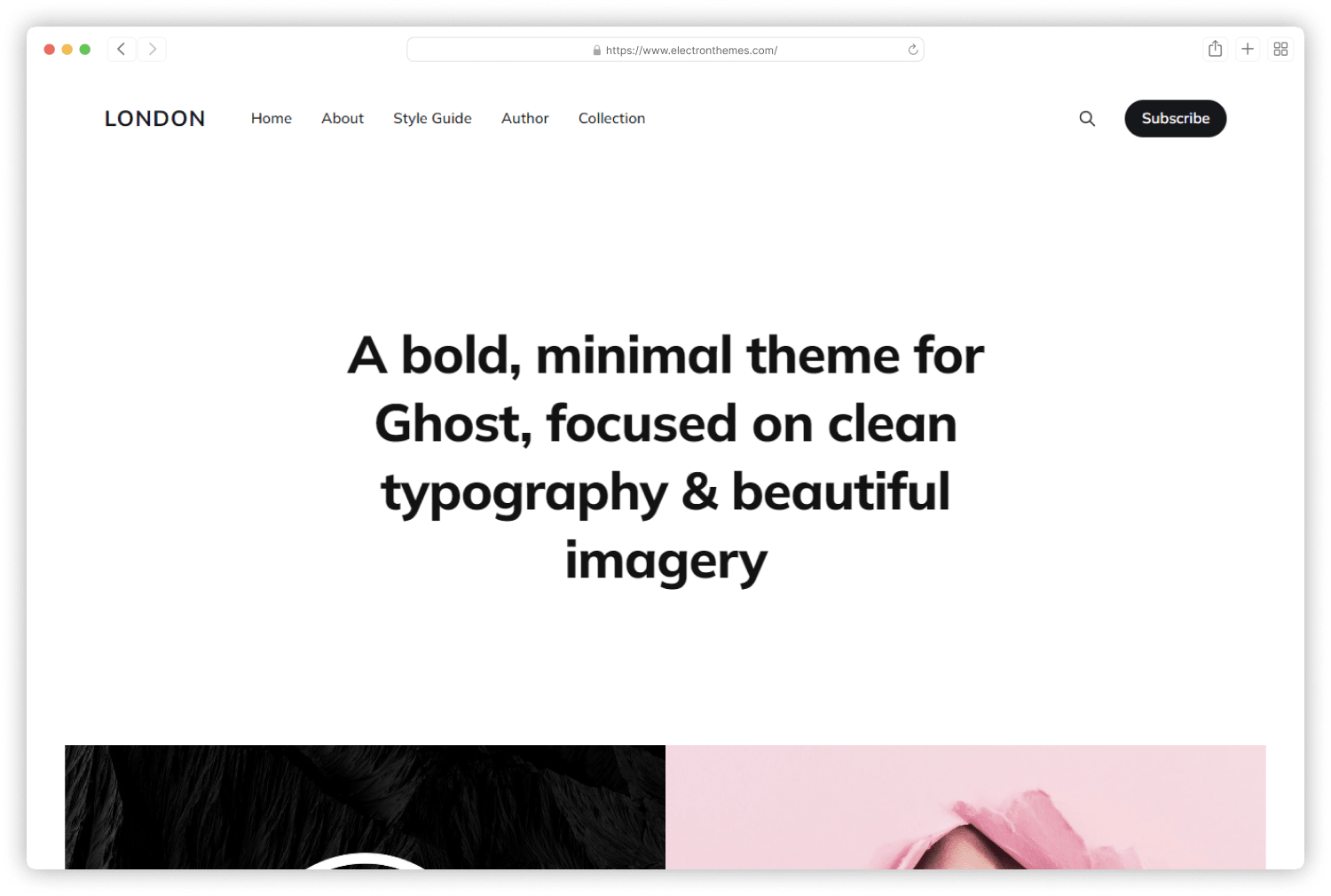 London is a unique and minimal image-focused ghost theme. Designed for portfolios and publishers with lots of graphics to show off the world. London is a modern stunning eye-catching designed theme. It has clean typography, and beautiful imagery so you can show your work beautifully. It is free to use and you can make a professional beautiful website in London.
General Features:
Modern Homepage with a nice design
Content-focused design
Clean, minimal, and deeply customizable
Fast-loading and Responsiveness
11. Ruby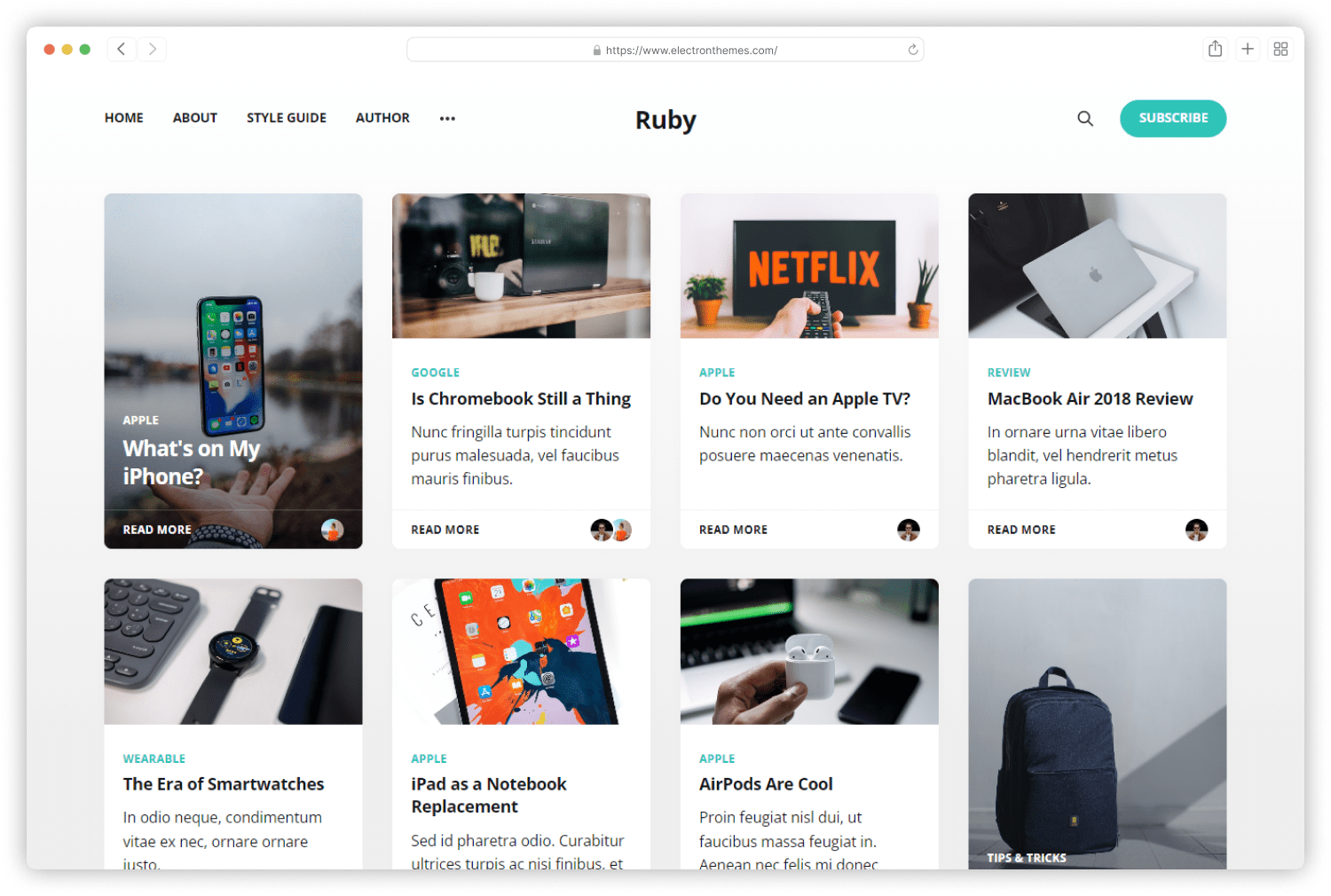 Ruby is a multi-column modern ghost blog theme with a stylish grid-based layout. Present your article with a unique style that will make it much easier for your visitors to explore your blog posts and articles. Ruby is completely free to use. Ruby's theme also has a sticky sidebar for adding links, tags, and related posts. Ruby is the best theme for a personal blog website.
General Features:
Modern grid-based layout homepage
Professional and creative design
Clean and content focused
Accessible from any device
12. Attila
Attila is a clean and simple ghost blog theme. It's focused on your text, content, ideas, stories, and thoughts. If you are finding a clear and white theme this is the best choice for you. Attila is a very fast and lightweight responsive theme.
General Features:
Homepage designed with a simple post list
Archive of tags and authors
Clean and bold design
Dynamic content
13. Ease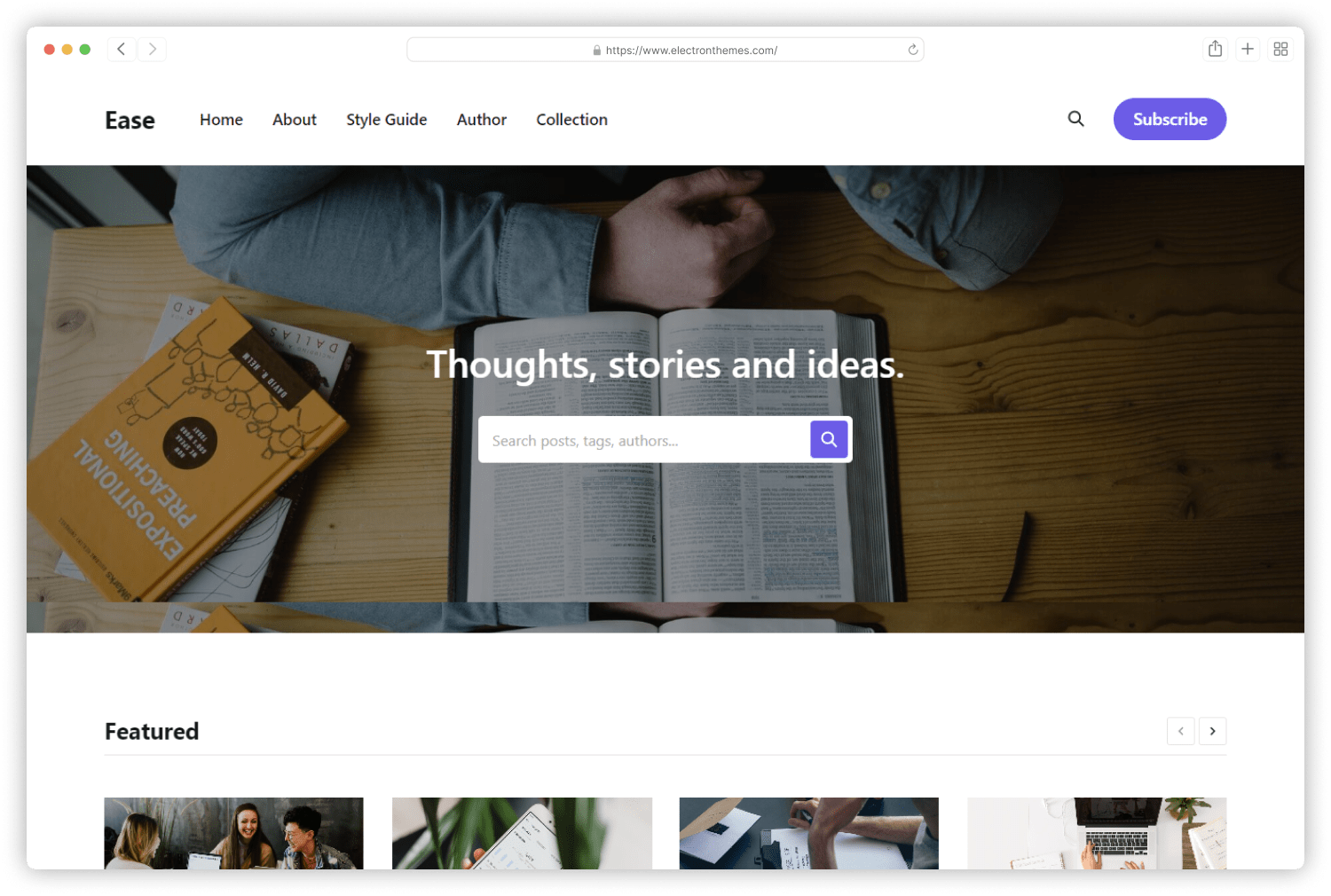 Ease is a versatile ghost theme. It is suitable for making documentation, blog posts, or business information website. The homepage presents a hero section with a search bar and feature post carousel and mixed post layout. Ease a free ghost theme if your want to make documentation. business information or personal blog post website then you can use this theme.
General Features:
Beautiful Homepage with bold intro
Have a featured post option
Mixed post-list layout
Fast loading and fully responsive
14. Edition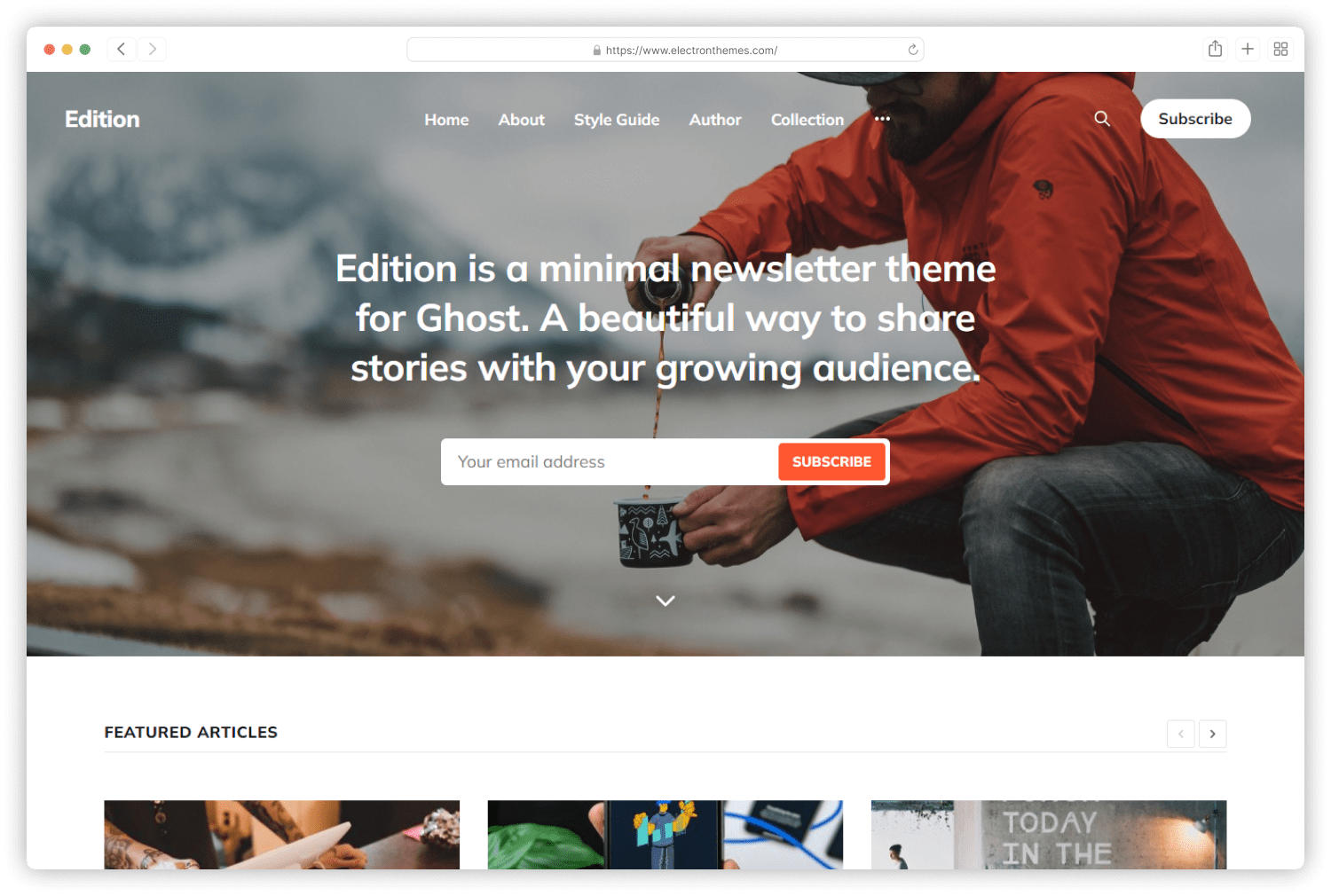 If you want to start a magazine site then you can choose Editon theme. Editon is an open-source free magazine ghost theme. It has a modern design for magazines and blogs website. It comes with many feature that you need to present your content smartly. It is a stylish blog theme built with a modern design. Editon has a beautiful header section for making your personality more memorable.
General Features:
Creative header section
Feature article slider
Latest article list
Awesome header and footer
15. Liebling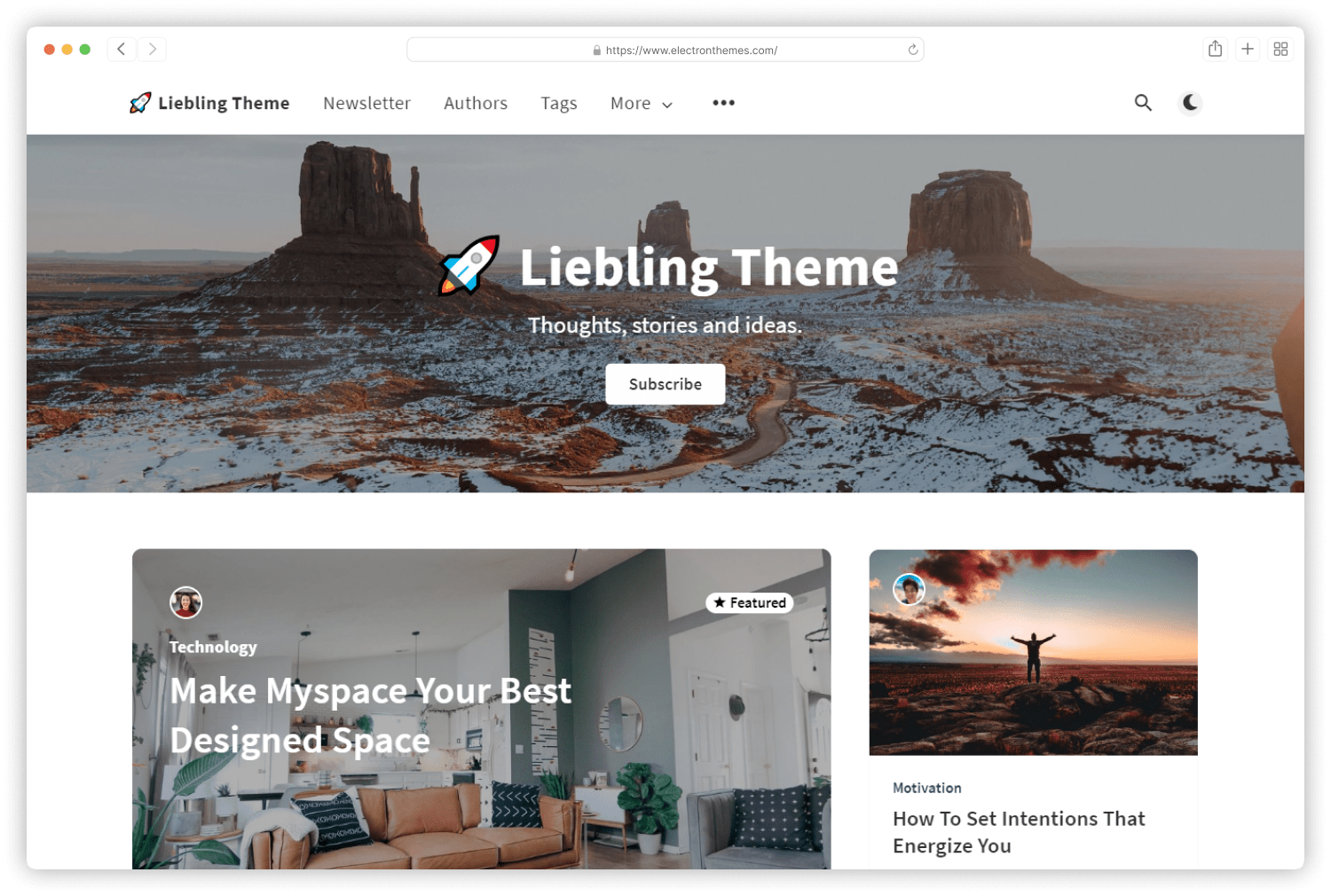 Liebling is a modern ghost theme it is very easy and comfortable to use. This is a free theme and you can use it for any type of modern blog or magazine website. It is a mobile-friendly fancy-looking magazine theme. Liebling is the perfect theme for making personal blogs and membership sites. It has a light and dark color variation feature.
General Features:
Awesome homepage
Clean and modern design
Newsletter subscription
Conclusion
There are many free ghost themes available if you wish to use a ghost blogging platform. You can pick a theme that perfectly suits your blog from the many options available. If you want some help picking the right theme for you, feel free to comment below.