Suppose you're new to the Ghost Platform and are looking to create a new blog website using Ghost CMS. Not sure which ghost theme is best for your content? If you are worried about choosing a theme then you are in the right place, this article is for you. In this article, we will discuss the best 15 free ghost themes. Here all the ghost theme is very lightweight and super fast which helps you focus on your content. Hope you can choose the desired theme and create a beautiful website with a free ghost theme.
1. Bounty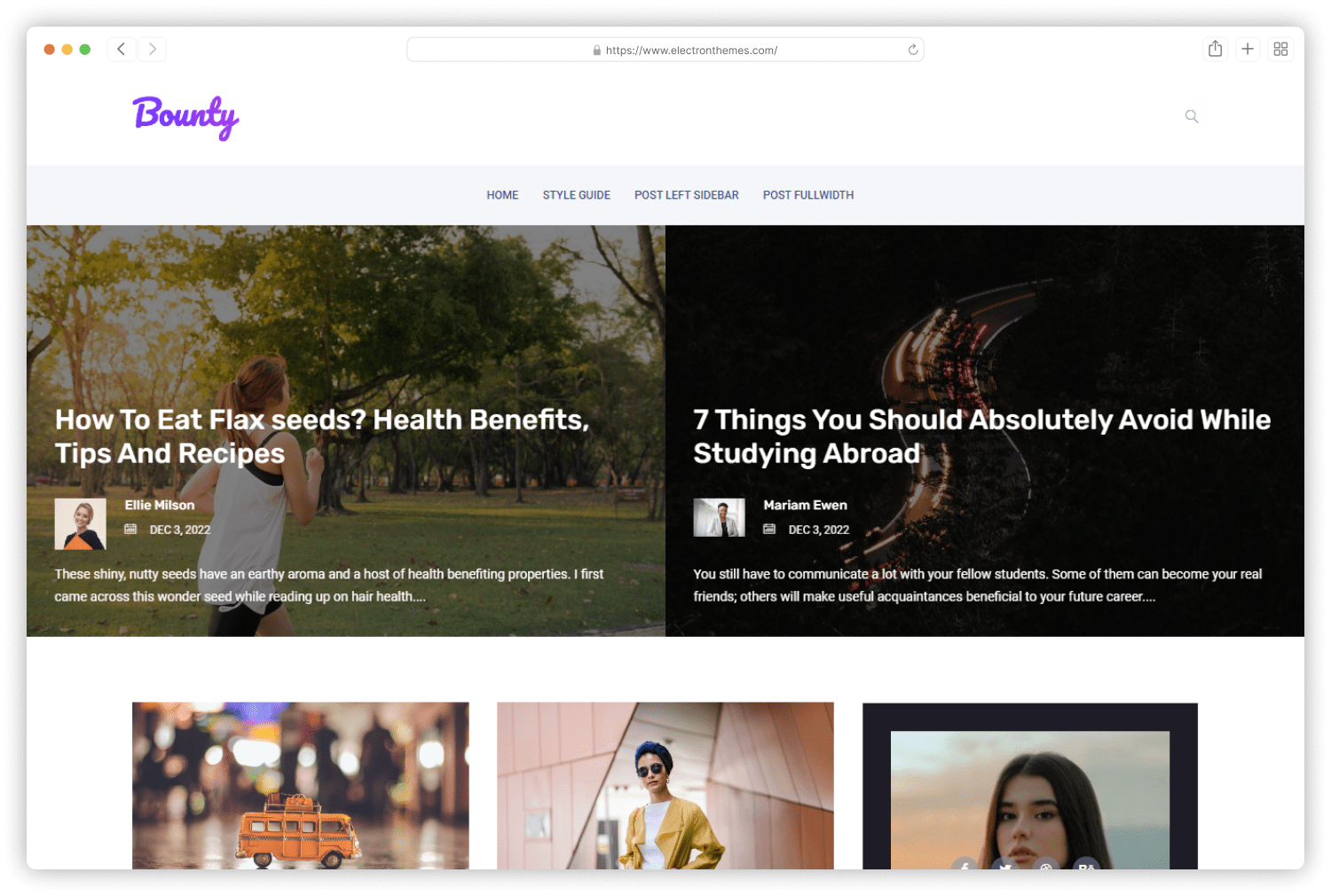 Bounty is the latest blog and magazine free ghost theme. It is created for Bloggers, Authors, Publishers, and Writers. It is easy to set up and customize. It aims to provide your content with a tidy, stylish design that is responsive and well-organized. We appreciate the site's prominent sidebar encouraging feature slider and its support for premium memberships.
General Features:
Awesome homepage with postcard and sidebar
Feature post carousel with 2-column layout
Clean and content focus design
Fast load and accessible from any device
2. Abstract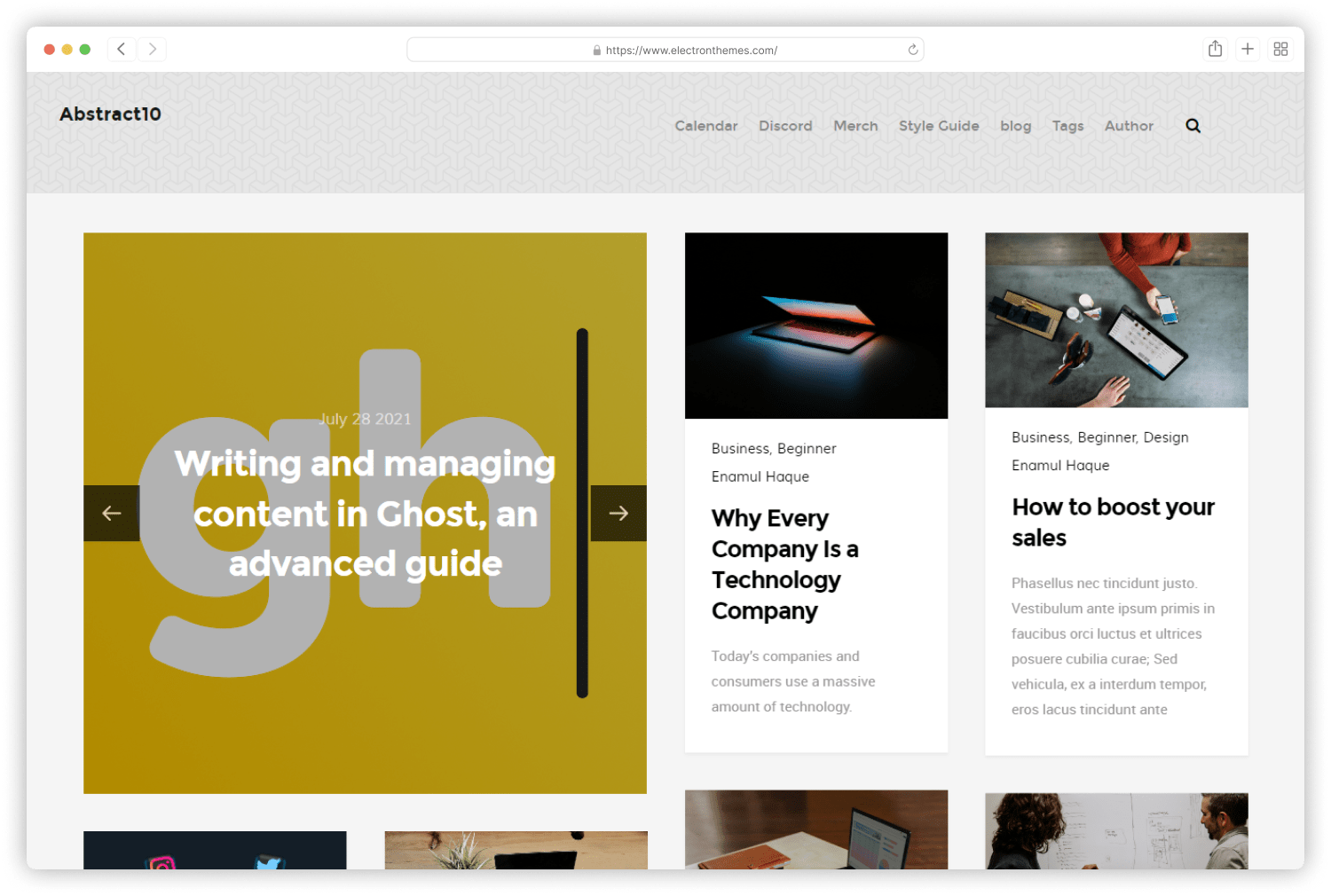 The Abstract is a minimal simple free ghost theme. It is created to design a blog website. It comes with many modern features that you would love to have on your website. The abstract is a developer-friendly theme that any developer can customize core for his requirements.
General Features:
Modern post-gird design with the feature post slider
Content focused single page design
Newsletter Email signup option
Fast loading and responsiveness
3. Dope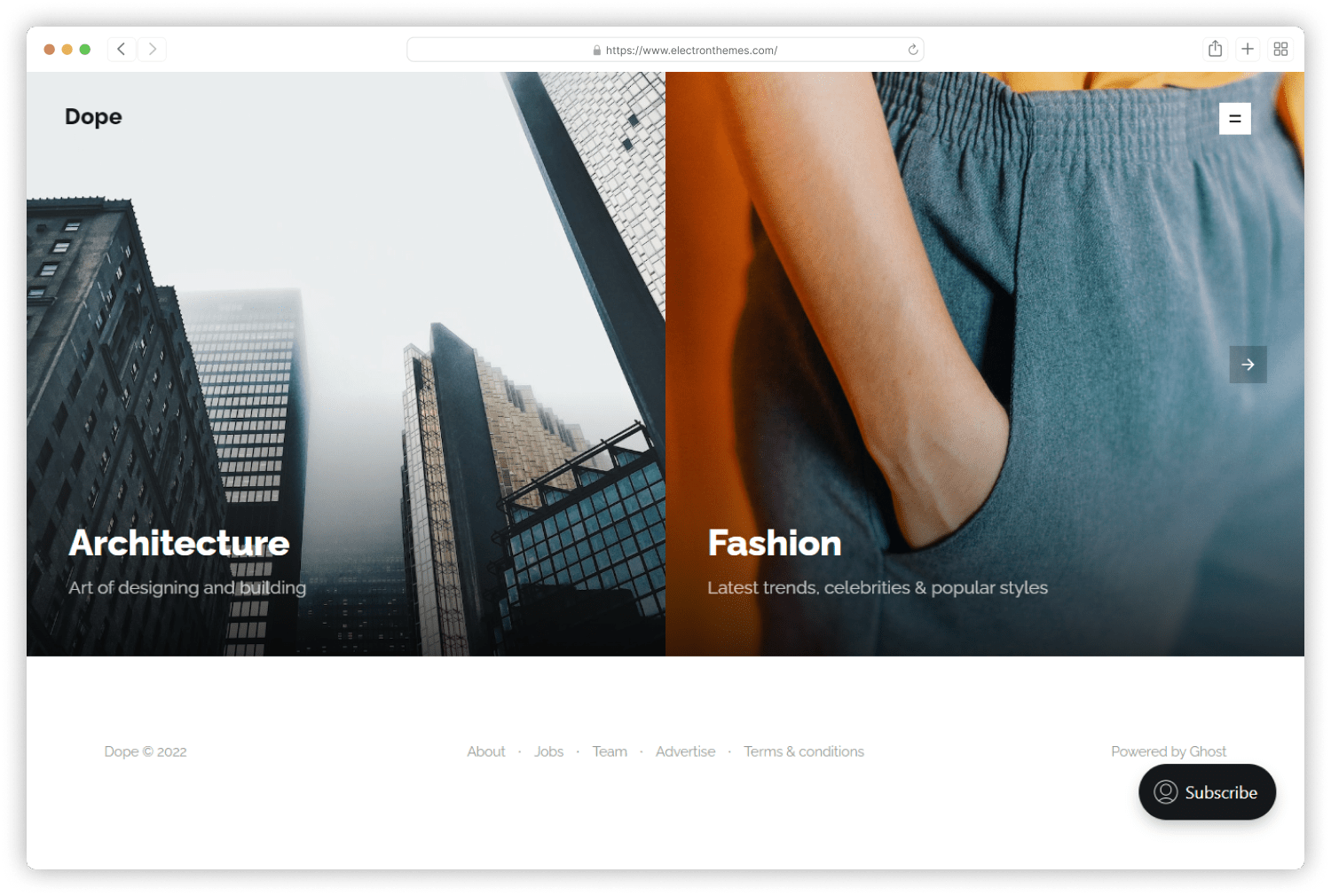 Dope is a unique tag-based ghost theme. It is used to arrange your publications into collections. Keep organized and allow your visitors to easily explore your publications. It's completely free and fully responsive.
General Features:
Awesome home page layout
Unique slider with 2column design
Right side Slide Menu
Clean and content-focused design
4. Dawn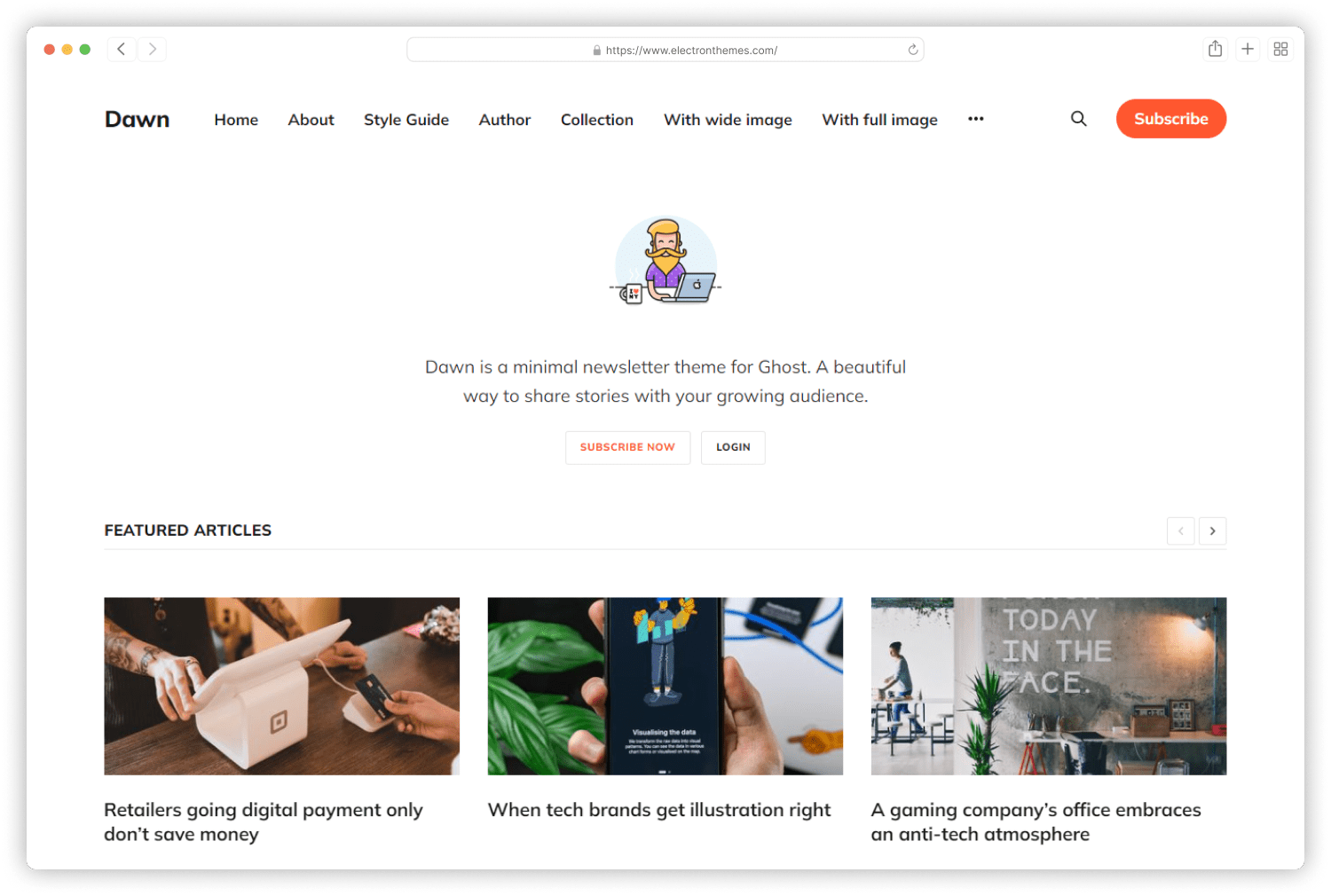 Down is an official ghost theme it is free to use. This theme focuses on simplicity and is suitable for blogging, magazines, and writers. It is a highly functional ghost theme that adapts to the reader's performance. Dawn is a minimal and lightweight free ghost theme you can use to create your beautiful blog or magazine website.
General Features:
Clean and unique homepage design
Unique feature article carousel
Multiple single post page design
Super-fast and Responsiveness
5. Alto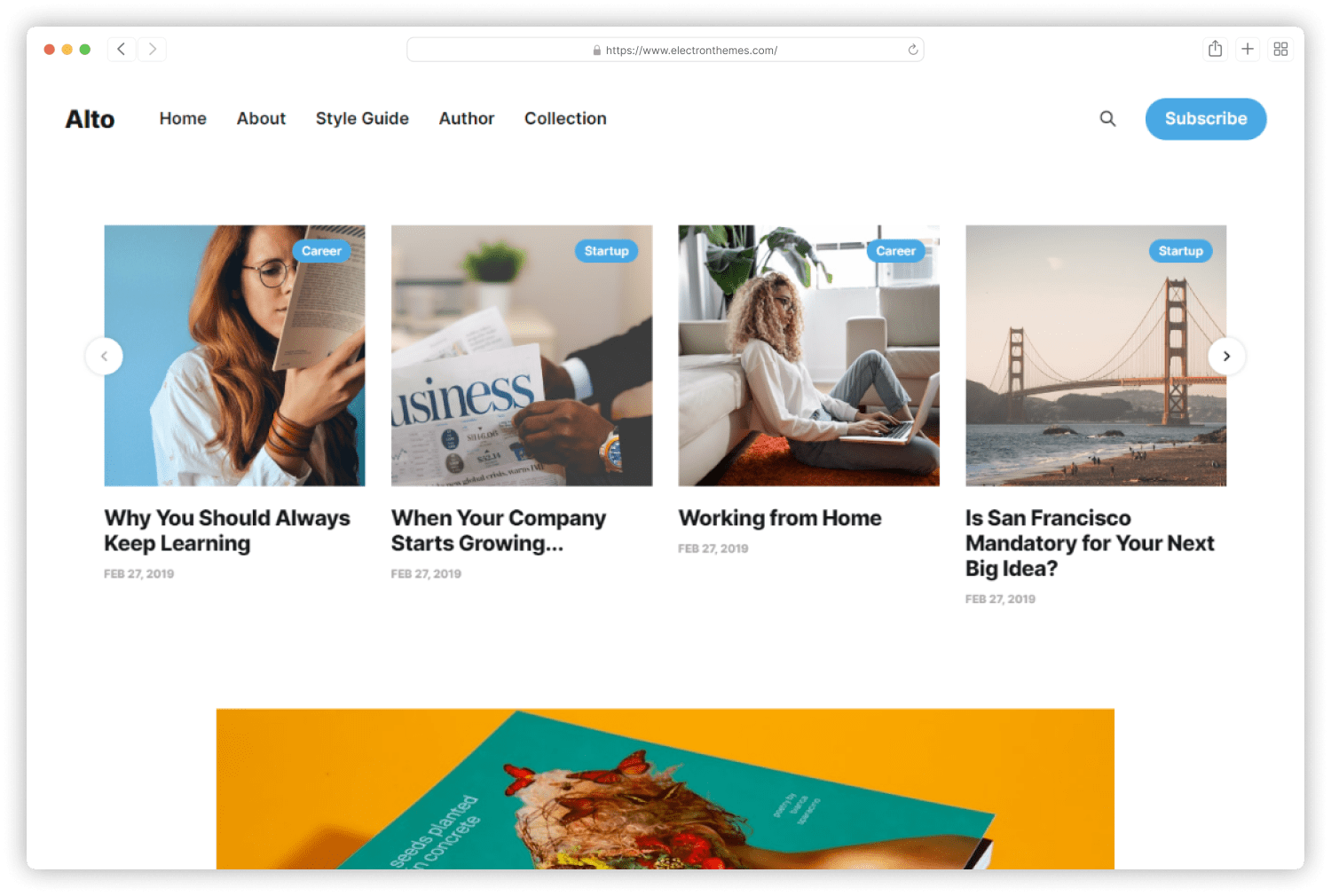 Alto is a clean and minimalist ghost theme. It is ideal for creating blogs and magazine websites. It has modern features and a professional design you can make a membership platform that looks like a professional website. It has all the right features of a great theme design you choose this theme for your next blogging website.
General Features:
Hero section options
Beautiful Homepage design
Includes tag and author archive
Clean & bold design
6. Solo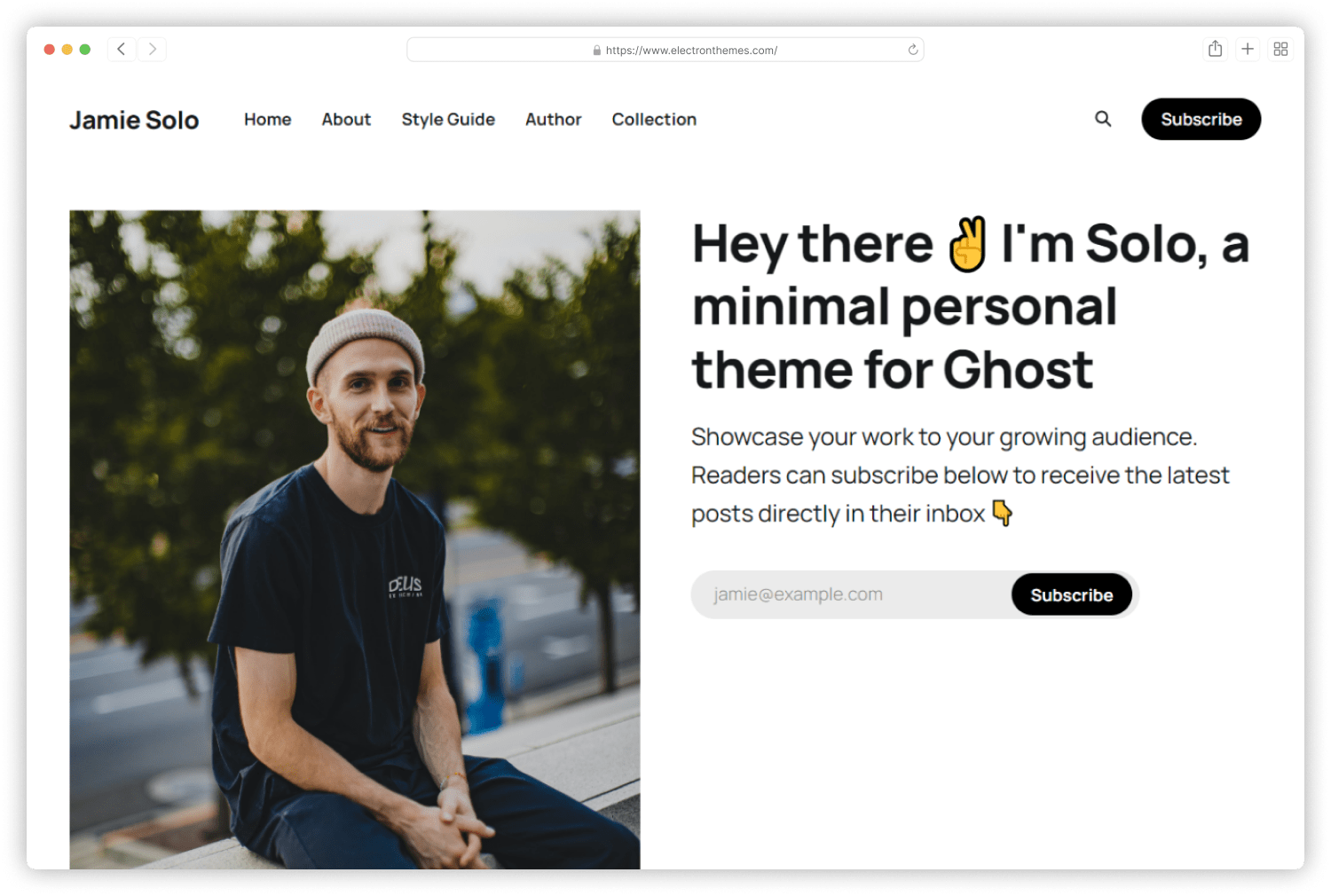 If you want to create your portfolio or blog and showcase your best work? Then Solo is the best choice for you. Solo is a minimal and single blog with an elegant design. This is a content-focused ghost theme. Solo is compatible with the ghost membership system. This is a fast-loading and lightweight design.
General Features:
Beautiful intro section with a newsletter option
Clean and unique homepage design
Awesome blog layout design
Easy setup and customize
7. Headline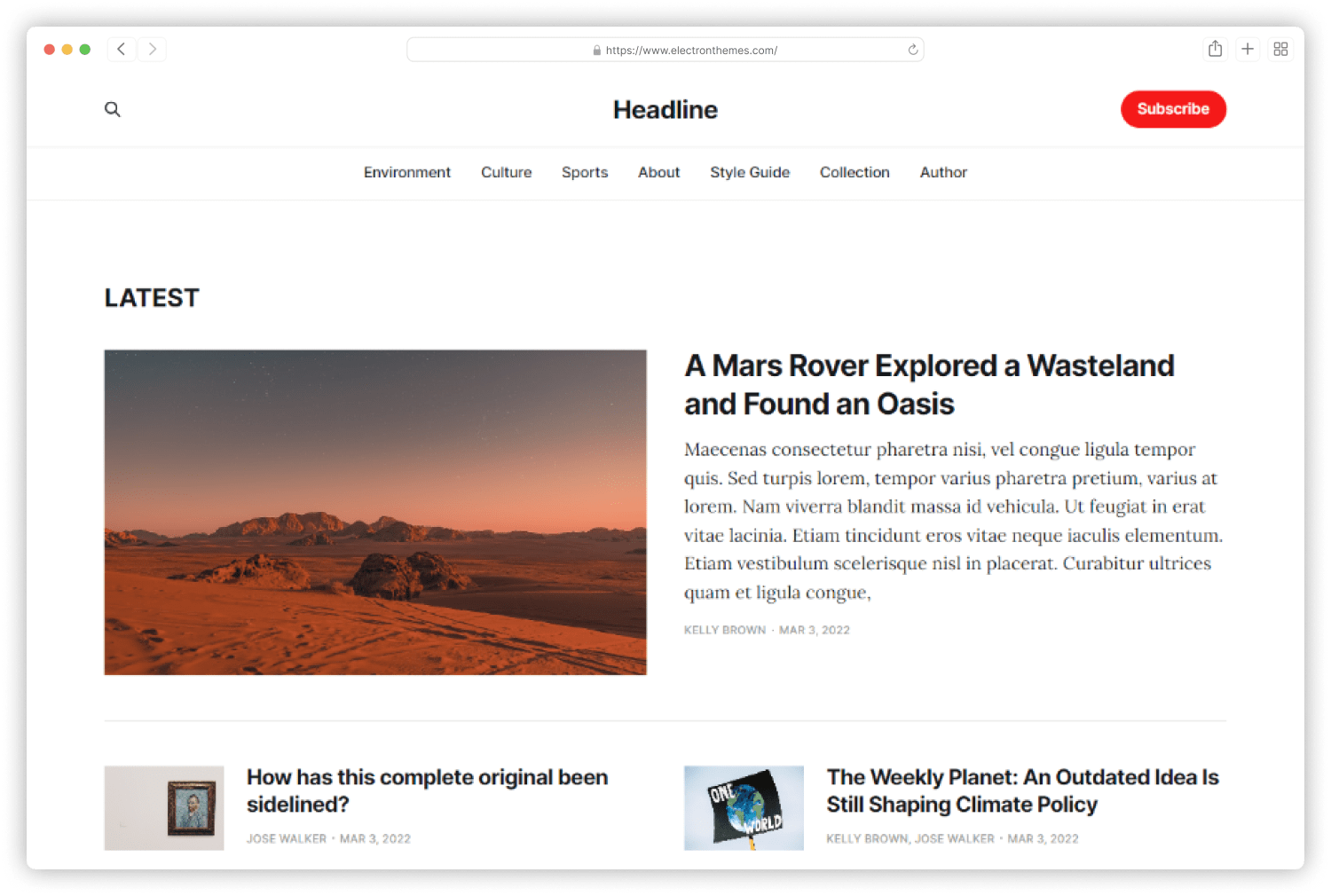 The headline is a mixed layout design magazine ghost theme. It is compatible with Ghost 4 and works with Ghost 5. It has an awesome header section that can be customized to attract the audience's attention. The headline comes with a clean and modern responsive design, nice fonts, native search, and a homepage newsletter subscription button.
General Features:
Magazine based design
Lightweight, and fast-loading
Includes tag and author archive
Membership & subscription tiers
8. Casper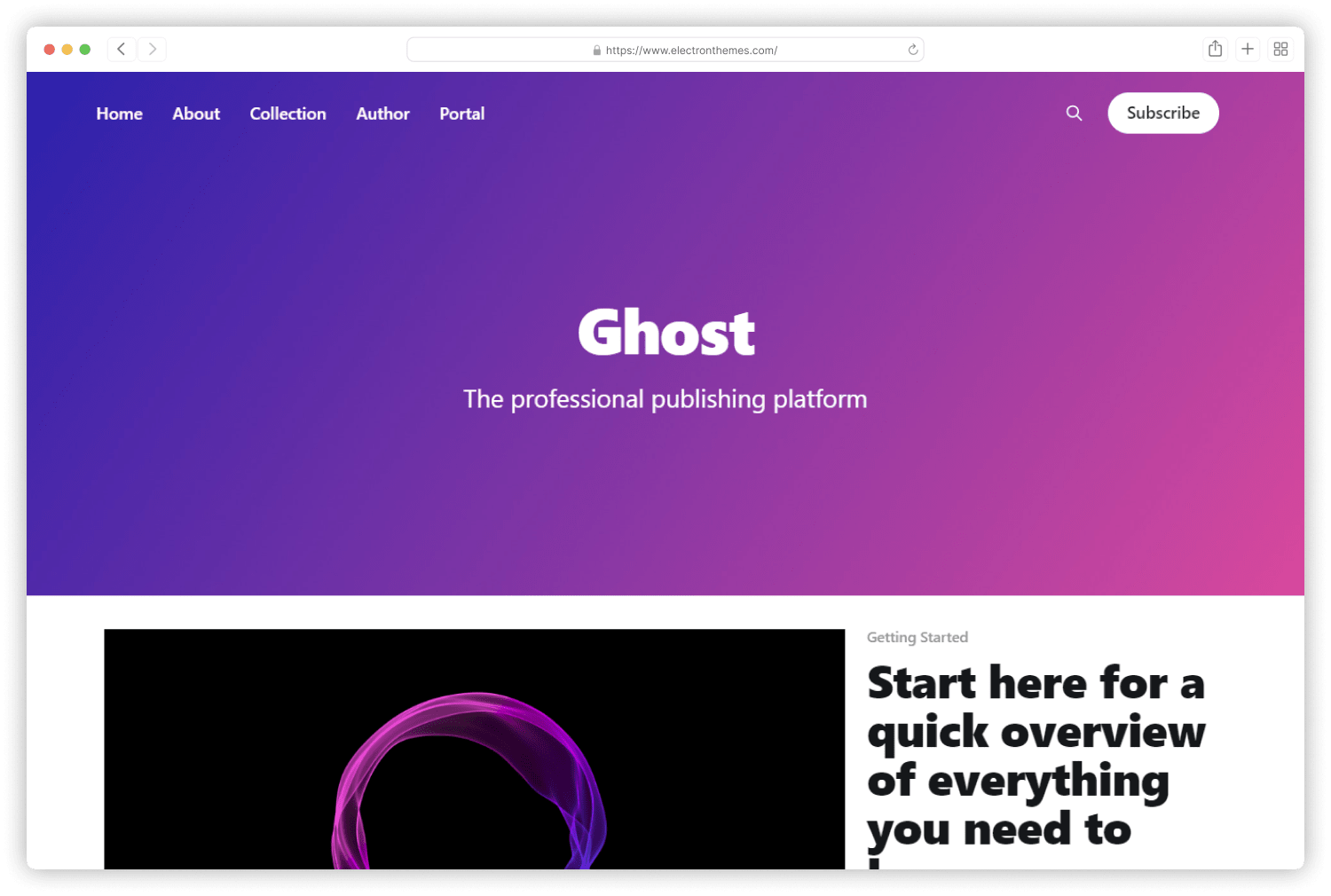 Casper is an official minimal blog and magazine ghost theme. It is completely free to use. It has a grid-based blog design with the main featured article at the top. Casper is a reader-friendly and productive ghost theme. If you want to create a modern blog-based website then Casper is suitable for you. Casper is the best choice for a ghost CMS theme for minimalist websites.
General Features:
Awesome hero section with a feature blog
Clean and unique homepage design
Awesome blog layout design
Super-fast and Responsiveness
9. Wave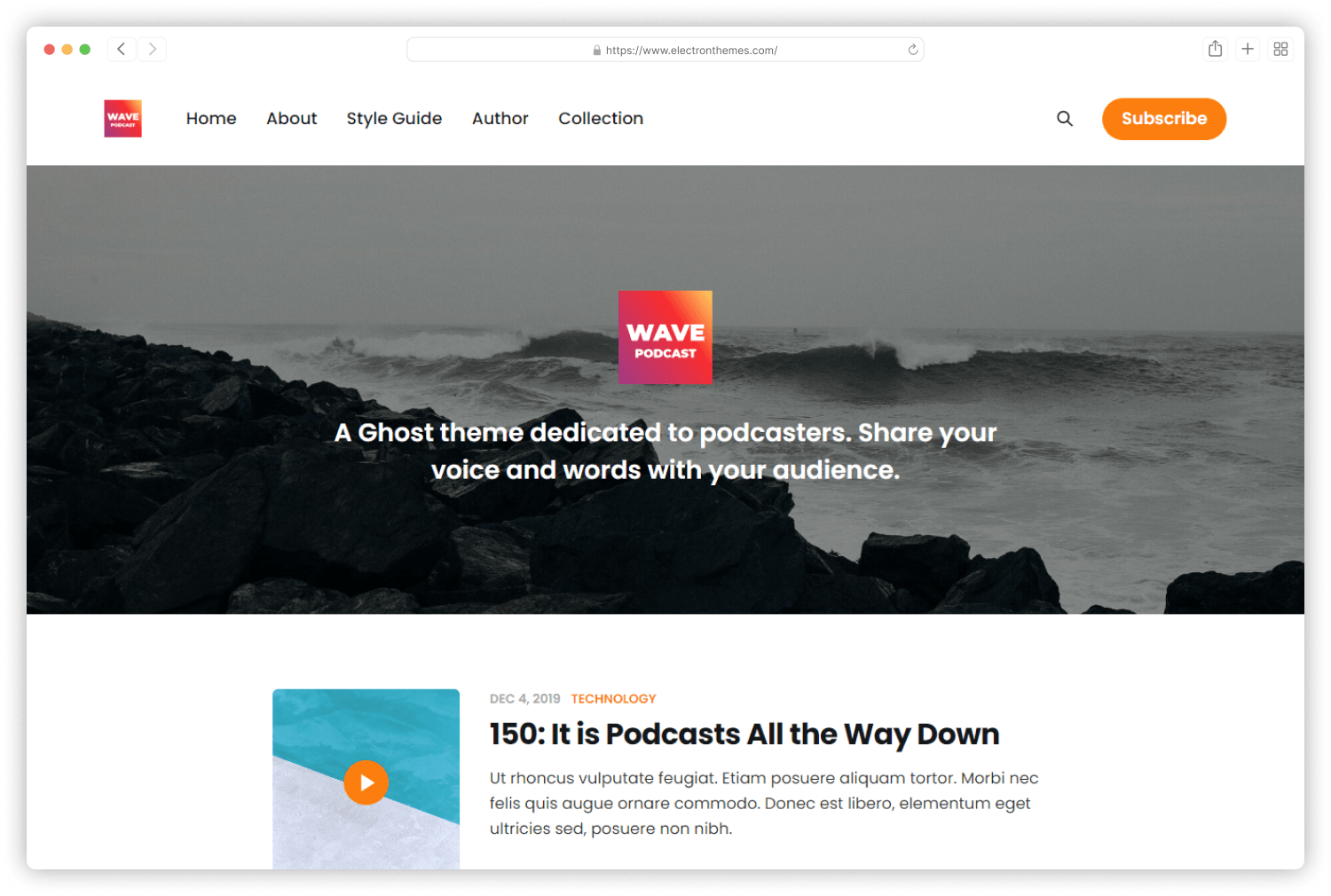 You can create podcast and blog-based websites with a wave ghost theme. It's a completely free-to-use ghost platform with a totally responsive design. Show off your creativity with a wave theme. You can use it to make a beautiful personal podcast or blog to share your ideas and thoughts.
General Features:
Cleanly designed homepage with hero section
Awesome header and footer
Content focused design
Audio post format supported
10. London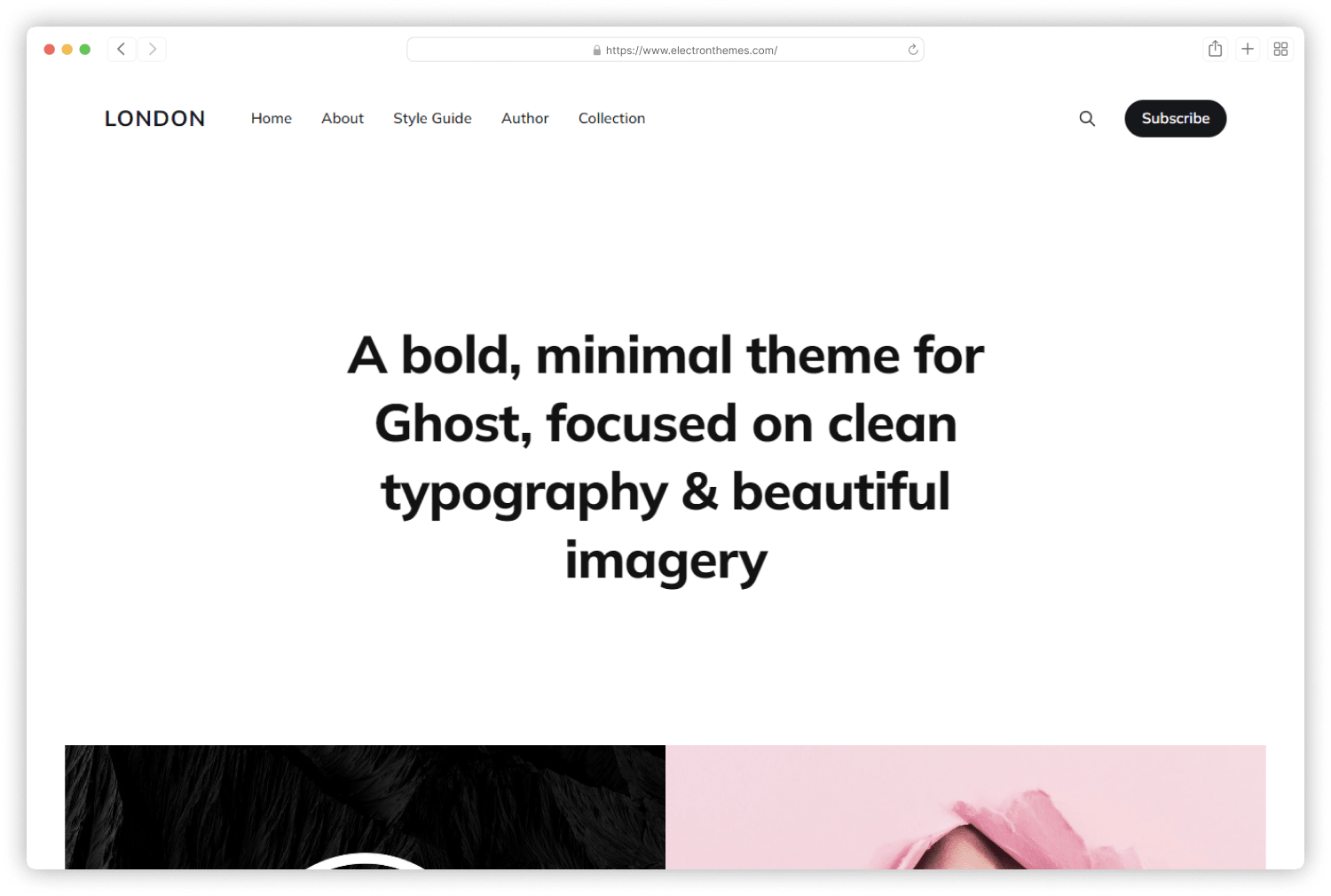 London is a unique and minimal image-focused ghost theme. Designed for portfolios and publishers with lots of graphics to show off the world. London is a modern stunning eye-catching designed theme. It has clean typography, and beautiful imagery so you can show your work beautifully. It is free to use and you can make a professional beautiful website in London.
General Features:
Modern Homepage with a nice design
Content-focused design
Clean, minimal, and deeply customizable
Fast-loading and Responsiveness
11. Ruby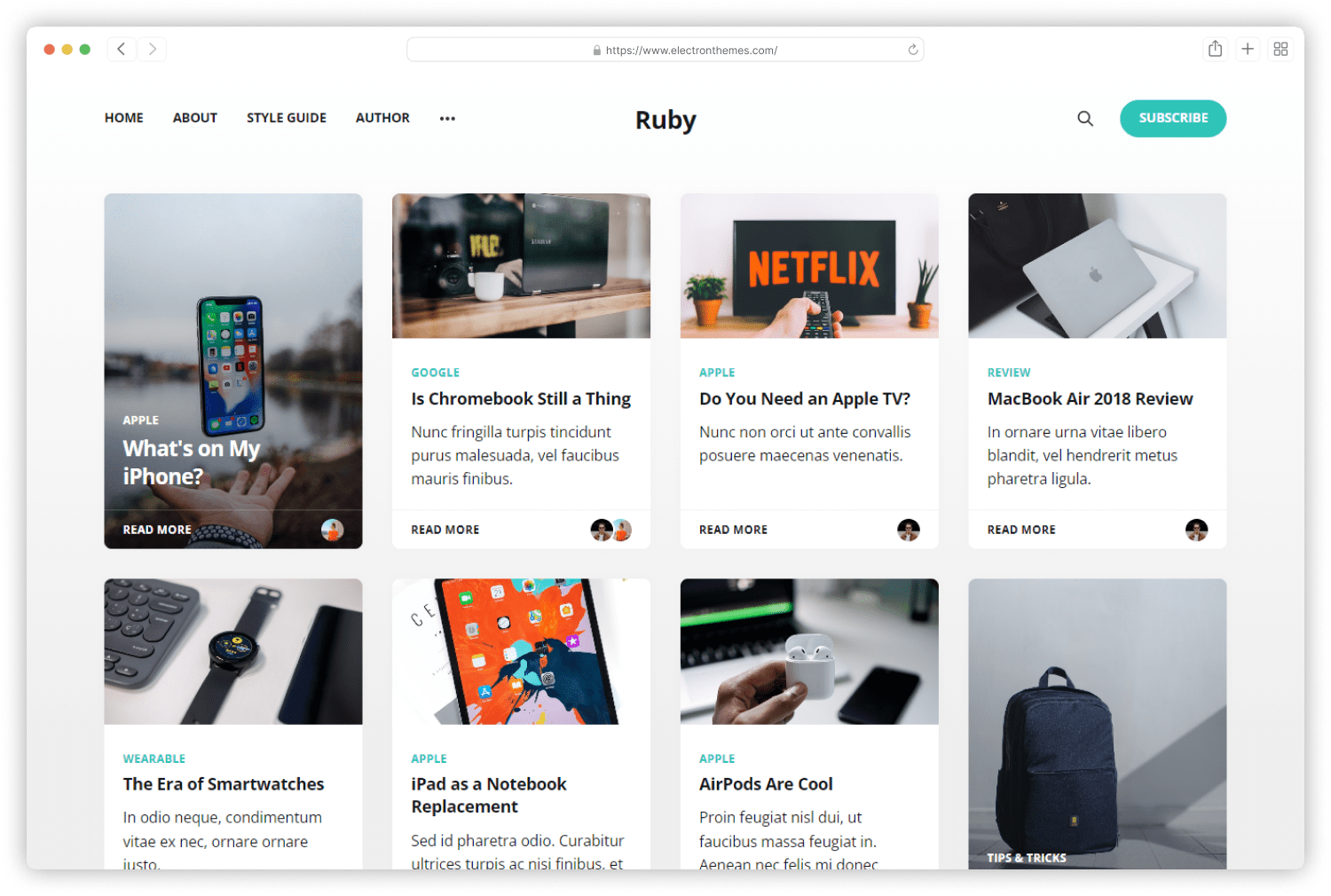 Ruby is a multi-column modern ghost blog theme with a stylish grid-based layout. Present your article with a unique style that will make it much easier for your visitors to explore your blog posts and articles. Ruby is completely free to use. Ruby's theme also has a sticky sidebar for adding links, tags, and related posts. Ruby is the best theme for a personal blog website.
General Features:
Modern grid-based layout homepage
Professional and creative design
Clean and content-focused
Accessible from any device
12. Attila
Attila is a clean and simple ghost blog theme. It's focused on your text, content, ideas, stories, and thoughts. If you are finding a clear and white theme this is the best choice for you. Attila is a very fast and lightweight responsive theme.
General Features:
Homepage designed with a simple post list
Archive of tags and authors
Clean and bold design
Dynamic content
13. Ease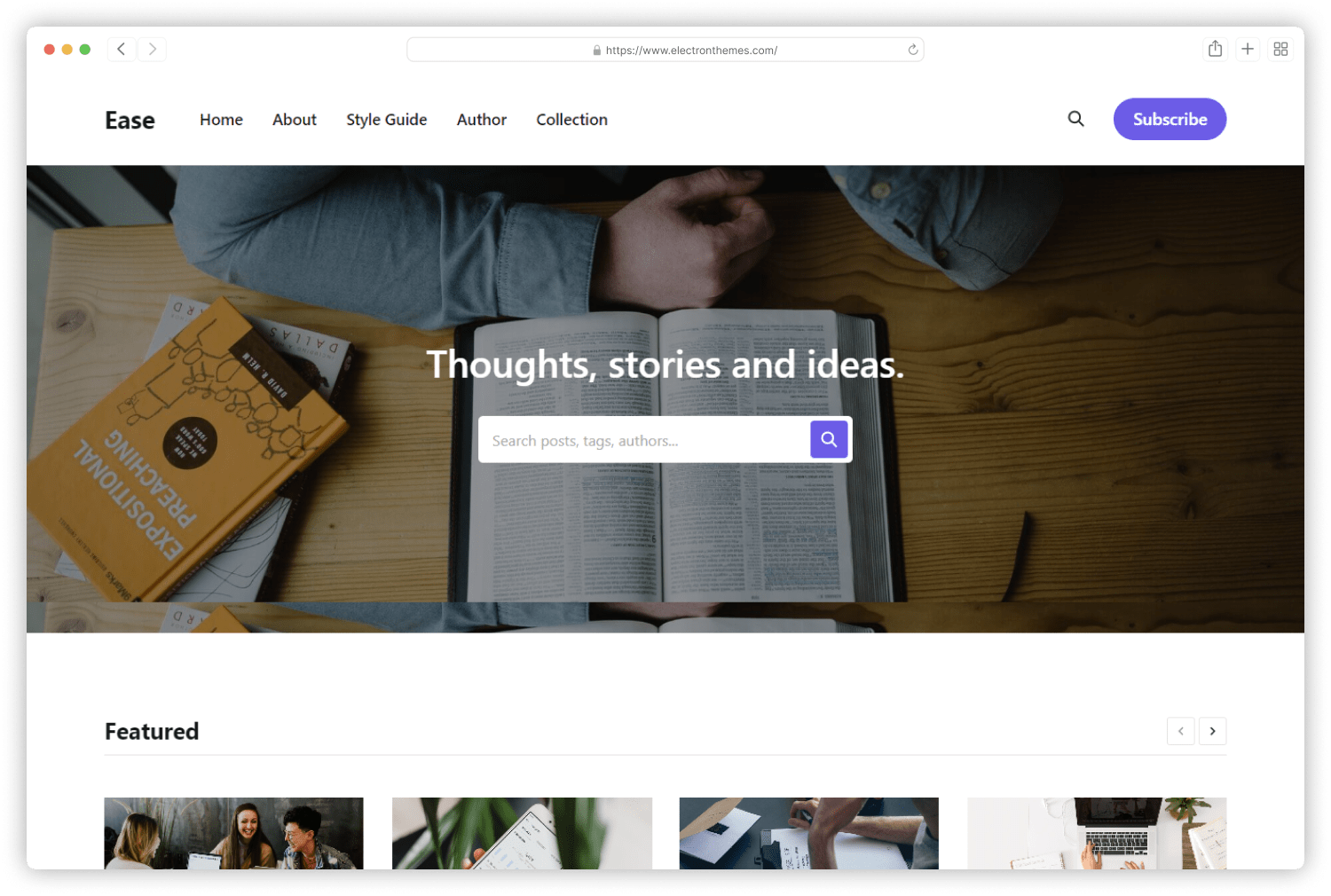 Ease is a versatile ghost theme. It is suitable for making documentation, blog posts, or business information websites. The homepage presents a hero section with a search bar and feature post carousel and mixed post layout. Ease a free ghost theme if you want to make documentation. business information or personal blog post website then you can use this theme.
General Features:
Beautiful Homepage with bold intro
Have a featured post option
Mixed post-list layout
Fast loading and fully responsive
14. Edition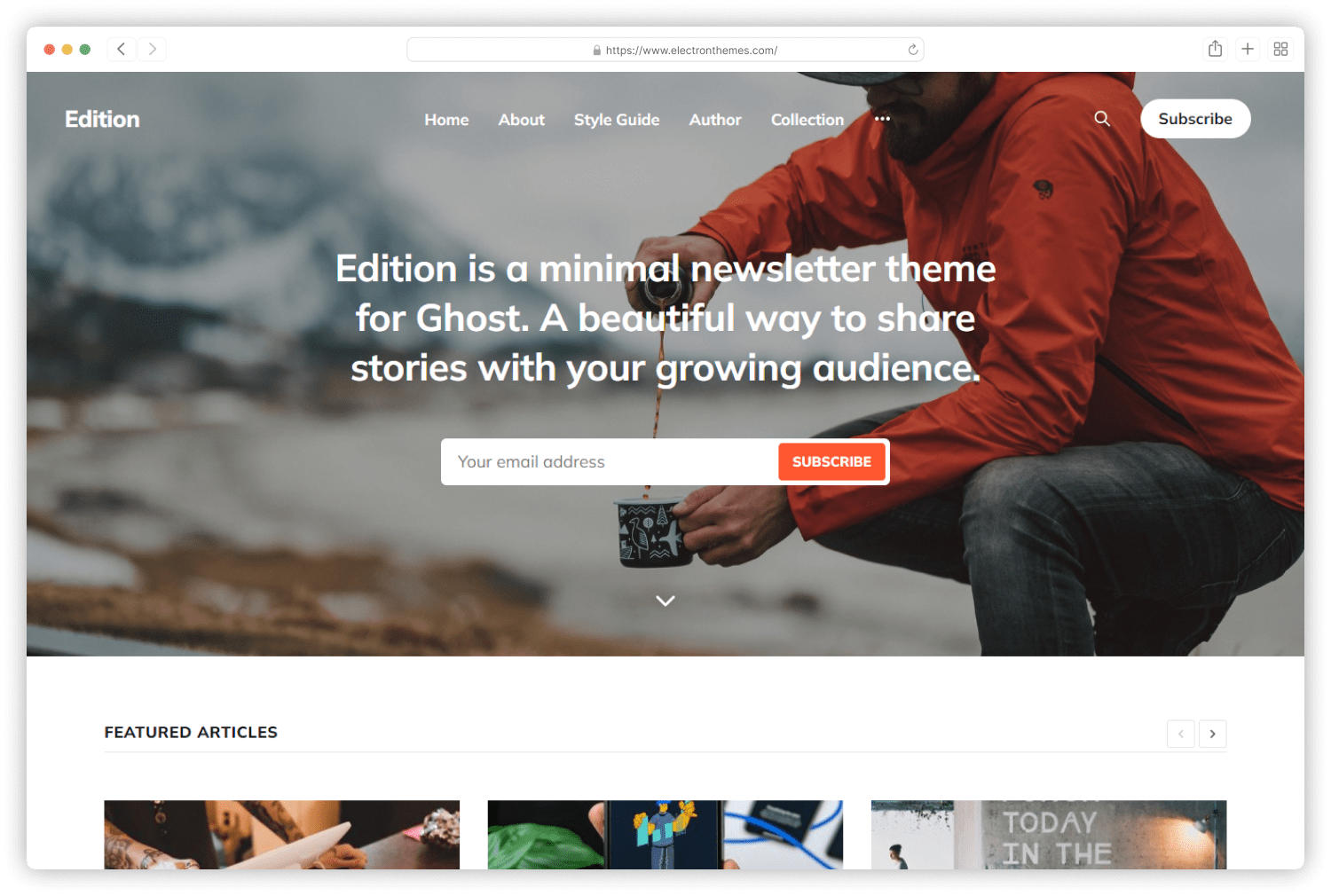 If you want to start a magazine site then you can choose Editon theme. Editon is an open-source free magazine ghost theme. It has a modern design for magazines and blog websites. It comes with many features that you need to present your content smartly. It is a stylish blog theme built with a modern design. Editon has a beautiful header section for making your personality more memorable.
General Features:
Creative header section
Feature article slider
Latest article list
Awesome header and footer
15. Liebling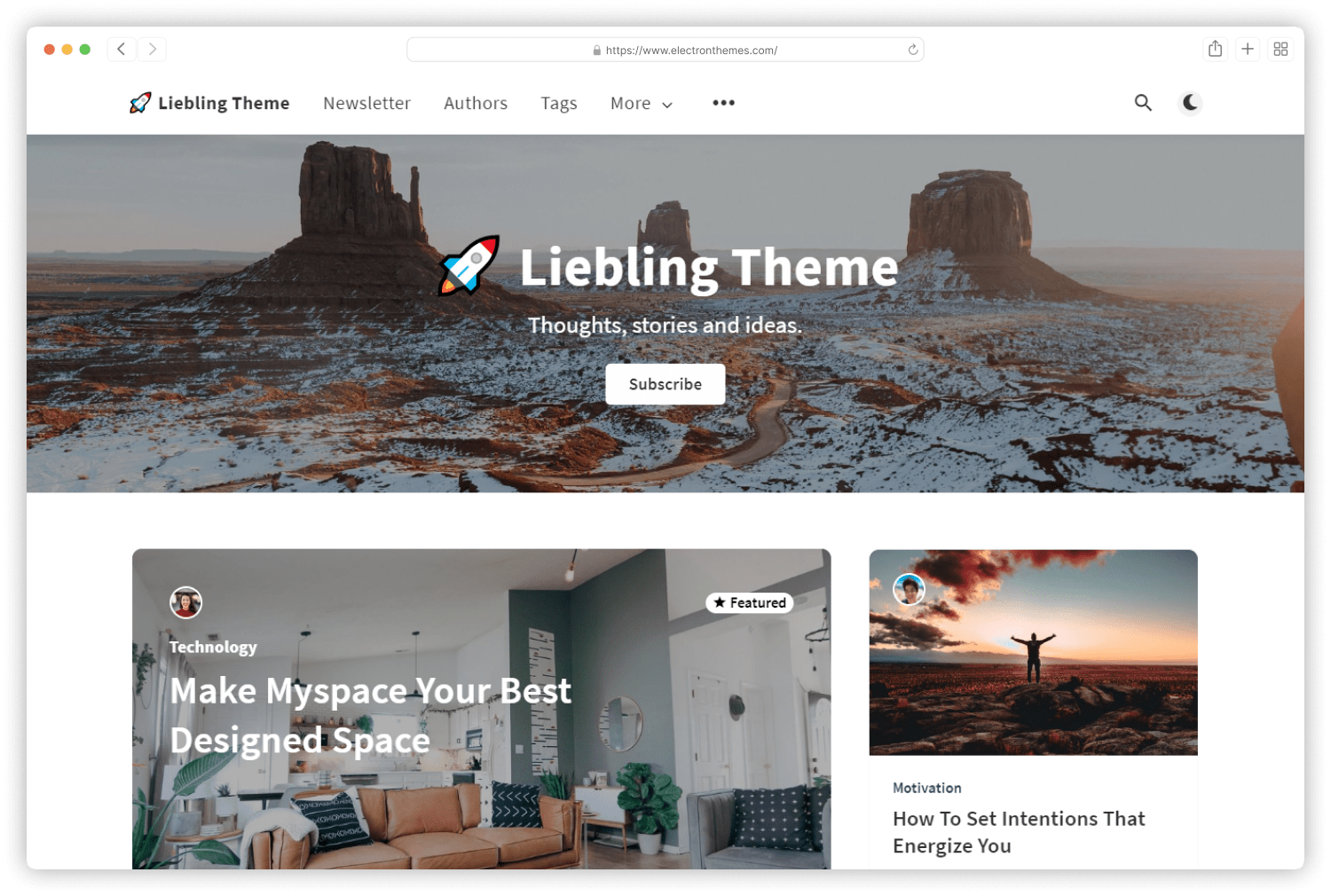 Liebling is a modern ghost theme it is very easy and comfortable to use. This is a free theme and you can use it for any type of modern blog or magazine website. It is a mobile-friendly fancy-looking magazine theme. Liebling is the perfect theme for making personal blogs and membership sites. It has a light and dark color variation feature.
General Features:
Awesome homepage
Clean and modern design
Newsletter subscription
What are the advantages & disadvantages of using free Ghost CMS themes for bloggers?
There are both advantages and disadvantages to using free Ghost themes for bloggers. On the upside, they offer cost savings and a wide range of design options, allowing bloggers to create visually appealing websites without spending money.
Free themes are also readily available and easy to install, enabling bloggers to get their sites up and running quickly.
However, these themes often lack advanced features, customization options, and dedicated support. Additionally, free themes may not receive regular updates, potentially leading to compatibility issues and security vulnerabilities.
Advantages of free Ghost themes:
Cost-effective
Quick setup
Community support
Variety of options
Disadvantages of free Ghost themes:
Limited features and customization
Lack of uniqueness
Quality concerns
Limited support
Potential security risks
Customizing your site with Lightweight and customizable ghost themes
Customizing your site with lightweight and customizable Ghost themes offers a lot of benefits. These themes are designed to be lightweight, ensuring quick loading times and a seamless user experience.
With a wide range of customization options, bloggers can effortlessly tailor their sites to reflect their unique brand identity and style. Whether it's choosing fonts, colors, layouts, or interactive elements, these themes provide the flexibility needed to create a visually stunning and engaging website.
Furthermore, the lightweight nature of these themes ensures optimal performance across different devices and screen sizes, making them ideal for delivering a consistent user experience.
Start blogging today with these beginner-friendly ghost themes
If you're eager to start your blogging journey today, you can dive right in with beginner-friendly Ghost themes. These themes offer simplicity and user-friendliness, making it easy for novice bloggers to set up their websites and begin sharing their ideas with the world.
Here are some steps to get started and choose ghost blogging themes for beginners:
Choose a beginner-friendly Ghost theme: Look for themes specifically designed for beginners. These themes often come with pre-built layouts and customization options that are easy to navigate, allowing you to create a polished website without any coding knowledge.
Select a theme that resonates with your niche: Consider the nature of your blog and choose a theme that aligns with your content. Whether you're a fashion enthusiast, a food lover, or a tech guru, there are beginner-friendly themes available for every niche.
Customize your theme: Personalize your blog by customizing the theme to reflect your unique style and branding. Most beginner-friendly themes offer customization options for colors, fonts, and layouts, allowing you to create a visually appealing website that represents your personality.
Start creating content: Once your theme is set up, start writing and publishing your blog posts.
Optimize for SEO: Implement basic search engine optimization (SEO) practices to improve your blog's visibility and attract organic traffic. Pay attention to meta tags, keywords, and descriptions to optimize your blog posts for search engines.
Engage with your audience: Encourage interaction with your readers by enabling comments on your blog posts. Respond to comments and engage in discussions to build a community around your blog.
Regularly update and maintain your blog: Keep your blog fresh and relevant by regularly publishing new content.
Starting a blog with premium beginner-friendly Ghost themes allows you to focus on your content without getting overwhelmed by technical complexities. So, choose a theme that suits your style, customize it to your liking, and begin your blogging journey today. Happy blogging!
Boost your SEO with fast-loading ghost themes
Boosting your SEO with fast-loading Ghost themes can significantly enhance your website's visibility and search engine rankings. The speed at which your site loads plays a crucial role in user experience and search engine algorithms.
By utilizing fast-loading Ghost themes, you ensure that your content is delivered swiftly to visitors, reducing bounce rates and improving engagement. Additionally, fast-loading themes contribute to better mobile optimization, a critical factor in SEO.
Search engines prioritize websites that offer excellent performance on mobile devices. With these themes, you can provide a seamless experience across all platforms, leading to higher search engine rankings and increased organic traffic. So, you should choose to create your website with fast-loading ghost themes for improved SEO.
Get your site up and running with responsive and free Ghost CMS templates
Getting your site up and running with responsive and free Ghost CMS templates is a straightforward process. Follow these steps to launch your website:
Choose a responsive Ghost CMS template: Look for a template that is specifically designed to be responsive, ensuring that your site looks great and functions well on various devices and screen sizes.
Download the template: Once you've found a suitable template, download it to your computer. Most templates are available for free from reputable sources.
Install Ghost CMS: Before you can use the template, you need to have Ghost CMS installed. Follow the installation instructions provided by Ghost to set up the CMS on your desired hosting platform.
Upload and activate the template: Once Ghost CMS is installed, navigate to the theme section in the admin dashboard. Upload the downloaded template and activate it as your site's theme.
Customize the template: Personalize the template to match your branding and style. Modify colors, fonts, layouts, and other visual elements using the customization options available within Ghost CMS.
Add content: Start creating and publishing your website content. Write blog posts, create pages, and add any additional elements specific to your site's purpose.
Test and optimize: Ensure that your site is responsive and functions smoothly on different devices. Test various pages and elements to ensure they load quickly and are user-friendly.
Launch your site: Once you are satisfied with the design, functionality, and content of your website, it's time to launch it. Make it live for the world to see.
By following these steps, you can leverage responsive and free Ghost CMS templates to quickly and effectively get your site up and running, showcasing your content to a wider audience.
Elevate your online presence with these best ghost themes for professional websites
Elevating your online presence with the best Ghost themes for professional websites is a straightforward process.
Firstly, carefully select a theme from these lists that aligns with your brand identity and target audience. Look for themes that offer sleek designs, intuitive navigation, and customizable features.
Secondly, customize the chosen theme to match your unique style and branding, utilizing the available customization options.
Thirdly, optimize your website's content, ensuring it is engaging, informative, and tailored to your audience's needs.
Fourthly, focus on search engine optimization (SEO) by optimizing meta tags, titles, and descriptions for improved visibility.
Lastly, regularly update your website with fresh content to maintain relevance and attract return visitors.
By following these steps, you can effectively enhance your online presence and create a professional website that captivates your audience.
FAQs
Do you have more questions about free ghost themes for ghost CMS? We have answers to some frequently asked questions on the topic.
What features should you look for in beautiful and functional Ghost website templates?
When searching for beautiful and functional Ghost website templates, there are several key features to consider. Firstly, responsiveness is crucial, as it ensures that your site looks great and functions seamlessly on various devices and screen sizes.
Secondly, look for templates that offer a clean and modern design, with intuitive navigation and visually appealing layouts. Customizability is another essential factor, enabling you to personalize the template to align with your brand and unique style.
Finally, prioritize templates that offer excellent documentation and support, ensuring you have the necessary resources and assistance to make the most of your chosen template.
How do fast-loading Ghost themes help with SEO and user engagement?
Fast-loading Ghost themes play a crucial role in enhancing both SEO and user engagement. By prioritizing fast loading speeds, these themes ensure that webpages load quickly, reducing bounce rates and improving user experience.
How can Ghost CMS help me create modern and visually appealing blog websites?
Ghost CMS is a powerful platform that can help you create modern and visually appealing blog websites. With its sleek and minimalist design, Ghost CMS focuses on presenting your content elegantly and engagingly.
Whether it's selecting fonts, colors, layouts, or adding interactive elements, Ghost CMS offers the flexibility to design a visually captivating blog. After all, we can say you will get much beneficial help from ghost CMS for modern blogs.
Conclusion
There are many free ghost themes available if you wish to use a ghost blogging platform. You can pick a theme that perfectly suits your blog from the many options available. If you want some help picking the right theme for you, feel free to comment below.
You May Like!