Stripe, the widely acclaimed payment processing solution, can revolutionize your online business operations. It's easy to set up and use, and it offers a variety of features, such as fraud protection and recurring payments. Whether you're a budding entrepreneur or an established business owner, setting up a Stripe account is a straightforward process that can enhance your online presence and streamline financial transactions.
In this blog, we'll guide you through the quick and easy steps to create your own Stripe account. By the end of this journey, you'll be equipped with a fully functional Stripe account, ready to boost your digital endeavors. Let's get started on this hassle-free path to online payment success!
You will Learn From this Blog:
Introduction
What is Stripe?
How to Create a Stripe Account?
Benefits of using Stripe subscriptions
Tips for using Stripe with Ghost
Summary
FAQs
What is Stripe?
Stripe is a payment processing platform that allows businesses of all sizes to accept online payments. It is one of the most popular payment processors in the world and is used by businesses of all sizes, from small businesses to large corporations.
Stripe offers a wide range of features, including:
Accept online payments from credit and debit cards, as well as other payment methods such as Apple Pay, Google Pay, and PayPal.
Create and manage subscriptions.
Send invoices and collect payments.
Manage refunds and disputes.
Fraud protection.
Reporting and analytics.
How to Create a Stripe Account?
Step 1: To create a Stripe account, simply visit the Stripe website and click the "Start now" button.
Step 2: You will need to provide your Email address, Full name, Country, and password then click on the Create account button.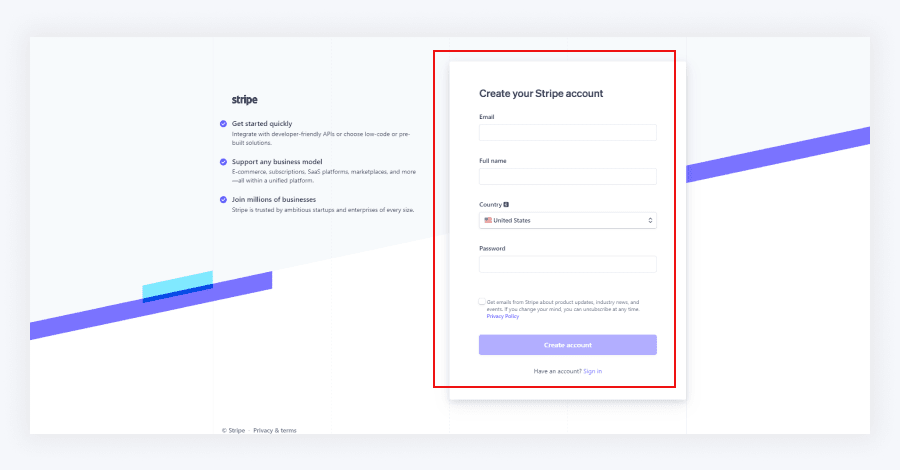 Step 3: Once you have created an account, you will need to verify your account. After creating an account, stripe automatically sends a verifying mail to your mail inbox.
To verify your stripe account go to your mail inbox and open a mail, that is sent from the stripe then click on the Verify email button.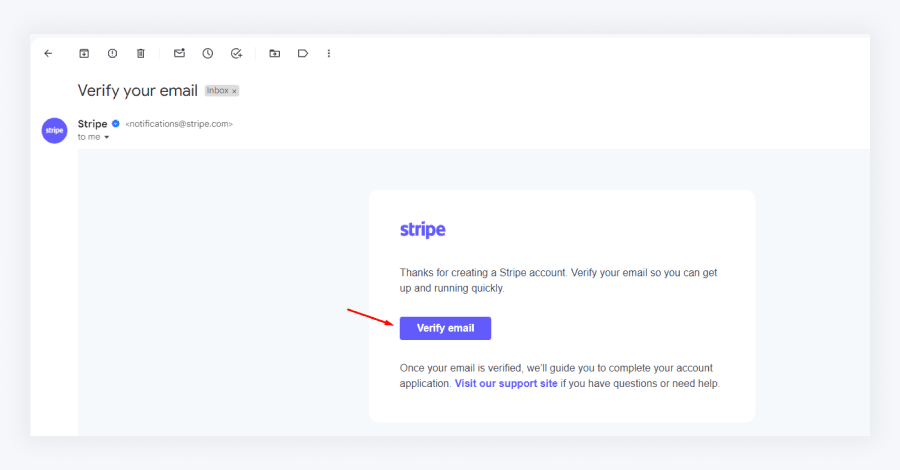 Step 4: After verifying your account you can see the Activate payments button click on the button. Now Stripe will ask you for some additional information about your personal details and business details, public details bank account, and the types of products or services you sell.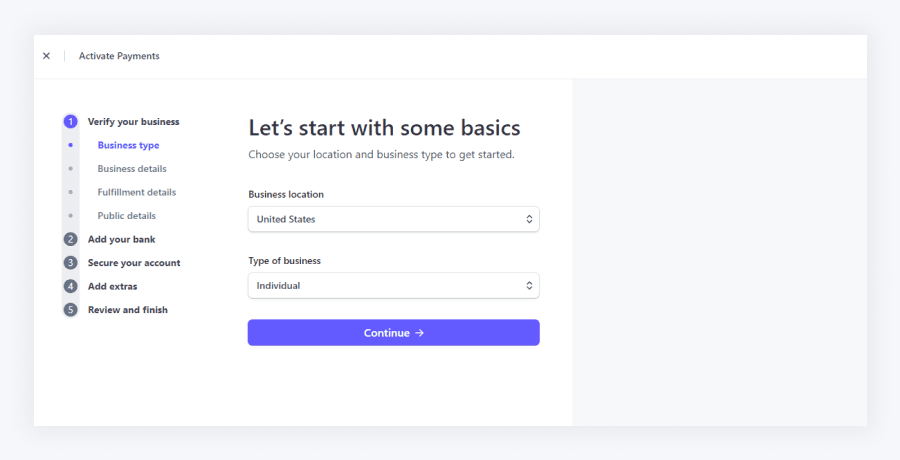 Once you have created your Stripe account, you can start accepting payments immediately. You can add a Stripe payment form to your website or mobile app, or you can use Stripe's Checkout API to process payments directly from your server.
Benefits of using Stripe subscriptions
There are many benefits to using Stripe subscriptions, including:
Convenience: Stripe subscriptions make it easy to collect recurring payments from customers. You don't have to worry about sending out invoices or chasing down late payments.
Flexibility: Stripe subscriptions are highly customizable. You can choose how often you want to charge customers, what payment methods you want to accept, and how you want to handle failed payments.
Security: Stripe is a secure payment gateway. Stripe uses the latest security technologies to protect your customers' payment information.
Scalability: Stripe subscriptions can scale with your business. As you get more subscribers, Stripe can handle the processing of payments for you.
Tips for using Stripe with Ghost
Here are a few tips for using Stripe with Ghost:
Use a dedicated Stripe account for your Ghost website. This will make it easier to track your payments and manage your finances.
Set up automatic payouts. This will ensure that you receive your payments from Stripe on time.
Configure Stripe's fraud prevention settings. This will help to protect your business from fraudulent payments.
Test your payment process before you launch your website. This will help to ensure that everything is working properly.
Summary
In summary, creating a Stripe account is a simple yet powerful step toward optimizing your online financial operations. It offers security, versatility, and scalability, making it an excellent choice for businesses of all sizes. By signing up and exploring its features, you can unlock the potential for growth and efficiency in your online transactions. Don't hesitate – start your Stripe journey today and reap the benefits of streamlined payment processing. Your financial success is just a few clicks away!
FAQs
Do you have any questions about Creating a Stripe Account? We have answers to some frequently asked questions on the topic.
Is it free to create a Stripe account?
Yes, it is free to sign up and create a Stripe account. You only pay transaction fees when you receive payments through Stripe.
Who can create a Stripe account?
Anyone can create a Stripe account, regardless of their location or business type. However, there are some requirements that you must meet in order to verify your account and start accepting payments.
Can I start accepting payments before my Stripe account is verified?
No, you cannot start accepting payments before your Stripe account is verified. This is a security measure that helps to protect Stripe users from fraud.
Can I use Stripe for international transactions?
Yes, Stripe allows businesses to accept payments from customers around the world. It supports multiple currencies and provides tools to manage international transactions.
Post You May Like