Ghost is a popular open-source blogging platform that is known for its clean design, ease of use, and powerful features. If you are looking to start a new blog, Ghost is a great option. If you do not have the budget to buy a premium theme, there are many free Ghost themes available that can help you create a beautiful and professional-looking blog.
Here, we help you select the best free ghost themes from the Ghost Marketplace. Anyone can use their free themes. If you are a blogger, writer, or publisher, then we recommend the best 5 free ghost themes for you. Those themes give you a premium feel on your blog website. The theme you select sets the tone for your blog and influences how your content is presented to your audience.
With countless options available, it can be overwhelming to find the perfect theme. That's why we've handpicked five recommended free Ghost themes that can kickstart your blogging journey on Ghost CMS.
Why should you use Ghost CMS?
Ghost CMS is an open-source content management system that simplifies the process of publishing online content. It provides a seamless writing environment with a minimalistic user interface, enabling bloggers to concentrate on creating exceptional articles. Ghost CMS is built on modern technologies and is highly regarded for its speed, security, and SEO friendliness.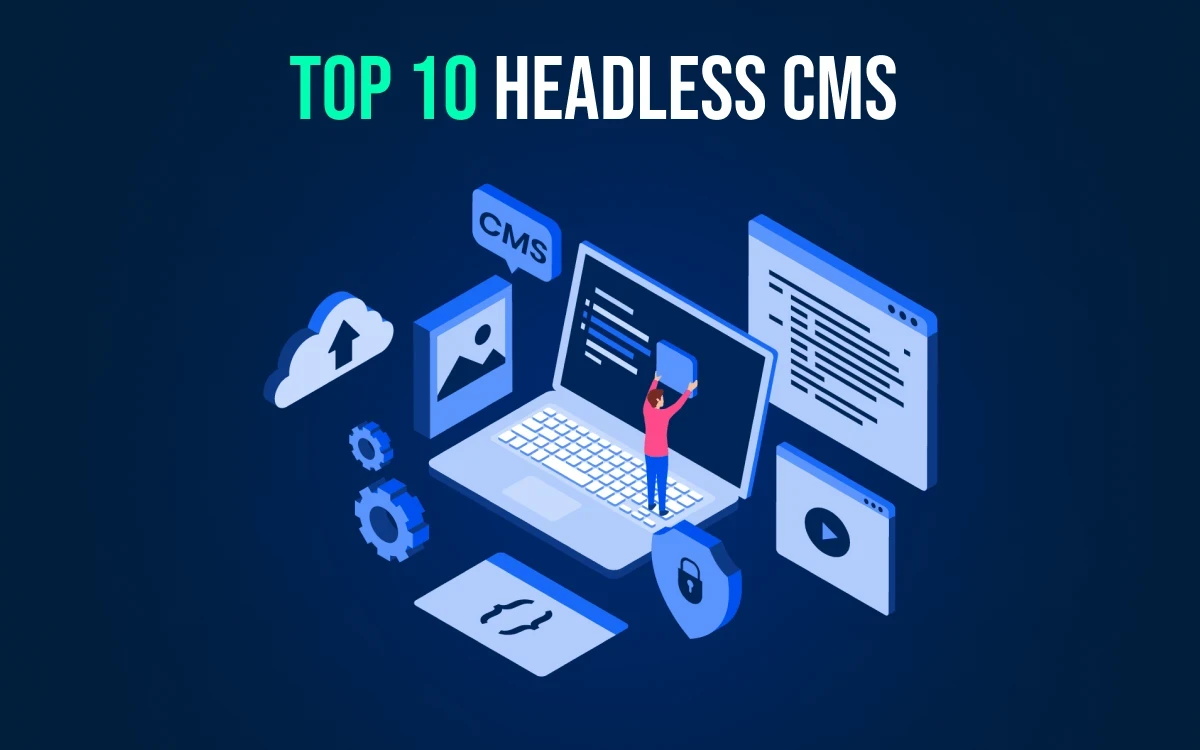 Overview of the Free Ghost theme
Ghost CMS provides various themes in the ghost theme marketplace. There are many free Ghost themes available, some of which are copyright-free and SEO-friendly. You can pick whichever suits your needs. These themes can be used to create a beautiful and professional-looking blog without having to spend any money. By using a free Ghost theme, you can focus on creating great content and growing your audience.
Theme Name
Description
Features
Price
Ratings
Alto
Minimalist blogging ghost theme

✅ Dark & light mode
✅ Carousel for featured posts
✅ Clean & bold design

Free
★★★★★ (5/4.8)
Attila
Content-focused blogging ghost them

✅ Light and Dark Mode
✅ Responsive layout
✅ Search support

Free
★★★★★ (5/4.8)
Solo
Modern and Clean Ghost Blog Theme

✅ Clean and content-focused design
✅ Responsive design
✅ User Subscribe option

Free
★★★★★ (5/4.6)
Taste
Elegant free ghost theme

✅ Built-in recipe card support
✅ Related posts section
✅ Customizable cover image

Free
★★★★★ (5/4.7)
Ruby
Clean and beautiful multi-column ghost theme

✅ Unique card layout
✅ Custom widgets
✅ Sticky sidebar

Free
★★★★★ (5/4.5)
Handpicked Selection: 5 Recommended Free Ghost Themes
To help you get started on Ghost CMS, we have curated a handpicked selection of five recommended free Ghost themes:
1. Alto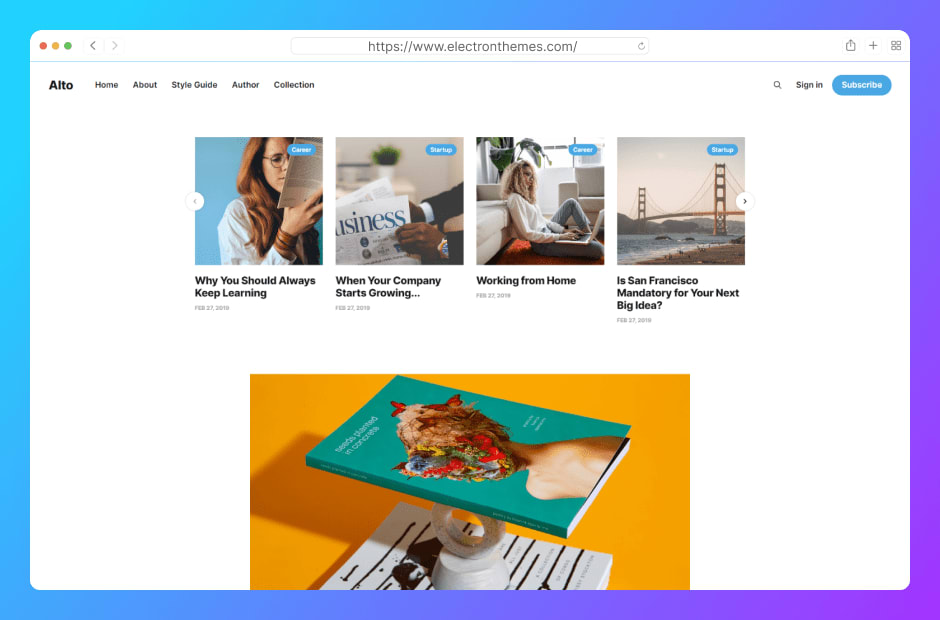 Alto is a minimalist blogging ghost theme that is available for free. It comes with a modern look, and it features dark and light modes that can be switched as you like. It is fully responsive, and it offers additional features that are pretty impressive. Alto has a post-carousel feature where your feature post is displayed automatically as a slider on the homepage. You can customize this theme very easily.
Key Features Of Alto
Dark & light mode
Carousel for featured posts
Clean & bold design
The simple, minimal layout
Supports multiple authors
Reading the progress bar on the posting page
2. Attila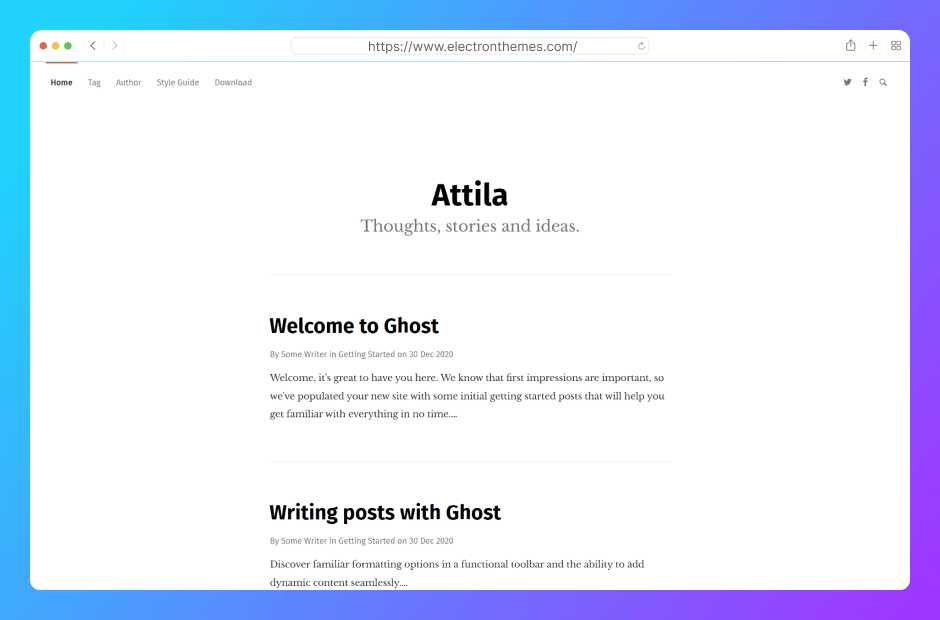 Attila is a minimal, content-focused blogging ghost theme. It has several features to make your blog very easy. Attila's has a featured post section that is placed at the very beginning of the home page. It also has a reading progress section for the readers. Attila has a responsive layout for looks beautiful on any device. This theme includes dark and light versions.
Key Features Of Attila
Light and Dark Mode
Responsive layout
Search support
Post-reading progress
Code highlight including line numbers
Disqus Comments
3. Solo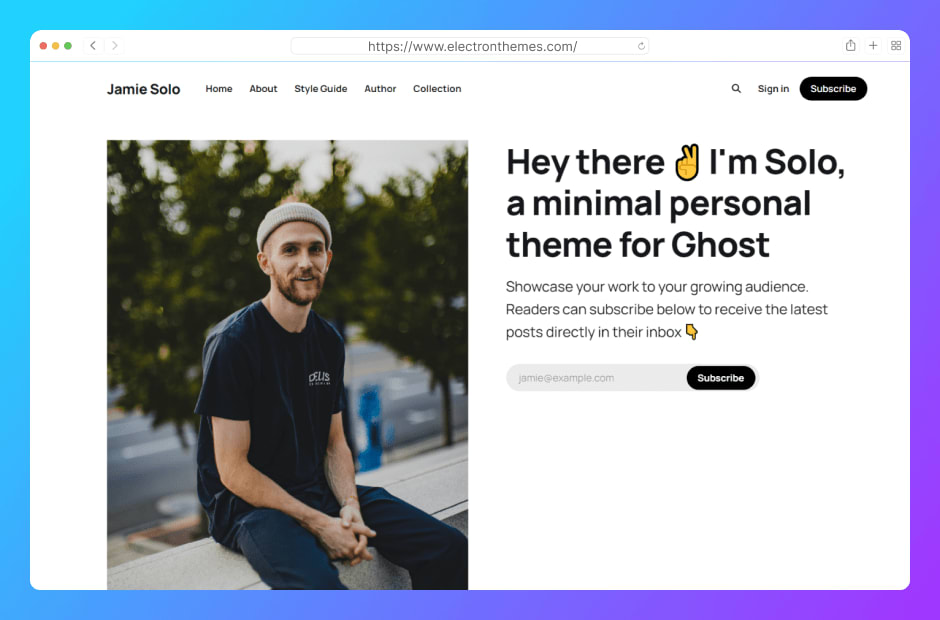 Solo is another official ghost theme. It should be well-built, snappy, and really good for you if you are starting a personal blog. Solo is a content-focused theme where you can showcase your content for your growing audience. Solo comes with a newsletter subscription feature that readers can subscribe to receive the latest posts and news. The Solo theme is fully responsive and has a clean and beautiful design.
Key Features Of Solo
Clean and content-focused design
Responsive design
User Subscribe option
Real-time search
Fast loading
4. Taste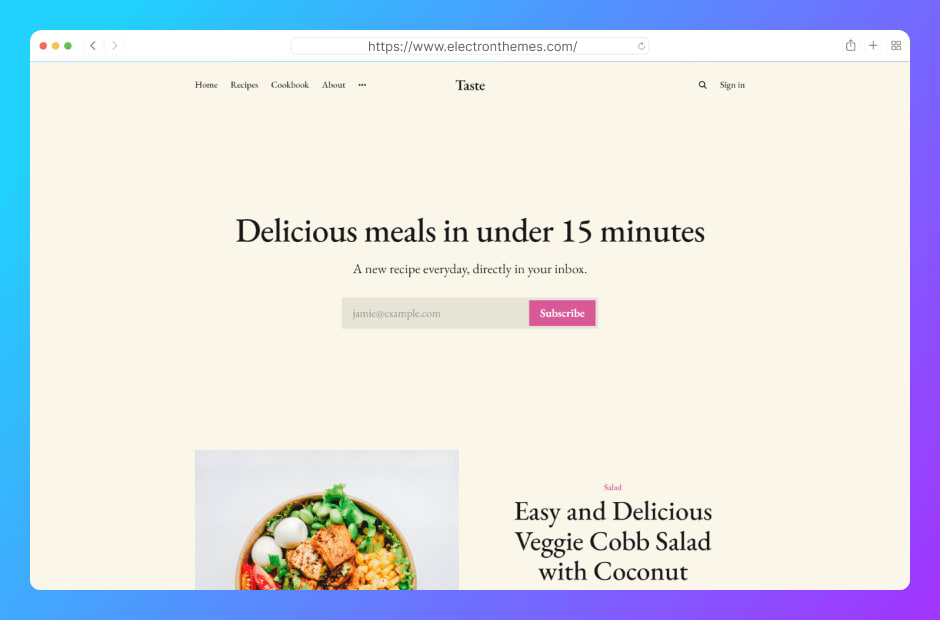 Taste is an elegant free ghost theme created for food blogs. It is a stunning and beautiful design that puts your food image in the spotlight. The taste theme has a built-in recipe card. The taste is fully responsive and can be easily adjusted on any device. The taste theme is optimized for speed and SEO, so your food blog will load quickly and do well in search engine results.
Key Features Of Taste
Built-in recipe card support
Related posts section
Customizable cover image
Optimized for speed and SEO
Responsive design
5. Ruby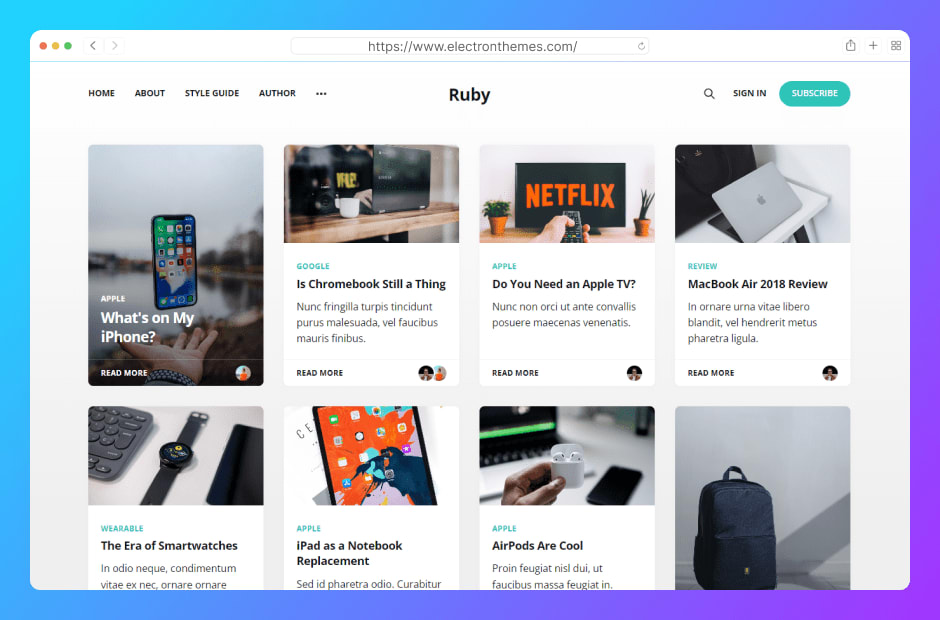 Ruby is a clean and beautiful multi-column ghost theme with a unique card layout. This theme comes with a lot of features that you need to create a blogging website. Ruby is a fully responsive layout design that you make look beautiful on any device. Make your publication more organized with cards and widgets.
Key Features Of Ruby
Unique card layout
Custom widgets
Sticky sidebar
Mobile-friendly design
Disqus comment integration
Each of these themes offers unique design elements, customization options, and features tailored to enhance your blogging experience on Ghost CMS. Explore these themes and find the one that aligns with your blog's vision and requirements.
FAQs
Do you have any questions about choosing the free ghost theme? We have answers to some frequently asked questions on the topic.
How do I install a Ghost theme?
To install a Ghost theme, navigate to the Design section in your Ghost CMS admin dashboard. Click on Upload a Theme and select the theme zip file. Once uploaded, activate the theme to make it live on your blog.
Can I customize the chosen themes?
Yes, you can customize the chosen themes to match your branding and design preferences. Ghost CMS provides a user-friendly customization interface that allows you to modify various aspects of the theme, such as colors, typography, and layout.
Are these themes compatible with all versions of Ghost CMS?
These themes have been tested and verified to work with the latest version of Ghost CMS. However, it's always recommended to check the theme documentation or the developer's website for any compatibility requirements or updates.
Can I switch to a different theme later?
Absolutely! Ghost CMS allows you to switch themes at any time. You can explore different themes, activate them, and see how they look on your blog. If you decide to switch, make sure to back up your content and settings to avoid any data loss during the transition.
Are there any premium Ghost themes available?
Yes, there are premium Ghost themes available on various marketplaces and theme developer's websites. Premium themes often offer advanced features, dedicated support, and additional customization options. However, the recommended free themes we have selected provide an excellent starting point for your blogging journey on Ghost CMS.
Conclusion
I hope this blog post has been helpful. There are many great free Ghost themes available. By selecting a theme from our handpicked selection, you can ensure your blog stands out with a visually appealing design, optimal performance, and an enhanced user experience. No matter which theme you choose, I recommend that you customize it to your own liking. This will help you create a blog that is unique and reflects your own personality.
You may like it!