In today's digital age, content is king, and managing it efficiently is crucial for success. Migrating your content from one content management system (CMS) to another can be a daunting task, but it's a crucial step if you're looking to improve your website's performance, and user experience, or simply make a switch to a more suitable platform. If you've decided to migrate your content to Ghost CMS from the WordPress platform, this article will help you to understand the migration process. In this blog post, I will explain how to migrate content from WordPress to the Ghost CMS.
What is Ghost CMS?
Ghost is a popular headless CMS that is known for its speed, security, and flexibility. It is designed to be fast, lightweight, and easy to use. It offers a user-friendly interface and focuses on simplicity and speed. Users can write in Markdown, organize content, and manage user accounts. If you are considering migrating your content from another CMS then Ghost is the best choice for you. Ghost also has a managed hosting option called Ghost Pro for easy setup.
Why Migrate on Ghost? Benefits of Ghost CMS
Migrating to Ghost CMS offers a multitude of benefits that can significantly enhance your website or blog. Here are some of the benefits of Ghost CMS:
Speed and performance: Ghost CMS is renowned for its exceptional speed and top-notch performance. It is built with speed in mind. Its lightweight architecture, optimized code, sleek and efficient design ensure fast page loading times, improving user experience, which makes it very fast. This is important for both publishers and readers, as it ensures that your content loads quickly.
Security: Ghost is designed with security in mind. It uses industry-standard security practices, such as HTTPS and password hashing, to protect your content and data.
Flexibility: Ghost is a very flexible CMS. It can be used to create a wide variety of websites, from simple blogs to complex news sites. It also allows you to customize the look and feel of your site to your liking.
Scalability: Ghost is designed to be scalable. It can be used to power small blogs as well as large websites with millions of visitors.
SEO-friendly: Ghost is SEO-friendly. It makes it easy to optimize your content for search engines so that your website can be found by more people.
Easy to use: Ghost is easy to use, even for beginners. The user interface is clean and intuitive, and the documentation is comprehensive.
Open source: Ghost is open-source software. This means that it is free to use and modify, and there is a large community of developers who can help you with any problems you may encounter.
Selling content:  Ghost has built-in Subscription and Membership Features, which allow you to create different tiers of content and charge users accordingly. It is designed with content creators in mind, making it relatively easy to set up subscription and membership models.
Overall, Ghost is a powerful and flexible CMS that is ideal for publishers who want a fast, secure, and scalable platform for their content.
Migrate Content WordPress to Ghost CMS
Ghost has a WordPress to ghost Export Pluginyou will find it on WordPress org, using it you can smoothly move your content from WordPress to Ghost.
💡
Remember it when migrating your content from WordPress will not include custom fields, metadata, short-codes, custom post types & taxonomies, or binary files. You will get just posts, pages, text, and images.
Convert categories to tags
Before exporting content, you need to convert your categories to tags. Because Ghost does not support categories it only supports tags. Now follow some steps to convert categories to tags.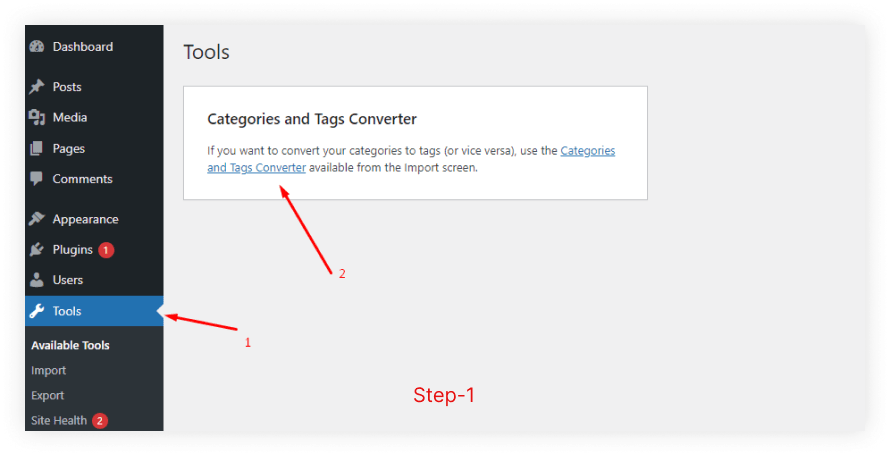 Step 1: Go to Tools options then click on the Categories and Tags Converter
Step 2: Install Categories and Tags Converter Plugin
Step 3: After Installing click on the Run import.
Step 4: Now you can see your categories list, select your choices categories or select all then click on the Convert Categories button.
Export content from WordPress
Now your content (posts, pages, tags, and images) is ready to be exported. Follow the steps below to export your all content.
Step 1: Install the Ghost plugin on your WordPress website, from the plugin dashboard.
Step 2: Go to the installed Ghost plugin on the WordPress admin console Tools > Export to Ghost.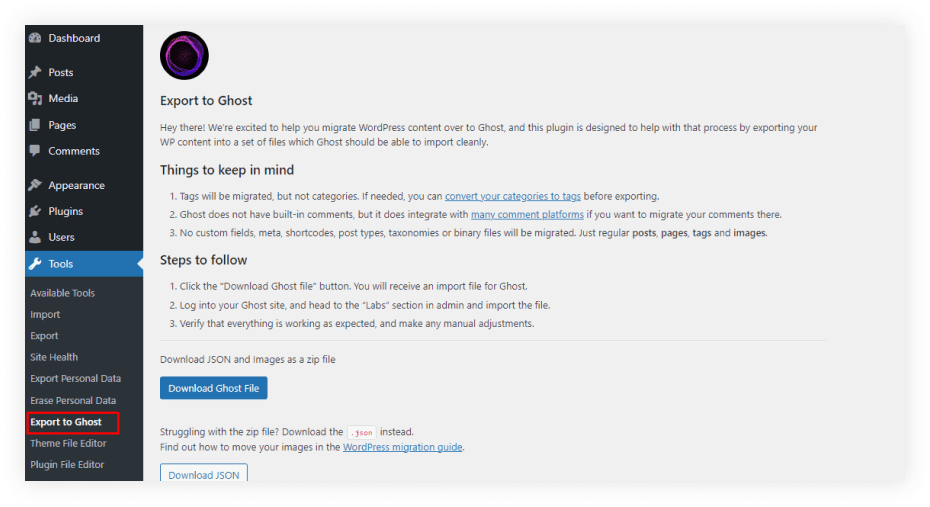 Step 3: Click on the Download Ghost file at the bottom of the page and this will transfer all your content (including posts, pages, and images) into a zip file.
If you want to get a single JSON file that will contain your all posts, pages, and tags without images. then click on Download JSON below the download button.
✋
Important Note: Before Importing any content in your ghost admin panel, you should keep a backup of your existing content.
Import Content to Ghost
After completing the export of your content from WordPress, Log in to the Ghost Admin panel of your website to import the content.
Step 1: After log in to the Ghost admin. Click on the Settings icon then click on the Labs option.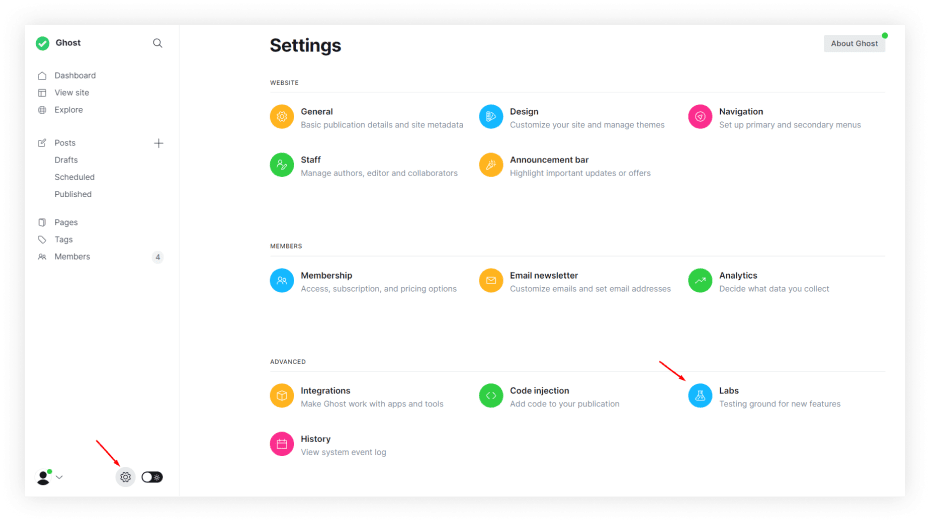 Step 2: Click on the Open Importer button from the import content section.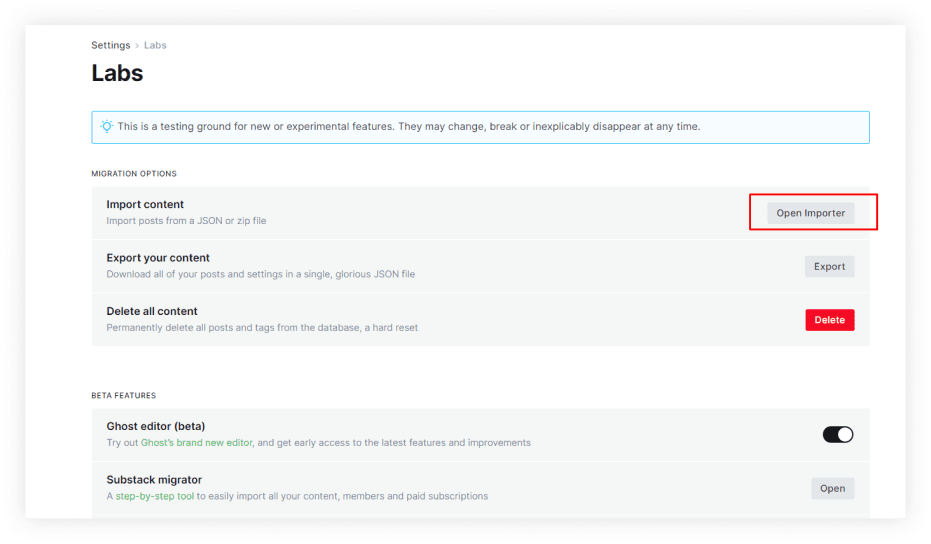 Step 3:  Select the Exported zip file and click on the open button.
Now you can see your content on your ghost dashboard under the Posts, Pages, and Tags section.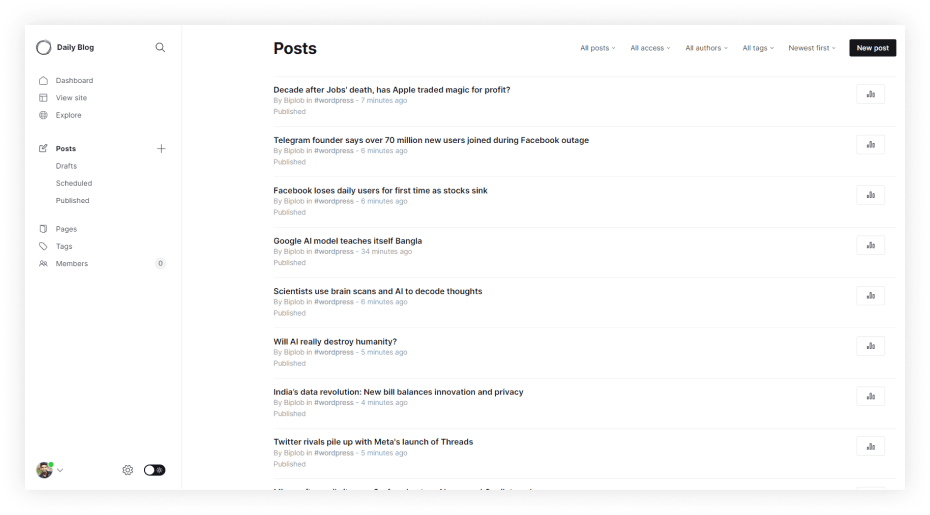 By following the above easy steps, you can transfer all of your WordPress content to your new Ghost website.
💡
Make sure your imported WordPress content looks correct in the Ghost. You may have to do some minor editing.
Conclusion
In conclusion, Migrating your content from another CMS platform to Ghost can be a daunting task, but it doesn't have to be. By following these steps, you can make the process as smooth and efficient as possible. And once you're done, you'll be able to enjoy all the benefits of Ghost, such as its speed, security, and flexibility.
FAQs
Do you have any questions about Migrating content from another CMS to Ghost CMS? We have answers to some frequently asked questions on the topic.
What Content Can Be Migrated?
Typically, you can migrate various content elements, including blog posts, pages, and images. However, the specifics depend on your current CMS and the tools available for migration.
Can I migrate custom themes and templates from my current CMS to Ghost?
No, Ghost uses its own theme system, so custom themes and templates from other CMS platforms will likely need to be recreated or adapted to work with Ghost. You may need to hire a developer or web designer with experience in Ghost theming to achieve this.
Still do you need help to migrate your content?
If you still need help to migrate your content WordPress to Ghost, you can contact us. We will help you to migrate your content without breaking SEO performance.
Post You May Like!