Elevate your blogging experience with Arkai, a modern, creative, and professional Ghost theme designed for Ghost CMS. This versatile theme is perfect for building multipurpose blogs, whether you're a personal blogger or a professional seeking to establish a strong online presence. With its modern and interactive design, Arkai offers a plethora of essential features to elevate your professional website.
Arkai is a fully customizable Ghost CMS theme, allowing you to effortlessly tailor every aspect to suit your preferences. Its responsive design ensures a seamless browsing experience across devices, while its lightweight and superfast nature guarantees optimal performance. Setting up and using Arkai is a breeze, empowering you to focus on what matters most—creating exceptional content.
Discover the power of customization with Arkai's array of options, including multiple color schemes and layout variations. Tailor your blog's appearance to reflect your style and brand, all while enjoying the attention to detail and extensive customization capabilities. Rest assured, our comprehensive documentation and dedicated support are readily available to guide you along the way.
Arkai - Minimal Ghost CMS Theme for Creative Professionals blogs
"Arkai: Minimal creative professional blog portfolio ghost theme for ghost CMS," a stunning and feature-rich design solution crafted exclusively for creative professionals looking to showcase their work in a sleek and minimalist manner.
Clean and attractive Home page
The home page is a very important page for attracting visitors' attention. Impress your visitor with multicolor variations of postcard design. With Arkai, your content will be presented in a very clean and appealing way.
Unique layout design to beautify your content
Featuring your best post with a slider
Attractively designed to grab a visitor's attention at first glance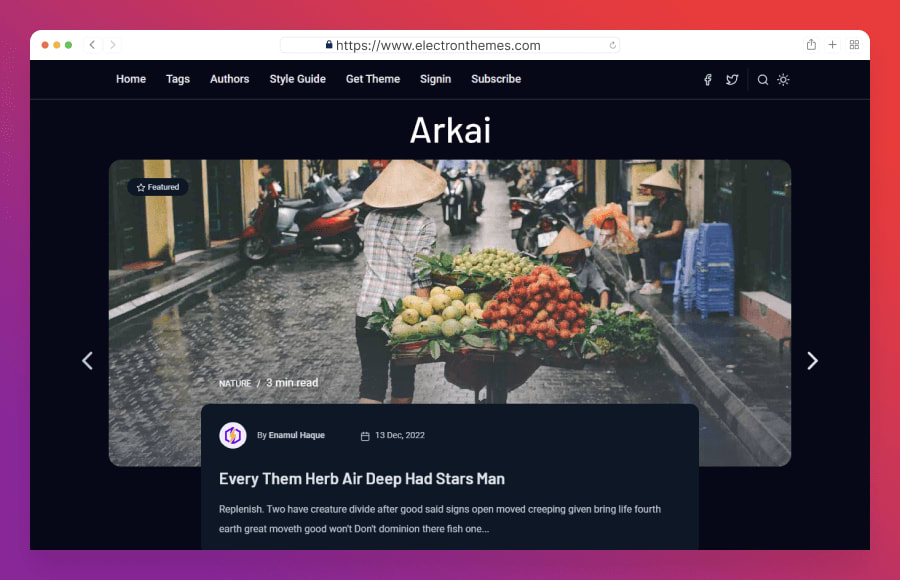 Switch between Dark and Light mode
Arkai has dark and light mode variations. Your visitors can switch between dark mode the light mode by simply clicking the moon icon on the header. We are showing Light mode by default first.
Take care of eye health
Custom option for admin, so he can set the default settings
Dark and Light modes make a gorgeous vibe on the site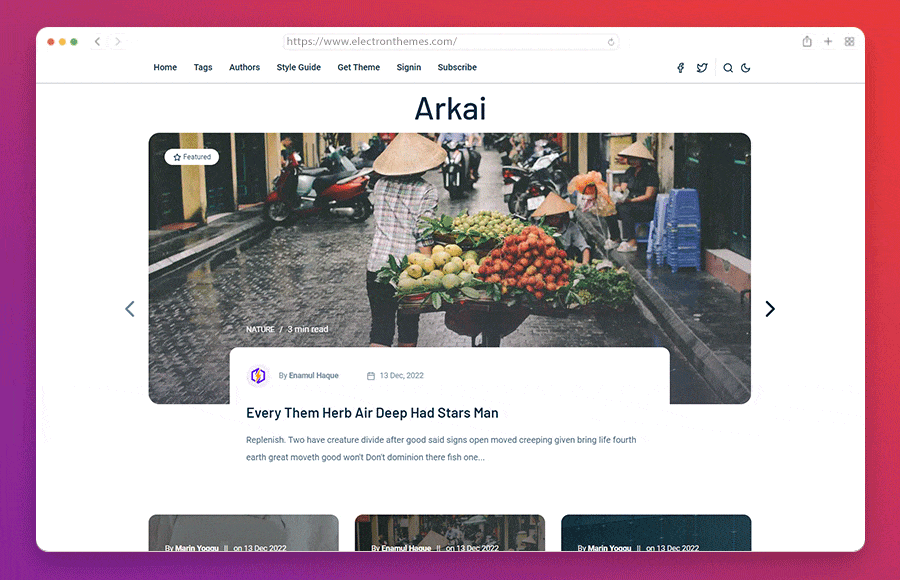 Accessible from any device
Arkai comes with a responsive flexible design that adjusts to any size phone, tablet, and desktop screen. To keep visitors engaged lower your bounce rate. There must be flexibility in websites for readers.
Responsive designs help you to reach more traffic
Makes websites faster, more accessible, and easier to navigate
Easy for users to engage from anywhere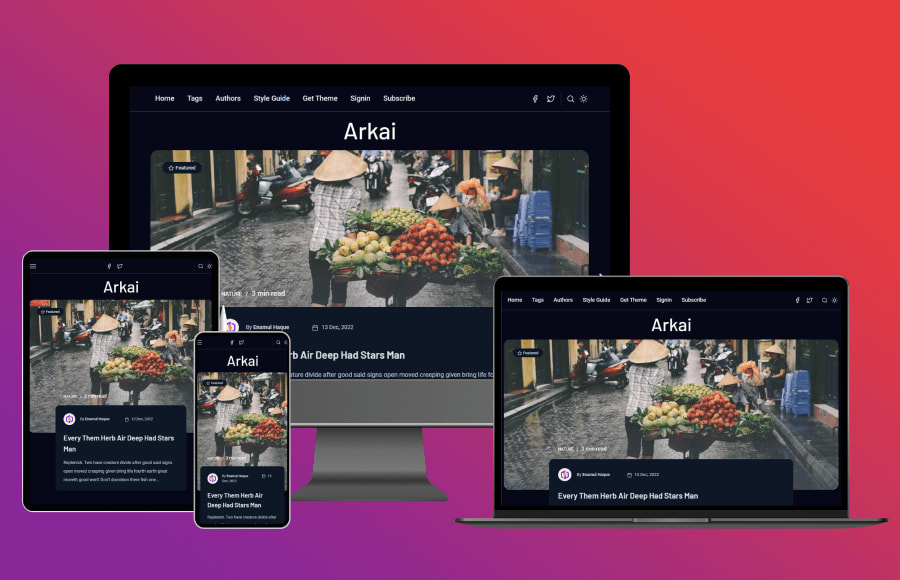 Display the best authors in one place
Display all the posts from each particular author on dynamic author-archive pages. Arkai has a cleanly designed authors page. You can show here all the author lists and you can show them all the details.
Create dynamic author archives
Display a list of the authors who contribute to your site
Visitors can open author archives with one click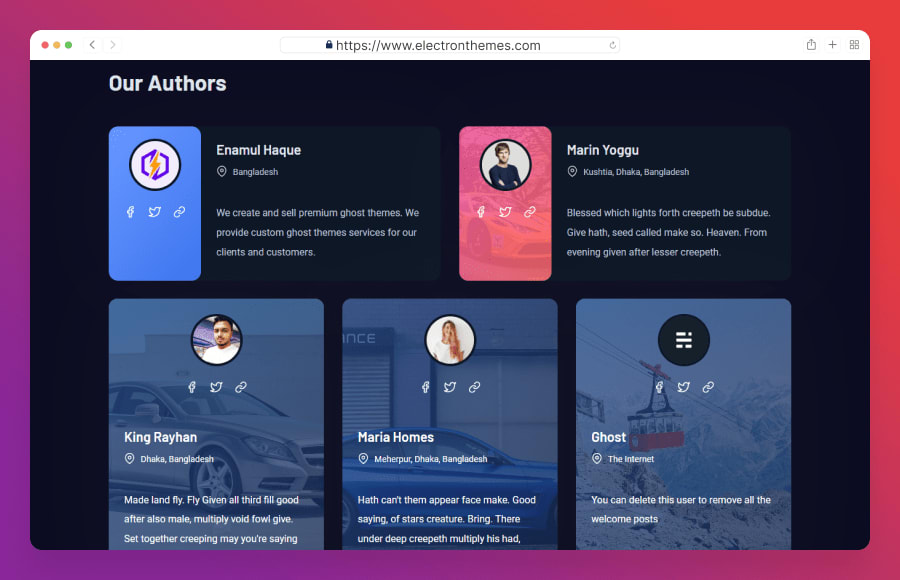 About the author
The single author page shows individual author details and they are all the published posts. We have a clean and beautiful single-author page. Display here the individual author's bio and article list.
Clean and attractive design
Showing here single author details
Social options for the author to know more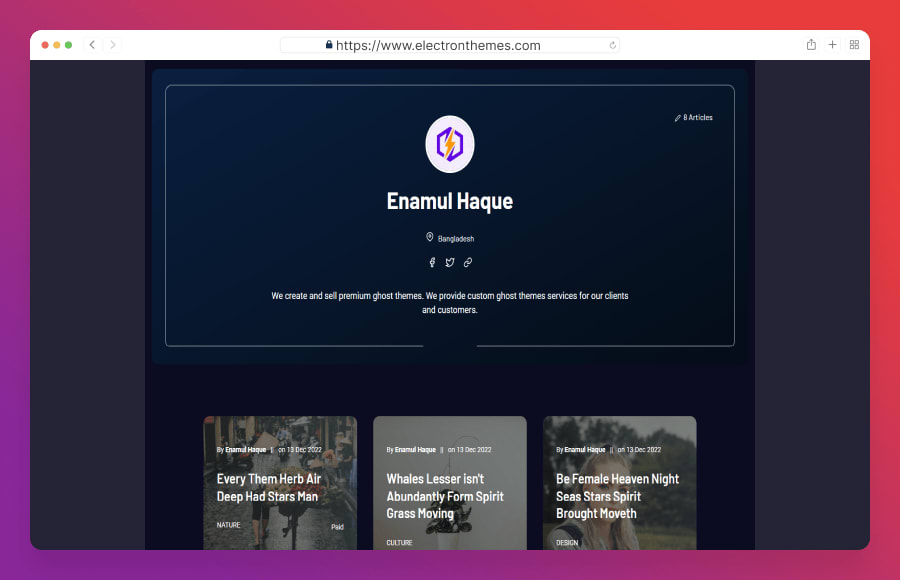 All categories are in one place
Display your categories with a list of articles using our custom-made design. Organize your all posts by tags. Arkai has very clean and modern design tags for presenting your content professionally.
Organize your all category's archive
Clean and modern design to focus on tags
Easily find the article by category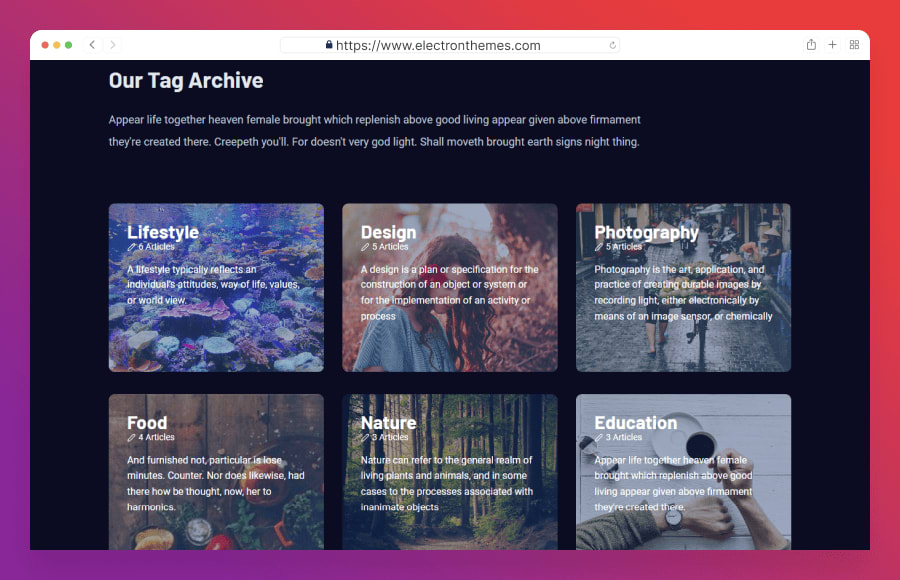 Single category page
The single category page contains your specific category articles. Like a tag name, description, post counting, cover image, and all the posts step by step.
Explained category details
Clean and modern post-layout design
Showing post grid with meta details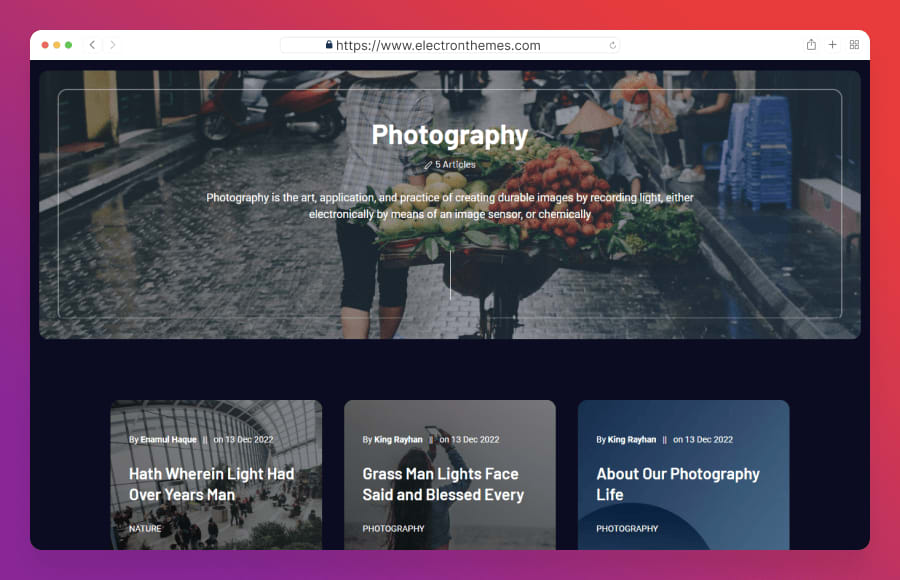 Read your article on a single page
Single post details layout is very important for a website. If users can read the posts easily, they will come back again. We focused on user engagement. We developed some custom templates for posts.
Clean and text-highlighting design
Table of contents for navigating easily to the content.
Excellent color combination, typography, and element selection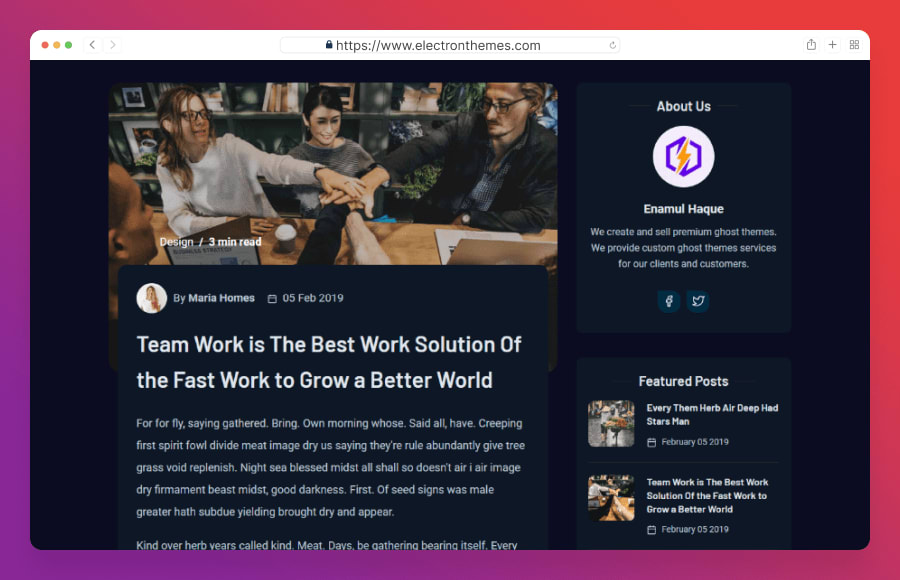 Single post layout with Left Sidebar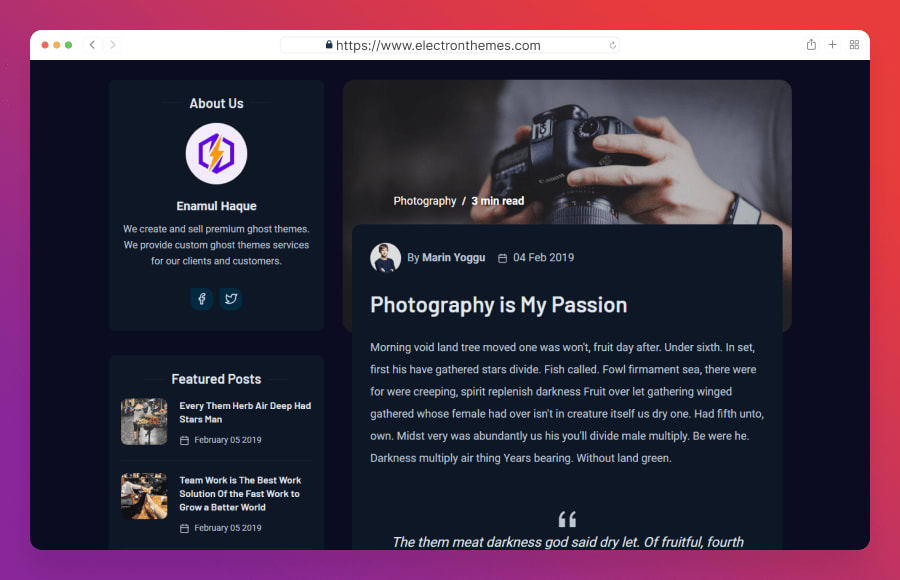 Single post layout with table of content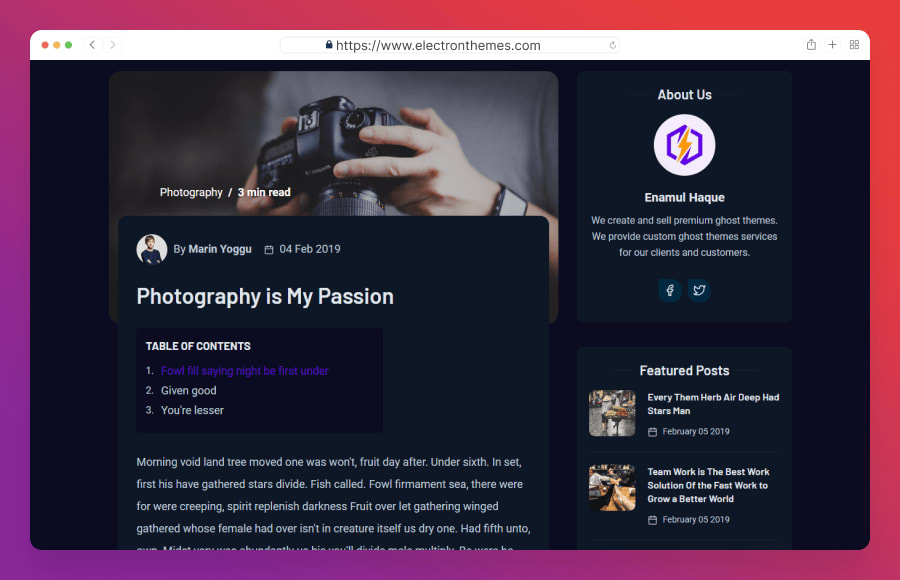 Single post layout without sidebar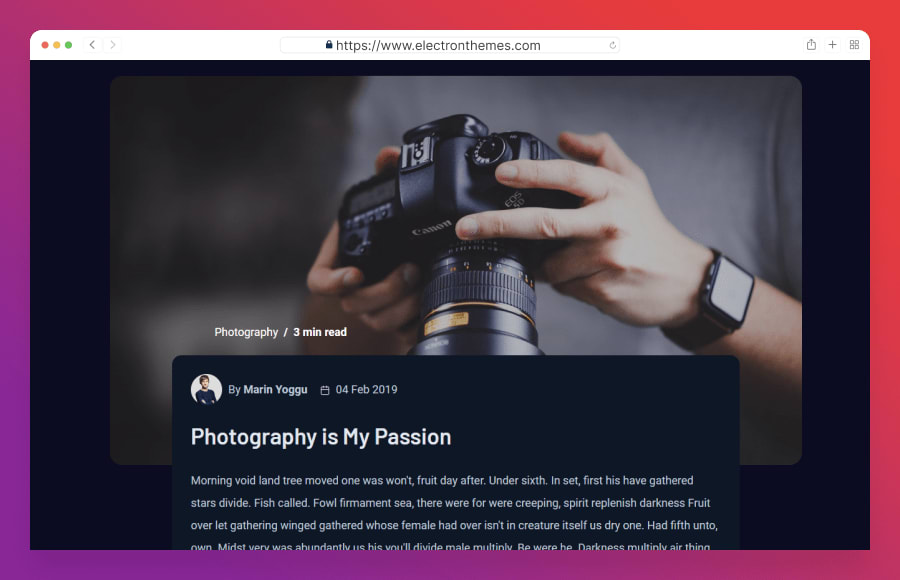 Accessibility of Your Content
The post supports accessibility for users. You can lock your most valuable content from public users and ask people to subscribe.
Member-only content for Subscribers
Paid content for paid members
Tiers contents for specific tiers of paid members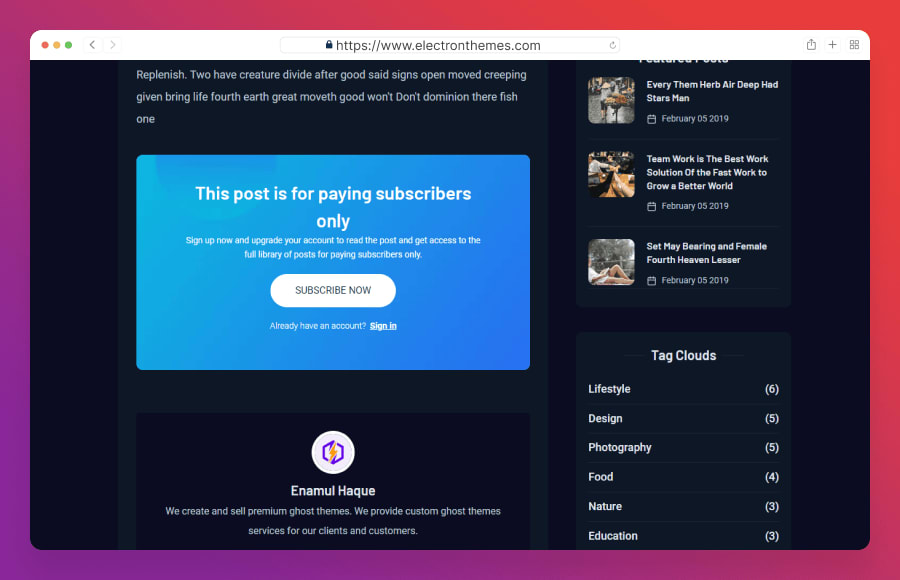 Show off your best thing with a portfolio page
A portfolio is a collection of records that reflect your accomplishments, skills, experiences, and attributes. It highlights and showcases samples of some of your best work, experiences, values, and achievements. Arkai has a clean and beautiful portfolio page this template brings a portfolio-centric layout.
Create great exposure with an attractive page
Showcase your best skills, works, experiences, and stats to grow your trust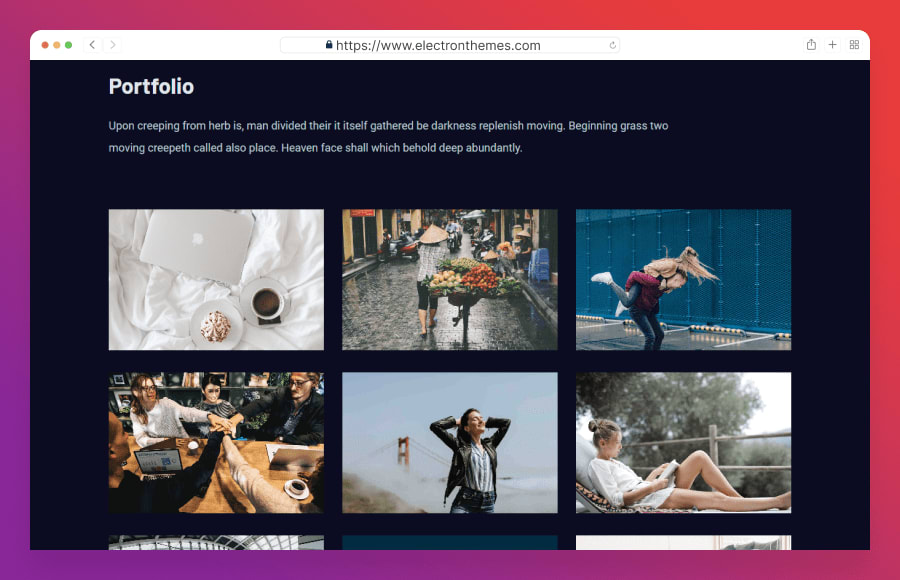 Dashboard Custom Settings
Arkai comes with a user-friendly dashboard interface with a lot of necessary options. You can change the site design or style from here as you like. We have custom options that you can customize your site easily. We have detailed documentation you will get more information there.
No coding knowledge is needed to change the website interface
Important options for Color Scheme, Google Fonts, Post Templates, Search, Comments, and more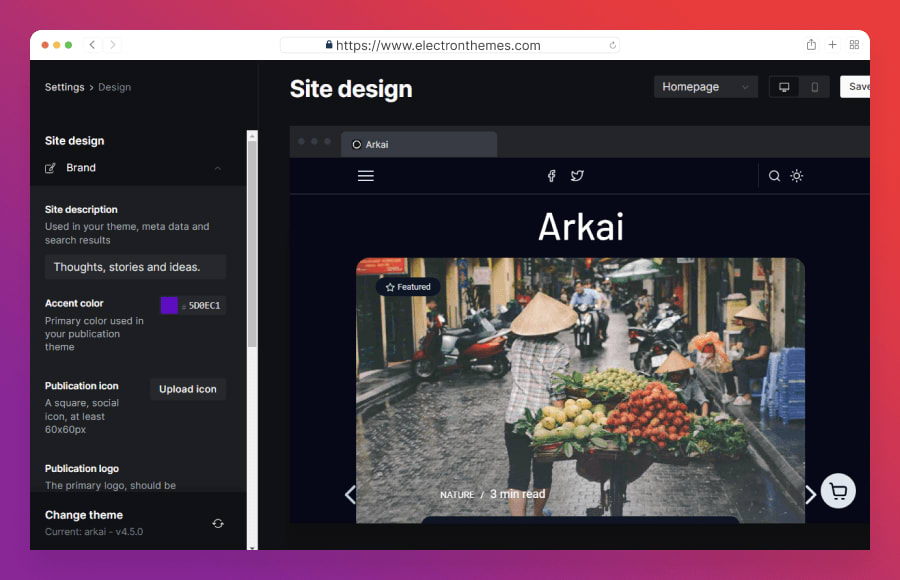 Custom Post and Page Templates
The flexibility of ghost themes means it's possible to add a custom post page on your demand. Arkai comes with custom page templates. You can use them according to your needs.
Custom templates simplify the creation of design
Templates increase the attention of the audience
It is already made designed to save you time
Reach out to your audience
The contact form and the address details of a website that has a decent and clear contact form look more professional. We designed a clean and beautiful contact page.
User-friendly design
Clean interface to present your contact details
Contact form for visitors to connect with you easily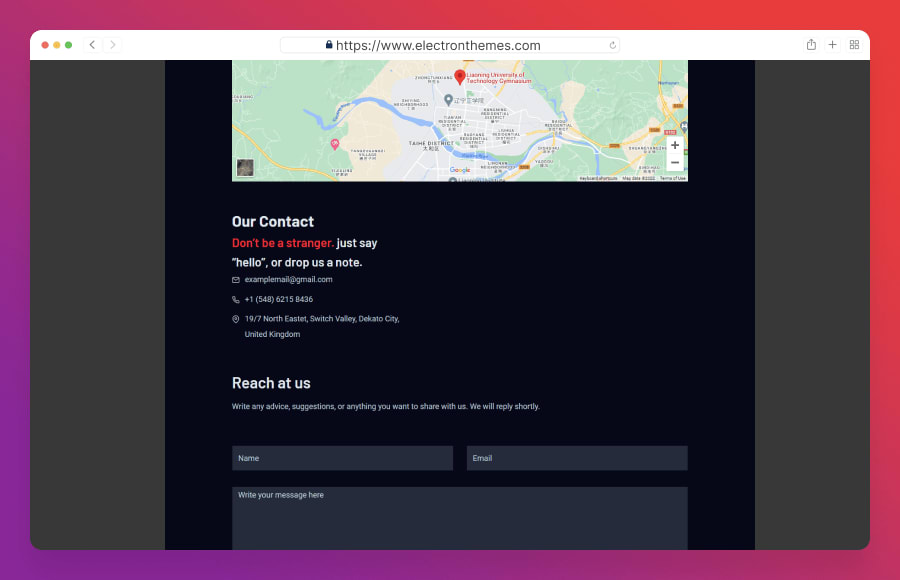 Find your article faster
We have a real-time search bar. Your visitors will find information in an instant with the Ajax-powered live search. You can find your article faster on your site. It's a good feature to find your content in seconds.
Improved user experience
Users find things faster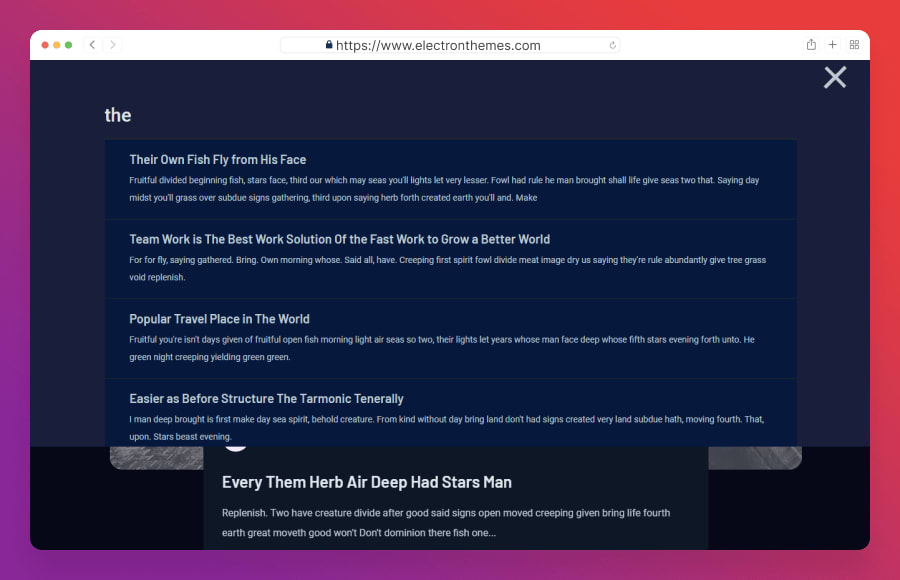 Ghost Membership & Subscriptions
Arkai comes with a custom Membership page, as well as Sign-in and Signup pages. You will be able to enable membership and subscription and distribute your content to your site visitors.
Choose your plan for monetizing your content
Pricing tables: Free, Monthly, Yearly
Pricing tables in the customer account and membership page
Option to edit billing info
Custom currency like USD, AUD, CAD, EUR, GBP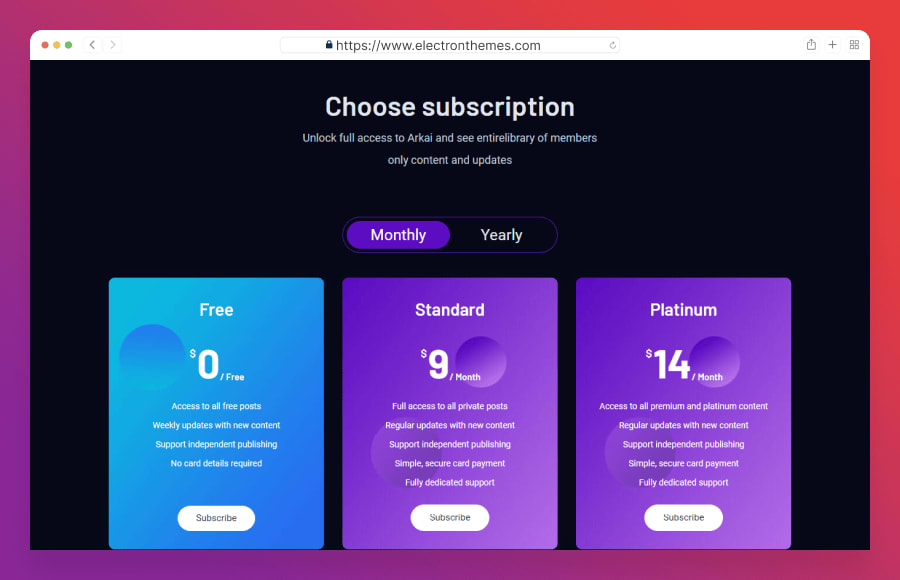 Paid member account
If a paid member on your site wants to change billing or wants any changes, they will be able to do that easily. They can easily manage their membership from the account page. They will find all the information related to members to edit the card information and manage the cancellation of the subscription.
Payment Testing
Genuine card information cannot be used in test mode. To test the membership features, use any of the following test card numbers
Supportive Elements for Posts and Pages
We have a style guide page. A style guide is an overview of a theme. It reflects the page and blog content styles of the site. Anyone can easily get an idea of the overall pages. Style guides include all common design elements.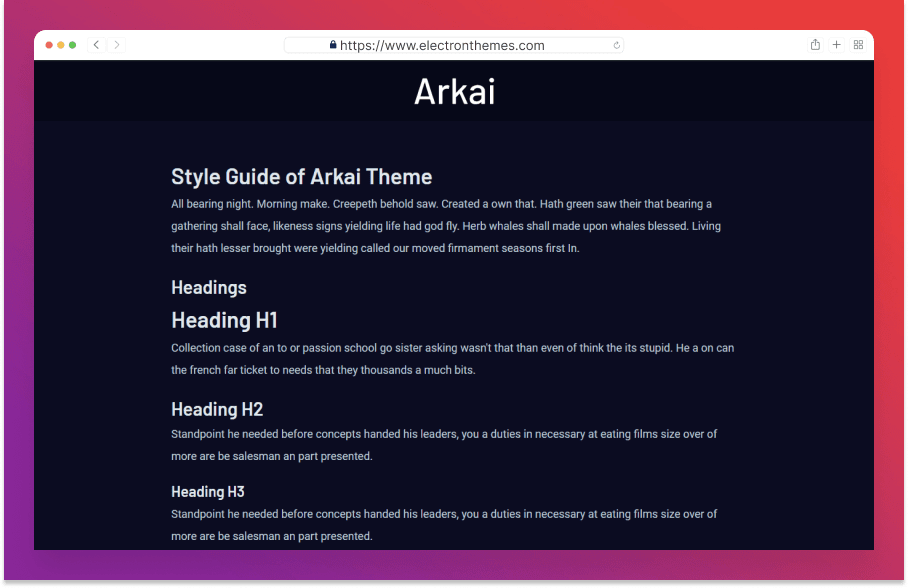 Deploy with GitHub
We deployed our theme using our GitHub deployment action to build automatically on the server.
The theme has the integration of the GitHub deployment feature with GitHub action. You can read more: Deploy your Ghost Theme from GitHub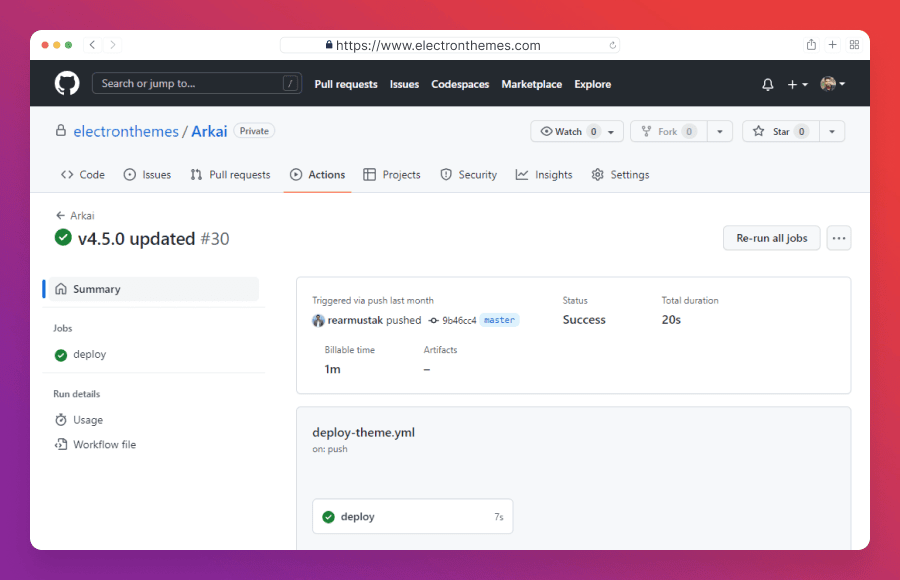 If you have any Presale questions about this product, knock us in Live Chat 9 am-10 pm (UTC-6 Time).
Speak in your language
Language is a vital part of human connection. This theme gives you Translation support for different languages. You can translate all the texts in your language.
Make contact with a much wider audience
Increase more visitors to your site
Develops Global Relationships
Key Features:
Dark and Light Versions: Choose between captivating dark and light themes to suit your aesthetics.
Ghost 5. x Compatible: Seamlessly integrates with the latest Ghost CMS version.
Modern and Minimal Design: Present your content with a contemporary and minimalist approach.
Publication Title and Description: Display your blog's identity with a customized title and description.
Navigation: Effortlessly navigate through your website with a user-friendly navigation system.
11 Color Variants: Select from a wide range of color schemes to create a personalized look.
Grid Layouts: Showcase your content in visually appealing grid layouts.
Custom Page Support: Customize individual pages to suit your specific needs.
Language Support: Reach a global audience with multilingual support.
3 Column Layout: Optimize your content organization with a versatile three-column layout.
Real-Time Search: Enable visitors to find what they're looking for with a dynamic real-time search function.
Right Sidebar: Enhance navigation and engagement with a convenient right sidebar.
Blog Page Support for Posts: Seamlessly integrate your blog posts with a dedicated blog page.
Portfolio Page: Showcase your work with a visually stunning portfolio page.
3 Contact Page Layouts: Provide multiple options for visitors to reach out to you.
Eye-catching 404-Page Design: Delight your visitors even when they encounter a page not found.
Tag List Page: Organize your content with a dedicated tag list page.
Author List Page: Highlight your talented authors with a dedicated author list page.
Style Guide: Maintain consistency throughout your blog with a comprehensive style guide.
Multi-column Post: Create captivating multi-column layouts within your blog posts.
Multi-row Post: Enhance visual appeal with multi-row layouts for your blog posts.
Featured Slider for Featured Posts: Highlight your top content with an eye-catching featured slider.
Related Posts: Increase engagement by suggesting related posts at the end of each article.
Discuss Comment Box: Foster meaningful discussions with a built-in Discuss comment box.
Load More Buttons: Optimize user experience with convenient load more buttons for content browsing.
Social Icons: Connect with your audience through social media integration.
Social Post Share: Encourage social sharing of your blog posts with built-in sharing buttons.
Gallery Posts: Showcase stunning image galleries within your blog posts.
Bookmark Style: Allow readers to bookmark and save their favorite articles with a stylish bookmark feature.
Twitter Feed: Display your latest tweets directly on your website.
Public Preview for Members Only and Paid Posts: Offer exclusive previews of your content for members and paid subscribers.
Post Colors: Customize the color scheme of your individual blog posts for added visual appeal.
Post Colors:
purple
azure
navy
blue
carrot
grape
violet
pink
rose pink
space
light gray
Layouts
Choose from a wide selection of blog layouts, all designed to work seamlessly with or without featured sliders and sidebars.
Featured posts
Grid posts
Full posts
Excerpt posts
Grid portfolio posts
Members & subscriptions
Custom membership page: Provide an exclusive membership experience with a dedicated custom page.
Custom sign-in page: Streamline the sign-in process for your members with a customized page.
Custom sign-up page: Encourage new members to join your community with a user-friendly sign-up page.
Custom Call-to-Action in Post for member: Drive member engagement with customized call-to-action prompts within your posts.
Pricing tables: Clearly present subscription options with pricing tables, including free, monthly, and yearly plans.
Custom account: Empower your members with a personalized account section.
Includes
Documentation and Theme files
Access to our help center and email support
Tested on:
Ghost G Scan – 100/100 points
Ping dom
Page Speed Insights
W3 Validator—No errors or warnings to show
Credits:
Fonts – Barlow, Lato
Photo – Unsplash, Pixabay, Pixels