Top 15 Crypto and Blockchain Responsive HTML Templates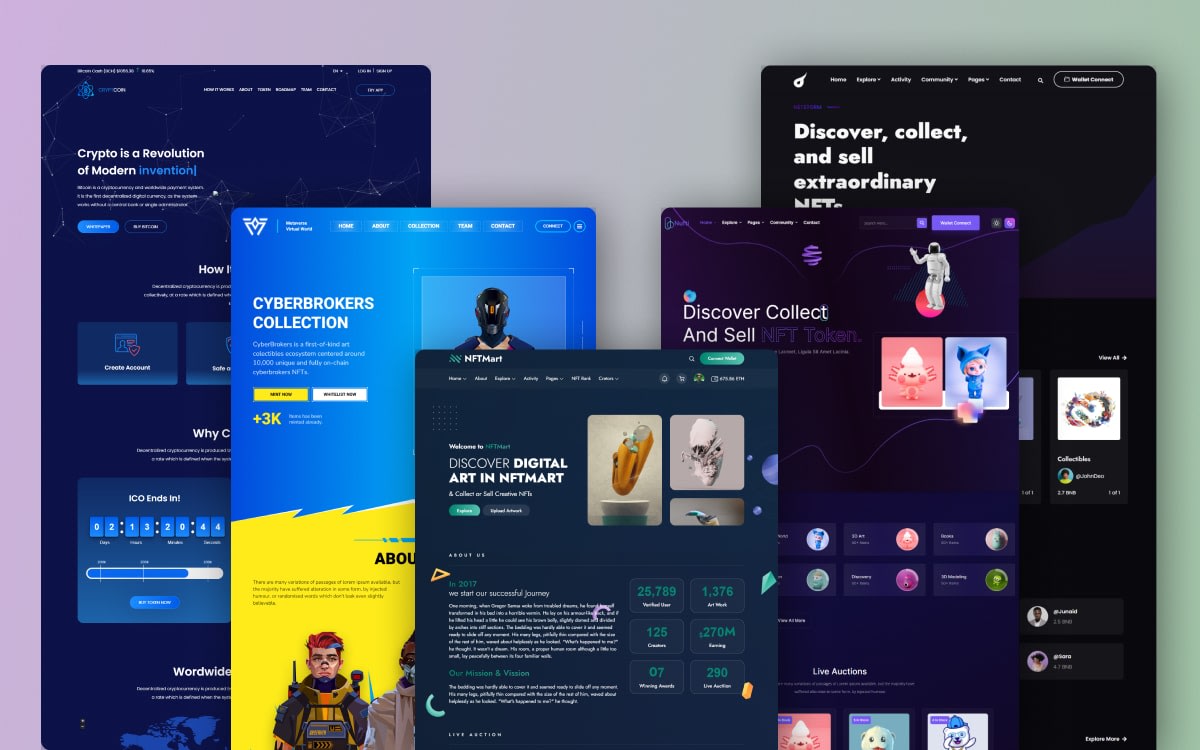 Every people are in the world is aware of cryptocurrency. The use of Blockchain technology is increasing day by day. Many companies have been using this technology for a long time and many have started doing business with cryptocurrencies. Among them, many companies have made huge profits and many have suffered losses. If you want to work with cryptocurrency, you must first follow the right principles, otherwise, you will not be able to make a profit from it.
The growing popularity of various cryptocurrencies such as Bitcoin and Ethereum, Litecoin, Ripple, Dash, and Monero has brought a new generation of websites to the web built around these cryptocurrencies. There are websites that provide information about cryptocurrency mining, trading, monitoring (real-time prices), and NFT trading platforms. We have listed a set of templates and tasks in this post if you are interested in creating such a website.
1. Cryptohouse - Minimal & Professional Crypto Currency HTML Template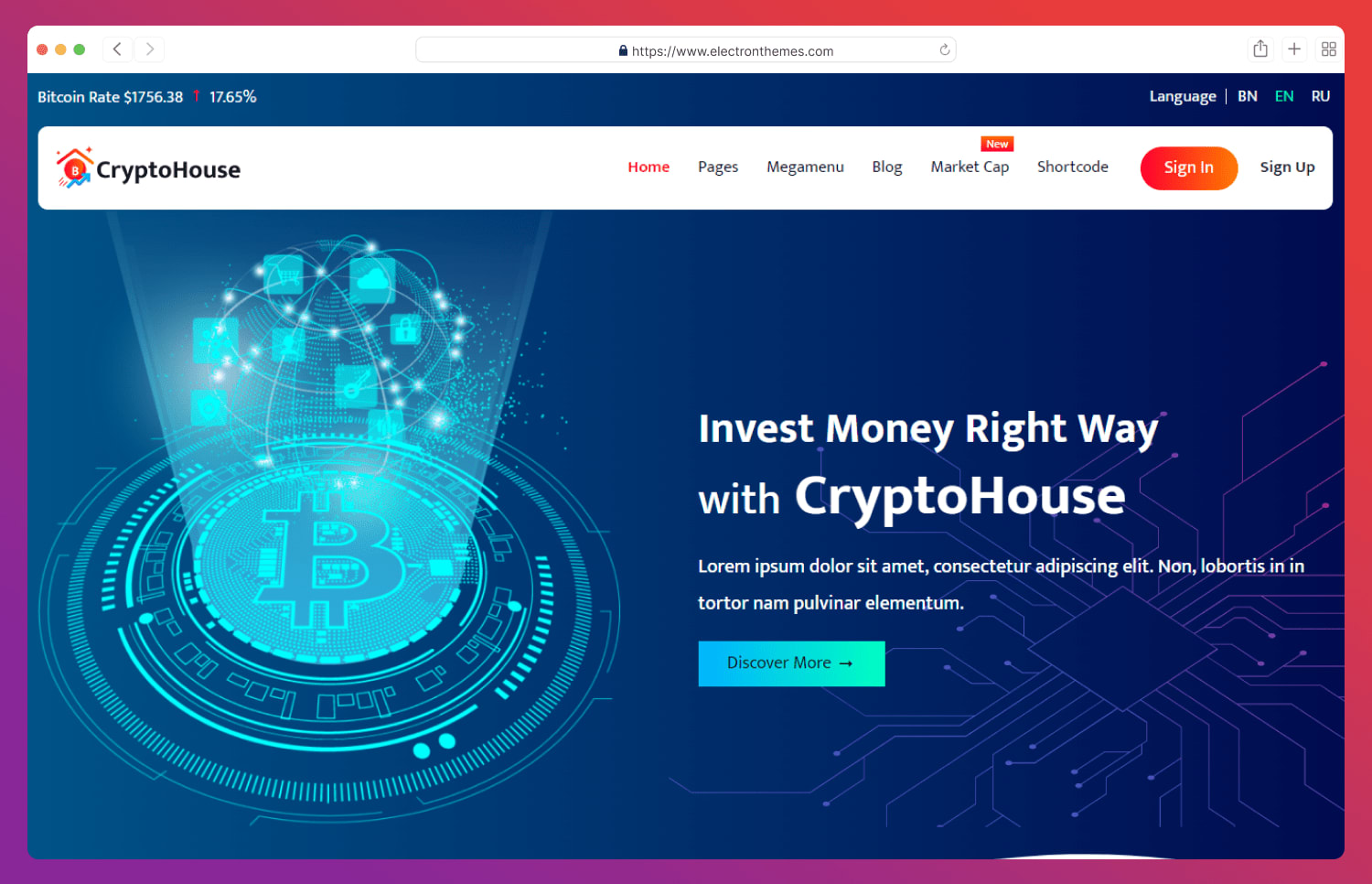 Cryptohouse is a modern and professional currency exchange HTML template for your digital currency business. It is easy to customize and the documentation is attached. This template has been built with 2 different versions for all pages. This Cryptohouse template has many features with modern trends. It is also developer friendly HTML template built with SASS.
Features
3 Homepage variations with 20+ inner pages
Multiple different headers & footer design
Beautiful dropdown menu & Mega menu
Clean code with HTML5 & CSS3 and W3C validated
Bootstrap 5 templates
Responsive design with major browsers compatible
Easily customizable with well-document
2. NFTMart - NFT Marketplace HTML Template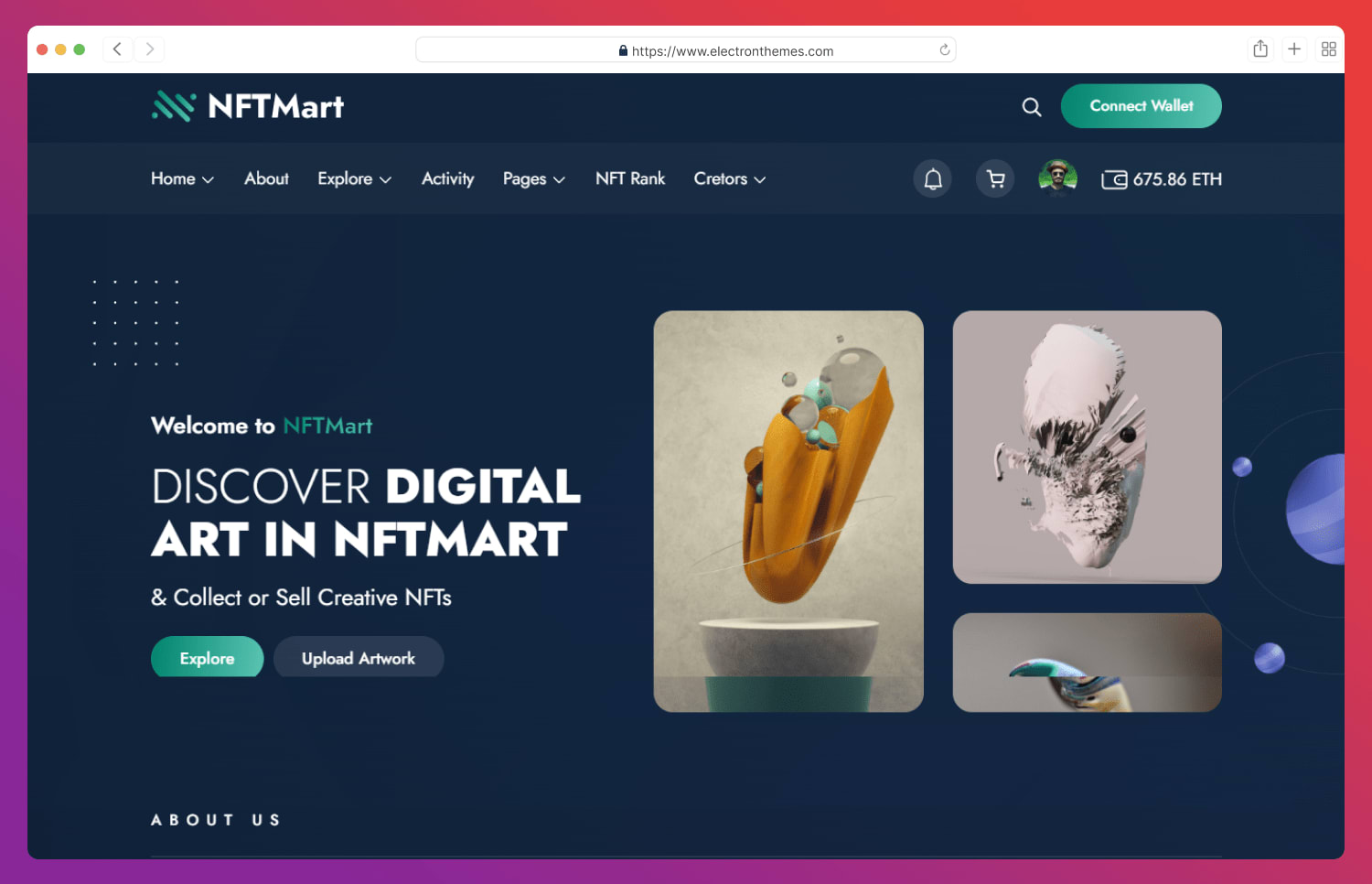 NFTMart is the best alternative for developing an NFT marketplace website. You'll be able to create a logical and user-friendly interface that connects your customers to in-depth information about their requirements. This template includes six distinct homepage demos, more than twenty-five inner pages, and well-designed blocks that are easy to modify and tailor to your requirements. By using this template, you may create appealing Blockchain NFT, Collectibles, Crypto, Art, Crypto Assets, Digital, and many more right away without having to do any design work. It features CSS3 animation effects, Owl Carousel, and Bootstrap 5.
Features:
6 Demo Homepages
25+ HTML Inner Pages
Highly Responsive Design
Beautiful Animated Sliders
Modern & Unique Design
Amazing animation / Parallax Effect
Valid, Clean, and Commented code
Multiple Blog Pages Inside
Mobile Browsers Compatible
Easy to Customize: Colors, Fonts, Content, etc.
3. Cryptocoin-Creative ICO and Cryptocurrency HTML Template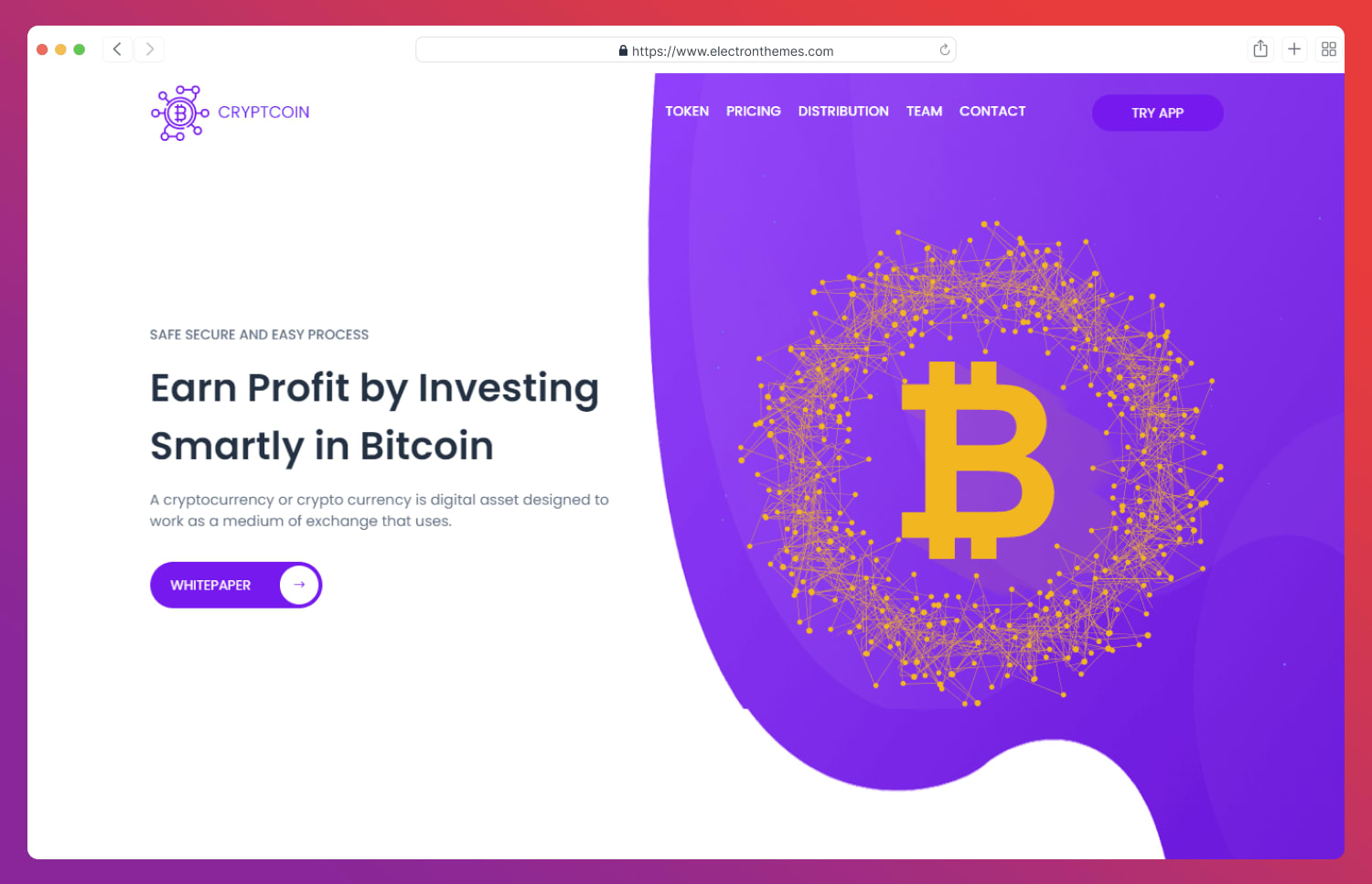 Cryptocoin is an ICO and Cryptocurrency HTML template. It is built with SASS and Gulp so it will help a developer to develop the theme. This template is fully responsive and all browsers support, awesome documentation. This theme support unlimited fonts, and colors. We have attached the documentation and created online documentation also. They provide 24/7 support with a dedicated support team so you don't wait for getting help if you face installing any problems.
Features:
4 Home pages variations
Clean design with Bootstrap 4
Parallax Background with Animation on load
Built on a grid system of 1170px.
Calculator for converting coins (all world currencies)
Clean and commented code
Ready for Retina Display
Documentation is also included
4. Crypterium - Cryptocurrency & ICO Landing Pages HTML Template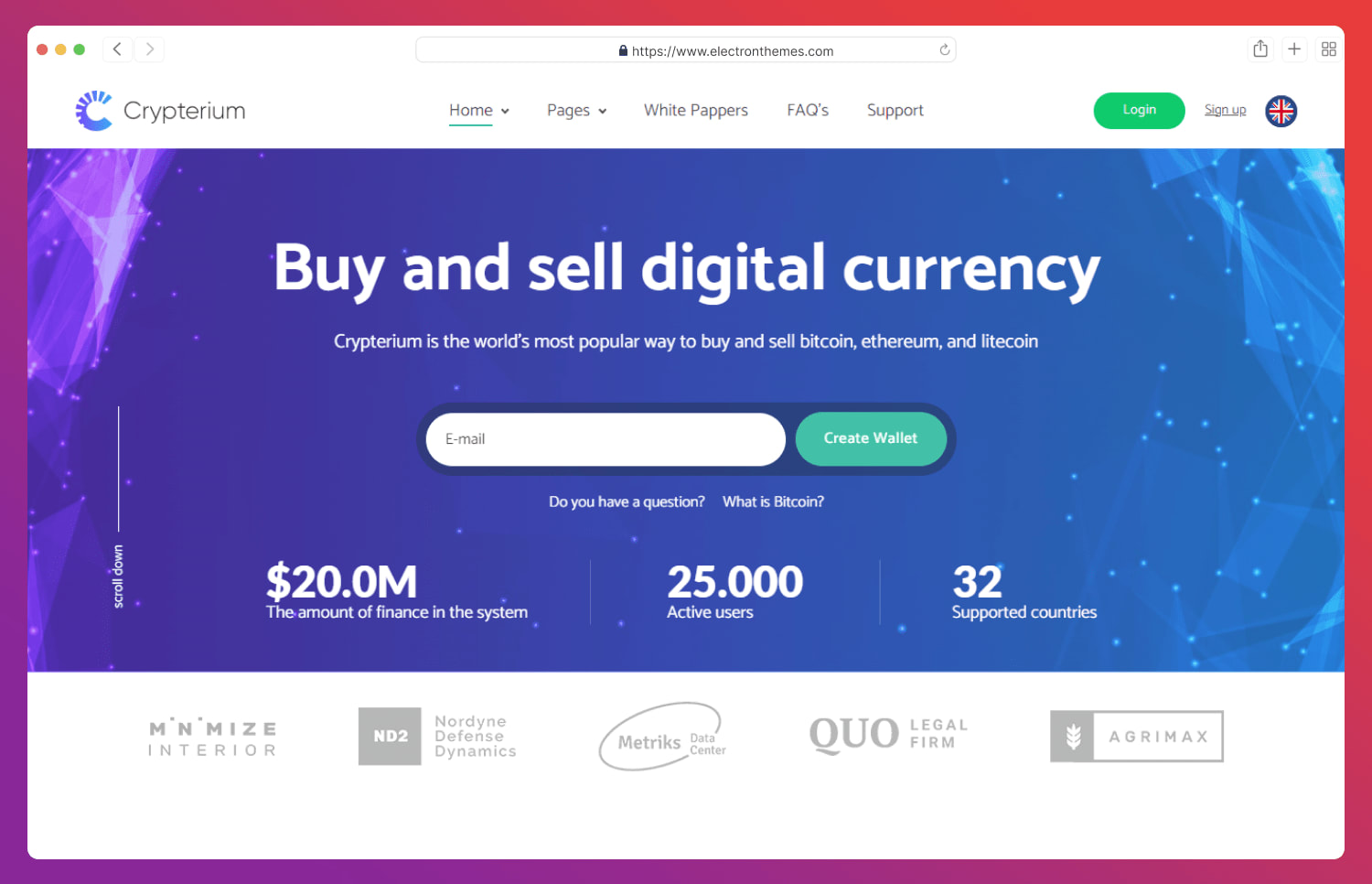 Crypterium is a professional Cryptocurrency ICO HTML template that is built-in and fully responsive, with a premium design, and elegant style, and has a slew of features. You can use it for Blockchain, ICO, Cryptocurrency, Bitcoin, Mining, Metaverse, Cryptocurrency Advisor, Crypto Trading, Currency Exchange, Ico Agency, Ico Consulting, Cryptocurrency Investments, Ico Landing, Online Wallet, ICO Landing, and more websites.
Futures:
31 Animated HTML files
Technology design
4 ICO landing pages
Wallet landing page
Mining farm (NEW)
Fully customizable
Google Fonts & font awesome icons
Retina Ready & fully responsive layout
5. Monteno – NFT Portfolio HTML Template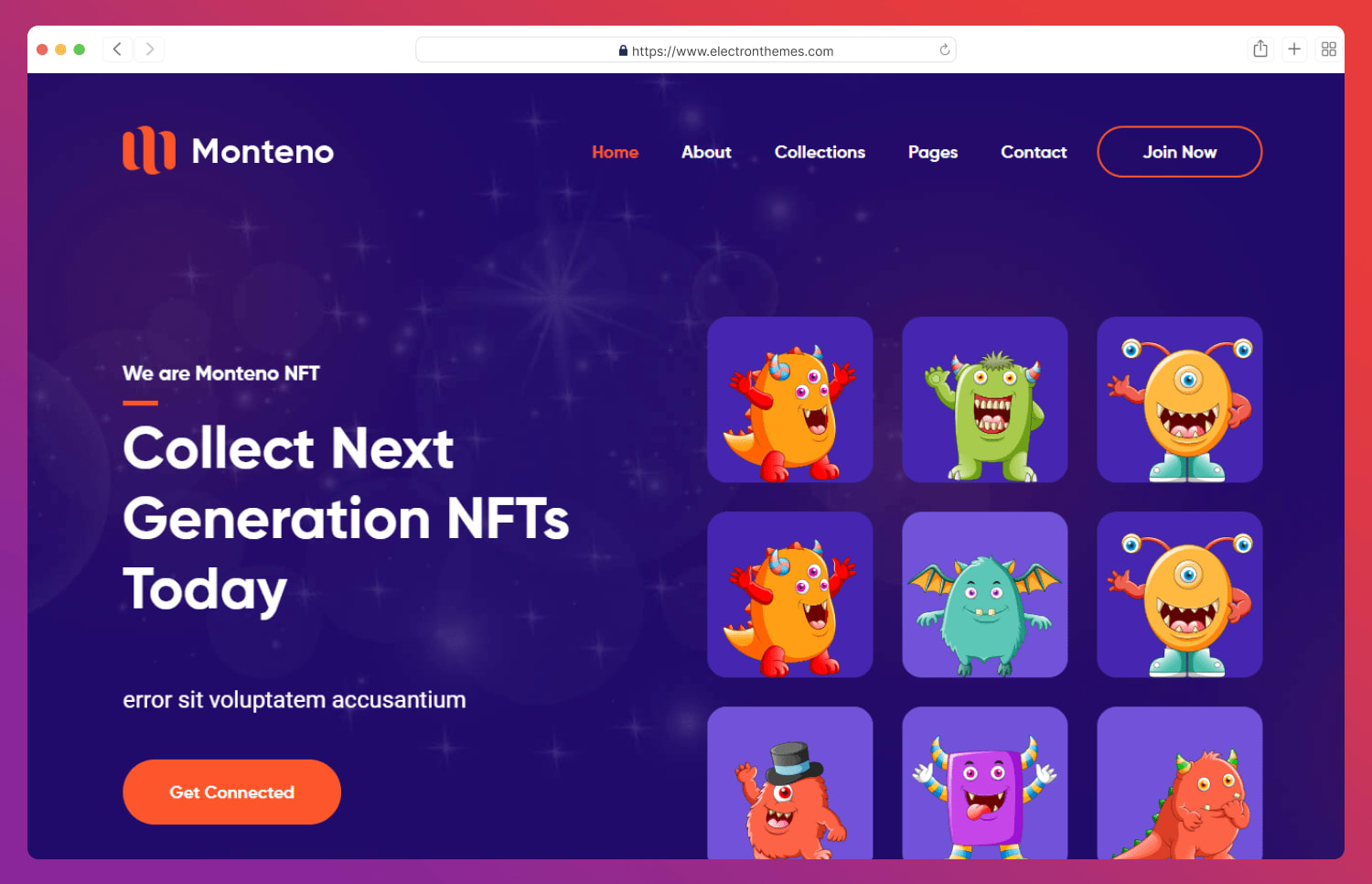 The Monteno NFT Portfolio Template is a contemporary design that can be used for Blockchain NFT, collectibles, cryptocurrency, crypto art, crypto assets, digital, and a ton of other things. Create an online marketplace using the template. In the NFT game, buying, selling, trading, and bidding are simple. The NFT game item market is the only one for which Montano is intended. You can customize this template in a number of ways to give your website the look you want. It is incredibly simple to use and adapts to different screen sizes.
Features:
HTML5 & CSS3
Responsive template
Free icons used
Pixel Perfect design
Clean & Unique design
Easy to customize
Unlimited colors
Boxed or wide layout
Ajax contact form
Parallax effect
6. Nufti – NFT Marketplace HTML Template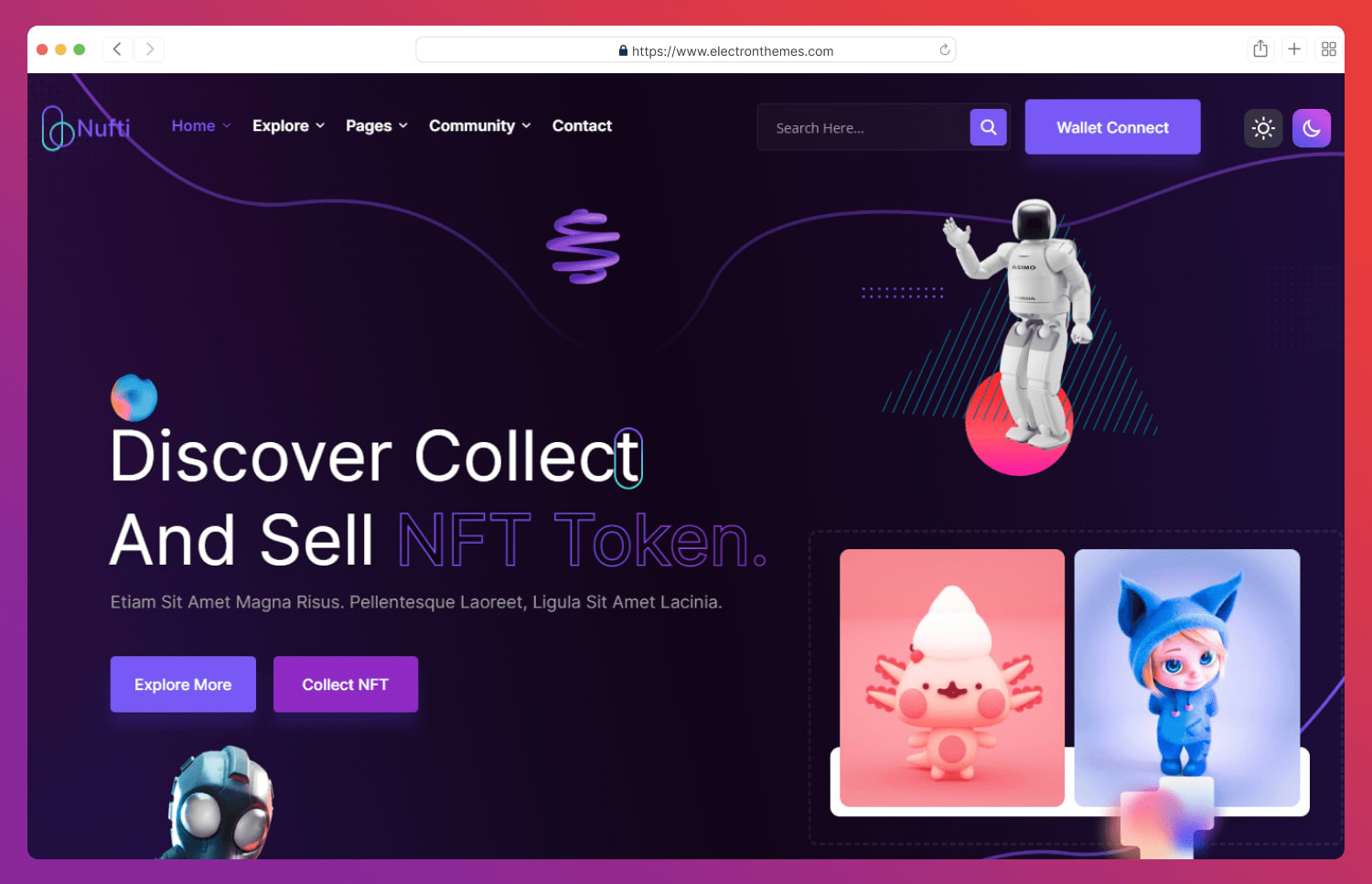 Nufti is a trendy designed NFT portfolio template for blockchain NFT, Asset, Bitcoin, Blockchain, Crypto, Cryptocurrency, Digital, Marketplace, NFT, Token, Tokens, Virtual, Wallet, and many many more that only provide front-end HTML interface NO back-end. It's fully responsive on all devices Desktops, all tablets, and mobile devices. This template offers various personalization options to help you give the look you require on your website. It is very easy to navigate and fits various screen sizes
Features:
HTML5 & CSS3
Responsive template
Free icons used
Pixel perfect
Clean & unique design
Easy to customize
Retina ready
Unlimited colors
Boxed or wide layout
7. Fugu - NFT & Crypto Html Template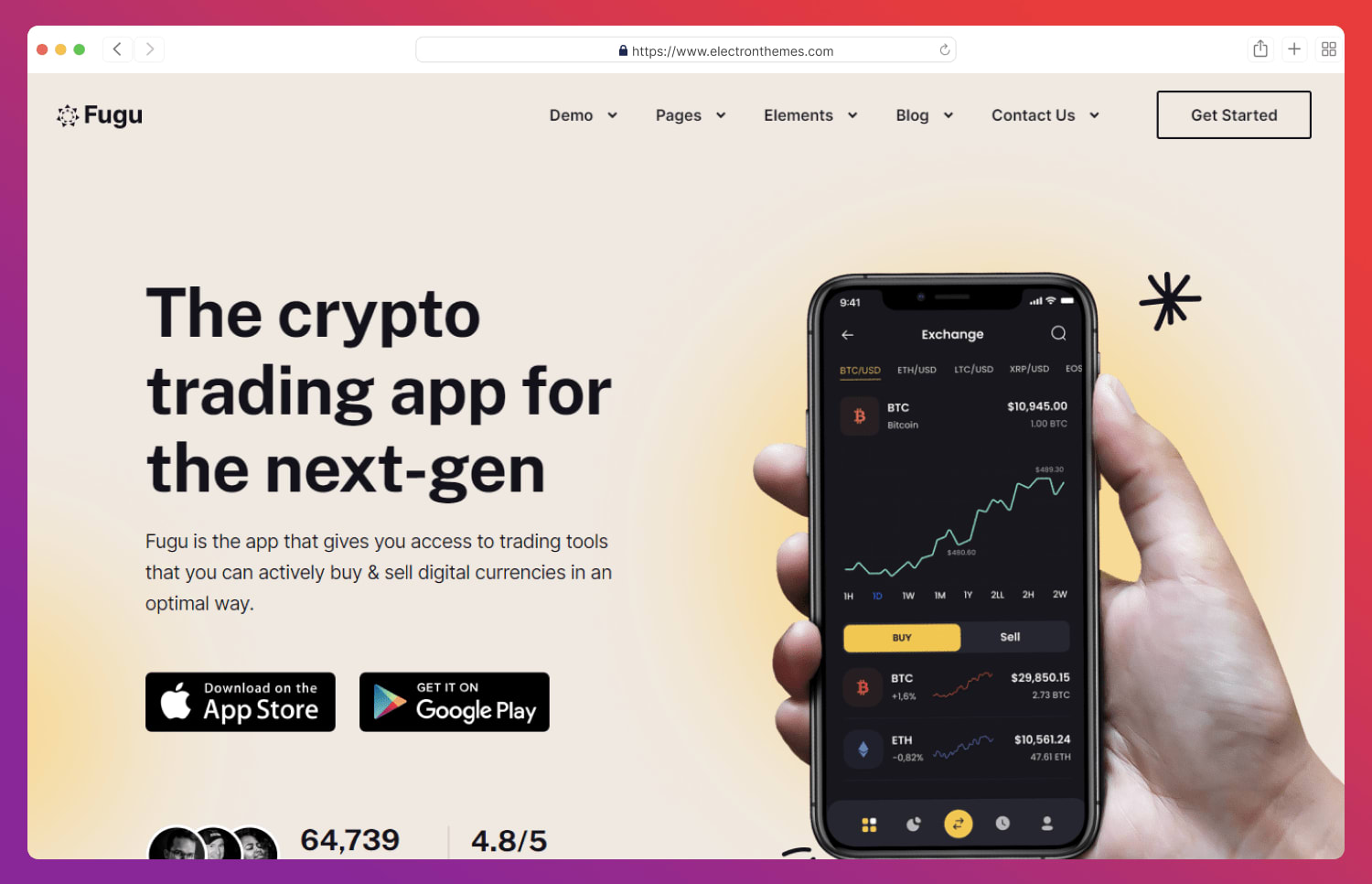 Fugu is an NFT template website for collectibles, Crypto, CryptoArt, Crypto app assets, crypto art, Digital, and many many more. It's trendy, fully responsive, and easy to customize. The template is SEO Optimized, easily customizable, and contains easy-to-read, understandable source code, and well documentation. This Template offers various personalization options to help you give the look you require on your website. It is very easy to navigate and fits various screen sizes
Features:
5 Modern & Creative Home Page
Responsive Layout Design
Bootstrap 5 Framework
W3 Valid HTML Files
Well Documented
8. Netstorm – HTML template for NFT Marketplace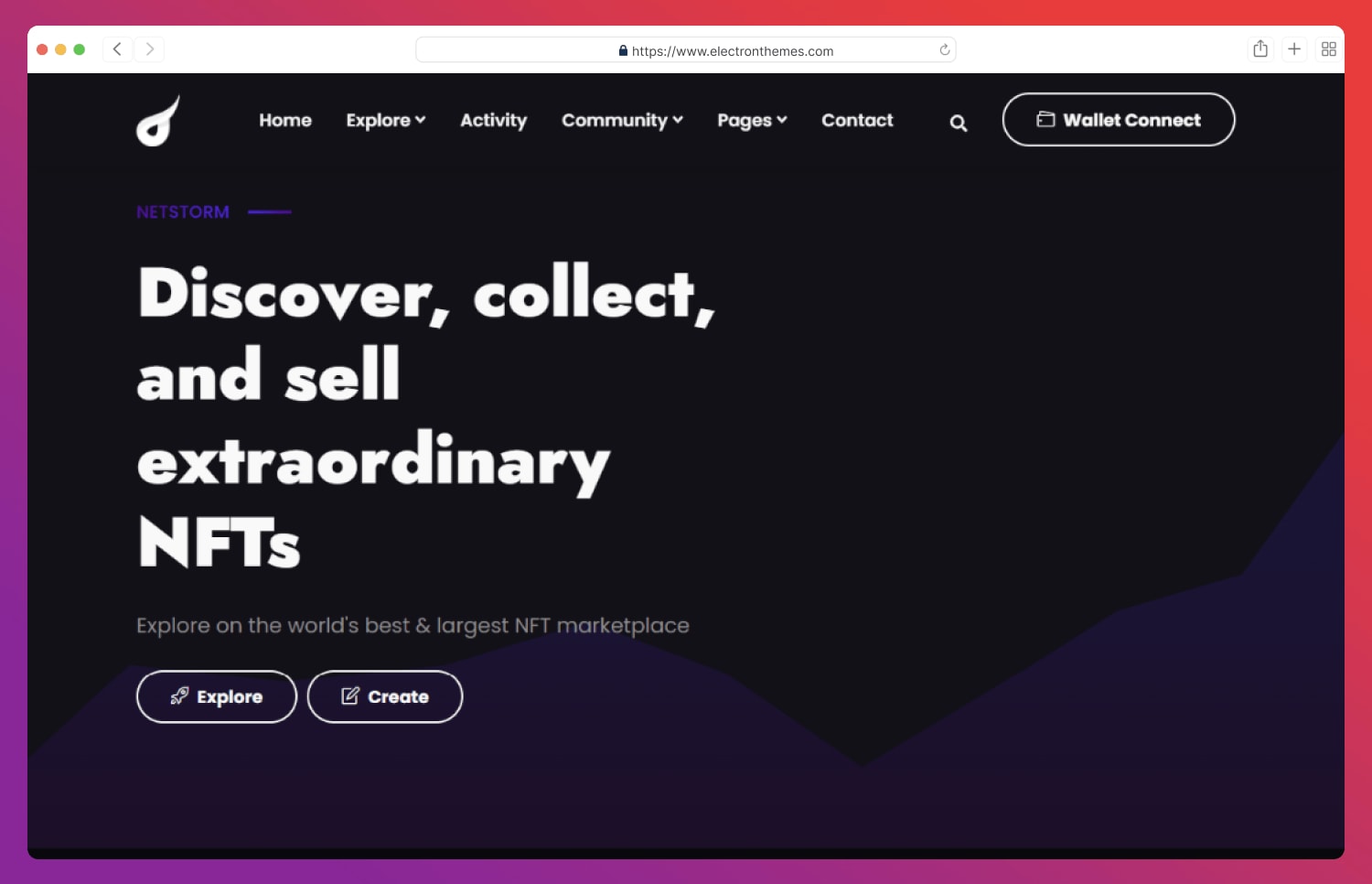 Netstorm NFT Marketplace HTML Template is a brand new approach to the price at the Internet through the use of digital currency. Each of the NFTs is precise and exists in an unmarried copy, it can not be divided and all data is approximately its author, buyer, and all transactions with its miles securely saved withinside the blockchain. Netstorm is a devoted Template for NFTs stores and NFT belongings stores, crypto Art markets, and for Digital belongings bidding websites. It could be very properly designed with contemporary-day features & coded with ultra-modern technology.
Features:
Multiple Page Variation
Unique Design
Clean code built in HTML5 and CSS3
Fully Responsive
Cross Browser Compatible
Live auctions and explore filter
Smooth CSS3 Animation
Easy to edit and customize
Detailed help documentation
9. Bayya – Bitcoin Crypto Currency HTML Template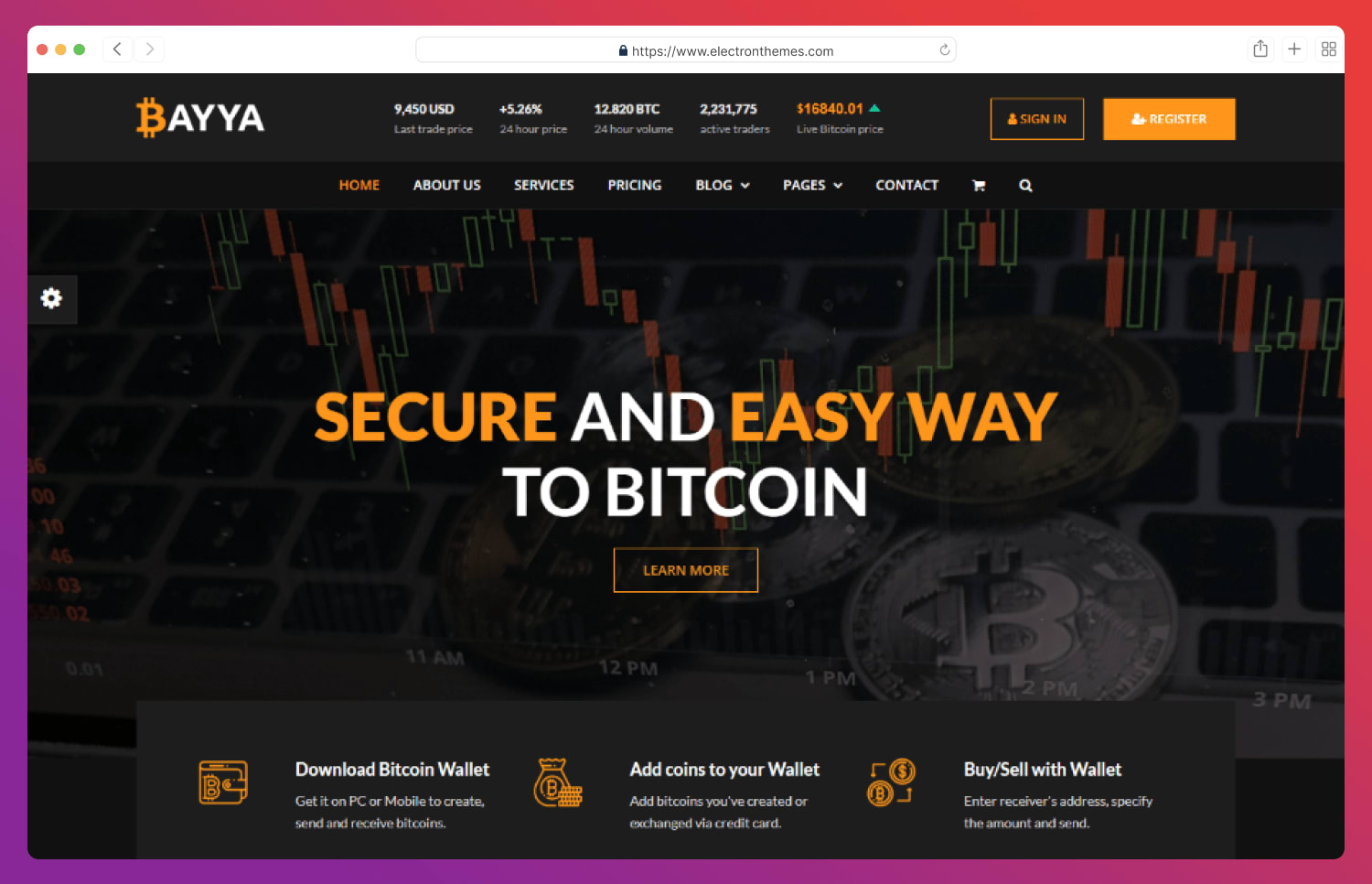 Bayya is a beautiful website template designed for bitcoin crypto currency mining and exchange websites. The template has niche oriented design, bulletproof consistency, and a huge set of layout elements that empowers you to create a professional website at minimal cost and effort. also, you don't need coding skills to customize the template to your needs.
Features
3 Color Skins
Light/Dark Skins
Live Bitcoin Converter
Bootstrap Slider
Testimonials Carousel
Parallax Effect
Live Style Switcher
Powerful Documentation
10. Tokenizer - ICO Admin & Crypto Trading Dashboard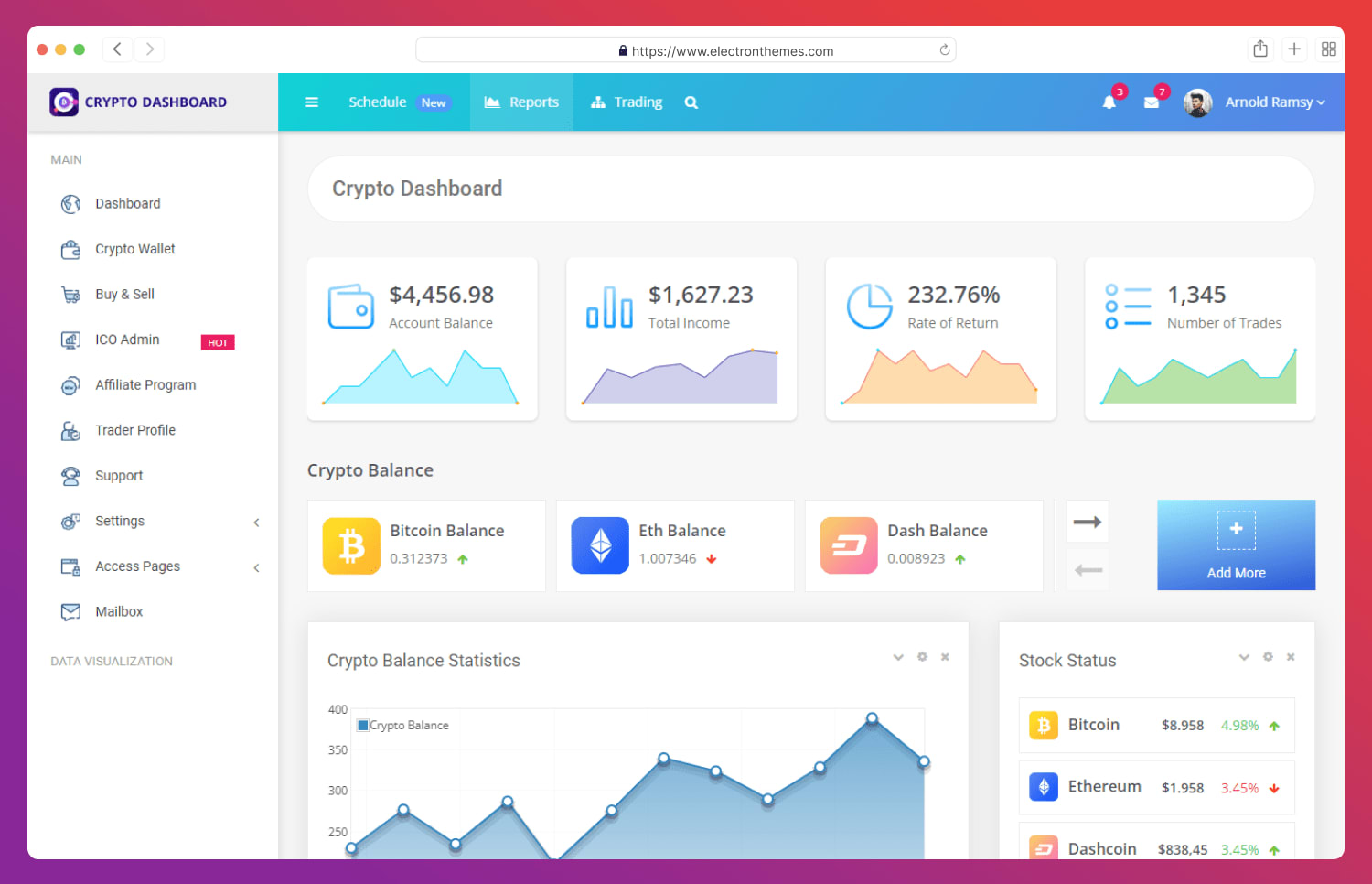 Tokenizer is a premium responsive HTML template. It's used for ICO admin & crypto trading dashboards. If you want to build a dashboard for crypto trading or cryptocurrency exchange then Tokenizer is a suitable choice. This crypto dashboard template is compatible with all major browsers and has a clean and modern design. It has been built with bootstrap and has font awesome icons too.
Features:
Modern crypto trading dashboard
Fully responsive, and compatible with all screen sizes.
Clean and modern design
W3C valid code.
Well documented
Easy customization
11. Bitcurrency – Bitcoin, ICO & Cryptocurrency Landing Page Template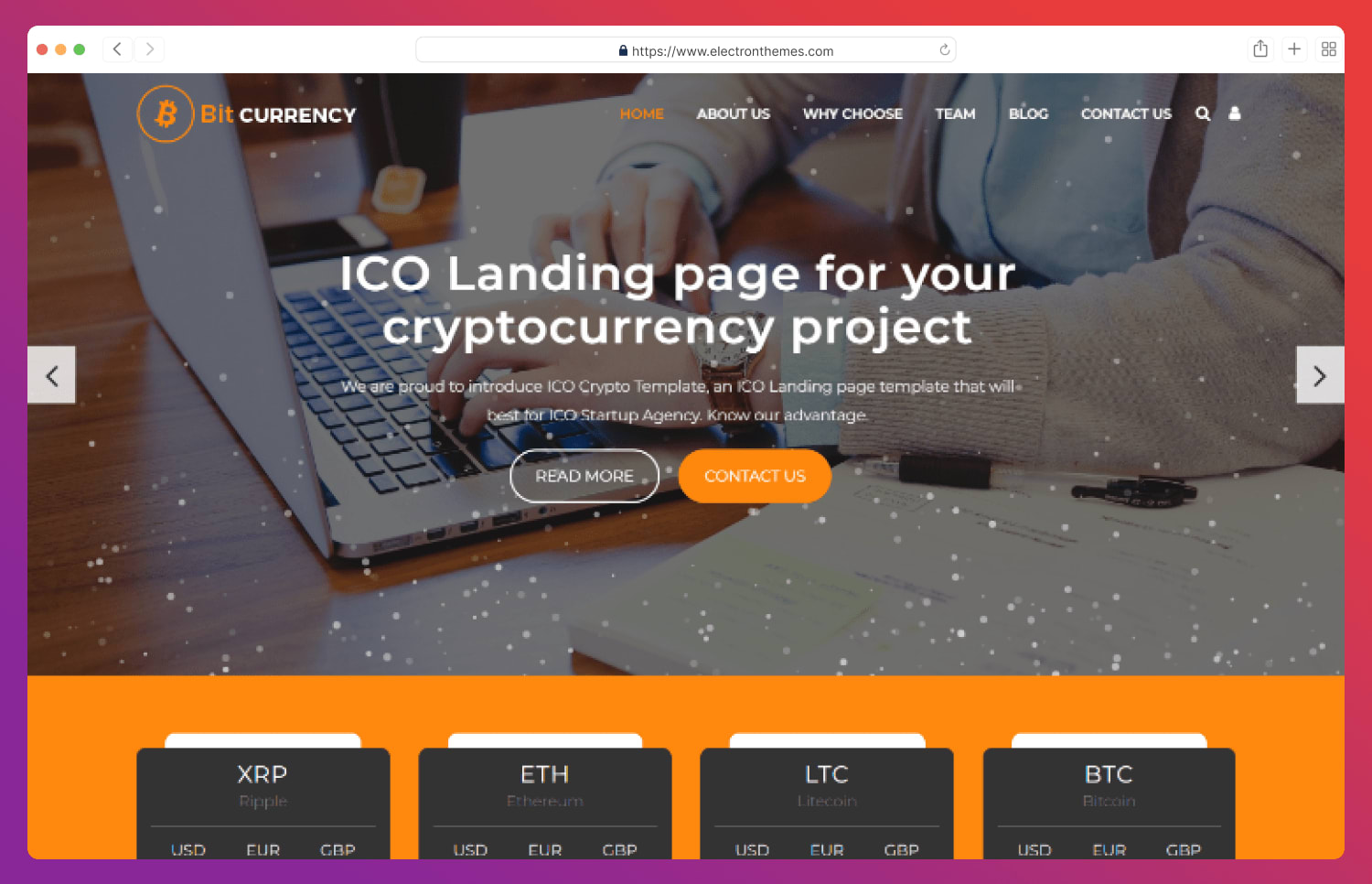 .Bitcurrency is designed according to the latest cryptocurrency world requirements. This HTML template was developed for the kinds of websites that deal with bitcoin mining hardware, cryptocurrency, finances, and business consulting. If you want to start your own exchange or launch an ICO campaign, this template is ideal. A number of educational features, including Homepages, Creative sliders, the Team section, the Latest News, and a Contact form, have been introduced.
Features:
5+ Homepage Header Style Included
Based on Bootstrap 3
Fully Responsive template
6 Pre-built color
Easily Customization
Awesome unique look
Working PHP contact form
Valid HTML5 / CSS3
12. Cryptonio - Cryptocurrency HTML Template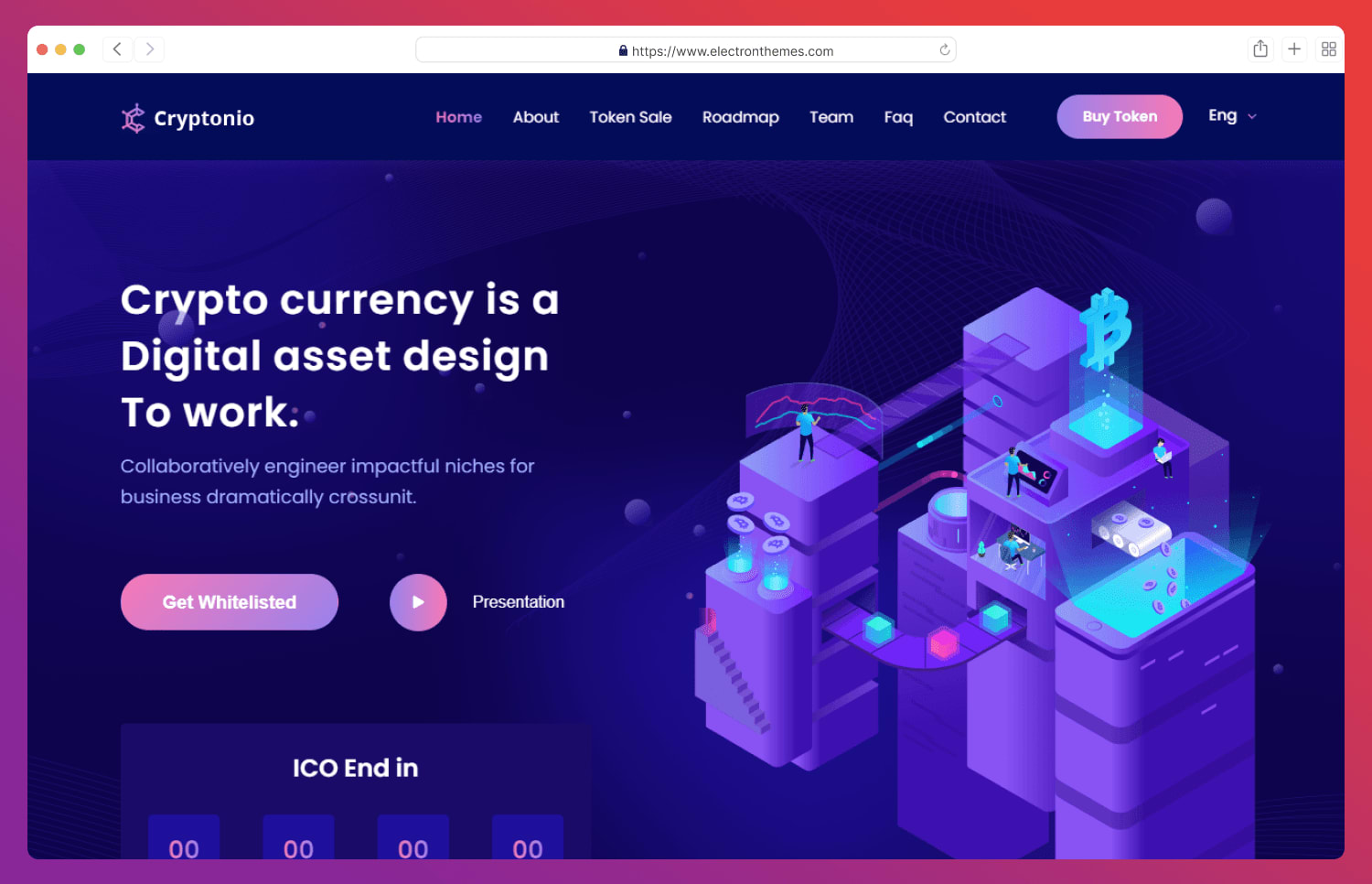 Cryptonio cryptocurrency template is a modern and elegant landing page HTML Template. It is designed for ICO Agencies and online platforms for investing in bitcoin and other cryptocurrencies. Cryptonio will assist in efficiently directing the traffic brought about by marketing activities and deliver the facts in a visually appealing and useful setting.
Features:
6 Home Version
Bootstrap 4
HTML5, CSS3, SASS
Fully Responsive
SEO-Optimized Elements and Contents
Cross-browser Compatible
Easy to Use and Customize
Well Documented
13. Cryptoking ICO - Bitcoin & ICO Cryptocurrency Landing Page HTML Template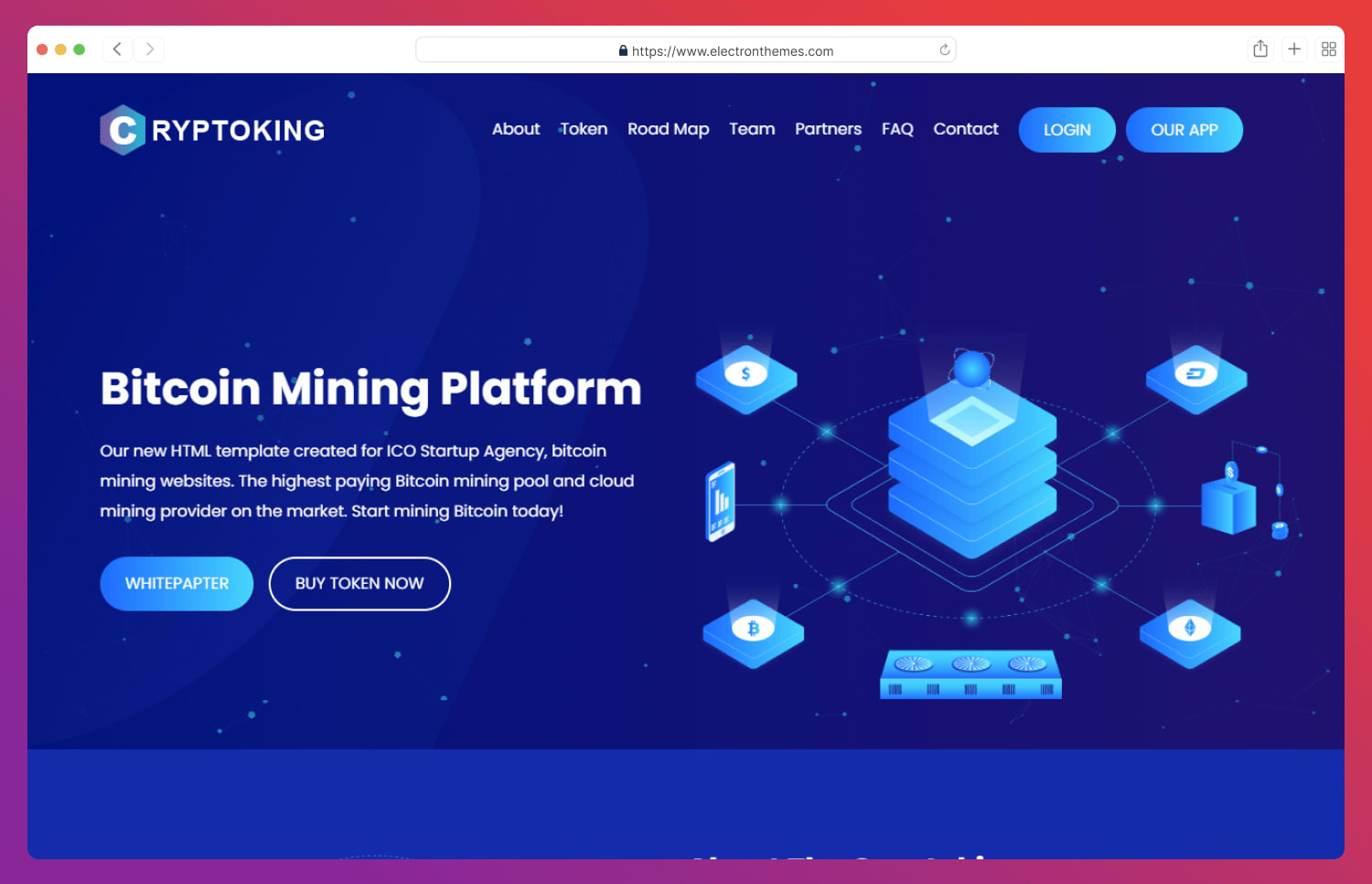 Cryptoking is a clean, modern, and industry-specific HTML template. This template is perfect if you plan to launch an ICO campaign or create your own exchange. The finest ICO landing page HTML template to launch your website is Cryptoking if you work in any form of digital currency business or a blockchain consulting and development firm for any industry. With superior UI and UX, Cryptoking is the ideal option for your cryptocurrency business.
Features:
7 Version for ICO Cryptocurrency Landing Page
Build On Boostrap 4 – Grid 1170px
Experts Support
Easy to Customize
HTML & CSS Valid Files
Awesome Animation
Particle Banner Effect
Nice Parallax Effect
Creative And Modern Design
14. Metaverse - NFT Portfolio and Landing Page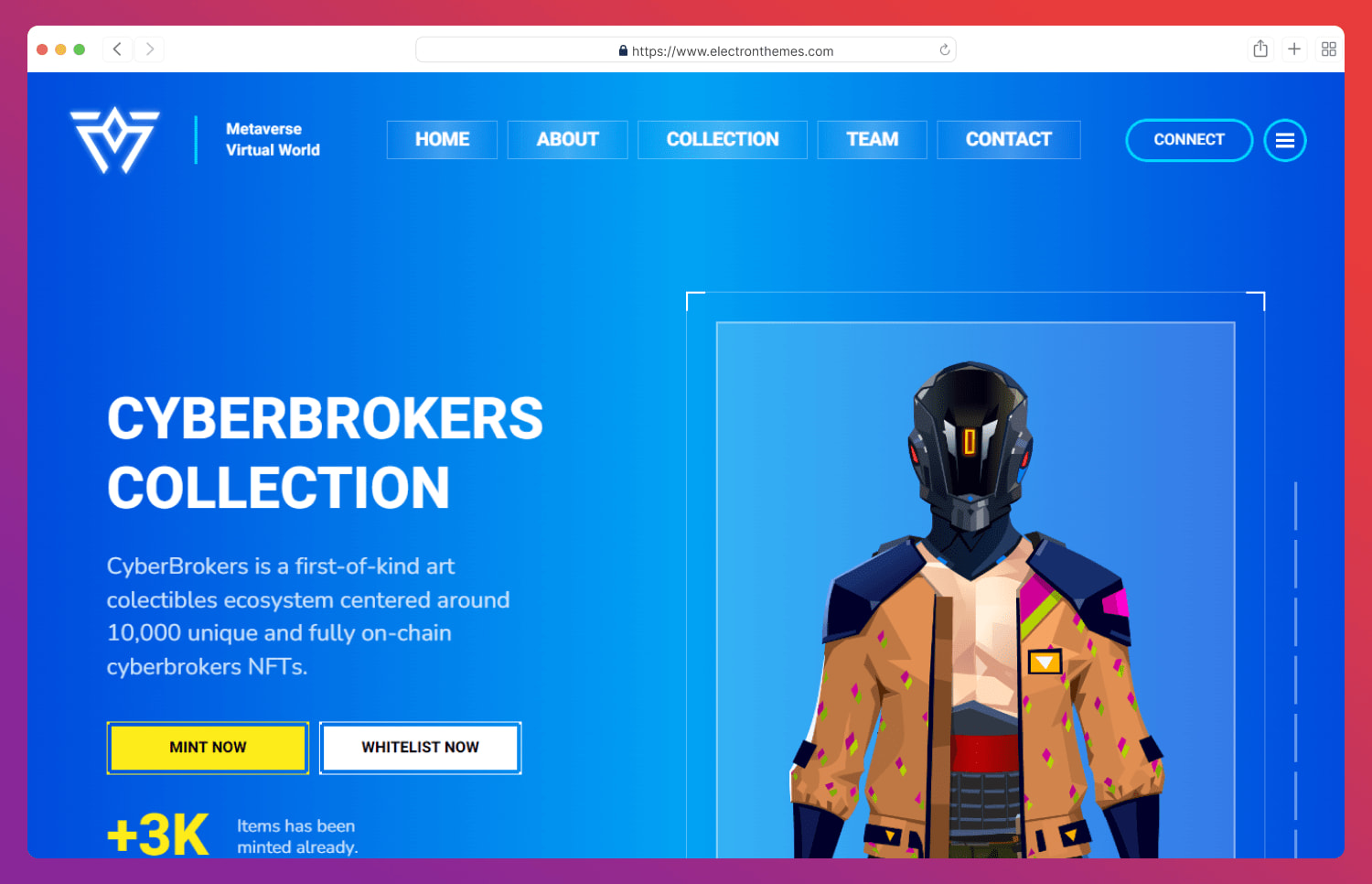 Metaverse is an NFT Portfolio and Landing HTML template that can be used to build your own NFT portfolio page. Metaverse is the best-designed NFT blockchain, crypto, crypto art, digital, and plenty of extra-cause HTML templates. Just welcome our live NFT portfolio and landing HTML Template.
Features:
Fully Responsive HTML5
Online Documentation
CSS3 Animations
SEO optimized
Mobile Navigations
Sticky Navigation
Fully Responsive to all devices
Developer Friendly Coding
Very Well Documented
Free Updates
15. Coinpool - ICO, Bitcoin, And Crypto Currency HTML Template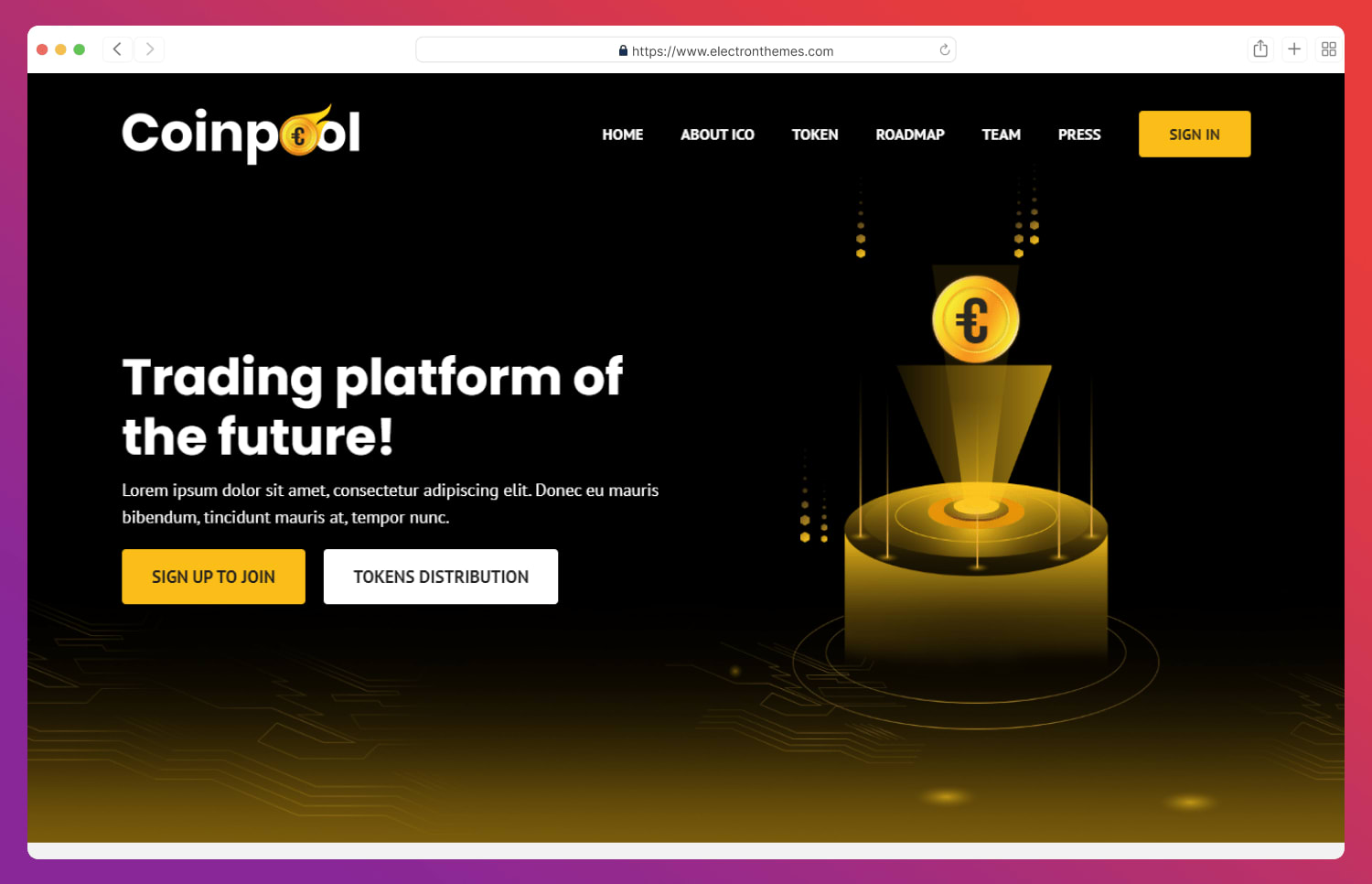 Do you want to create the ICO website and ICO landing page for the launch of your upcoming Cryptocurrency? Then coinpool is the perfect template for your ICO website. We have added a lot of modern, creative, and interesting sections like the Banner section, About us section, Whitepaper section, Roadmap section, Team section, Tokens with Countdown section, News/Blog, and Amazing animation on the banner to attract your investors/buyers.
Features:
8 Version of landing page
12 Inner pages
Build On Bootstrap 4+
Built-in Gif animation
HTML & CSS Valid
Blog section to post the latest news about ICO
Live price ticker of worldwide coins
Conclusion
As I mentioned above, these bitcoin website templates have many features that you should consider for your cryptocurrency website. The template has been stripped of all the features of a high-quality crypto website template. Are you ready to get started? Here are some stunning cryptocurrency website templates for you to pick from
What is a cryptocurrency and how it works?
Cryptocurrency is a digital currency, which is an alternative form of payment created with a cryptographic algorithm. The use of cryptographic technologies means that cryptocurrencies act as both a currency and a virtual accounting system. To use cryptocurrency, you need a crypto wallet.
How do I change crypto to cash?
To withdraw your money, you must first sell your crypto for cash, then you can transfer it to your bank or buy more crypto. There is no limit to the amount of cryptocurrency you can sell for cash.
What is a blockchain in simple words?
Blockchain defined: Blockchain is a shared, immutable ledger that facilitates the process of recording transactions and tracking assets in a business network. An asset can be tangible (a house, car, cash, land) or intangible (intellectual property, patents, copyrights, branding).
What is a blockchain in simple words?
Definition of blockchain: A blockchain is an immutable, shared ledger that facilitates the process of recording transactions and tracking assets within a corporate network. An asset can be tangible (house, car, money, land) or intangible (intellectual property, patent, copyright, brand image).
How to start Bitcoin mining?
To start mining cryptocurrencies, you'll need a cryptocurrency wallet, mining software, and mining equipment. The equipment you want might be very expensive, but the more you spend, the more profitable it might be.
How to create my own cryptocurrency exchange?
A controlled or decentralized cryptoasset exchange can be created. The former runs directly on a blockchain, while the latter is hosted on a central server like any other regular software . Look through the blog for their benefits and drawbacks.
How do I create a block chain website?
The possibilities and innovations brought about by blockchain technology have significantly altered how we view and use the internet. It functions as an immutable record of transactions that does not depend on any outside authority, such as banks, governments, or major enterprises, to certify the validity and integrity of data.
How to build a decentralized website, step-by-step
1. A wallet with Ethereum.
2. Buy an ENS domain name.
3. Write code for your website.
4. Set yourself up on Fleek.
5. Connect your ENS domain
How much does a blockchain website cost?
On these networks, there are a wide range of prices for dApp development. The development of the software across various blockchain networks, including Ethereum, Hyperledger fabric, Ripple, and EOS, costs between $6,000 and $400,000.